How To Beat Hillary Clinton
According to the guys she beat. What they learned from losing to Hillary and her machine. (With additional reporting by Matt Ford.)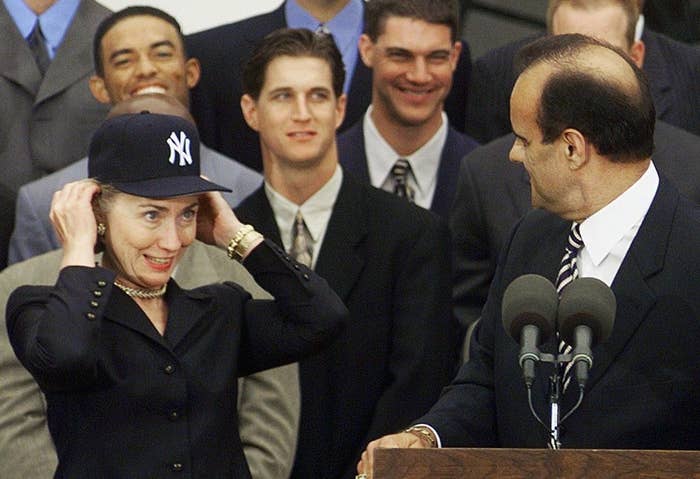 Back before Hillary Clinton was unbeatable, and before she was beaten, she was pretty much unbeatable.
In a pair of New York Senate races in 2000 and 2006, Clinton and her sprawling network intimidated potential candidates like Rep. Nita Lowey and Mayor Rudy Giuliani out of the race, relentlessly battered the ones who made it in, and sailed to easy November victories. Reporters who covered those races (I started as a political reporter soon after the first, and covered the second) and Republicans who ran and worked on them recall to this day being surprised at times by her woodenness, her lack of policy ambition, and the cracks beneath the surface of her organization. But she was also tireless and well-prepared, and she won handily — breaking 55% in 2000, 83% in the 2006 primary, and 67% in that general election.
"You have to have your flak jacket on and be prepared to take the hits," her 2000 challenger, Rick Lazio, told BuzzFeed News in an interview last week. "She will have an effective and ruthless campaign team and the toughest or dirtiest work will be done by operatives whose authorship will never be published — they're going to be behind the scenes and they'll be thorough and they'll be as brutal as anyone who's ever been in politics can be."
Clinton's entry into electoral politics felt, at first, preposterous: Rep. Charles Rangel led a faux draft to supposedly drag the divisive first lady into the Senate race in a state where she had no real connection. The Clintons muscled out a local Democrat for a clash of the titans — Hillary vs. Rudy! — only to have Giuliani pull out as his own personal and public life got messy. Her political transformation was just as stunning. By 2006, she was an uncontroversial, moderate, and hard-working incumbent with a reputation for bipartisanship who had spent real time in Rochester.
But the forgotten men of those races — Lazio, Mayor John Spencer in 2006, and her 2006 primary challenger Jonathan Tasini — remember them well, as did half a dozen of their former aides interviewed last week. And while the lessons of her 2008 defeat at the hands of Barack Obama have been studied pretty much to death, Republicans also should consider the lessons of her victories over New York Republicans in the 2000s, victories that revealed both strengths and vulnerabilities that, after all these years, haven't changed all that much.
What follows is advice from Lazio, Spencer, Tasini and their aides for whichever Republican winds up facing the likely Democratic nominee.
1.
The Hillary Haters Can Help
Real, deep antipathy for Hillary Clinton has been an enduring feature of American political life since the early 1990s. Both Spencer and Lazio based their campaigns, and particularly their fundraising strategies, on tapping the national network of Hillary Haters.
It brought in the dough — though it only got them so far.
Lazio certainly turned Hillary's polarizing image into serious money — he raised $40 million for that Senate race. But that sense that he was riding a wave of underlying anger also undercut him in Democratic New York. And in 2006, that was pretty much all the strategy Spencer had — and it brought in nearly $6 million.
"What I was saying at the time was was, 'There's enough anger out there, there's enough people who have problems with Hillary — you never know, lightning might strike,'" recalled Rob Ryan, Spencer's communications director.
Both campaigns relied on that base of antagonism, which sometimes cropped up when they least expected it. One former Lazio aide recalled his candidate waiting to walk onstage at a televised debate when one of the Secret Service agents guarding Clinton leaned over to the candidate.
"Hey, Rick," the agent said. "Kick her ass!"
2.
Beware the Media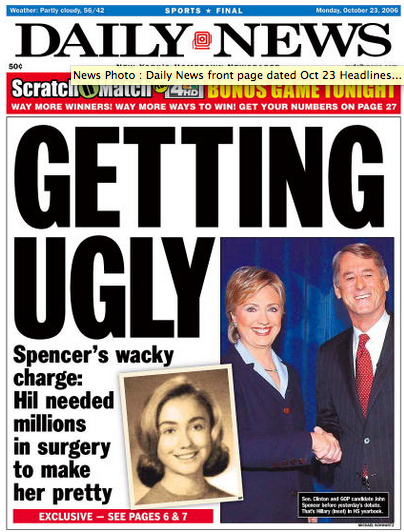 The spotlight shines hard on Hillary Clinton, and she had a brutal ride in the city's tabloids, particularly the New York Post, which tortured her over everything from Palestine to Monica Lewinsky.
But if you run against Hillary Clinton, that same spotlight can turn on you. And for her rivals, people who had never played primetime before, the brightest spotlight in the world is a tough place to learn. That was the stage on which Lazio saw his minor missteps magnified. What Spencer remembers most searingly from his campaign, too, is that sense of an overwhelmingly pro-Clinton media.
"The big thing with Clinton at the time, and now too, is she's got huge access to money and she has the liberal media. She's their darling, in spite of her horrific record," he said.
Spencer's worst day was the Monday after a debate in which he'd done pretty well. It had been his misfortune to sit, on the flight to Rochester, next to me — then a blogger and reporter for the New York Daily News. Spencer got to talking about his Republican ticket mate, Jeanine Pirro, and about plastic surgery, and then about Hillary Clinton and her looks. The stories I wrote Monday, Oct. 23, 2006, detail his comments suggesting Clinton had work done to alter her appearance.
Spencer said at the time he'd meant to describe Pirro's alleged plastic surgery, not Clinton's. (My detailed notes, and the story, said he'd talked about both.) He still feels I screwed him, part of a broader pattern of a wildly unfair media. As he described me to my colleague Matt Ford: "He's a real schmuck."
3.
Don't Let Her Play the Victim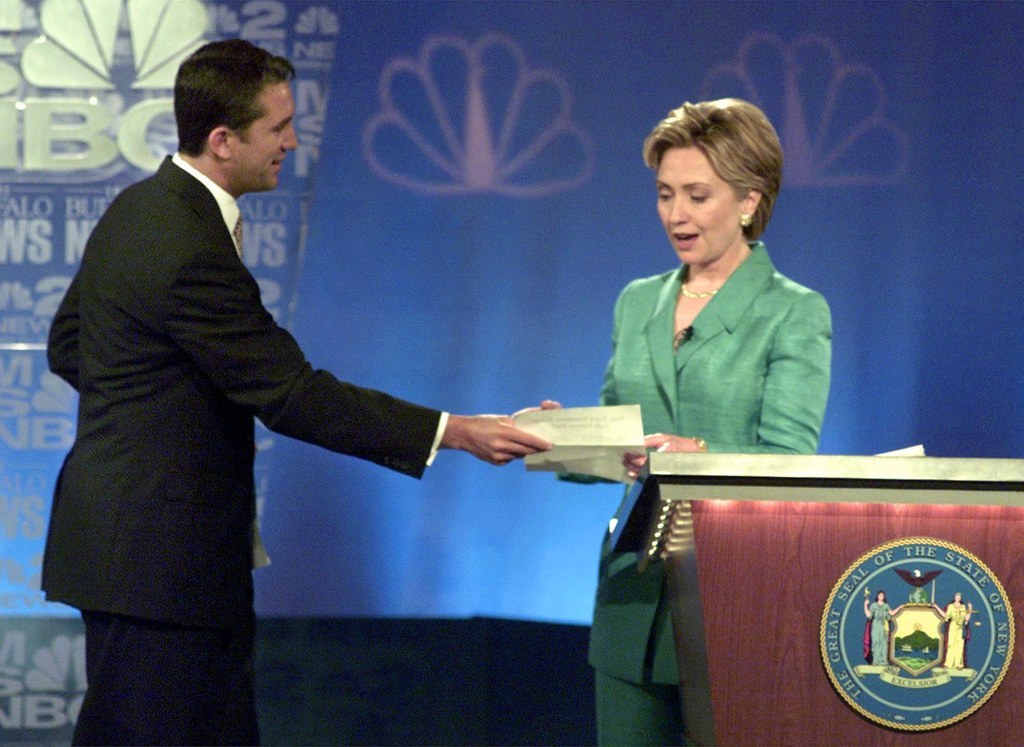 The problem with running on a wave of personal antipathy is that, well, you don't necessarily look like a good guy.
"You can't ever put yourself in the position where she can play the victim" is Lazio's advice, earned in his own campaign's worst moments.
The defining moment of Lazio's race against Clinton came on Sept. 13, 2000, during the first of three debates. Lazio, on the left side of the debate stage in Buffalo, New York, attempted a stunt: He printed out a copy of a proposed campaign finance agreement, and he offered it to Clinton to sign. It was an odd moment, and one that Howard Wolfson, a Clinton aide, quickly persuaded reporters was not just odd but "menacing" — a word and image that stuck. In a stunning bit of political jiujitsu, Clinton — the first lady, the powerhouse, was suddenly the victim, and the boyish, outmatched Lazio the aggressor.
It happened again to Lazio when the New York state Republican Party released an ad showing Lazio attacking Clinton.
"I'm sure they meant it to be helpful, but, in fact, it gave the Clintons the opportunity to again play the victim," Lazio recalled ruefully. "In the age of super PACs where there's going to be a lot of advertising done by groups that nominally have the same goal as you but their tactics are going to be different — what the nominee and the Republican National Committee needs to be cautious about is, without dictating what the advertising looks like by indie outside groups, which they can't do, to try and make sure they communicate globally — don't allow her to turn some over-the-top commercial on us and discredit us."
Patrick McCarthy, who was Lazio's traveling press secretary in 2000 and ran the New York state Republican Party from 2001 to 2003, had a similar warning.
"Campaigns and opponents who let Clinton get under their skin are going to lose and lose badly," he said. "Whatever third-party group is going to set up separate expenditure, it can't be more of the same."
4.
Don't Count on Senior Republicans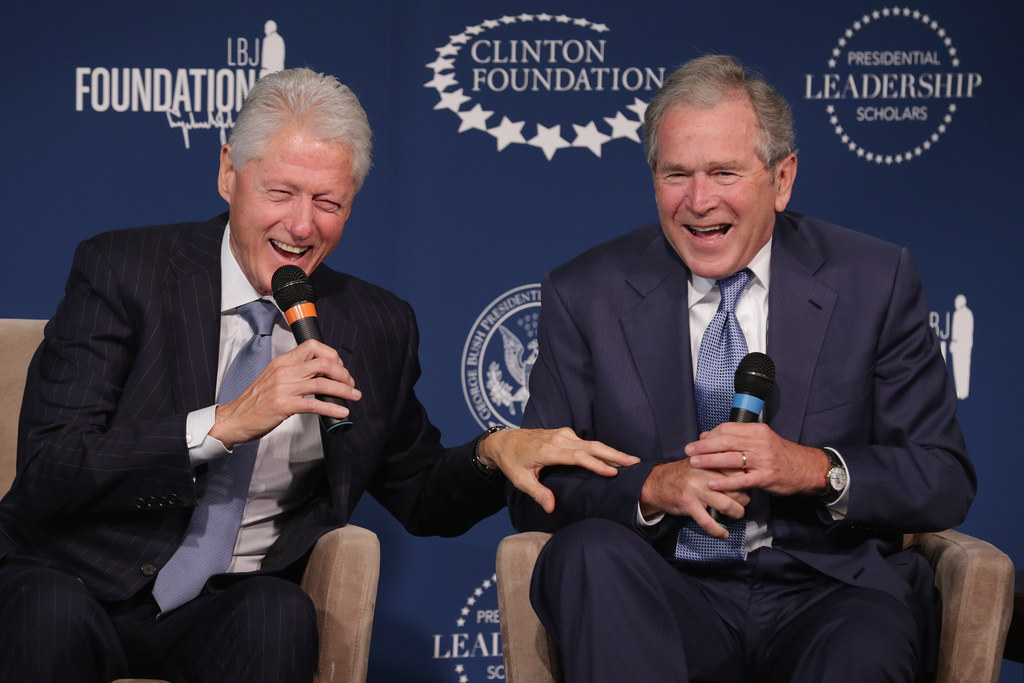 Spencer was particularly upset about that Daily News cover because he had gone out of his way not to be publicly nasty to Hillary. He liked her. This, in turn, had been something of a frustration to Ryan, his scrappy campaign manager.
"He had dealt with her beforehand when he was mayor and he had had that relationship, and so he could go after her on pure politics, but he never said, 'She's a lazy politician who runs on her name,'" Ryan recalled.
This was a notable feature both of the New York Clinton and, later, of the pre-#Benghazi secretary of state: She had done an effective, focused job of courting Republican allies.
"She is a surprisingly good politician who people on both sides of the aisle have a respect for her and they like her," Ryan said, recalling that when the son of her archenemy, state Conservative Party leader Mike Long, was badly injured, she was among the first to call.
Today Clinton has a reserve of goodwill among a generation of Republican figures that can come as a surprise in the ultra-polarized world of national politics — and it's something that she will surely deploy if she wins the Democratic nomination. Who better to repel a searing Republican attack than a respected Republican ally? And the Clintons have assiduously, over the years, worked on a very high level with key Republicans — George W. Bush among them. (It's interesting to think about where the Bushes will be if Jeb doesn't get the nomination.)
Indeed, Clinton's Republican Senate colleagues remember her fondly. And then there are people like conservative journalist Christopher Ruddy, a former leader of the anti-Hillary brigades. He recently pledged to donate $1 million to the Clinton Global Initiative.
5.
Don't Expect Policy Fireworks
Hillary Clinton left the Senate without a memorable policy legacy, and nobody who followed her campaigns would be surprised. Michael Tomasky, who wrote a book on Clinton's 2000 run, described her strategy as the "March of the Micro-Issues." There was a "Long Island Livability Plan," for instance, during which she dwelled on diminishing lobster harvests.
"I don't recall her ever rolling anything out that we felt like, Wow that was really innovative and bold and interesting … it was all pretty conventional, it was all very tactical," Lazio said.
Through her campaigns, Clinton has been known for her policy caution. And though she has pushed hard at times while in office — for health care in the 1990s; for intervention in Libya more recently — she has stayed as quiet as possible since leaving the State Department. Where some candidates seek to draw attention with bold proposals, she has enough attention, thank you, and has her husband's record of the 1990s as a policy backdrop.
Tasini, the labor activist who ran the Democratic primary challenge against Clinton in '06, said his main recollection of the race was its confirmation that "she has an extremely centrist ideology."
6.
Force Her to Campaign
Clinton lost the only real primary she ever ran, to Barack Obama. In 2000, Clinton and her allies pushed a strong local Democrat, Rep. Nita Lowey, out of the race and avoided a primary. In 2006, Tasini — who said he'd tried and failed to talk more prominent progressives into the race — was a token challenger. And this year, she's again avoided real opposition, a remarkable triumph for her and Bill Clinton's huge network and sprawling power structure that employs carrots and sticks aplenty.
At the peak of her power in 2006, she refused a primary debate, and then never really engaged in the general election.
"She was particularly good at not letting the race become a race," recalled Republican pollster John McLaughlin, who worked on the 2006 campaign. "She did really well, she avoided a primary, [avoided] engaging with the Republicans or acknowledging the Republicans because she [didn't] have to; there was no nominee — and she's repeating that playbook."
7.
Play to Win in the Debates
Clinton has two debate modes: wooden or high-risk. She was, during the 2000 and 2006 campaigns and through much of 2008, a good student. In 2000 — her first time as a candidate in her own right — she was a tightly wound and nearly error-free debater, beginning to poke at Lazio only in October, during their third debate.
"She's a competent but not a great debater," said Lazio.
In 2006, Clinton refused to debate Tasini in the primary. In the general, she agreed to debate Spencer at 7:00 one Friday evening in Rochester; and again early on a Sunday morning. She acted like a candidate who was running not to lose, and she didn't, but neither did she impress with any particular spontaneity or verve.
"I was a little surprised at how well John did against her in that debate," recalled Ryan, Spencer's campaign manager, of their one face-off. "She comes across as a little more programmed, and like a lot of lawyers do, she gets every answer down, but she's repeated it pretty much verbatim every time."
("With John, you never knew what was coming out of his mouth," he recalled.)
She is now a much more experienced debater: She was the only one of the 2008 Democrats to participate in all 26 of that cycle's debates, and ended it demanding that Obama face her more. But they included some of her worst moments. During an October 2007 debate in Philadelphia, in particular, she stumbled into a trap in response to a question about drivers licenses for undocumented immigrants — a moment widely seen as shattering her frontrunner status.
8.
She Can Be Beaten
The men who ran against her now say she's beatable, even if they couldn't do so.
Tasini told BuzzFeed News he was frustrated then and is frustrated now that a higher-profile progressive won't challenge her.
"I may be the only one left in the country who still believes that she's eminently beatable in the Democratic primary if anyone decides to run," he said. "Her support is kind of an illusion. It's a fascinating thing how people are quite afraid of that machine still."
As for John Spencer, he parted on good terms with Clinton. He made his concession call from the quiet of a hotel bathroom, and she graciously told him she'd learned from him — and particularly from his criticism of "our guys on the home front being too loud in our opposition of going to Iraq."
"You know, John, you're right," he recalled her telling him.
But now, he thinks her political career has run its course.
"I think people are seeing the act. If she does end up with the Democratic Party nominee, I think whoever the Republican is will beat her," he said.
He had just one caveat.
"I don't think Jeb Bush should be a candidate, even though I like Jeb Bush," Spencer said. "People are sick of the name Bush, people are sick of Hillary."
Rob Ryan is John Spencer's communications director. An earlier version of this story got his title wrong.