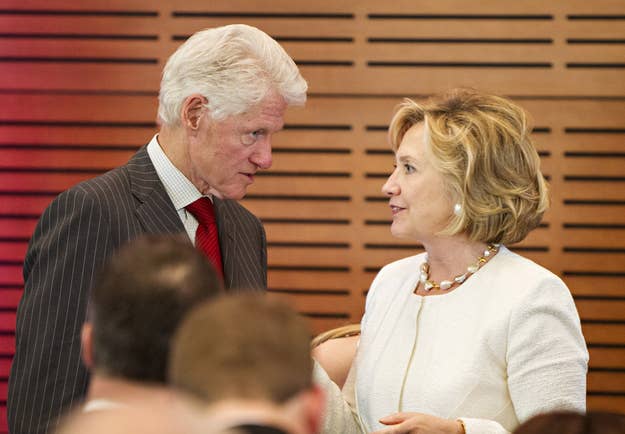 Hillary Clinton's announcement in May that she would be joining her husband's foundation seemed, to outsiders, like the most natural thing in the world: a high-minded, charitable base for whatever the former Secretary of State might choose to do.
But inside Clinton's circle, the decision provoked a frisson of worry: Clinton was giving up, some thought, the (genuinely) plausible deniability that could protect her from a charitable venture that had always had, up close, a seedy side.
The New Republic's Alec MacGillis Sunday night opened what are likely to be three years of close public scrutiny of the very private, elite, and lucrative shadow of the Clinton foundation — and specifically, the question of what the foundation's big donors got in exchange for their hundreds of thousands of dollars in contributions. MacGillis' article is a profile of the architect of what he describes as the "transactionalism" at the heart of Clinton-land, his former aide Doug Band, and his role in shaping a singular charitable enterprise. Band maintained, simultaneously, an "executive consulting" firm called Teneo, whose dealings are totally opaque, aside from having let Band spend $8.8 million on an Upper East Side apartment.

"There's an undertow of transactionalism in the glittering annual dinners, the fixation on celebrity, and a certain contingent of donors whose charitable contributions and business interests occupy an uncomfortable proximity," MacGillis writes.

Politico and the New York Times earlier this year touched on problems at the foundation, and at the suggestion that Chelsea Clinton had brought in an outside law firm to audit it. TNR's piece adds a great deal of detail, and raises the question of how money moved in and out of Teneo, and for what.

At its core is the charge — whose details are still not entirely clear, and could make or break Hillary Clinton's presidential hopes — that the former president did specific favors for big donors:


They could hope for a kind word from Clinton the next time they landed in a sticky spot. "Coca-Cola or Dow or whoever would come to the president," explains a former White House colleague of Band's, "and say, 'We need your help on this.' " Negotiating these relationships, and the trade-offs they required, could involve some gray areas. But for that, Clinton had Band.
If this sounds a bit familiar — the high-minded executive, the odd lack of curiosity around how money moved from point A to point B — that could be memories of the Clinton Administration (or of various other American politicians). MacGillis's piece adds some of the texture to this, including former President George W. Bush's apparent revulsion at experiencing a Teneo sales pitch at what was supposed to be an exclusive event with him, Tony Blair, and Clinton.
"It was unnecessarily inappropriate," says one guest. "It was flagrant." Bush had evidently gotten more than he had bargained for in accepting the (paid) invitation: At one point during the evening, a guest saw him shoot a glance at his aide that plainly said, What the fuck is going on?
Band himself comes across badly in the piece, though he isn't running for anything so it probably doesn't matter. There is a $400,000 wire transfer, for instance, from a felon. "He was a gatekeeper who charged tolls," one former White House colleague says.
MacGillis opens what's likely to be an intense line of inquiry for reporters leading to 2016, and puts his finger on why: How the "messier aspects" of the charity" could get in the way of Hillary Clinton's ambitions.
Perhaps the best sign, though, that the Clintons don't like this story: Band, MacGillis reports, and illustrates with a scene of presidential anger, has recently been cast aside.
Correction: The author of New York Magazine's Clinton story, Joe Hagan, said he was promised an interview in July, though he said he didn't know Clinton aides' motives for its precise timing. An earlier version of this post speculated that the New York Magazine interview had been "hasty." (9/22)