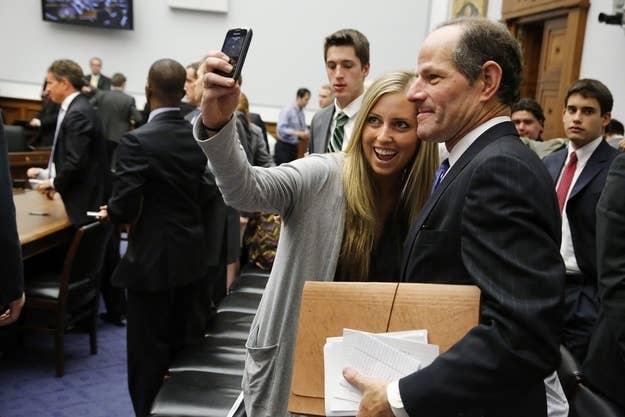 Eliot Spitzer's attempt to return to public life — with a perilously late entrance into the race for New York City comptroller — was being compared to Anthony Weiner's mayoral campaign about 20 times a minute on Twitter, last I checked.
But Spitzer has basically nothing in common with Weiner, aside from their low body fat and shared (and lightly observed) Jewish faith. Weiner is a talented politician who left Congress with no major legislative accomplishments and everything to prove. Spitzer was a major force in American public life for eight years despite having no particular talent for politics. Weiner's online romances brought him down because they were weird. Spitzer's ordinary sin — any number of politicians have survived prostitution scandals — ended his tenure as governor because his governorship was already going terribly.
The question about Weiner is whether, as mayor, he will be able to turn his talent for communications into leadership, something he's never done — but the sort of thing that can happen when you're mayor, as it did to Ed Koch.
The question for Spitzer is whose head he will take off first.
Spitzer was, as New York State attorney general, a terrifying and fascinating figure. He had learned from his legendary former boss Robert Morgenthau that under-resourced public prosecutors can't beat deep-pocketed law firms on a level playing field, and that where banks and wealthy defendants may have time and money on their side, prosecutors can use the press to erase at least the first advantage. He leaked shamelessly, even as he denied leaking, playing extremely high-stakes games with the stock prices of major corporations. He understood the power of fear and the innate conservatism of corporate executives, and persuaded much of New York City's financial elite that he was actually out of his mind — an incredibly valuable perception in high-stakes negotiations.
One of the better-documented examples of Spitzer's methods comes from John Whitehead, the octogenarian former chairman of Goldman Sachs (and thus perhaps no slouch in a knife fight), who claimed that after he criticized one of Spitzer's prosecutions of a finance executive, Spitzer called him to say:
Mr. Whitehead, it's now a war between us and you've fired the first shot. I will be coming after you. You will pay the price. This is only the beginning and you will pay dearly for what you have done. You will wish you had never written that letter.
Scary, yes. But who now thinks that prosecutors and regulators were too hard on bankers in 2005?
Also, it turned out, Spitzer did have a bit of a screw loose. As governor, he alienated possible allies and issued threats that he couldn't carry out. He warned one rather minor figure — the minority leader of the New York State Assembly — that "I am a fucking steamroller," and that he would steamroll the hapless Republican. Only American government doesn't work that way, and the politician laughed and leaked word of the conversation to the New York Post.
Also kind of nuts: The impulsive, incredibly late (he has just three days to gather petition signatures) entry into the race, with a barely perfunctory explanation in the Times interview.
New York City comptroller does not have the kind of tools to play on the national stage that pertain to the office of New York State attorney general. Spitzer also faces a capable candidate — Manhattan Borough President Scott Stringer, a smart and well-liked local pol. But there are elements of an opening for Spitzer in the fact that the comptroller manages some of the biggest pools of money in the world, retirement funds for city employees. He told the Times: "It is ripe for greater and more exciting use of the office's jurisdiction." Whatever that means.
One thing is true: There is more demand than supply right now in the Democratic Party for the sort of outsider, frankly anti-corporate politics embodied by Massachusetts Sen. Elizabeth Warren — that that turned her into an instant star and one of the party's top fundraisers. And Eliot Spitzer would be one hell of an activist shareholder.