Clinton: Diplomatic Standoff In Ukraine Would Be "A Win For Russia"
A former diplomat elaborates on her policy, one speech at a time.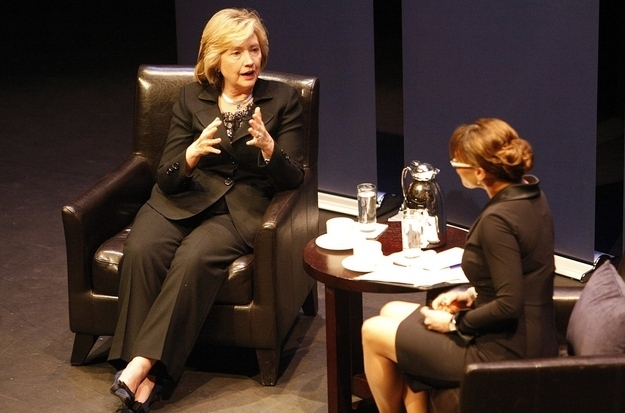 Former Secretary of State Hillary Clinton said Wednesday night that allies of Ukraine's new government are working against the clock against the Russian occupation of the Crimea.
"If this diplomatically drags on, it's a win for Russia," Clinton told an audience at the Vancouver Board of Trade on Thursday night, according to an attendee at the event who took careful notes.
Clinton had maintained silence on the crisis before, but Tuesday night in California surprised observers by comparing Vladimir Putin's tactics to those of Nazi Germany in the run-up to World War II. Earlier Wednesday in a speech at UCLA, she sought to walk elements of that comparison back, stressing that, "I'm not making a comparison certainly, but I am recommending that we perhaps can learn from this tactic that has been used before."
In Vancouver, another stop on a paid speaking tour of the West Coast, Clinton dismissed ousted Ukrainian President Viktor Yanukovych.
"I met with him several times ... he was not a visionary leader, to put it diplomatically," she said, according to the attendee.
"Russia has occupied Crimea. They believe they have a right to. I don't want to see happen to Ukraine what happened to Georgia," she said, according to the attendee's notes.
The Vancouver Sun reported that Clinton avoided commenting in detail on the Keystone XL pipeline, a top Canadian policy priority, though she did call for greater integration of the Western Hemisphere's energy infrastructure.