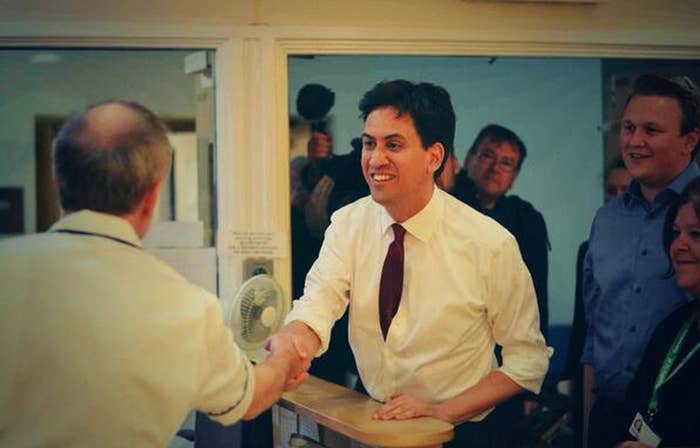 Britain's main opposition leader said Wednesday that he sees himself as part of an ascendent global left, and sees Massachusetts Sen. Elizabeth Warren and New York Mayor Bill de Blasio as leading allies in that cause.
Labour Party leader Ed Miliband spoke days after the upstart United Kingdom Independence Party — hostile to the European Union, immigration, and British political elite — rocked British politics by taking first place in elections to the European Parliament. He cast that victory as a "protest vote" and said that Labour could recapture many of those voters by focusing on economic dislocation.
"There's massive change happening in our country: globalization and opening up of the world and that has big profound economic and social implications," Miliband said during a 45-minute interview with BuzzFeed in standard class seats on a train from a campaign stop back to London. "Fundamentally this goes to what our campaign in 2015 and what Obama 2012 share in common: how to restore what the U.S. would call the American dream, with a strong middle class."
"If you look at some of the debates in America about inequality ... President Obama, Elizabeth Warren, Bill de Blasio are talking about similar things" as Labour, he said.
Miliband, 44, is an unapologetically pro-American figure who picked up an obsession with the Boston Red Sox when he lived in the United States as a child, and who said he regularly checks the MLB.com app on his iPad to keep up with the team. But he is also well to the left of any mainstream American figure and of his Labour predecessors: He unabashedly embraces the label "socialist" and has promised to impose higher taxes, set price controls on energy, expand free childcare and provide government jobs to the unemployed. Miliband, who said he's currently reading Thomas Piketty's Capital, was at first dismissed by the Conservative Party and conservative press as "Red Ed," but recent polling has shown support for Labour's policies, and the candidate is now trying to persuade the country to embrace his wonky personality with 11 months to go until national elections.
And he said he reads the U.S. political news aggregator RealClearPolitics as much as any U.K. press — "not to read about the 18th Congressional District in wherever but because these trends we're talking about are big trends."
"They're not just British trends and you have to look at what's happening in other countries," he said. "Very similar debates are happening in America as are happening here."
Miliband was in a midsize English town, Newark, Wednesday campaigning to increase government funding for health care and find ways to cut Britons' cost of living.
But he — like the leaders of the two parties now in government, the Conservatives and Liberal Democrats — has also begun to take a harder line on immigration, the most commonly mentioned complaint of UKIP supporters. He has sympathized in particular with complaints about health care workers who don't speak good English. And he is careful not to dismiss the concerns of those voters, who gave UKIP a quarter of the vote in the European elections and are trying to take Newark's typically safe Conservative seat.
"This UKIP vote was a protest and it was about saying that we want you to understand the depth of our discontent" Miliband said. "The way we answer that depth of discontent is by showing we get it on an emotional level. My version of that is talking about immigration not simply saying that if you're concerned about immigration you're prejudiced, which sometimes in the past Labour was seen to imply. The vast, vast majority of people who voted UKIP are concerned for understandable reasons. It's not about prejudice."
But Miliband has brought in a key Obama aide to help him make this case: former Obama adviser David Axelrod, who he said was valuable for having fought and won two elections "on the agenda that we are fighting on."
In the interview, Miliband defended his dramatic break with Obama, when the Labour leader's objection to military action in Syria wound up scuttling the White House plan. Miliband said he hadn't heard from the American president about his move.
"In relation to some of the decisions on foreign policy, Iraq does weigh heavily," Miliband said. "These are difficult decisions and I think we made the right decision and we've found a way — that hasn't been totally successful yet and we should be deeply suspicious of the Assad regime — but we've found a way to disable those chemical weapons."
And he said he's a staunch ally of the White House on another key foreign policy question: how tough a line to take on Russia. UKIP leader Nigel Farage has praised President Vladimir Putin, and a leaked government document suggested that Britain is reluctant to sanction Russia because of the amount of Russian money invested in London.
"Of course there is some Russian investment in London but ... there's nothing that should be taken off the table, and it's incredibly important to have a strong response from Europe and the EU," he said.
Miliband's main political struggle at the moment is generally thought to be less about big ideas or policies than about his dry personal image: He appears more at ease solving a Rubik's Cube than eating a bacon sandwich in public.
His bet, Miliband said, is that the depth of Britons' unease will dwarf issues of personality. Last week in Nottingham, he said, he met a man who is struggling to take care of his family on a minimum wage job at a gas station.
"He was really really desperate because he felt couldn't properly provide for his family — that's why the stakes are really just exceptionally high," he recalled. "He was thinking of ending it all because he just couldn't make ends meet."
"Suddenly bacon sandwiches look slightly beside the point," he said.