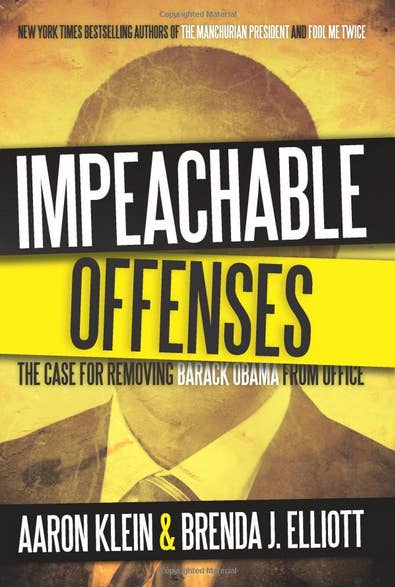 A new book making the case for the impeachment of President Barack Obama is flying off the shelves, its author said, as the president's reelection fails to entirely damp down the deep loathing of him on parts of the right.
Impeachable Offenses: The Case for Removing Barack Obama from Office cites everything from the attack on the American consulate and CIA outpost in Benghazi — which it compares to the Iran Contra scandal in the Reagan years — to the way Obamacare was passed, which the authors say constitutes "taxation without representation." The book, by WABC radio host Aaron Klein and Brenda Elliott, an anti-Obama blogger, also includes American military action in Libya and the Transportation Security Administration's passenger screenings as impeachable offenses.
The book, set to be published by WND Books on Aug. 27, has pre-sold nearly 100,000 copies already and just went to its third printing, Klein said, "due to unexpected demand from bookstores." WND is also among the conservative websites that operate a booming online and direct mail book sales business, the backbone of the conservative book market. (The presale figures couldn't be independently verified.)
"We knew this was going to be a popular book. What we didn't realize is that retailers would recognize it in advance and place large orders before the public weighed in," said WND Books CEO Joseph Farah (best known as a leading figure in the "birther" movement) in a statement through Klein.
"Clearly a large segment of the population is concerned Obama has overstepped his executive authority and has used his office to circumvent Congress to change, ignore, or at times perhaps invent de facto law," said Klein.
The rumblings for Obama's impeachment — the other main push appears to be a campaign centered on highway overpasses, and the movement has been encouraged at times by House Republicans — has not reached the heights of the liberal demands for George W. Bush's impeachment, much less the actual impeachment of President Bill Clinton, but continues what appears to be a bipartisan tradition, and Klein tried to cast his book as a nonpartisan effort.
"Every American, whether conservative or liberal, Democrat, Republican or Independent, should be concerned about the nearly limitless seizure of power, the abuses of authority, the cronyism, corruption, lies and cover-ups documented in this news-making book," he said in an email.