The biggest missed political opportunity in recent memory is probably Deval Patrick's decision, after losing quite a bit of sleep, not to run for president in 2016.

At the time, the path seemed fairly clear: The former Massachusetts governor could run as Barack Obama had, on unifying optimism, progressive politics, and a strong connection to the black voters who make up a pillar of the primary electorate.
Hillary Clinton's team was, Darren Sands reported, quietly afraid of him. And the results of that election left Patrick intensely frustrated.
One reason for that is obvious: Clinton was a far weaker candidate than the media and Democratic establishment thought.
The other possible reason just as obvious, but less discussed: Patrick could have won the primary. The Democratic primaries, as they are currently built, favor a black candidate. The winning formula in recent years has been to build a coalition from older black voters plus another group: white progressives for Obama; white moderates for Clinton. And the Democratic electorates in Deep South states, which vote early in the primary process, are dominated by black voters. That was where Clinton won in 2016, despite no particular attention to the region, and where Bernie Sanders lost it.
"When Southern black voters united behind a Democratic candidate, the South becomes a formidable firewall that is hard to overcome for any candidate who performs poorly among this group, which comprises the base of the Democratic coalition," wrote Seth McKee, a political scientist at Texas Tech, in a compelling new study of the 2016 election in the South titled The Future Ain't What It Used to Be.
McKee's essay comes with a chart of just how much blacker those Deep South electorates have gotten over the last 14 years. The numbers are dramatic. At the high end, the Democratic electorate in Mississippi was 15% blacker in 2016 than in 2004: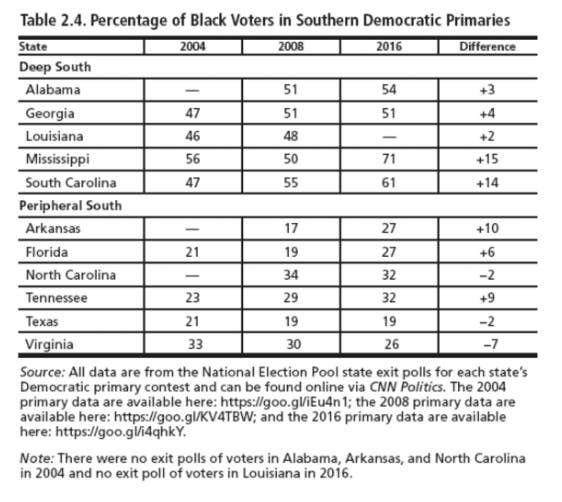 The book, a state-by-state review of the election in the South, also notes that Clinton and Sanders weren't really trying. They barely campaigned in the Deep South, outside of South Carolina. The Clinton campaign was, remarkably, taking black women in the South for granted — and got away with it: "It was her landslide support in the South that propelled, sustained, and secured Clinton's bid for the 2016 Democratic presidential nomination." (The Clinton campaign, however, was highly sensitive to how the primary map would favor or disfavor her candidacy.)

"The system favors minority candidates," McKee followed up in an email, noting also that in the Deep South, "there is a vast gender gap favoring the participation of black women over black men."
The nominating system, McKee told me, is now "favorable to a black woman."
While no black Democrats ran in 2016, at least three serious candidates look likely to run this time: Patrick; California Sen. Kamala Harris; and New Jersey Sen. Cory Booker. Former attorney general Eric Holder hasn't said that he's no longer thinking about it, either. I was passed McKee's book by the top adviser to one of the top-tier candidates for president this cycle.
All three are strong candidates in any state, and any of the three have a shot at winning over Iowa's progressive Democrats, who loved Obama. They have already swooned for Harris, as Molly Hensley-Clancy reported. She's clearly the best positioned of the three right now, and has done the most to line up the apparatus of a presidential campaign. But Patrick's positive message and Booker's intense charisma will also both play in Iowa living rooms. (I should admit here: I wrote in 2013 that the 2016 nominee would, for these same reasons, probably be either Patrick or Booker; I still think it would have been, had one run.)
It's foolish to predict who takes off in Iowa; it's easy to see what comes next. A thinning file of candidates will move to New Hampshire, Nevada, and then, crucially, South Carolina. South Carolina is the first of the primaries dominated by black voters and, given the usual dynamics of elections, the state that will end the campaigns of two of those three candidates as one emerges as the clear favorite of black voters. That single candidate then heads into the primaries McKee describes.
Oh, and the date of most of the Southern primaries? March 3.
That is the same day that California votes. And when you look at it that way, you might want to mark your calendar that day with Kamala Harris's name. In pencil, of course.