Biden Dominates Debate
It's forceful Joe Biden versus gesticulating Joe Biden as Ryan moderates. "Oh, now you're Jack Kennedy?"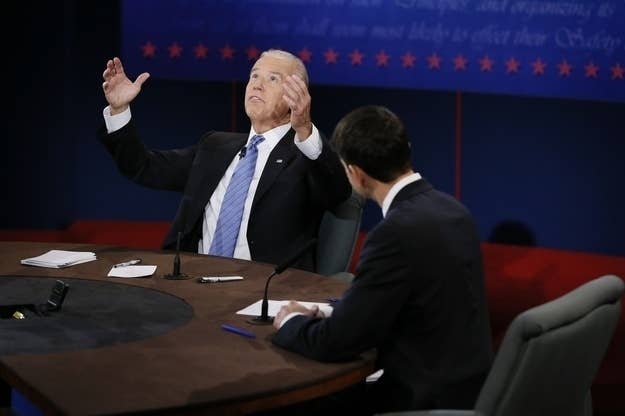 Vice President Joe Biden dominated Thursday's Vice Presidential debate, hammering Rep. Paul Ryan again and again during his portion of the night while his laughs, smirks, chuckles, cackles and hand-gestures overwhelmed Ryan's more understated jabs.
Biden — a relatively unpopular figure according to opinion polls, and ones whose drunken uncle persona in the popular culture has at times overwhelmed his real person — patronized Ryan repeatedly, lectured him, and shook his head in shock, and at one point looked skyward as Ryan criticized the Obama Administration's management of foreign and domestic policy.
"This is a bunch of stuff," Biden said of Ryan's charge that the Administration had abandoned Israel , translating his own bowdlerized barnyard epithet for the moderator as "malarkey."
Biden scolded Ryan in particular for having requested stimulus funds, despite opposing the stimulus, a charge Ryan has written off to acting on modest constituent requests.
"He sent me two letters saying, 'By the way, can you send me some stimulus money for companies here in WI?'" Biden hooted.
When Ryan invoked John F. Kennedy's tax cuts, Biden pounced: "Oh, now you're Jack Kennedy?" he marveled.
"Their ideas are old. And their ideas are bad," he said of Ryan and Romney.
Biden also challenged Ryan to rule out ending the mortgage exemption for people earning less than $100,000, which Ryan did not.
Biden's most forceful moments, though, came during a mostly silent performance enacted on split screen as Ryan carefully made his own points. Biden raised his hands skyward, showed his gleaming teeth, shook his head, laughed, smirked, grinned, snorted, and rolled his eyes.
The Vice Presidential debate appears unlikely to have the effect on the presidential campaign that Barack Obama's stumbles last week did, and the performances were far more even. Ryan held his own where Obama failed. But Biden's performance gave Democrats hungry for energy, punch, and emotional connection what they needed to end a week that had veered at times near panic.
This story has been updated to include the end of the debate.