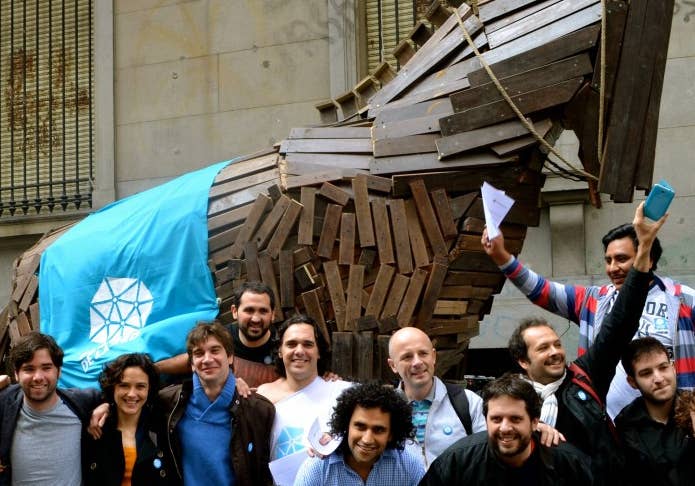 BUENOS AIRES — When Santiago Siri founded his Net Party two years ago, he turned to fellow members of the small, tight tech scene in the Argentine capital and they all agreed to chip in.
But Argentina is a bureaucratic place, and accepting their contributions wasn't easy. He had forms to fill out for the bank and tax authorities, and nearly two months had passed before he had a bank account.
One donation, though, came in quickly enough to get the party started. Argentine tech giant Wences Casares replied instantly to Siri's email: "Absolutely — do you accept Bitcoin?" An hour later, the Net Party had the equivalent of 25,000 pesos ($4,265) in its account.
"There you can see the difference: the speed of money," Siri recalled in an interview over coffee at a sidewalk café in Buenos Aires' prosperous Palermo neighborhood. "The money took eight weeks in the other cases; it took one hour with Bitcoin."
It was satisfying validation for his new party's slogan: "The internet changes everything."
Siri is a familiar figure on a familiarly quixotic venture: the idealistic techie who turns to politics, appalled at the sheer inefficiency of governance — piles of paper, terrible information — and bursting with solutions ruling classes eagerly ignore. Siri is, though, a particularly devoted and accomplished one. The handsome son of the Buenos Aires elite, he became obsessed with startups and with coding young. A game he started developing as a teenager, Football Deluxe, was the first Argentine digital game to get worldwide distribution; a second game company, at which he was creative director, sold to Disney. He's 30, and looks about that age, wearing a gray sweater with the sleeves pushed up and sneakers on a coolish afternoon.
At the heart of his new program is a piece of software: DemocraciaOS, a mobile web application that offers, right now, easy access to the doings of the Argentine Congress, and an easy way to comment on them. It's a small taste of the digital governance Net Party candidates promise. And Siri is operating on the counterintuitive theory that Argentina, with its ossified and corrupt politics, is actually particularly ready for the revolution.
"The first thing you get told when you're proposing online democracy in a place like this is those are things for Sweden or Iceland — countries that are very rich in resources, it would never happen here," he said. "But innovation usually happens in the place where nobody is innovating."
Argentina's hotly contested midterm elections are Sunday, and Buenos Aires is papered with the faces of the leading candidate for city office: Mauricio Macri, who is not only a businessman but also became famous for being the president of one of the most important local soccer teams; and the candidates running to control the important province of Buenos Aires, in a key test vote: Martin Insurralde, an ally of the ailing President Cristina Kirchner; and Sergio Massa, a former Kirchner protégé turned foe.
Siri, meanwhile, is campaigning with an arresting, if complex, visual metaphor: A giant Trojan Horse, pulled on the back of a sturdy black SUV. As he talked with BuzzFeed, the horse prompted amazed tweets from the college students who are his base over at the design and architecture school of the University of Buenos Aires:

"The political party is the way that we have to inject this Trojan virus into the congress, " he explained. "We are making the political system believe that we are playing by the rules but actually we are inserting an entirely new logic into their system."
A moment later, Siri quoted the late Argentine strongman Juan Perón: "Argentina is a politicized society but lacks political culture."
The midterm local campaign between seven parties is being waged largely in the non-ideological Perón tradition, on the grounds of specific promises of public services like prescription drugs, between leading candidates who both have some claim to Perón's tradition. In a country that likes its campaign promises simple — placards, for instance, promising free prescription drugs, Siri's is a rather abstract turn.
There haven't been opinion polls of the race for the Buenos Aires legislature, but few expect a Net Party surge. "Today, they look like a group of cute and smart crazy [people] who don't hurt anyone," said Juan Agustín Robledo, the opinion editor at the site Infobae. "But the method seems like true empowerment."
And the Net Party leader is keeping his ambitions in check: It would be a huge victory to win a single seat in the 60-member Buenos Aires legislature.
"If we are able to put one or two legislators in congress this sunday, it's not that one or two legislators will be occupying that seat," he said. "It's actually a software application that includes the voices of every citizen."
Siri has also been evangelizing, and internationalizing, for his principles, which include the internet as a universal right. He's working with hackers in Spain on an identity verification system; and says he's building alliances in Chile and Spain. The Net Party is self-consciously international, as Siri believes that the size of the nation-state is a mere artifact of the pre-digital age, and that his new politics, like the internet, should be global.
Siri's travels brought him this July to The Hague, where he sat on a panel with Supreme Court Justice Anthony Kennedy, who heard the young Argentine articulate his theory that lawyers are the original hackers of the old-fashioned political system: "They know how to manipulate the old type of code."
After the event, Siri said, he received an unexpected letter from Kennedy, the Court's swing justice and, as such, at times the most powerful man in American democracy. He hasn't publicized the letter — his electorate isn't particularly pro-American — but summarized it.
"I don't know what's going to happen," he said Kennedy wrote, "but it's definitely going in that direction and your generation is going to figure out it."