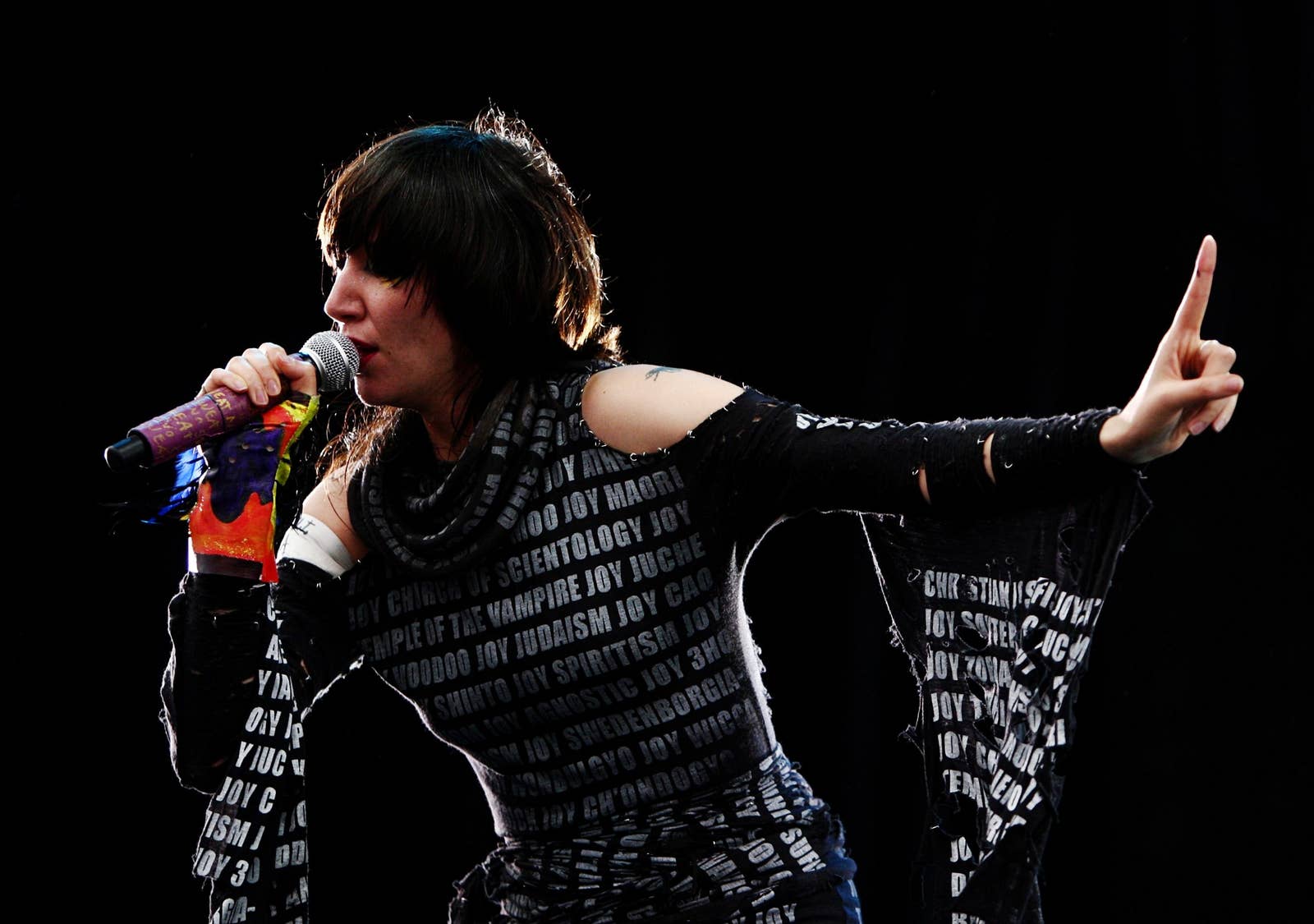 "You have to have a good sense of humor to roll up in a crazy outfit."
Costume designer Christian Joy was talking about Liberace, but the same could be said about Karen O, whose colorful and vibrant outfits have been a defining feature of the Yeah Yeah Yeahs since their start in New York City in 2000. Joy, whose real name is Christiane Joy Hultquist, has been working with the singer since the band's earliest days.
"I used to work at a store in the East Village called Daryl K, and when Karen was a student she used to come in," Joy told BuzzFeed News. "Eventually, we became friends, and she started telling me about her band, and she brought in her first record where she's wearing a little 'master' necklace, and I was like, this is going to suck. Then I heard it and I was like, wow, this is great."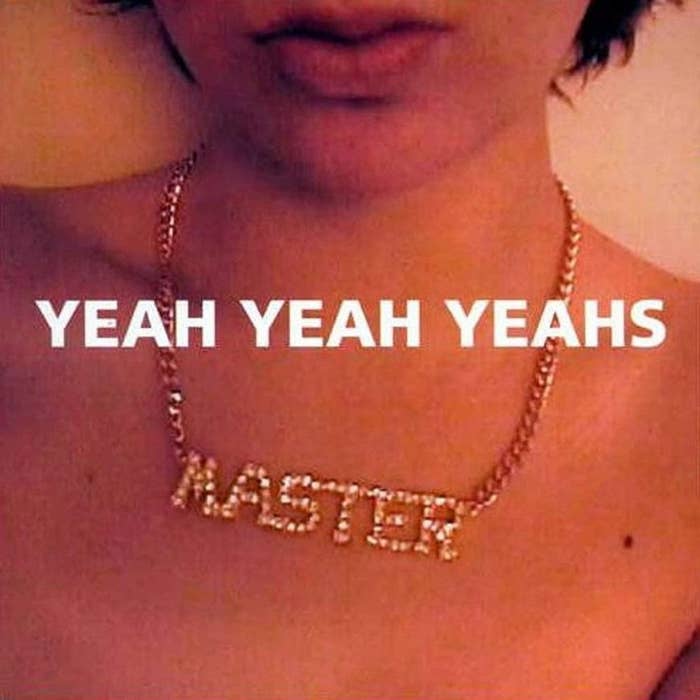 Not long after that, O saw some deconstructed prom dresses Joy was taking to sell at a nearby store, and she asked the designer to make one for her. O wore the dress, a one-shoulder look with hand-drawn type across the chest, to a show at a now-defunct Meatpacking District venue called the Cooler (as difficult as it may be now to imagine, the Meatpacking District was — in the early '00s — an uneasy alliance of punk venues, biker bars, Florent, and actual meatpacking plants). When O shouted out the designer from the stage that night, Joy said she was "so embarrassed."
"I came from a different rock scene. … My rock scene had been in Chicago, and everybody was too cool for school to wear a costume," she added. Originally from Marion, Iowa, Joy spent her early years in Chicago, whose music scene was being championed by Pitchfork, the über-cool tastemaker of the time, before moving to New York City in 2000.
Joy and O's early collaboration would lead to an artistic partnership spanning more than two decades.
"At the beginning, I didn't know how to make clothes," Joy said of her early work for O. "I was stapling things, and it wasn't until she called me up and said, 'we have a Rolling Stone shoot tomorrow,' that I kinda realized I really need to teach myself to do this because this is kinda going to become my job."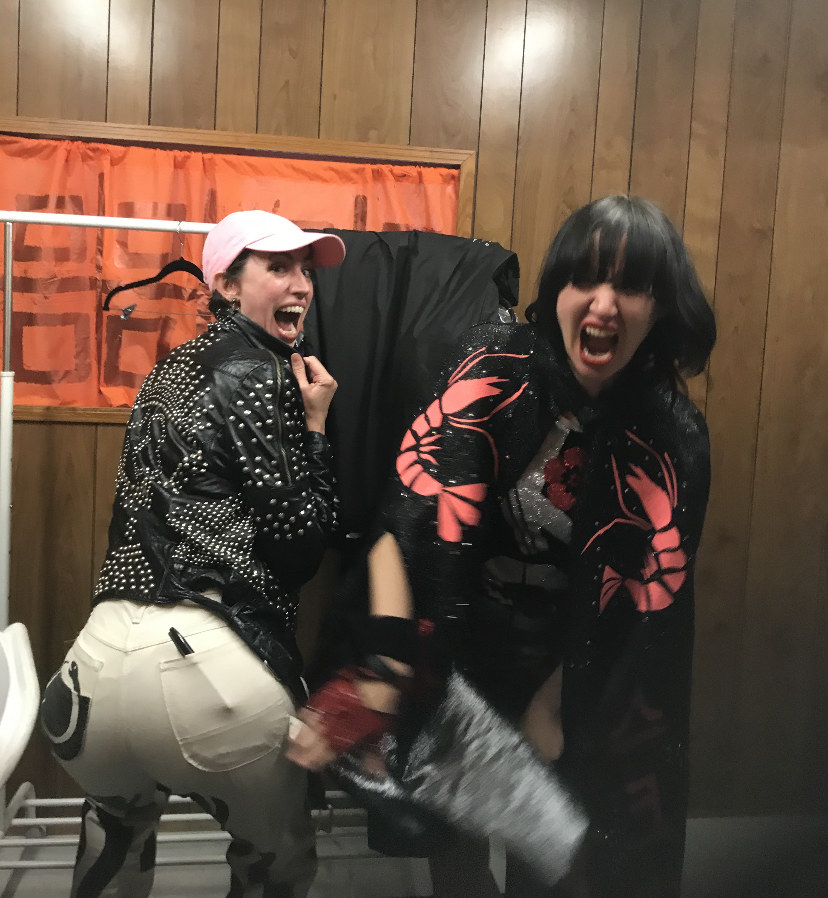 It's rare that a music scene exists in a vacuum: The grunge scene in early '90s Seattle saw an explosion of great bands but also raised the profile of graphic designers like Art Chantry, whose work was defined by recycled and repurposed imagery; the DC hardcore scene was documented by the raw photography of Glen E. Friedman; the Haçienda in Manchester, England, gave us the precise and graphic work of Peter Saville.
The bands of the New York music scene in the early '00s were no exception. The Strokes featured the photography of Colin Lane, while Liars and TV on the Radio worked with visual artist Julian Gross (who would later join, and leave, Liars).
Of course, these bands had the look you'd tend to associate with indie-rock musicians and the city at the time: ironic, consciously unconscious cool (effectively, the Ramones' style with cooler haircuts). With the exception of Interpol, who were known for wearing suits onstage, the idea of wearing a "costume" (a word that sounds more appropriate for Kiss than art rock) would have been anathema to the scene, which makes O's choice to work with Joy all the more surprising. When the rise of Nirvana effectively ended the era of hair rock's aesthetic excesses and introduced the world to the sartorial charms of the Pacific Northwest, style in rock music has trended toward simplicity. By the late '90s, simplicity had given way to some unfortunate stylistic detours, a fad that was put out of its misery by the return in the early '00s to a less complex (and more formfitting) style.
We might typically refer to a singer's onstage outfit as a "look." That a musical act has a designer sounds more fashion house than art house — so it's curious that Joy and O call the look a "costume." But Joy defends the semantics.
"One thing I've heard Karen say is that when she puts on the costume, she suddenly becomes Karen O," Joy said. "It helps her become who she is onstage."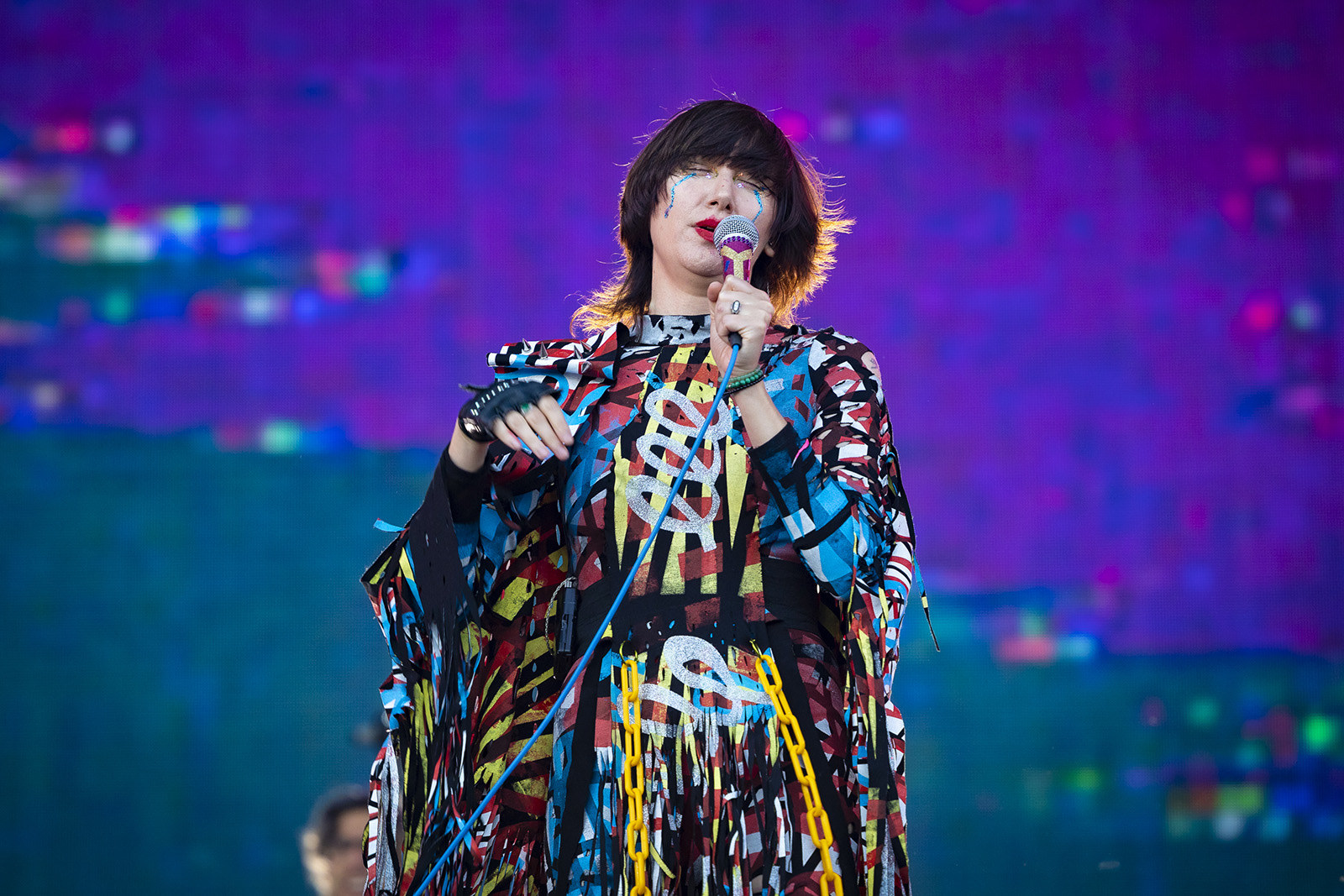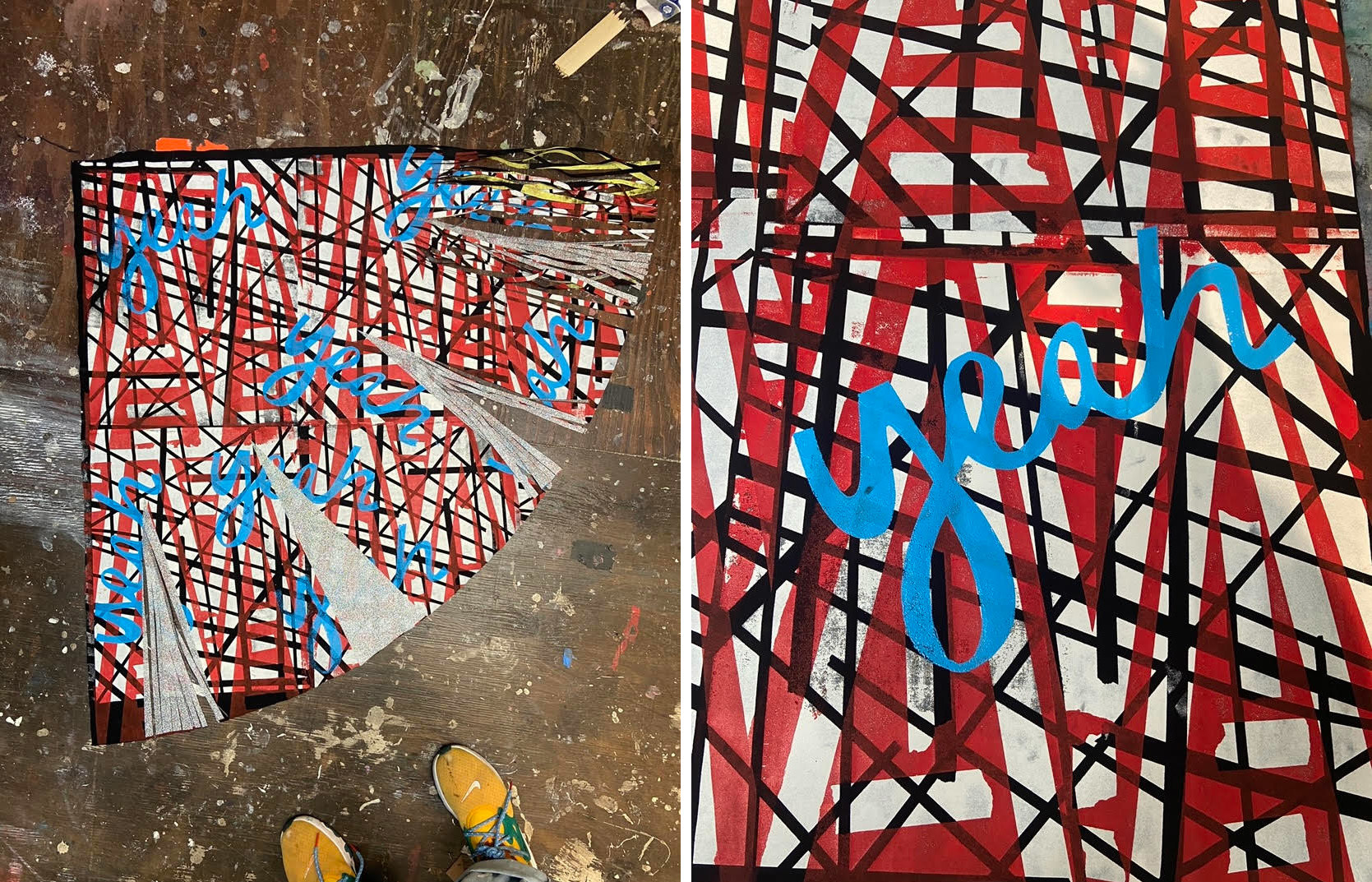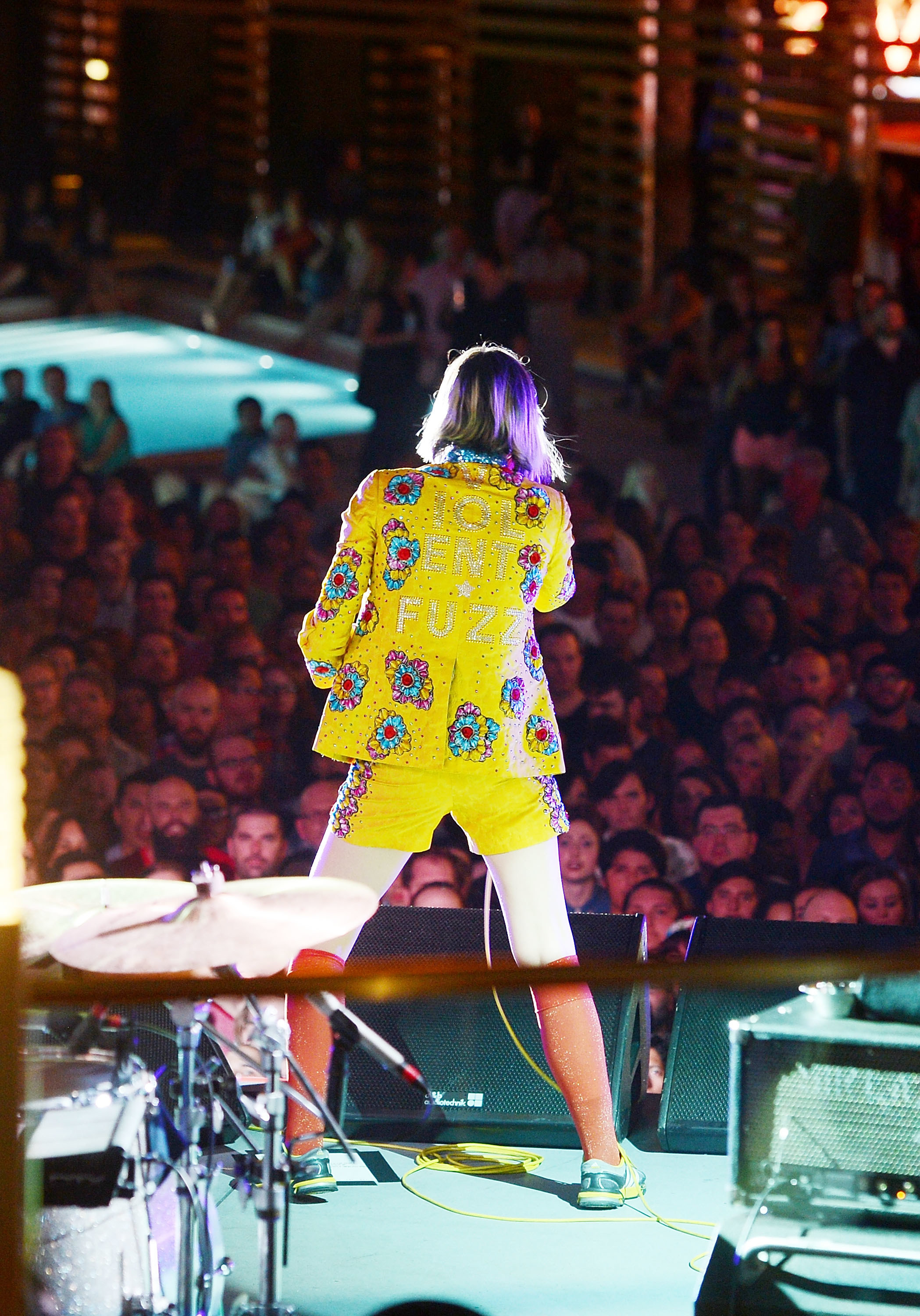 "My inspiration was the New York punk scene and the DIY aesthetic," she added.

However, she also drew from less likely sources, like John Waters, whose work is known for its camp and humor.
"I was super into his movies, they are so hilarious, so I'll just make everything really funny," she said. "And it worked well because [O] is super funny. She was supposed to look cool!"
Other points of reference for her work yielded slightly less-than-favorable results, though. Asked to create a costume for a show at the Bowery Ballroom in 2006, Joy tried to channel Yayoi Kusama, an artist known for her colorful, polka-dot patterns. "And it was just the ugliest dress I've ever made," Joy said with a laugh. "Karen said, 'Can you never make this for me again?'"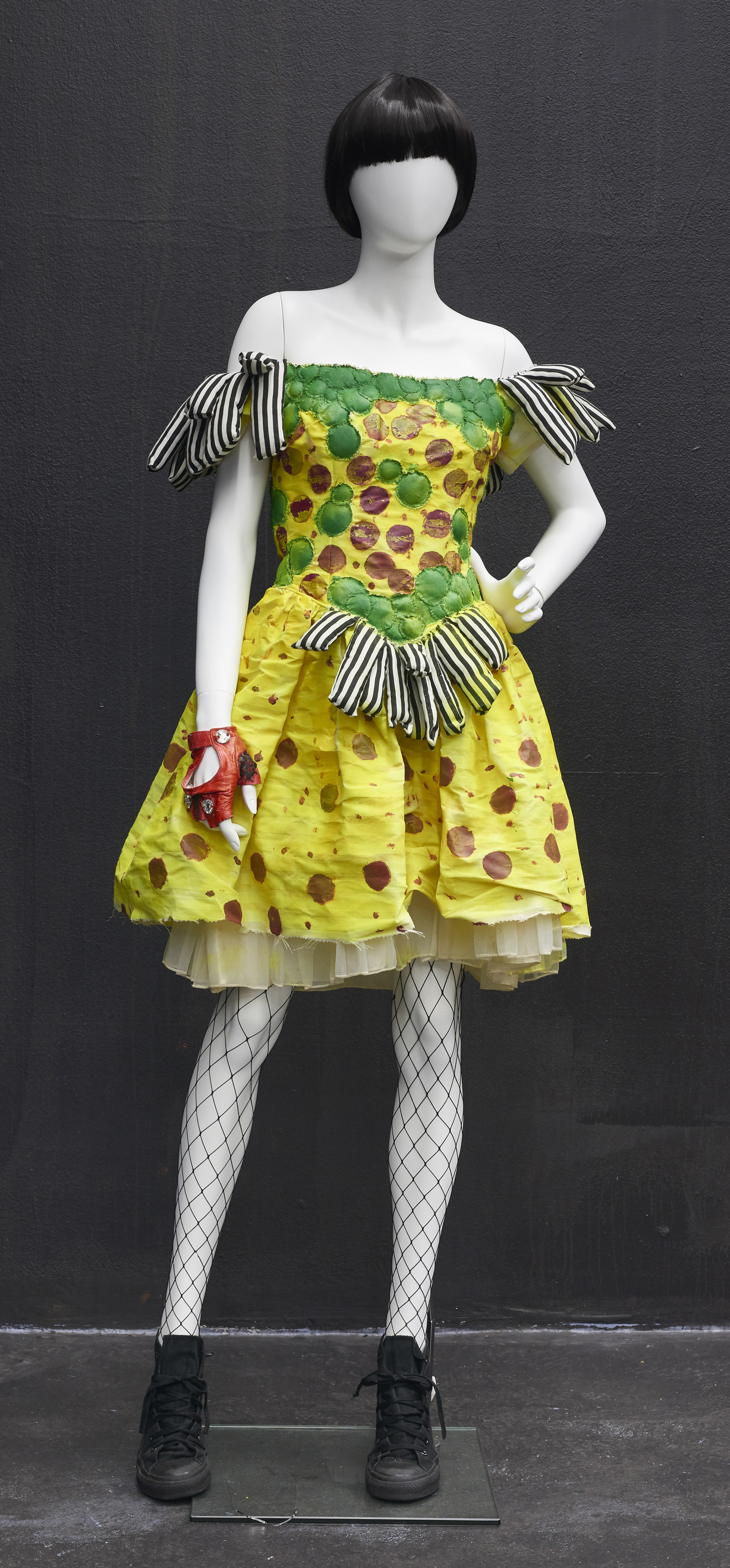 Asked about her personal favorite, Joy pointed to the skeleton suit worn on the Fever to Tell tour in 2004. "That was a moment for me where I had started to really learn what I was doing," she said.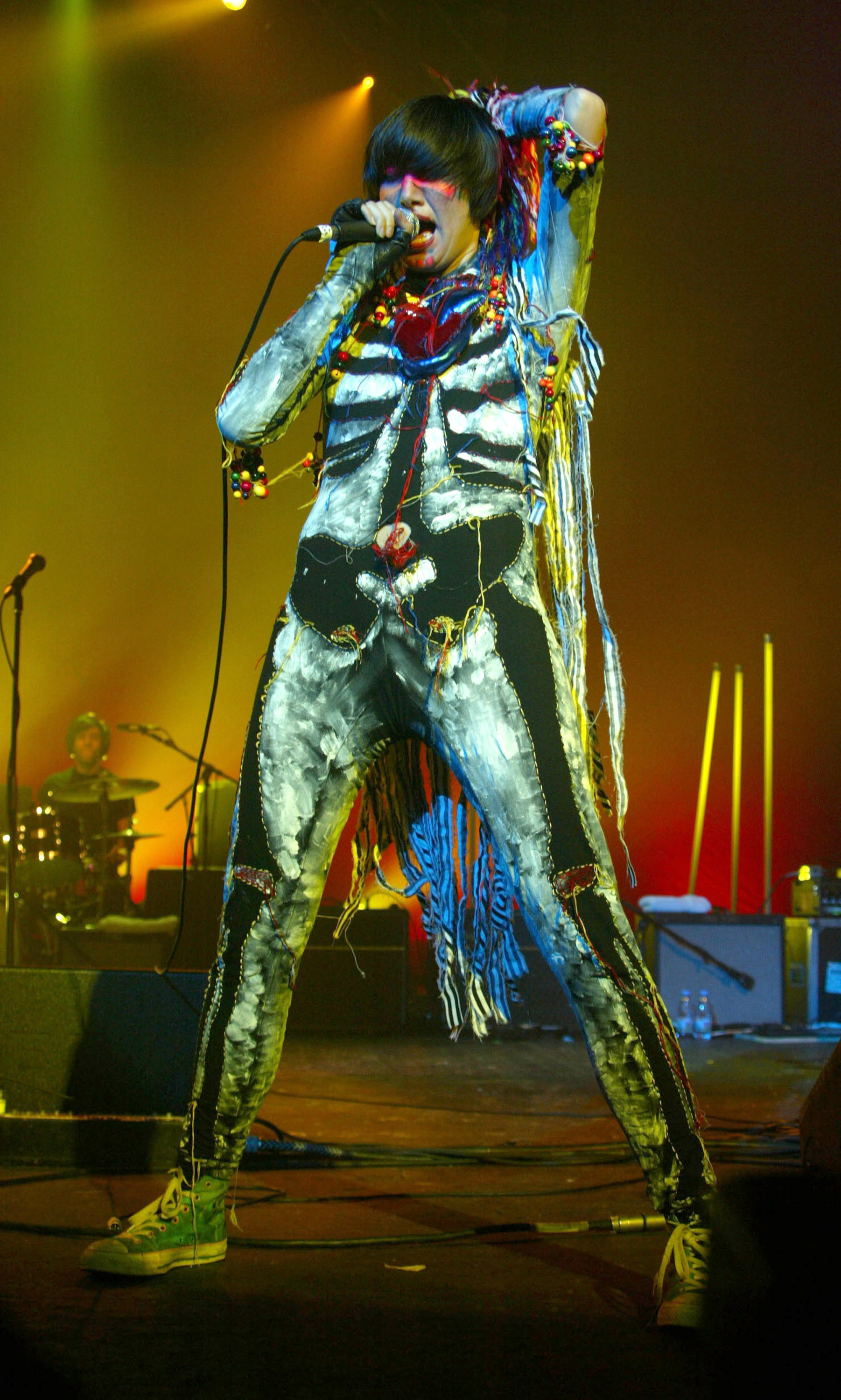 The costumes have always been more than dresses or "looks." "When they started off they were more arty than the Strokes or Interpol," she said. "So for me it felt more like an art project for me, more than 'dressing this singer of a band,' so how can I make this artwork — that are clothes — look even crazier?"
A hallmark of a YYYs concert is O's onstage energy. "She would fall all over the place, so I needed something soft so that if she fell she'd be OK," Joy said. "So I had this old pattern for a leotard and I was like, oh, I should just make her leotards!"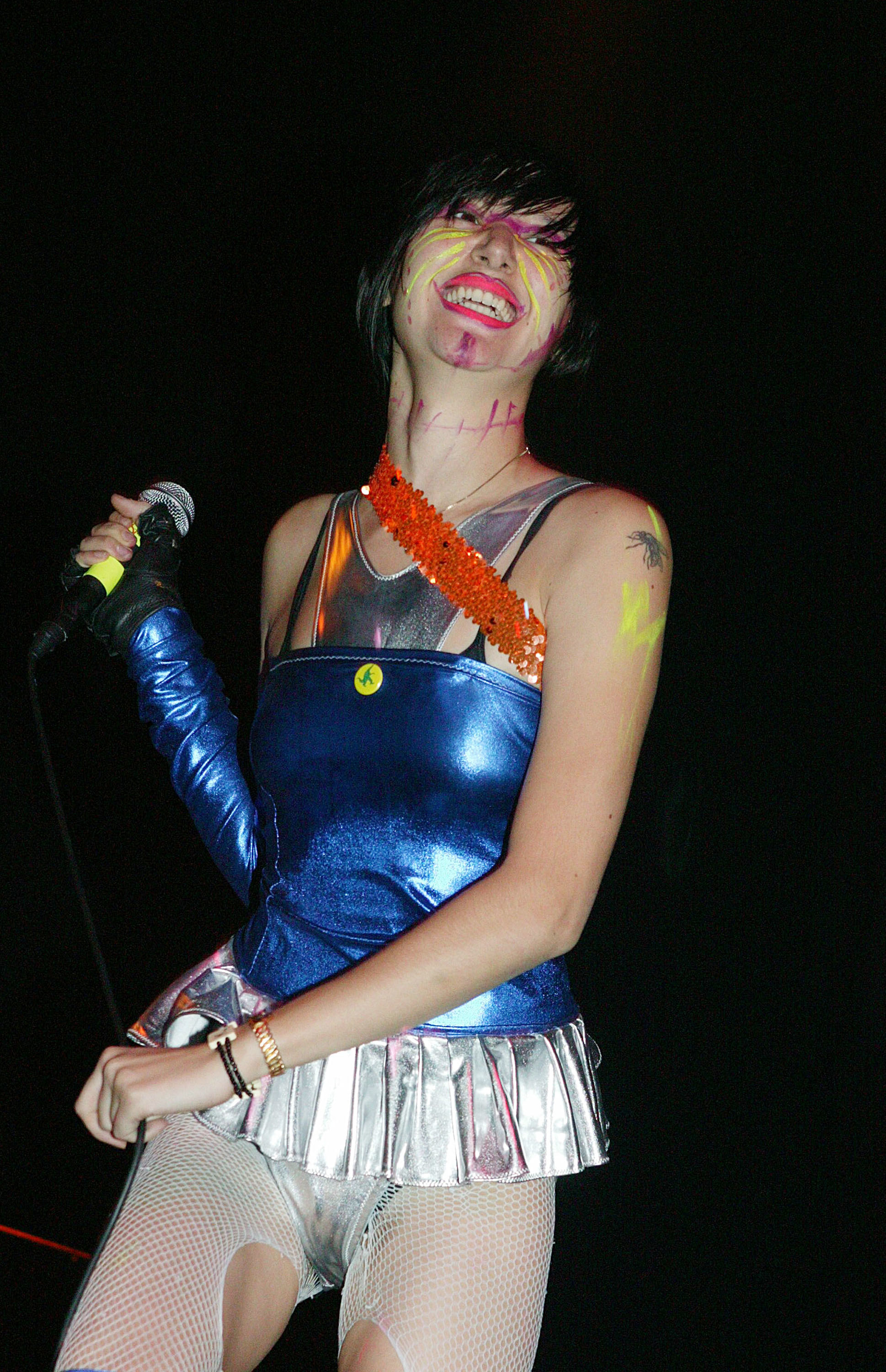 The leotards, it turns out, addressed a different problem. O had noticed that photographers at her shows were constantly shooting her crotch and up her dresses. According to Joy, they were thinking, "This girl's insane, I can just shoot up her underwear." Leotards and stockings discouraged that, in addition to reintroducing a somewhat forgotten fashion. The leotards weren't without their own downsides, though. "We did this Spin shoot and she came in with this crazy leotard — and it was a big deal at that point because she had such a crazy camel toe!" Joy recalled.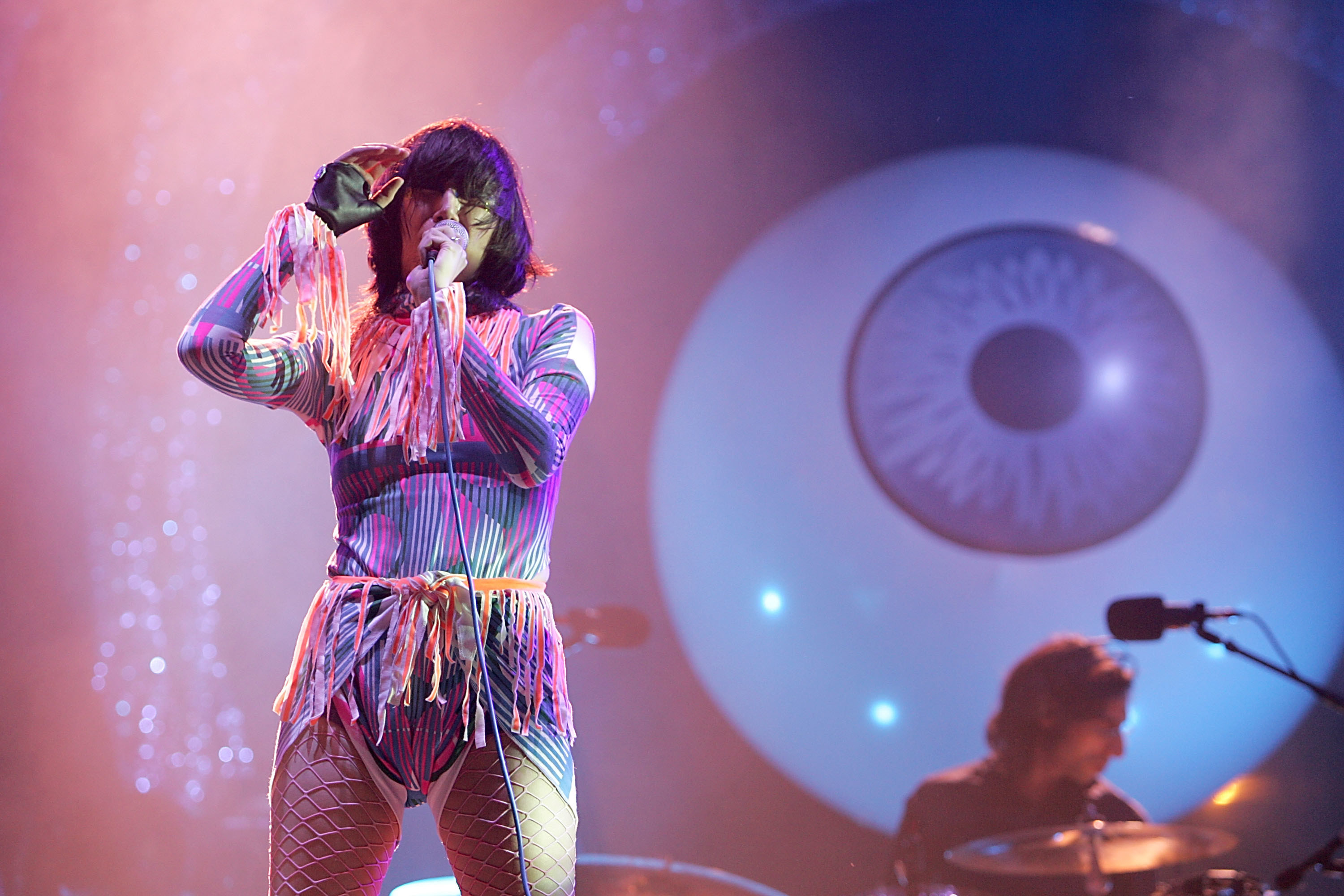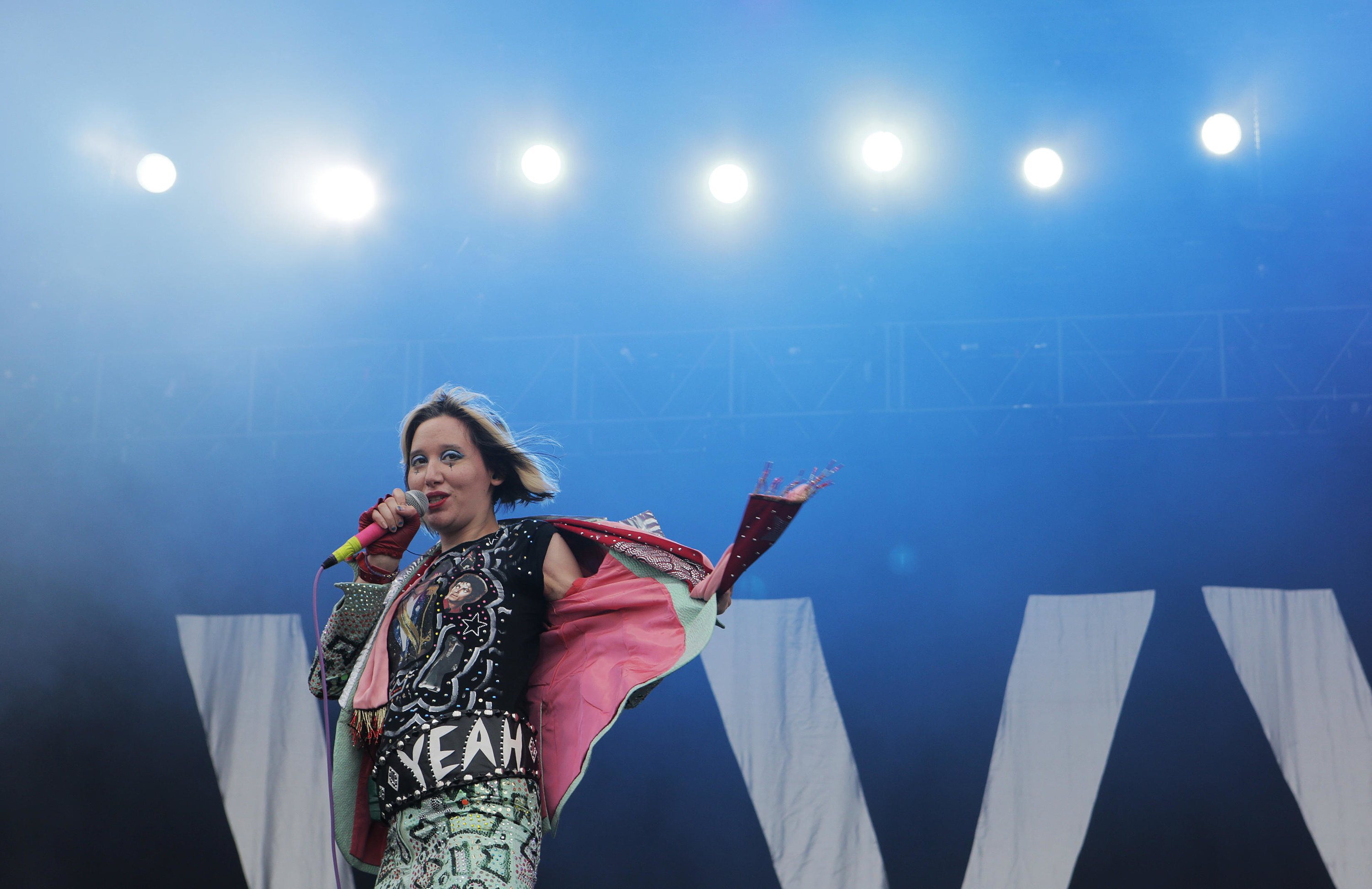 While the costumes' original inspirations are nested in DIY aesthetics, the motivations have evolved. "For each record there's a different look where we play with different things. Fever to Tell is a more garbagey look," Joy said. "Show Your Bones is where I started getting into printing. That's where I discovered Kansai Yamamoto, who made the David Bowie looks (like Ziggy Stardust), and that influenced me a lot. I was starting to get into screen printing and designed some T-shirts for Show Your Bones. And then for Mosquito we did suits."
So where is Joy taking the singer's look for the latest album, Cool It Down? "This newer one I'm trying to make her a little sexier," she said. ●