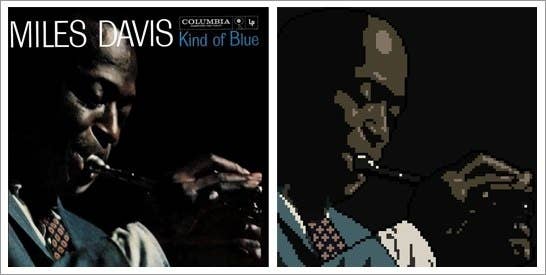 In February of 2010, Andy Baio got a nasty letter asking for $175,000.
It came from Harmon & Seidman LLC, a law firm that represents creative professionals. The firm was alleging copyright infringement, and asking for "either statutory damages up to $150,000 for each infringement at the jury's discretion and reasonable attorneys fees or actual damages and all profits attributed to the unlicensed use of his photograph, and $25,000 for Digital Millennium Copyright Act (DMCA) violations."
In essence, they were saying "Fuck you, pay me."
This would be considerably less remarkable had Baio not already negotiated, and paid, a licensing fee for the tracks upon which Kind of Bloop, an 8-Bit Tribute to Kind of Blue, was based. But the attorneys at Harmon & Seidman did not represent the estate of Miles Davis; they worked for Jay Maisel, the photographer who shot the iconic photo of Davis that graced the cover of the original album.
Maisel claimed that the album's cover, which consisted of a meticulous rendering of the photo in pixel art, was a derivative work, and thus subject to licensing fees. And Baio, who never anticipated the photographer would take issue with what he considered to be fair use, was caught blind-sided and ended up settling the case for $32,500.
Fair Use: A Legal Minefield
If, like many on the Internet, you wish to contribute to the pool of mash-ups, mixtapes, and other Mary Shelley-inspired aberrations of web culture, we salute you. Unfortunately, if you remix existing works which are protected under copyright, you could be in for a nasty surprise.
The question of what exactly constitutes fair use — and the nebulous string of legal decisions that form the core of its effectiveness as an affirmative defense — is a source of considerable confusion for artists. Nowhere is this more apparent than in the music industry; so much so, in fact, that an hour-long documentary was created exploring the questionable legality of sampling and remixing. The popularity of mash-up albums from artists like Brian Burton (Danger Mouse), who was threatened by Sony after he released his Beatles/Jay-Z mash-up Grey Album, and Gregg Gillis (Girl Talk), whose albums fuse dozens of pop songs into a single, hour-long set, has done little to change the legal landscape.
If they choose to test the waters, artists with little to no knowledge of copyright law are faced with countless legal questions: How much of a song can I sample? What if I record my own version of it and sample that? If I give it away for free, does that make it OK? (Answers: it doesn't matter; you'll probably need a mechanical license, unless it's video, in which case it's complicated; and it might help your case.)
Even without overt sampling, a work can still come under attack. The growing popularity of "soundalikes" — songs written in the style of popular artists used in commercials to avoid licensing the originals — is a recent example among dozens of dilemmas faced by modern composers, songwriters, and performers. What about the Koren Ensemble, who perform orchestral, intricately-arranged medleys of popular TV theme songs?
The magnitude of FUD around the legality of sampling, mash-ups, and remix culture is such that many artists actively avoid projects they think might expose them to litigation. After settling the lawsuit with Maisel, Baio wrote, "For me, the chilling effect is palpably real. I've felt irrationally skittish about publishing almost anything since this happened."
This is why we created this handy guide to remixing without getting sued.
In spite of these concerns, the number of independent artists publishing remixes does not appear to be diminishing anytime soon — in fact, general interest in remixing and mash-ups appears to be on the rise, if Google Trends is to be believed. And the rapid growth of sites like SoundCloud and Hype Machine lends credence to the possibility that, more and more, consumers are actively seeking out independent artists online. Many of these artists, like San Diego indie pop duo TV Girl, use samples and remixing heavily in their work, but as the group told me over email, "We haven't been able to sell anything with samples in it just for caution's sake." (The group noted in a follow-up email that the desire to build a fan base with free downloads also weighed heavily in the decision.)
Artists have good reason to be scared: a cottage industry has sprung up around settling small-time copyright infringement claims. In addition, many lawyers take on copyright infringement cases solely for commission. Baio explained to me: "In the last five years, people have gotten more comfortable with prosecuting copyright cases as a business model. Not to defend their rights, but simply as an alternate revenue stream." (Gillis and Burton both declined a request to be interviewed on the subject.)
The problem is compounded by the fact that the Congress has taken no steps to define the nature of fair use through legislation, instead leaving the matter for individual judges to decide in court. This is unlikely to change soon: around the time he publicly endorsed Girl Talk at the "Future of Radio" House Telecom and Internet sub-committee hearing, Mike Doyle (D - PA) said in an interview with Newsweek that "some members don't even want to understand it. They just get a call from the industry saying, 'Bad.'" (The endorsement, transcribed here, was an important milestone in the history of remix culture.)
How to Stay Out of Court
While fair use is an established legal doctrine with decades of history, it will not prevent a lawsuit. In legal terms, it is an affirmative defense, which is a fancy way of saying it's a legally defensible justification for breaking the law. What this means in lay terms is that if you piss someone off, they have every right bring you to court; the burden of proof will be on you to prove that your creation falls under the umbrella of fair use. If you've never been to court, rest assured that it is, to quote Baio, "a massive emotional and financial drain."
The best defense, in this case, is to avoid a fight. Here are some tips to help make yourself an unattractive target for litigation:
1. Those who — like Girl Talk and Danger Mouse — have already achieved some degree of notoriety in the media are actually much less likely to be sued. There are two reasons for this: first, the Electronic Frontier Foundation has made it clear they're eager to litigate fair use cases, and second, the negative press associated with suing them outweighs the benefits of the potential licensing fees.
2. Those with the financial resources to retain an attorney should do so if they have not already. Consulting a lawyer for an opinion on whether or not a recording constitutes fair use will not prevent a lawsuit, but it may keep the artist from going down a creative path like this R&B Classic that is clearly derivative and unlikely to hold up in court.
3. Artists should take copyright law seriously, and study the legal precedents to further their understanding. Knowing, as they say, is half the battle. There's a wealth of literature on the nuances of fair use; this article and this FAQ should provide a good overview, while Pamela Samuelson's Unbundling Fair Use is a more comprehensive study, and Matthew Sag's Predicting Fair Use has an excellent set of guidelines.
4. Artists should never, ever assume that their work will go unnoticed, and should speak with a lawyer and plan an appropriate response in the event of a cease-and-desist letter.
Some Closing Thoughts
The decision of whether or not to publish work which falls under the legal grey area of the fair use doctrine is a serious matter. Even artists who publish their work free of charge can be subject to costly litigation, or at the very least see the results of their hard work taken down by the original rights holders.
Though some artists may have the financial wherewithal to afford a license to use the original works, the rights-holders may not wish to grant one. In these cases, artists will have little choice but to rely on the amorphous fair use defense if they want to publish their work — at least until Congress clears things up.
Also, check out our handy guide to remixing without getting sued.
Don't Forget!
This article was co-authored with Gabe Levine, a San-Francisco-based new media lawyer, podcaster, and blogger.
The article is made available for informational purposes only, not to provide legal advice. You understand and agree that: (a) there is no attorney-client relationship between you and the publishers or authors, including Gabriel S. Levine and Benjamin Jackson; (b) all statements are solely those of the authors and do not reflect the views of any other person, company or organization; and (c) the article should not be used as a substitute for competent legal advice from a licensed professional attorney in your state or jurisdiction. Though it is not intended as such, this article may be considered advertising in some jurisdictions. The determination of the need for legal services and the choice of a lawyer are extremely important decisions, and should not be based solely upon advertisements or self-proclaimed expertise.
[This post has been updated to correct the answer to the second common question on fair use regarding sampling one's own covers; thanks to Andy Baio for pointing out the nuances of mechanical licensing and video distribution.]