By the time the blows stopped and his caretaker climbed off of him, Elimeen Carter's face was a tangle of fractures. The bottom of his left eye had been crushed, and his nose had shifted visibly to the right, fragments of it loose under his skin. Blood spattered his pale blue pajamas.
Rewind the surveillance footage a few minutes to 7:53 a.m., Feb. 12, 2014. Carter stepped out of his room on the prison psychiatric ward of Manhattan's Bellevue Hospital. Outside his door sat Dwain Rodrigues, an orderly assigned to be his monitor.
Rodrigues stood and advanced on Carter. The footage has no audio, so it's impossible to tell what they said to each other. Carter stretched his arms out, palms flat, as he backed away.
Suddenly, Rodrigues kicked Carter's groin and grappled him to the ground, flipping him onto his back. He slammed his fist into Carter's face and smashed his head against the white linoleum floor. Then he stood and dropped onto Carter, driving his knee into the side of Carter's head as Carter held his face in pain.
Rodrigues grabbed Carter by the hair and dragged him into his room. Other staff gathered and watched. No one stopped Rodrigues, who continued to beat Carter in the room, still visible from the hallway camera. About 30 seconds later, Rodrigues left the room. Carter lay on the floor, motionless, in his bloody pajamas.
Even though the beating was captured on video, Rodrigues was not charged with a crime for more than two years. What happened in the interim is a story of investigative and prosecutorial bungling — failures endemic to the New York State Justice Center for the Protection of People With Special Needs, a little-known but critical government agency whose mission is to safeguard disabled people in the state's care and to make sure those who harm them are held accountable.

The Justice Center — granted full powers of law enforcement to protect the state's most vulnerable citizens — is all but toothless, according to a BuzzFeed News review of court records and data on thousands of cases.
Last year, the Justice Center substantiated more than 4,000 cases of abuse or neglect — including 731 cases in its two most severe categories, which include assault, rape, and other acts that harm disabled people in the state's care. But as of May 2016 only 52 of those cases had been prosecuted. That means that more than 92% of serious cases were never criminally prosecuted.
For the ultimate harm — death — the Center found 37 incidents in 2014 and 2015 when a caregiver's abuse or neglect was involved in a patient dying. It prosecuted only one.
Justice Center officials, speaking on background, defended their record, saying that substantiated allegations can still be hard to prove in court beyond a reasonable doubt. They also said the Center was never meant to replace prosecutors statewide, but rather to backstop district attorneys and ensure that abuse didn't slip through the cracks of the justice system. Indeed, of the 52 cases prosecuted in the last two years, local district attorneys handled 41 and the Center picked up 11.
"The agencies investigate themselves, and of course nobody's going to take responsibility."
Officials said the Justice Center punishes perpetrators in other ways, such as removing them from their jobs and blacklisting them for life, making it impossible for them to ever work with disabled or mentally ill people again in New York state. In 2015, the Center placed 138 people on its blacklist.
The Justice Center was founded in 2013 to fix the abject failure of its predecessor, the Commission on Quality of Care and Advocacy for Persons With Disabilities. That institution was so broken that in 2012 it pronounced itself incapable of effectively advocating for people with disabilities and asked the governor to shut it down. In response, New York's legislature created the Justice Center, which Governor Cuomo announced with great fanfare as a new defender of the vulnerable, "dedicated to implementing the strongest protections in the nation for over one million New Yorkers with special needs."
The state gave the Justice Center hundreds of investigators, a small army of lawyers, and an annual budget that is currently $54 million. It was granted exhaustive access to facility records and personnel, and its jurisdiction is extremely broad: The Center can prosecute anywhere in the state, with or without the consent of the local district attorney. With this expansive mandate, it was also supposed to put an end to the old system that allowed facilities in which abuse occurred to investigate themselves.
In practice, however, little has changed.
The Justice Center continues to farm out about half of its investigations to the very departments of the state government that licensed the facilities in the first place. And in many cases, those departments turn the investigations right back over to the facilities where the alleged abuse took place for internal investigators to handle. The Center has also systematically stonewalled an important watchdog, according to a suit filed by Disability Rights New York, which by federal and state law is mandated to monitor the Center's investigations. Last year, the Associated Press reported that less than 2.5% of the Center's substantiated cases had resulted in criminal charges.
The Justice Center said it reviews all investigations conducted by the departments and facilities it oversees, but conceded that those are "desk reviews," in which the Center's investigators usually do not re-interview witnesses or inspect facilities. According to job listings for the Center's staff who review facility investigations, they are not required to have any investigative experience.
"The agencies investigate themselves, and of course nobody's going to take responsibility," said Harvey Weisenberg, a former New York State assemblyman who helped pass the legislation that created the Justice Center.
The result is that caretakers get away with abuse or neglect with few consequences.
Take the 2013 death of an 18-year-old man, who is identified as M.H., at a group home in Goshen, New York. The man, who was autistic and had intellectual disabilities, relied on a feeding tube, which progressively failed over eight months until he finally died. During that time, his doctor "repeatedly instructed staff not to take M.H. to the emergency room" and "did not assess M.H. for nearly three months prior to his death," according to a report by the watchdog organization Disability Rights.
Rather than investigating whether the man's doctor had been guilty of neglect, the Justice Center focused on the narrower question of whether the neglect had led directly to the man's death, Disability Rights found. The investigation took 11 months, a delay that the Center has never publicly explained despite a statutory requirement to document the reasons for any investigation that takes longer than 60 days.
Ultimately, the Justice Center concluded that the conduct of M.H.'s doctors was "inadequate and inappropriate" but continued to allow his doctor at the group home to treat other patients there. (He was eventually removed by the administration of the home itself.)
In a written statement to BuzzFeed News, Justice Center officials said they had been unable to take action because the man was transferred to a hospital the day before the Center was legally created. (He died there of sepsis a few days later.) Since he had left the group home by the time the Justice Center started operating, the Center determined it could not prosecute the case.
Even when the Justice Center does take cases, it sometimes flubs them. In January 2015, Ryan Quinion, a guard and counselor at a juvenile center in Claverack, New York, was charged with multiple counts of assault by the Justice Center for allegedly unlocking the door of a 17-year-old resident's room the previous March, allowing three other teenagers living there to enter and attack him.
Judge Charles Hoag dismissed the charges, finding, among other things, that the Center's investigator had failed for two months to request crucial security footage, allowing it to be erased.
In August 2015, a jury took 10 minutes to dismiss charges brought by the Justice Center against two women who worked at a group home in Niskayuna, New York, who had allegedly overturned a couch while a disabled man in their care was sitting on it. It turned out the Justice Center's case was built on the testimony of a single witness who changed her story each of the four times she testified during the trial.
What happened after Elimeen Carter was brutally beaten on the 19th floor of Bellevue Hospital epitomizes many of the Justice Center's failures.
Carter, now 35, is a tall, heavy man with a thick beard and no front teeth. He was 16 years old when his relatives began to notice something wasn't right. He would brag about his fame and success as a rapper, said his cousin Tamika Coleman, or point to cars on the street and say he owned them.
Sometimes he refused food, telling his family he thought someone was trying to poison him. "At first, we thought he was joking," Coleman said. "We thought it was funny because we didn't realize there was something wrong."
A year later, his father, Willie Carter, got a call from Carter's mother asking for help. For three weeks, she told him, their son had been isolating himself in his bedroom, refusing to eat or bathe.
Willie rushed over, he recalled, and found his son sitting in bed, distant and staring. "I thought maybe it was drugs of some kind," Willie said. "Maybe he had smoked something or someone had put something in his drink."
Carter was diagnosed with schizoaffective disorder, which joins psychotic symptoms such as delusions and hallucinations with bipolar traits, subjecting him to sudden, massive mood swings. When his delusions take him, Carter often believes that he is a prominent rap producer, a billionaire, and the son of Jay Z. Other times, he becomes suddenly enraged.
Since his diagnosis in 1998, Carter has spent much of his life in jails and hospitals, including stints on Rikers Island, at the Essex County Correctional Facility in Newark, and, repeatedly, at Essex County Hospital Center in Cedar Grove, New Jersey.
The result is that caretakers get away with abuse or neglect with few consequences.
Carter's doctors have tried nearly every antipsychotic on the market, but his delusions persist. Before he came to Bellevue, he was taking both a powerful, older drug called Thorazine and clozapine, widely called the "gold standard" of psychiatric medication because of its history of helping even the most intractable of cases. Still, when the doctors who interviewed him upon arrival asked why he was there, Carter said, "I ate something I wasn't supposed to eat." He couldn't say what year it was, even when offered choices. He told them he owned the company Esurance because its name, like his, starts with "E."
At his most coherent, when the drugs are doing all they can for him, Carter has never understood that he is mentally ill.
The medications calm him, though. His aunt Sharon Carter said he is "a totally different person" when he's medicated — "sweet, caring, loving." But like many psychiatric patients, he often refuses to take his medication. Sometimes he hides it to keep his family and doctors from knowing he's not taking it.
The legal trouble that would eventually lead to his beating at Bellevue started on May 20, 2007, on a warm, gusty afternoon in Jamaica, Queens. According to his arrest records, Carter got into a church van that was parked with the engine running, drove away, and was arrested 20 minutes later after crashing it 4 miles down the road. As he recalled in an interview with BuzzFeed News, the van was a gift promised to him by a fellow inmate years before, and 50 Cent spoke to him through the car's radio.
Carter was charged with grand larceny and released on bail. He took a plea that would involve mental health treatment instead of prison, but before his sentencing he was arrested again in New Jersey, this time for aggravated assault with a weapon — a broken bottle. Carter spent the next five years in jails and hospitals in New Jersey because of that offense.
Finally, on Oct. 15, 2013, Carter was transferred to a jail cell on New York City's Rikers Island to wait for his sentencing on the grand larceny charge. He would eventually be given time served, but as he waited for his day in court, his mental health began to deteriorate. Notes in his medical record, which was obtained by BuzzFeed News, show that he wasn't taking medication in prison.
Carter was sent to the western wing of the Bellevue Hospital Prison Ward on Dec. 9 to be stabilized by the intensive care of the psychiatrists there. He returned to Rikers on Feb. 4, 2014, and quickly fell apart again; doctors' notes describe him standing naked in his cell, spouting grandiose delusions. So on Feb. 10, he was sent back to Bellevue, this time to the northern wing where Dwain Rodrigues worked.
Prisoners on psychiatric wards can hear voices, careen into paranoia, and even act violently, as Carter's family says he sometimes does. One study in California found that more than 30% of prison psychiatric patients commit at least one violent assault during their hospitalization.
The Bellevue prison ward may be particularly dangerous. Several members of the ward's staff, who spoke with BuzzFeed News anonymously because, they said, Bellevue requires incoming staff to sign a pledge not to talk to the press, described the ward as a perilous place where they're frequently attacked and receive little protection or training in how to deal with assaultive patients. One person who worked on the ward told BuzzFeed News that Bellevue does "just enough to say they trained us" — a single training shift per year — and that the training talks about de-escalation techniques, but not "what to do when you've been punched in the face."
At least four members of the Bellevue prison ward staff told BuzzFeed News they had received injuries from violent patients. "It happens again and again," one said. "You're scared they might kill you. At some point that just builds up and maybe people snap."
The ward has a long history of staff-on-patient violence as well. Back in 1981, New York City's Legal Aid Society brought a class-action lawsuit alleging widespread abuse and neglect, including a pattern of brutality by correctional officers on the unit. The ward almost lost its certification in 1989.
Jonathan Chasan, the lawyer who spearheaded the 1981 lawsuit and has helped monitor the ward under the suit's settlement conditions, told BuzzFeed News that the ward improved somewhat in the 1990s. But by the mid-2000s, the violence had returned.
In many prisons, inmates with mental illnesses are much more likely than those without such disabilities to be victimized by guards or the staff of prison psychiatric wards, a recent study from Human Rights Watch showed. In Colorado, just 3% of prisoners had a mental illness diagnosis, but over a year they accounted for 36% of the use-of-force incidents. They were pepper-sprayed while being removed from their cells at more than 10 times the rate of other prisoners. In four prisons in California, inmates with mental illness made up 30 to 55% of the inmate population but accounted for as much as 94% of all use-of-force incidents.
At Bellevue, a 31-year-old patient named Patrick Miller was beaten to death in 2007 allegedly by a group of five guards in an area of the ward that didn't have cameras. Despite FBI and NYPD investigations, no one was prosecuted.
The cameras that later captured what happened to Carter were installed as part of the settlement of a lawsuit brought by Miller's mother.
In a written statement, Bellevue spokesperson Evelyn Hernandez told BuzzFeed News that the hospital has improved its crisis management training since Carter's beating, including increasing the training time for incoming nursing staff to two days instead of one. "Despite the challenges of caring for patients in a psychiatric [prison] population, we have zero tolerance for the behavior of the employee involved," said Hernandez.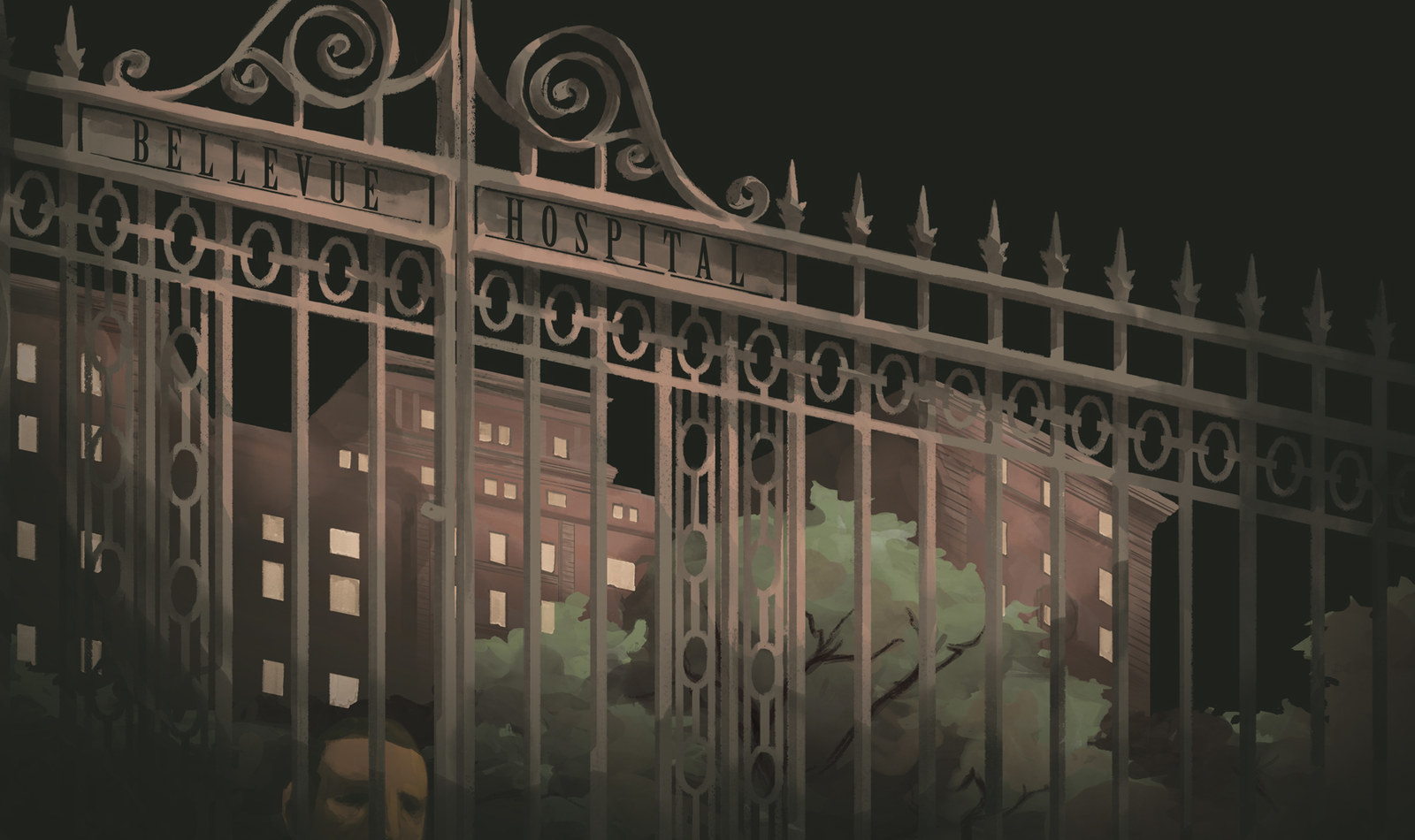 Carter had been on the ward less than a day when the trouble began.
It was the morning of Feb. 11, 2014, and he had just left the shower room. A staff incident report reviewed by BuzzFeed News tells one version of what happened next, but the cameras show something sharply different.
The incident report, whose author is not named, claims that Carter walked out of the shower naked and tried to swing at a staff member, prompting a call for a Crisis Management Team — employees who deal with unruly patients. One member of that team, according to the report, was Rodrigues, the man now accused of beating Carter. The report says that the Crisis Management Team talked Carter down with no issues or injuries.
Here's what the video shows: Carter walked from the shower wearing a towel around his waist. He did not swing at anyone. But Rodrigues stopped Carter and almost immediately grabbed him in a headlock, pressing his arm against his neck until Carter slipped to the floor. A Department of Correction guard stood nearby, watching.

Rodrigues, whose defense attorney declined to make him available for an interview, later filed a counterclaim arguing that he believed Carter had a weapon in his hand, which turned out to be a comb. A court document reviewed by BuzzFeed News states that Rodrigues first made this claim more than a year after the incident, only after he watched the surveillance video. The footage shows both him and the nearby guard ignoring the comb after Rodrigues finishes choking Carter.
Carter was then forcibly injected with Haldol and Ativan, a common cocktail of antipsychotic and sedative medications that quickly put him to sleep, according to his medical record. He slept the rest of the day, waking up just before Rodrigues arrived the next morning. The head nurse on the unit told Rodrigues that he would be serving as Carter's one-to-one monitor that day.
Rodrigues, 37, worked on Bellevue's prison ward as a psychiatric social health technician, a job that combines nurse's assistant and orderly duties. He had been at Bellevue for almost a decade, and his mother and brother both worked at the hospital too. Rodrigues started there in 2004 as a nurse's aide; in 2010, he was promoted and moved to the prison ward, making $35,640 a year.
In Rodrigues' personnel file, obtained through an open records request, there are no mentions of any violent incidents with patients, including Carter's beating — an internal investigation by the hospital was never completed, and the records of the investigation were sealed.
Rodrigues protested the assignment to be Carter's monitor, according to his defense attorney and the lawyer then representing Carter in a civil lawsuit against New York City. According to Rodrigues' lawyer, Rodrigues argued that since he was involved in the Crisis Management Team incident the day before, he feared that Carter might attack him. But, the lawyer said, the head nurse replied that the unit was short-staffed, and he had to keep the assignment.
Less than an hour later, Rodrigues beat Carter bloody and smashed his eye socket — a second brutal confrontation in two days, also captured on video. After Rodrigues kicks Carter in the groin, the video shows Carter picking up Rodrigues, who then throws Carter to the floor and pummels him.
After the beating, a guard named Gerard Archer filed an incident report claiming that Carter had assaulted Rodrigues. Still bleeding and with his nose and eye socket broken, Carter was forcibly medicated again and placed in seclusion.
Often, staff don't report beatings. Human Rights Watch Senior Adviser Jamie Fellner, the lead researcher on the study about abuse of prisoners with mental illnesses, told BuzzFeed News that her research indicates that mental health staff on prison units are just as likely as security officers to maintain a code of silence about patient abuse. A study of New York City's correctional system last year found that health care workers frequently don't report abuse because they fear retaliation from the guards.
But after Carter's beating, some staff were so troubled by the ferocity of the attack that they came forward. Kent Mackzum, a public defender who represents Bellevue's prison ward patients, said several staff members told him they thought Rodrigues had attacked Carter and not the other way around.
In a statement, Rodrigues' lawyer Darren Goldman told BuzzFeed News that "while he understands the video of this incident is disturbing when viewed out of context, the threat to Mr. Rodrigues was real and present. A complete video, showing the events leading up to the incident and with audio, would demonstrate Mr. Rodrigues' innocence."
Carter's aunt Sharon doesn't buy it. She saw a photo of her nephew taken after the attack, and his face, she said, "looked like the Elephant Man."
"What gets me is they work there every day. They know that there's a video rolling," she said. "They think they can get away with it because he's just another black man with a mental problem, and they can just sweep it under the rug and nothing will come of it."
Mackzum, the lawyer who represents patients on the prison ward, made a request to preserve the surveillance footage, preventing it from being automatically erased. Rodrigues was put on administrative leave by the hospital. Mackzum and other prison ward staff reported the beating to the Justice Center.
Then the delays began.
In March 2014, according to documents reviewed by BuzzFeed News, the Center sought the video — but also questioned whether it had jurisdiction over the case.
The law that created the Justice Center is unambiguous: The Center has purview over all psychiatric facilities licensed by the state's Office of Mental Health, which includes the Bellevue prison ward. The statute gives it specific oversight of the "quality of care provided to inmates" — not just patients — "with serious mental illness."
A Justice Center spokesman told BuzzFeed News that the Center determined it had jurisdiction in March 2014. He also said the Justice Center determined it had jurisdiction only after the Office of Mental Health informed the Center that the Bellevue prison ward — a unit of what is perhaps the most famous psychiatric facility in New York — was, indeed, licensed by the state.

That might have been the end of it. The Center had authority and video evidence, and there were witnesses to the beating.

Instead, months passed. A senior Justice Center official who had detailed knowledge of the case told BuzzFeed News that, in fact, the Center had decided that it did not have jurisdiction. This person spoke on background during a conference call with other Center officials on the line.
This official said that another agency, the city's Department of Investigation, would handle the case together with the Manhattan District Attorney. Both those agencies declined to comment, but the Manhattan DA never brought the case to court.

Rodrigues continued to take a partial salary until he resigned in January 2015.
"Attempted assault? If he attacked me outside the hospital the way he attacked Mr. Carter on the unit, he wouldn't just be charged with attempted assault."
Finally, in October 2015, the Center's prosecutors got involved in the case — because only then, 20 months after the beating, did they learn they had jurisdiction, the official said. Documents reviewed by BuzzFeed News and statements from other sources familiar with the case corroborate this timeline.
When presented with BuzzFeed News' findings, Justice Center spokespeople insisted that the Center determined it had jurisdiction in the Rodrigues case in March 2014 and was involved in the case from that point onward, sticking to that timeline despite the conference call in which the senior Justice Center official contradicted it. They declined to address the discrepancy.
On March 23, 2016, more than 25 months after Rodrigues crushed Carter's eye socket in the hallway of the Bellevue prison ward, the Justice Center announced that Rodrigues had been indicted in New York County Supreme Court.

Rodrigues was charged with two counts of endangering the welfare of an incompetent or physically disabled person, one count of attempted assault in the second degree, and, for the choking incident the day before, one count of attempted strangulation in the second degree.
He was released without bail.
The charges did not seem like enough to some advocates. "Attempted assault?" asked Valentina Morales, who oversees the Bellevue office of the Mental Hygiene Legal Service. "If he attacked me outside the hospital the way he attacked Mr. Carter on the unit, he wouldn't just be charged with attempted assault."
Even with video evidence, waiting to prosecute can do significant damage to a case. The U.S. Supreme Court once noted a "real possibility of prejudice inherent in any extended delay: that memories will dim, witnesses become inaccessible, and evidence be lost."

Rodrigues is scheduled for trial starting Aug. 3. If convicted, he could face more than 10 years in prison, but several lawyers who are familiar with the details of the case have said they believe he will plead to lesser offenses instead of being tried.
Carter now lives at Essex County Hospital Center in Cedar Grove, a labyrinthine, 180-bed psychiatric hospital where he's spent much of his adult life. (He was committed to the hospital six times in 2015 alone.) During a court appearance in January, he kept yelling at his court-appointed attorney, shouting over and over again, "You're not my lawyer!"

The Bellevue attack "really took Elimeen over the edge," said his aunt Sharon. He's more frequently in the grip of his delusions, she said, and he's become much more paranoid and prone to violence, especially around men he doesn't know and authority figures. Doctors' notes from Bellevue a month after Carter's beating said he would become paranoid every time he saw a male staff member.
"Don't prey on the weak. He came towards me because he knew there was nothing I could do. Whether I fought him back or didn't fight him back, I was gonna lose anyway."
Carter was released from the hospital briefly this year, shortly before Rodrigues was indicted. He went to stay with his father, and after a psychologist's appointment, they argued in the parking lot. Their quarrel escalated, and Carter hit his father in the face, knocking off his glasses and hat.
"There's a violent rage that lives within him," said his father, Willie Carter. "His life is just truly spiraling and spiraling and spiraling."
In an interview, Carter, his speech halting, said he thinks Rodrigues attacked him because of the attention he got from women on the ward and "to show he was more macho, so if I ever come with a record that was hardcore, I'll kick your ass, you know." Describing the beating, he said Rodrigues "just started kicking and punching and kicking and punching."
When asked if he'd like Rodrigues to be prosecuted for the attack, he hesitated.
His father prompted him: "Would you like to see him prosecuted for violating you in that cruel way, when you did nothing to provoke that?"
"If I could, yes," said Carter, quietly. "If I could, yes."
"So that people will know," he continued. "Don't prey on the weak. He came towards me because he knew there was nothing I could do. Whether I fought him back or didn't fight him back, I was gonna lose anyway."
This article was written with support of an investigative reporting grant by the Urban Reporting Program of the CUNY Graduate School of Journalism.