This Diver Has Become An Internet Hero For Finding Survivors In The Chinese Shipwreck
Chinese people are calling 24-year-old Guan Dong "a real male deity" after he rescued two survivors from the capsized Yangtze cruise ship Tuesday.
Fourteen people have survived the disaster, and so far 77 people have been confirmed dead, according to CCTV. There were 456 passengers on the ship and Guan was one of more than 200 divers deployed to find survivors.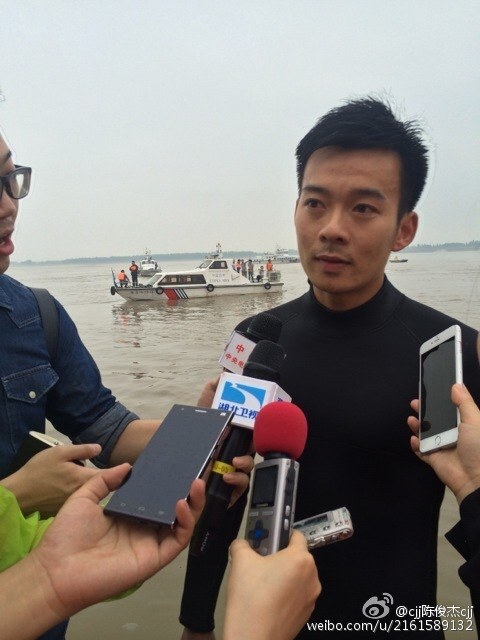 Guan rescued two survivors on Tuesday, both of whom were trapped in air pockets inside the boat.
According to the BBC, Guan first found a 65-year old woman stuck in an air pocket, taught her how to use the diving equipment and took her to the surface. Then he found a crew member stuck in another air pocket, to whom he gave his own equipment to help him reach the surface.
Guan almost died in the process, as he was swept deeper by undercurrents and the oxygen in his tank running low. "There were engine oil in his ears and noses and his eyes were reddened," People's Daily said.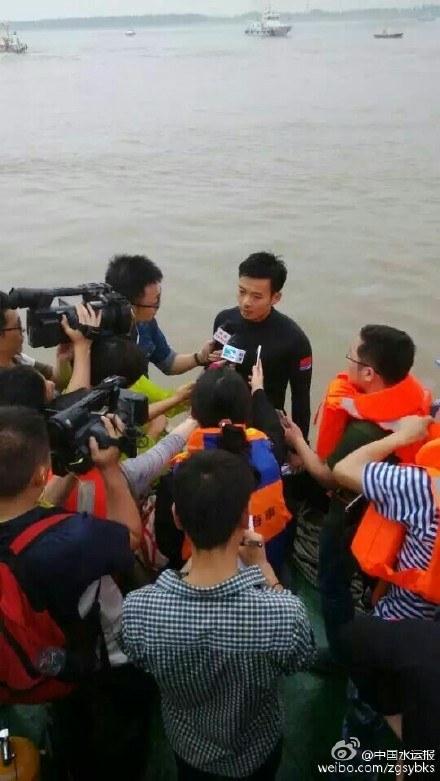 The story that Vista posted on Weibo about Guan received about 200,000 responses in a day.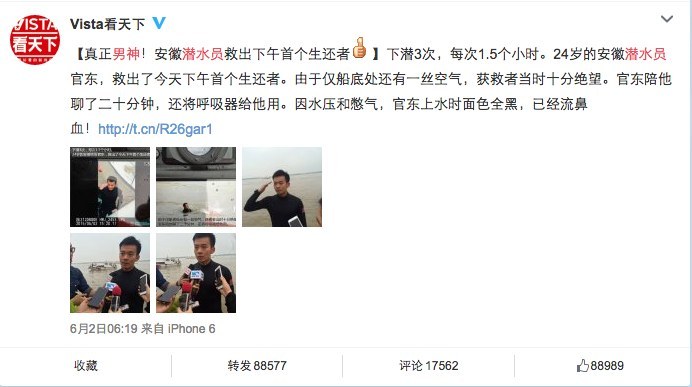 The state-run People's Daily newspaper also posted about Guan on Weibo.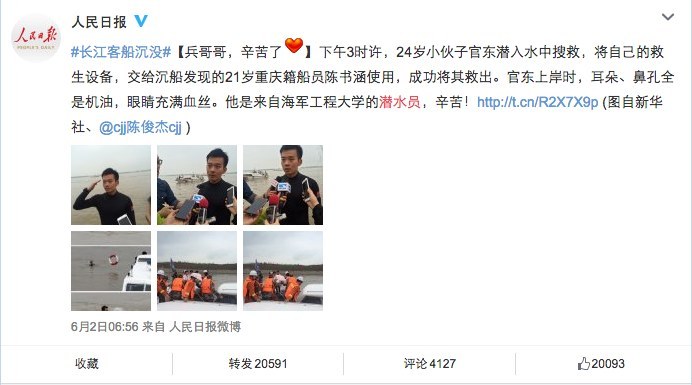 Although Guan's story has been all over the media, including government-owned publications, the Chinese government has been accused of limiting access to information about the accident by giving out special press card to journalists and setting up police roadblocks.
Many Chinese have been posting comments on him on Weibo, where he has become very popular.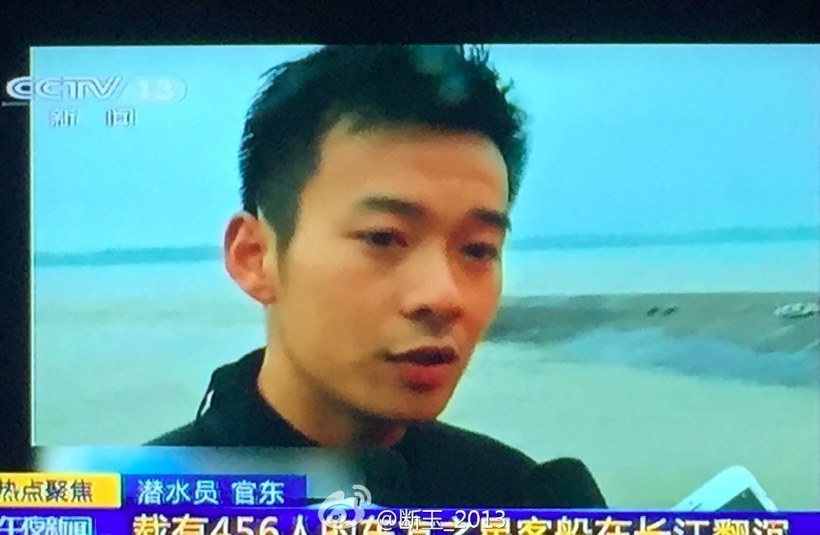 "This is called a real male deity."

"Male deity!! My dad says the water in the Yangtze River is very dirty, it would be hard to see diving there, it's really not easy."

FYI, the word for "male deity" in Chinese is pronounced "Nan Shen," and the word for "female deity" is "Nv Shen." The words are used to describe men and women who are considered really cute.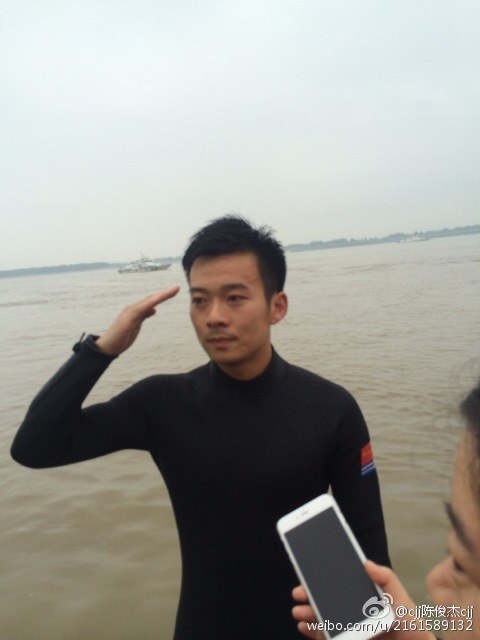 "I only care about one question: does he have a boyfriend yet?!"

"Oh mom he's so cute!!!!!!!!! Marry me!!!!!!!"

"He looks like my dad looked when he was young… his young look is always in my mind…he disappeared in the Yangtze River also in a ship accident 16 years ago…

People are also congratulating him for his bravery.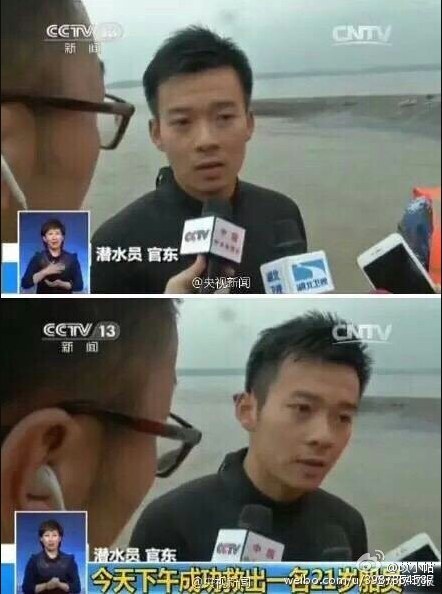 One Weibo user said, "Usually I just click 'likes' in most cases, but I'm so touched that I'm crying at this scene. Everyone who dives knows what it means to give others your aspirator. People along the shore are all crying out 'Hang on' with red eyes."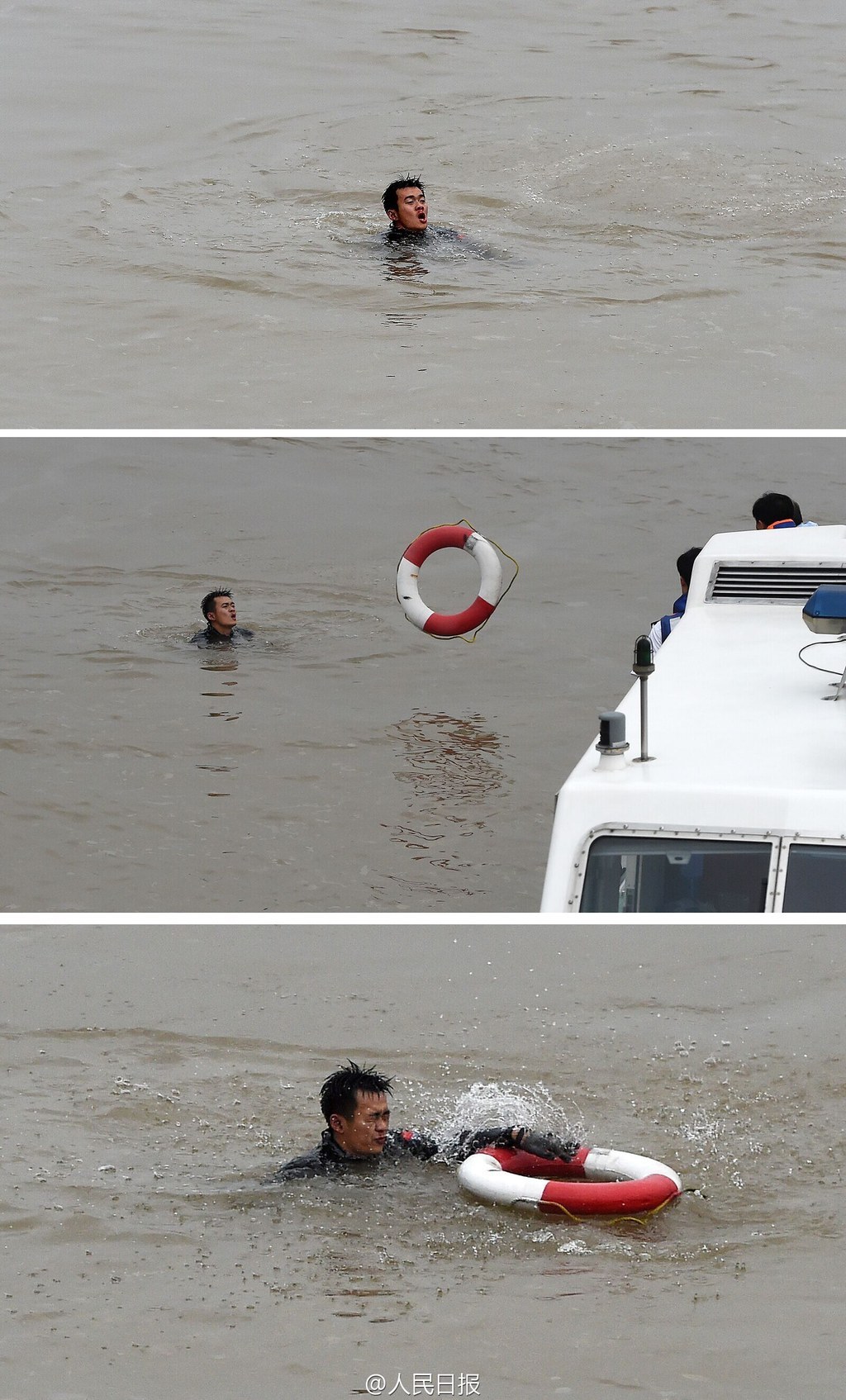 "Not to mention how good looking he is, it's great that he put others' lives before his. I'll give likes to all the soldiers and navy crew! Hope everybody will be safe!"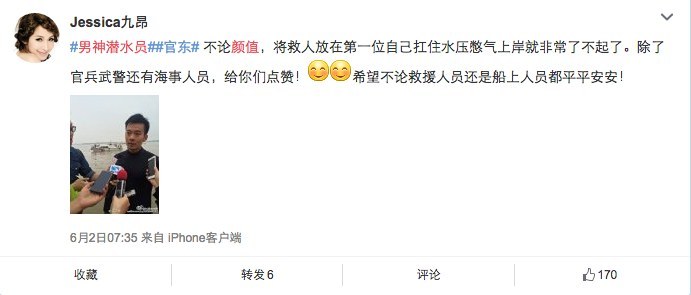 "This young man saved someone's life, which is better than building a seven-story pagoda for the gods....

Prime Minister Li Keqiang has publicly praised Guan. The Chinese government awarded him a top medal on Wednesday at a ceremony held on the shore, according to state newspaper Global Post.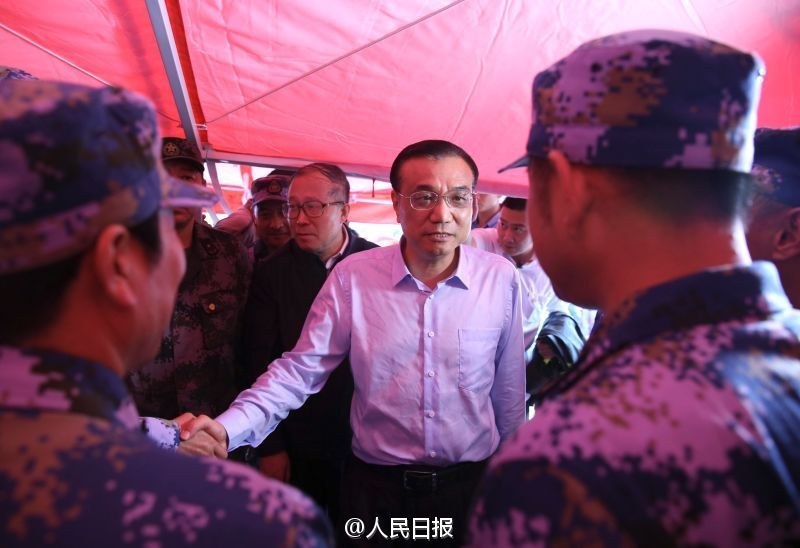 The Weibo hashtag page for #MaleDeityDiver already has more than five million views.