Remember Four Loko, the controversial caffeinated alcoholic beverage that destroyed the brain cells and livers of a generation? Well, for better or worse, it's alive and well across the globe in China.
Some important context needs to be addressed up front: Although the official drinking age in China is 18, alcohol is very accessible to Chinese teens, as ID is not required for them to purchase it.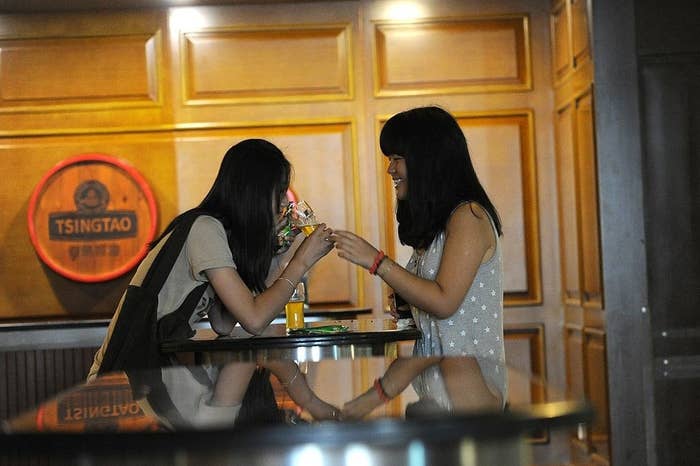 So not only is the fruit-flavored monstrosity available, it's ~really popular~ in China — over the past month, tens of thousands of cans of the 12–14% ABV drink have been sold on Taobao, just one of several online retailers in the country.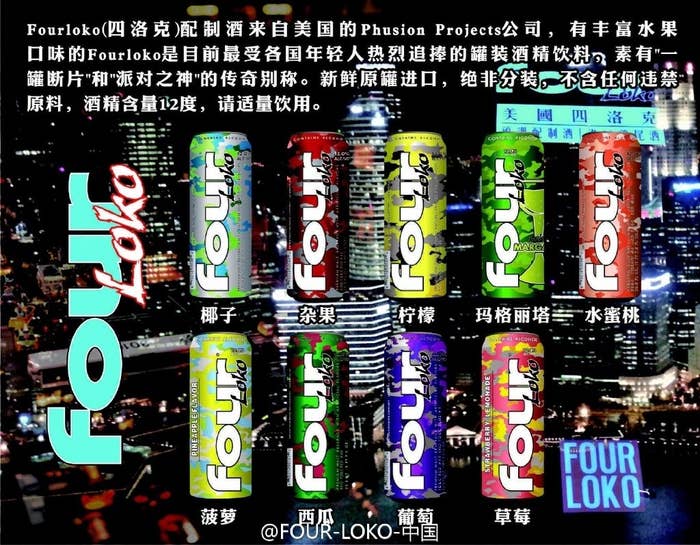 Chinese sellers and buyers like to refer to Four Loko as "blackout drink," "hookup tool," and "lose your virginity alcohol."
The drink has a full store on Tmall, where branded products are sold as verified by Taobao.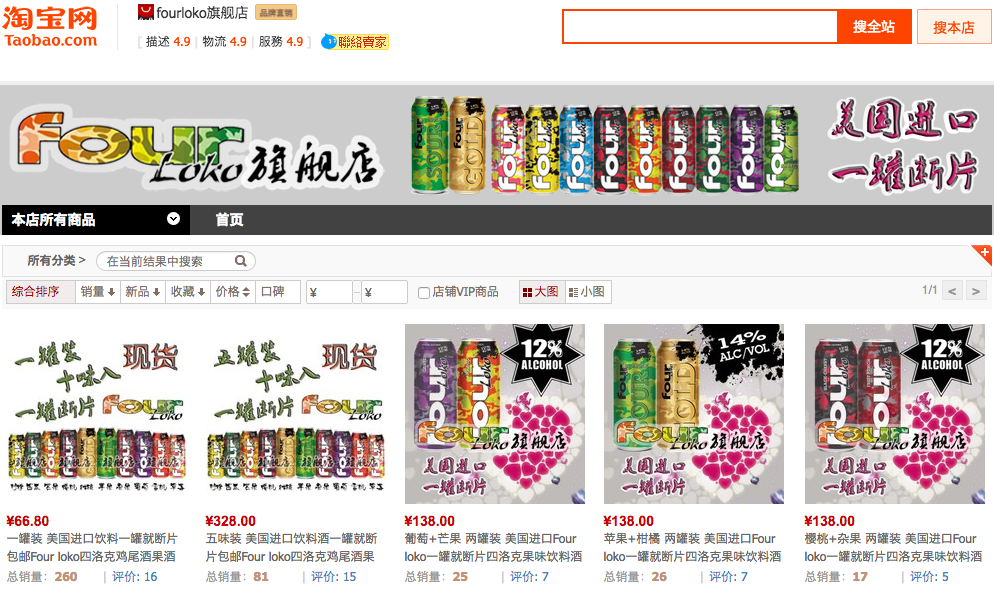 An verified Weibo page has been promoting the line of products since December 2013.

The brand is apparently trying to launch in China directly, too: Its official website has a China portal. (A Chinese-language page pops up upon clicking "Asia.")
After "taking China by storm," as the company declared on its website, a China-exclusive product is under production. "Four Loko 888" will "not be available even in the US," in order to protect the Chinese market that's "flooded with counterfeits."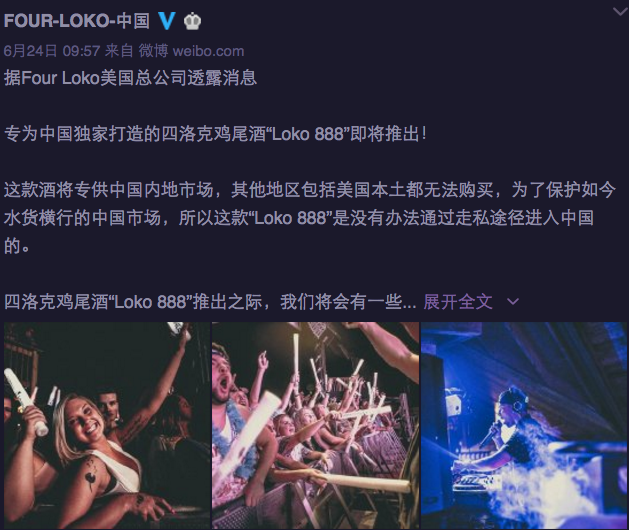 It's still not clear just who's distributing Four Loko in China, though, as companies based in Guangdong, Guangxi, and Shenyang all claim that they are the official distributor.
But all of the "official" distributors are fighting the stigma that comes with what many Chinese people now believe is Four Loko's status as a banned alcohol in the US.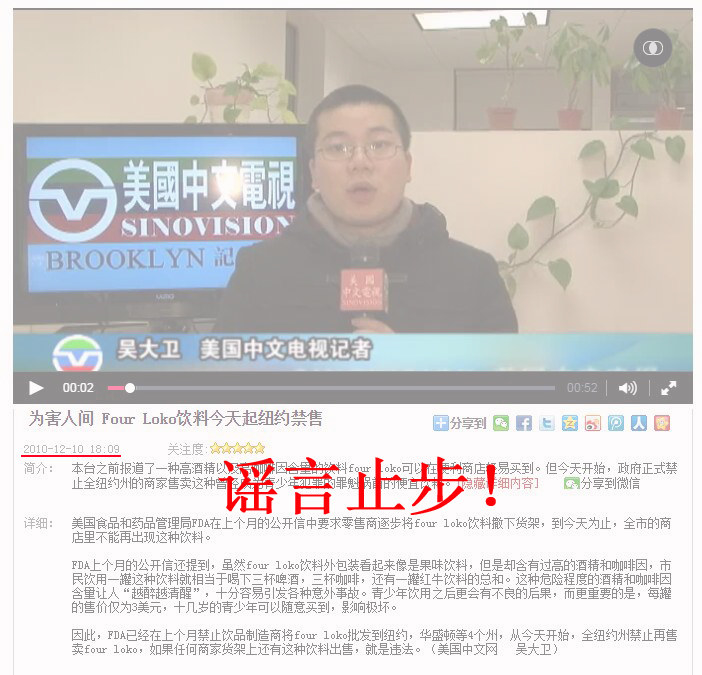 Unofficial distributors in northwest China actually invited media for a "high-end" tasting in June to help facilitate the brand being more acceptable to the general public.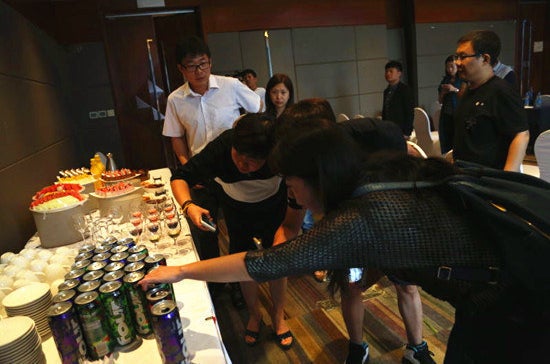 But seeing as how this is one of the pictures some of the Taobao retailers are distributing along with the description of the alcohol, they have a long way to go.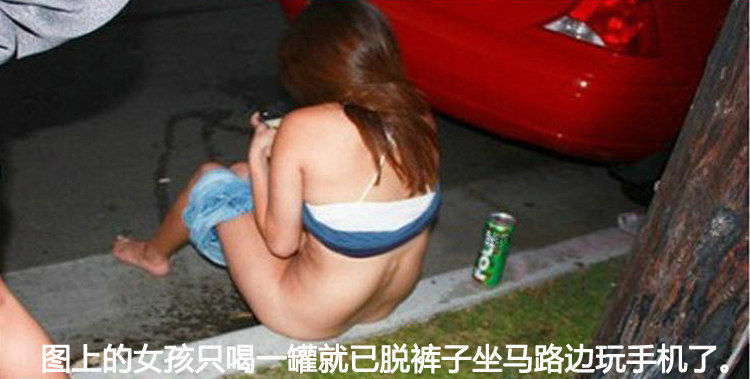 Nor is the attitude of consumers like this guy. "The alcohol is not as strong as expected," wrote a Chinese customer after purchasing five different flavors. "But this alcohol is enough to trick girls."

While many internet users expressed curiosity over Four Loko for its ban in the US, some asked Chinese customs officials, "Why have other countries banned [the drink] and our country is still selling them? How do they get in?"

CORRECTION
Four Loko altered its product to remove caffeine and other stimulants in 2010. An earlier version of this article mistakenly said that it did so in 2014.