Chinese Internet Users Are Overwhelmingly Against Taking In Refugees
Many Chinese internet users are opposed to the idea that China should play a larger role in helping solve the refugee crisis.
While much of Europe is overwhelmed by the biggest refugee crisis since World War II, Chinese web users are debating whether China should also take in refugees.
Many users who have asked on social media and internet forums whether China should play a larger role in helping solve the refugee crisis have been criticized.
Here is how one Sina Weibo user responded to a question about whether the country should be taking in refugees: "You must be using Chinese internet users to force the government to take more refugees to impede China!"
Some Chinese users say that China isn't in a better position to help others. Zhang Bin, a story writer, wrote on Weibo: "Those [countries] who are capable of saving refugees should act first, China should solve its own poverty first."

Others argued that many refugees don't want to come to China. "It's not that China doesn't want to take them, but that they won't come," a user commented. "They want to go to developed western countries and China is not the option."

Among those who favored taking in refugees, some suggested that China should do it for moral reasons. "It's worthwhile to pay a price to manifest the image of a responsible great country," a user wrote on China's popular website Tianya BBS.

One particular opinion that dominated the online commentary blamed the countries that started the wars. "The countries who created and assisted the wars are obliged to take [refugees]," wrote a user. "Look at Americans, as if it's none of their business."
One of the few media outlets which posed the question, like Hong Kong based Phoenix News, was attacked in the comments section. Many users called it "Pheasant News" as a way to insult it for setting China up.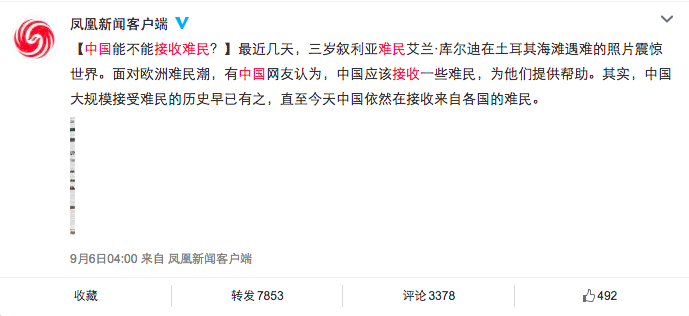 China's rising patriotism and nationalism have been further intensified after the nation live-broadcasted a grand military parade last week, which was said to honor the 70th anniversary of the end of World War II.