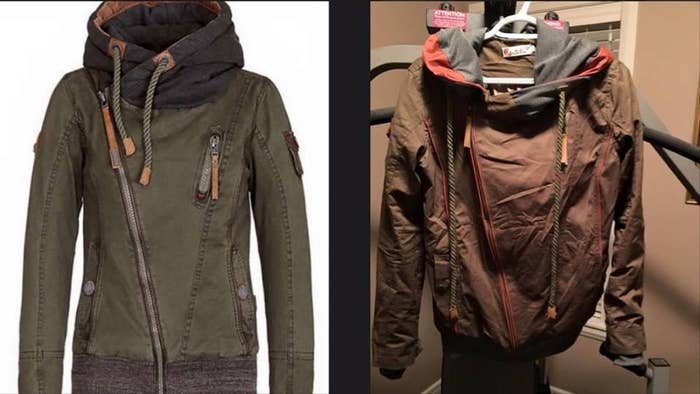 The CEO of the Chinese clothing company behind controversial Facebook ads for cheap clothing says the company is facing a "life-or-death moment" in the wake of a recent BuzzFeed News investigation into the company.
Mike Xu, or Jiadong Xu, the CEO of Shenzhen Globalegrow E-Commerce, spoke to BuzzFeed News on Thursday to discuss the company and its challenges, going well beyond the three-page statement the company had previously provided in response BuzzFeed's reporting.
Global Egrow has come under pressure from its distribution partners in the wake of the story, Xu said in a telephone interview conducted in Mandarin, though he declined to share the names of those partners.
"The most serious consequence is that thousands of employees in our company might lose their jobs if our foreign distributors cut us off, which is the most heartbreaking thing," he said — although he also said the company's sales haven't been affected by the recent reports.
The 39-year-old executive said he founded Global Egrow in 2008. Just before Christmas last year, he was elected to a 50-member Chinese international e-commerce think tank led by Justin Yifu Lin, the former Chief Economist of the World Bank.
His company targets women overseas with at least eight different fashion sites, which are heavily advertised on Facebook, as BuzzFeed News detailed last week. The brands, which include DressLily, RoseWholesale, RoseGal, SammyDress, Zaful, Nasty Dress, TwinkleDeals, and TrendsGal, have attracted thousands of complaints from women worldwide with the Better Business Bureau, SiteJabber, TrustPilot and even on newly-created groups on Facebook.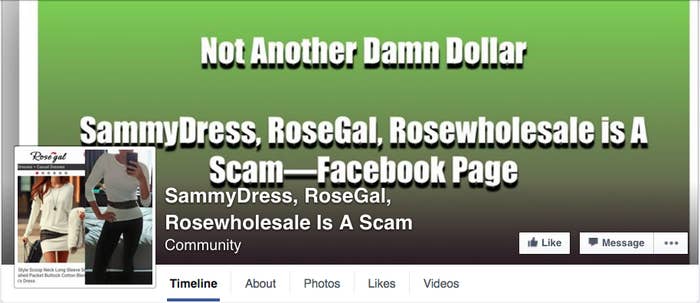 Consumers say the clothing can take weeks or months to arrive, if it shows up at all, and is often distinctly different from advertised photos and even unwearable. The pictures themselves are frequently stolen from people on Instagram and from other brands. Women have also said that customer service is hard to reach, especially with returns, which typically require them to pay the steep cost of shipping back to China.
Xu said the company has at times struggled to cope with its rapid growth. "The orders we received last year increased 150% to 200%, but we didn't have enough suppliers," he said. "The priority is to send the packages out, so our suppliers ran on full capacity, which caused a little drop in quality. But the disputes you listed were mostly from before, our quality control has been much improved now."
But numerous complaints are still flowing in across third-party review sites, and even via visitors posting to the Facebook page for Sammydress.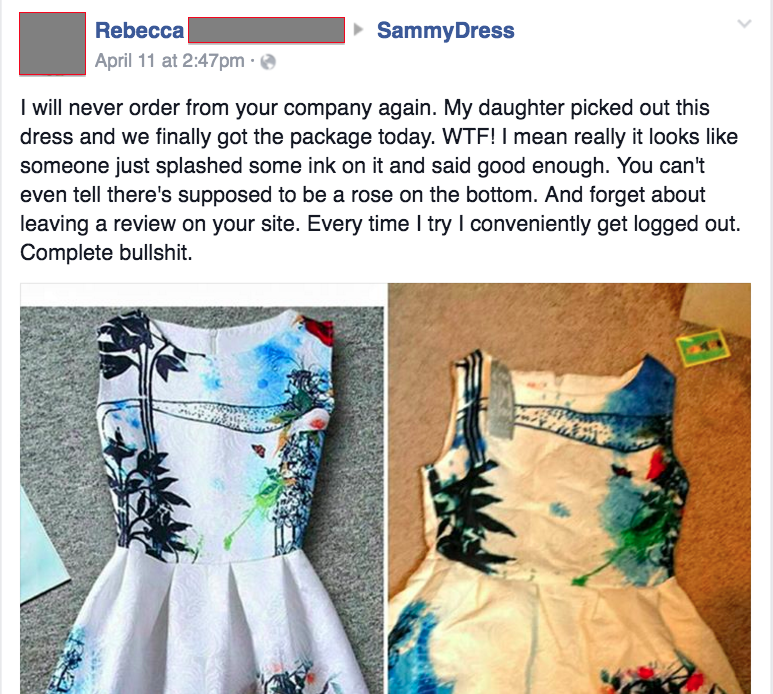 Facebook, in the wake of last week's story, said it's taking consumers' complaints "very seriously" and is working on ways to police advertisers whose products are "overwhelmingly unsatisfactory."
Xu wouldn't comment on whether Facebook has been in touch with his company, and wouldn't disclose how much it spends on digital marketing. But he said 20-30% of the budget goes to Facebook, 15-20% to Fatwallet.com, 15% on affiliate marketing, and the rest on other partners. He said the U.S. is its biggest market, accounting for 25% of revenue, followed by 15-20% from Russia and 25% from Europe.
Global Egrow says it made more than $200 million in sales in 2014, the same year it was acquired by a larger company chaired by Yang Jianxin, one of China's richest men, according to Forbes. Global Egrow's name doesn't appear on its many sites and it isn't made clear to consumers that they're connected. BuzzFeed News identified the connections through trademark filings in Europe and the U.S. and website registration history data accessed via DomainTools.
"It is just the way our company functions," Xu said when asked about the lack of disclosure. "Nobody has ever talked about whether we wanted to put the company's name on the websites, we were just focusing on building them. It'll be worthless to emphasize to the customers that they are separate websites...this has little to do with the customers. What matters is our products."
Global Egrow has updated its return policy to make it easier for customers to get refunds. While its terms still require customers seeking refunds to pay the cost of shipping to China after receiving approval from customer service, Xu said in certain cases where customers are really upset and unwilling to ship goods back, "they can keep the clothes." He said he didn't write this term into its policy for fear that a large number of consumers will take advantage of it.
One customer in Kentucky told BuzzFeed News that two coats from DressLily that she spent $100 on would have cost $84 to ship back to China. It's jarring for some women who don't realize they're ordering straight from China.
The company uses non-Chinese models in its Facebook ads and pages and on its website, as foreign models generate a higher conversion rate, Xu said. It also shows foreigners how the clothes will look on them, he said.
Until Thursday, DressLily was using this $31.99 sweatshirt picture from Ivory Ella, which donates some of its profits to helping save elephants. It even added its own watermark.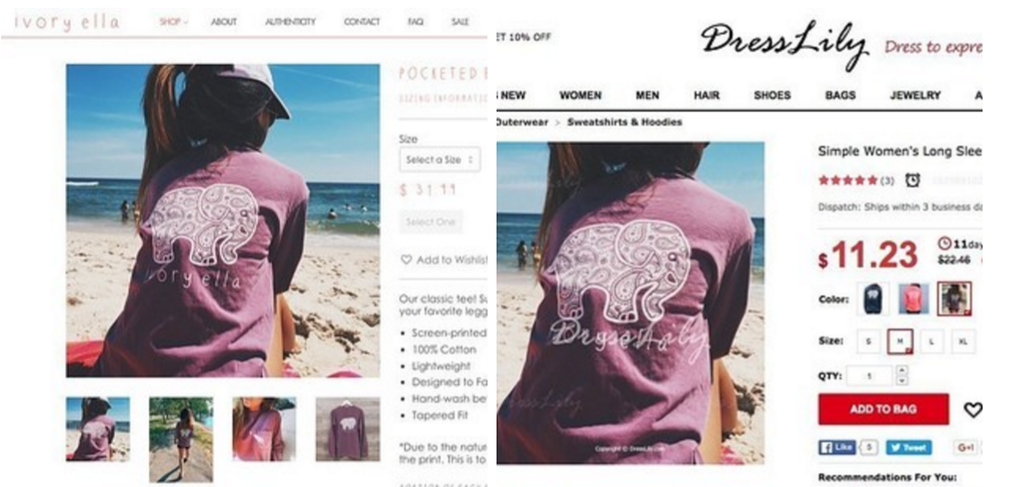 The same sweatshirt showed up in a Facebook ad for Dresslily. Dresslily has since deleted the sweatshirt from its website after BuzzFeed pointed it out on Thursday.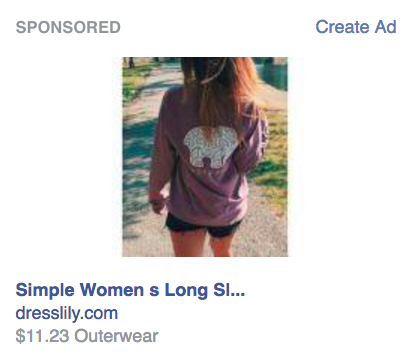 As for the use of stolen images, Xu said Global Egrow aims to start shooting 100% of its product photos in-house by the end of May. Currently, he said only 60% of the product photos are shot in-house, and the rest are provided by its suppliers. He said that until all of the company's product photos are taken in-house, it will work with third parties to further remove infringing images.
The company sells about 250,000 varieties of clothing overall, so sometimes "fish slip through the net," he said. "As long as there's a complaint we will respond very quickly by taking down the products...we've never refused to take down products deliberately."
Xu further defended the quality of Global Egrow's clothing, and said that many of the complaints from women over sizing have to do with their own failure to check size charts on product pages, which are based on Chinese sizing.
"I drove to the warehouses to check on my own last weekend, on a rainy day in Shenzhen," he said. Based on what he saw, he disagrees that quality is a problem.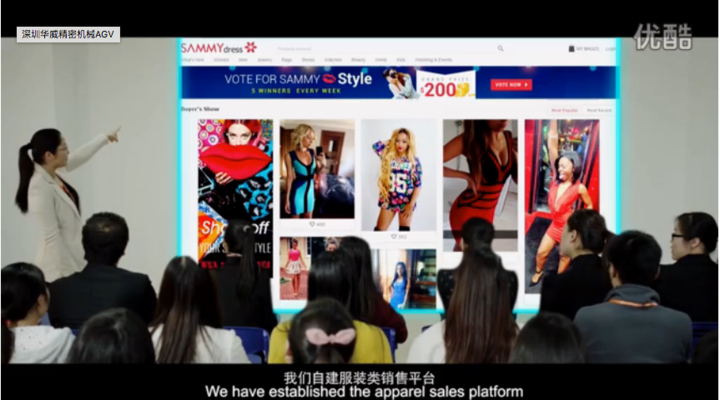 Indeed, plenty of commenters have said they were happy with their purchases from these sites and recognized the risks they're taking when buying $12 tops and $16 dresses. Some say that the gamble can even be fun.

But the increasing availability of quality clothing at discount prices has given consumers an expectation of some level of quality even at rock-bottom prices. Beyond that, shoddy customer service can come as shock for consumers accustomed to the slick online ordering and returns process at sites like Amazon or brands like Gap and J.Crew.
Xu doubts the accounts of women who say refunds took weeks — sometimes months — and lots of haggling with service staff.
"It's impossible for the refund process to take months in our company," he said. "Maybe they are talking about websites that are owned by smaller e-commerce companies that aren't long-standing as ours."
Fewer staff in China are on duty when it's daytime in America, but customer service typically replies to email requests within a day, Xu said, or perhaps two to three days during Christmas or Chinese New Year.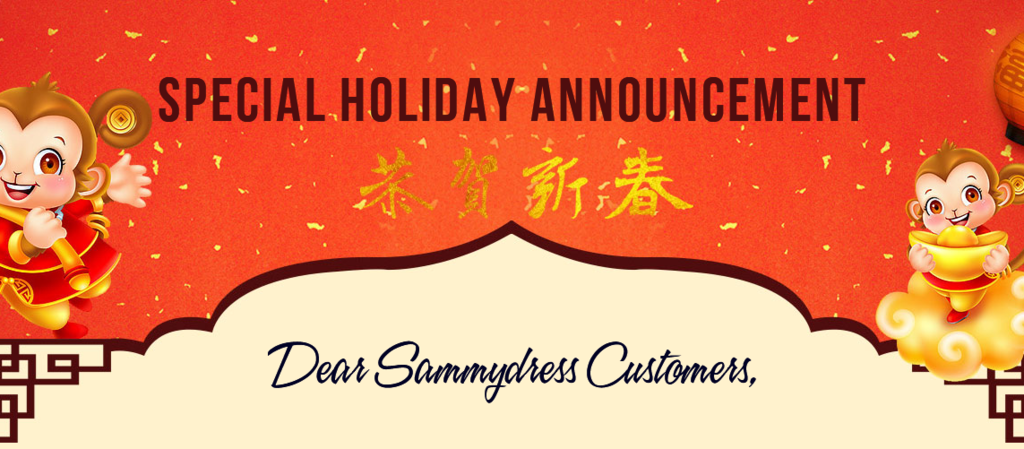 Several women who spoke with BuzzFeed News told a different story. Even if they received a response promptly, it was often unhelpful, they said.
"I never heard back from them on private tickets so instead I went to Facebook and posted complaints on their page, and somebody must monitor them because they would contact me via private message in horrible English, ask me to send them pictures, and then they offered me credits, like $6 credits, and I spent right around $200 with them," said Lisa Little, a computer programmer in Massillon, Ohio, who ordered from RoseGal.
"I said, 'Are you kidding me? Why would I do that?' You can't get anywhere with anybody, they go around and around with you on these instant messages until you give up."
Jasmine Griffeth, an online content and marketing consultant in Calgary, said she opened a complaint on DressLily's support section on Nov. 13 for a $33.50 coat that didn't match the photos online. She didn't hear anything back until Dec. 17, when the company asked her for "a lengthy series of photos and measurements of the item that proved it was not correct," which she sent, she said.
DressLily didn't respond for several weeks, so she complained to PayPal, which arbitrated the case back and forth as the company tried to give her partial refunds of $7 or $10 and "the most ridiculous runaround I have ever seen." DressLily told her on Jan. 11 that the photos weren't good enough, but after further debate, agreed to let her return the items at her own cost.
After DressLily got the items, it changed its mind, and Griffeth had to get her refund from PayPal at the end of January. She kept haggling with DressLily until they paid her back for her shipping costs in early February.
The skirt advertised by Rosegal is from Free People's website. The image on the left is what a consumer got.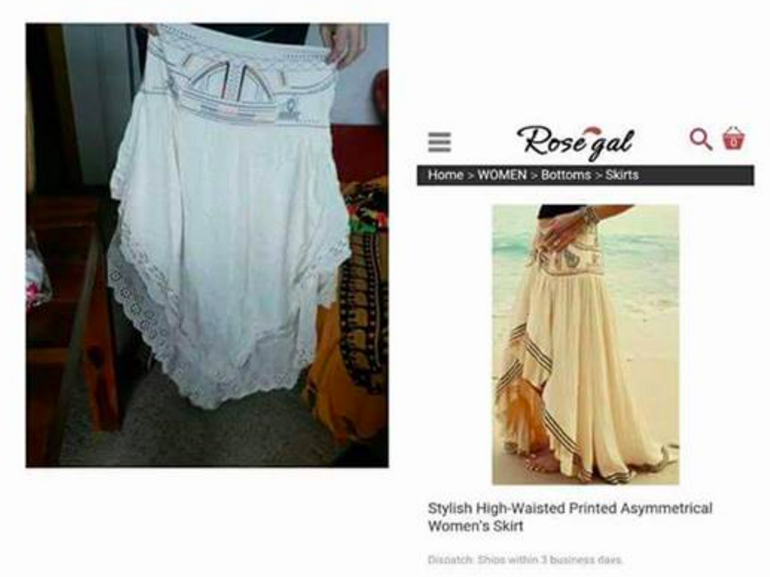 Xu pointed to the company's scores on ResellerRatings.com, where SammyDress has an 8.6 out of 10 with more than 8,000 reviews and RoseGal has a 9.1 of 569 reviews.
"Results on some other rating websites are not representative either because of a lack of reviews" while others "encourage users to write negative reviews," he said. "Many famous international fashion sites have very low ratings on those sites too."
SammyDress on ResellerRatings.com.

To be sure, Global Egrow is listed as a "merchant member" on ResellerRatings.com, a paid program that the site says "makes it very easy to acquire reviews one-week post-checkout." The site also notes that on average, 95% of customer ratings are positive.
It's also hard to deny the existence of frustrated consumers.
While SammyDress had a 7.9 out of 10 on TrustPilot as of Wednesday, Zaful had a 2.9, DressLily had a 4.8, RoseGal had a 3.3 and TwinkleDeals had a 3.7. There are thousands of one-star reviews on SiteJabber, and the Better Business Bureau issued warnings against DressLily and SammyDress last year after fielding hundreds of complaints. Disappointed women are sharing photos of what they ordered and what they received all over Facebook.
This was posted to the SammyDress Facebook page by a user in January.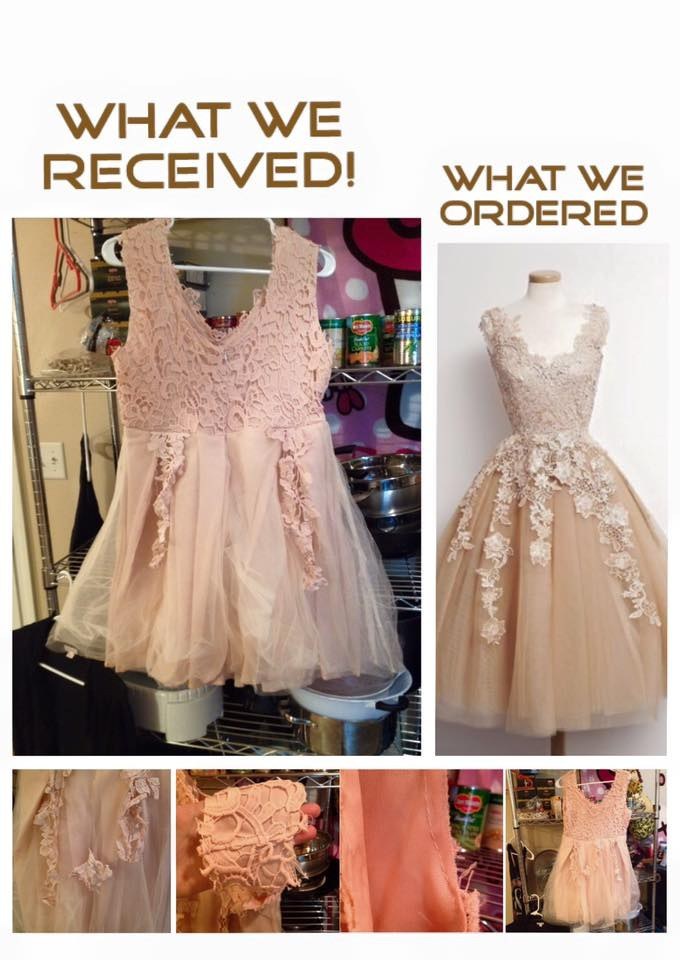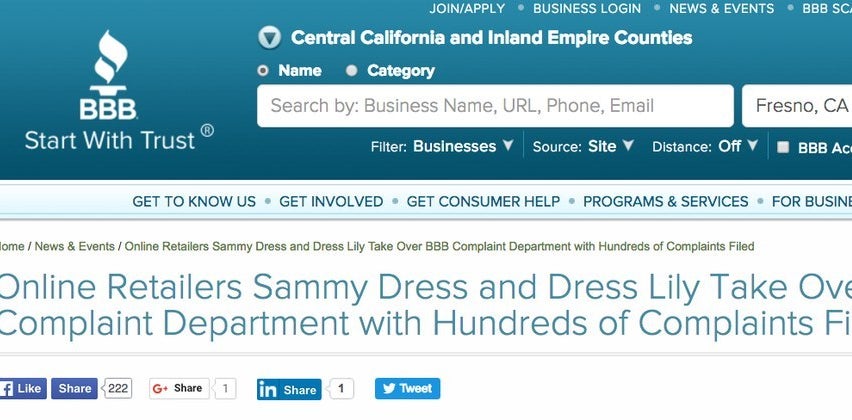 "Ninety-five percent of our customers are satisfied although the number of complaints might appear to be pretty big, I admit that," Xu said.
"I measure customer satisfaction by return rate, and 5% is ordinary for e-commerce," he said. "The bigger the business, the bigger the number of complaints."
At the end of the day, he said, "which company is not growing step by step?"