School Is Racist
Inspired by Ahmed Mohamed, 10 nonwhite Americans reflect on the discrimination and the discouragement they experienced in school.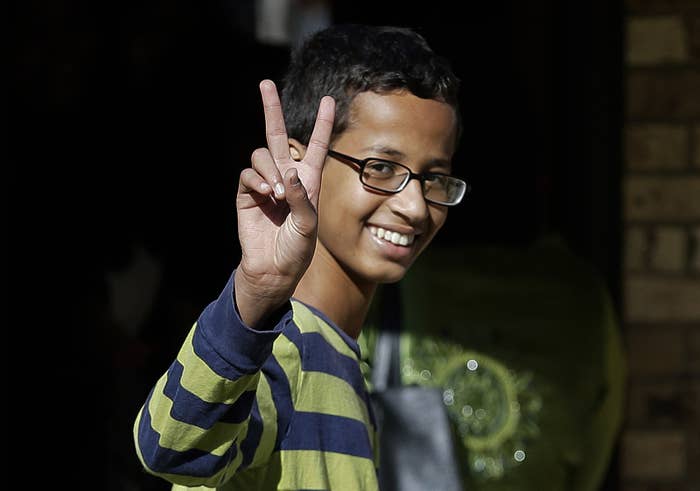 When we talk about racism in American schools, we're usually talking about numbers and statistics: demography, student-to-teacher ratios, test scores, graduation rates. Last week, that conversation got a name and a sweetly serious face in Ahmed Mohamed. The 14-year-old Texas student was arrested for bringing a homemade clock into school, which his teacher thought to be a bomb. The charges have been dropped, but the conversation continues about how Islamophobia and other forms of bigotry pervade teacher-student relationships.
The stakes are high: Arbitrary or racist disciplinary measures can derail students' careers and lives, sending them into the school-to-prison pipeline. And although most Americans under the age of 6 are nonwhite, they are entering a school system in which minority teachers number less than one in five. Teenagers rarely feel understood by their teachers and administrators, but the poor representation makes it all but impossible to report and address classroom racism. And, thanks to the heightened visibility of issues like police brutality on social media, young people are paying close attention to how race and social status manifest in their personal lives, says Nina Daoud, a Ph.D. student at the University of Maryland researching the role of identity on the educational experiences of students of color.
I went to a high school in a rapidly Asian-izing suburb of Boston called Lexington in the early 2000s, when the fear of Muslims was still protozoan. Muslims were in the news for all the wrong reasons, and I remember distinctly how in class I would often be pitted against my teachers and classmates when it came to airing out their opinions of Islam. Once, in intermediate jazz class, my teacher put his trumpet to the side and began lamenting the lack of value Muslims place on human life. So, yeah, I stopped being as enthusiastic about jazz class after that.
Here, 10 other nonwhite Americans reflect on the discrimination and the discouragement they experienced in school.
We were accused of cheating.
Morgan (23, Williamstown, New Jersey): In middle school I had a teacher who had us come up with presentations every week; it was a vital part of our grade. I remember how if she thought we didn't know what a word meant she would stop us and ask us to define it. If we didn't know how to define it she would say we plagiarized it and give us a bad grade. I remember noticing that mainly she would interrupt students of color. During my presentation, she asked me to define "formulation," so I did, and didn't think much of it. But then, at a parent teacher conference, she said to my parents that she thought that I had been cheating. My parents looked at each other dumbfounded. My late stepfather, who was alive at the time, said, "No, she was not cheating." I had a feeling about that teacher.
This teacher lived in the same neighborhood as me: a nice neighborhood, with two-story residential houses, in a very nice part of town. I remember I was walking home with a bookbag. I had just got off the bus and I saw her driving by so I waved to her, and she looked out the window and asked "What are you doing here?" in a funny way. And I said, "I live here." I didn't catch it because I was 13, but I have learned to read between the lines.
Anjali (27, Dracut, Massachusetts):I grew up speaking/reading/writing mostly in English. But when I started elementary school, teachers still put me in an ESL class anyways because my parents were immigrants with accents (even though they listed my first language as English on all of my school forms, and even though I was the first one to learn how to read in my kindergarten classroom). I later got moved to a regular English class with all of my other classmates because they realized they'd made a mistake. I got the highest grade in my new class on the first spelling test I took, but I wound up with a detention slip because the teacher assumed I had cheated. (I hadn't.)
When I wound up doing poorly on math or science assignments and exams, several teachers made remarks along the lines of "I thought you Indian kids were all supposed to be good at this stuff/Aren't Asians supposed to know this better than others?" It made me feel constantly trapped in the model minority stereotype. It made me nervous every time I'd take exams, because I'd constantly worry about failing their expectations.
We were asked to represent our entire culture — and a few others.
Dishon (28, Boston): I lived in Boston and was bused out to a suburban neighborhood, Wellesley, to get a better education, as part of a program called METCO. Anyone who knows anything about Wellesley knows that it's a bubble town; it's very white. One thing about METCO was to expose kids to diversity. There were moments where I was the only POC in my entire class, and at times the only POC in my entire grade. There were many times I was in class, and I would be the "expert" on anything black. Anytime we talked about even a country — like there was a study of Angola — and they would all look to me as an expert. My parents are Cape Verdean and Jamaican.
Urooj (27, Long Island, New York): I remember a social studies teacher who, after 9/11, said she didn't think Islam was good to women. And I asked her what she meant. She said she was out at a grocery store and there was a woman in Islamic dress whose kids were being disrespectful toward her. This was why she thought Islam was bad to women. I was 12 or 13 at the time, and I didn't realize that was so racist. That happened in the class a lot, where I had to be the representative to explain my culture to the students, which I thought was inappropriate. I was a student like anyone else.
We were bullied — and blamed for it.
Sana (28, Long Island, New York): I was in a public school in the '90s in a town called Port Washington, where I was one of a handful of nonwhite students. I think I was the only Muslim in the entire elementary school. From my very first day of class, I would get questions like "Why does your nose look like that?" and "What type of name is Sana?" I felt isolated and didn't break out of my shell until fifth or sixth grade. I got into drama, and expressing myself in theatre. I would get teased a lot, and the teachers knew this. And I was treated as if the problem was me, and not the kids who were bullying me.
One thing I realized however, was that when I told stories, kids would listen to me. The school thought I had some kind of lying problem; they made me start seeing a school psychologist. They said I was a pathological liar. And I was upfront with them about what was going on, how I was continuously treated as the problem. They blamed me for having a hard time making friends.
Dishon: Once a week, the students from Boston would stay with different families in the suburbs, called "host families." In late elementary school, this kid who was the child of a host family asked me where "my tail" was.
Anytime I got harassed, I couldn't go to authorities. Like one time in middle school, this kid was harassing me, he kept poking me. I got tired of it, and I told him to stop. And he kept poking me so I hit him. Then I got in trouble, and called into an administrator's office, and I was wondering why I was the one being punished and not that kid. A lot of kids I've spoken to in the METCO program said they were always afraid of randomly being put in detention for being outspoken. One of the vice principals, we knew if went to her she would send us to detention, because she always sent the black kids to detention. She always suspended us.
Anjali: I was waiting outside one of the teachers' lounges to get a signature from someone for something, and I overheard two teachers making racist jokes. One was about BFI, which was the name of the school's waste management company; it was printed on the dumpsters and recycling bins. Something like: "What does BFI stand for? Black family inside."
Our culture was openly denigrated.
Urooj: I grew up in a mostly white, middle-class town in Long Island. When you have places like "white liberal bastions," where the racism was more subtle, the texts we studied were almost all by white men. It wasn't until my senior year of high school that I actually read a text by a writer who was not white. There were no black kids; there was a handful of people of color at all. Mostly Asian, South Asian, and white kids would talk about us were like we were an invasive species. They would call it an "Asian Invasion," and a lot of people didn't appreciate the hard work we put into school. If a particular kid performed well, the white kids would say, "Oh well, she's Asian, of course she will do well." Meanwhile all the clubs at school were dominated by white kids, with no Asian kids being elected. Still, it was a culture where it was acceptable to say "Asians are taking over the school." The mentality was very xenophobic.
Basima (22, Arlington, Texas): I remember a time in the sixth grade when I was paired to work with a Jewish boy I wasn't particularly fond of due to some typical 11-year-old drama that I can't even remember now. Being a sassy prepubescent girl I kissed my teeth, let out a groan, and rolled my eyes when I found out he was my partner. I was sternly told to stay after class while everyone else went off to lunch. That was the day I learned about anti-Semitism. I was accused of not wanting to be paired with him because of my natural Muslim hate for Jews. The teacher said something along the lines of, "I've heard of you Muslims and y'alls hate for his people. I think it's disgusting that it's been passed down to you even though you're in America!!" I had always been raised to love and respect everyone no matter what their background was. I had never heard any form of anti-Semitism in my life. I had even celebrated Hanukkah with my neighbors a couple times! She proceeded to give me three days of detention, and I spent the rest of the day on the verge of tears, confused and angry. I will always remember that as a pivotal point in my first-generation immigrant child soul search growing up in post-9/11 Texas.
The police wouldn't help us.
D'Angelo (24, Chicago): I went to high school in Chicago's South Side. It was a racially mixed school, with immigrants, blacks, whites, you name it. It was a challenge because of the area it was in. Even then, you had some of the teachers take some students in as their own kids, and others who did not care at all. What I learned was that if you're a minority in America, then you're not really American. You have to work twice as hard just to get a little farther than where you need to be. You would see this play out in different ways, sometimes by feeling alone, like when you notice who's the favorite of the teacher. You would rely on vibes, sometimes the vibes teachers gave off was racist, and sometimes you weren't that far off.
My high school was in a gang area, but the way police factored in was heavily due to stereotypes. This one time in high school, a fight broke out between the black kids and the Mexicans. Even though everyone involved had some kind of gang affiliation, it was the black kids that got locked up. Later, those who weren't rounded up met up again to finish their fight. We solved nothing — just some of us arbitrarily ended up with a record.
Abe (24, Chicago): My private Muslim school in the Chicago 'burbs had to be evacuated after 9/11 and shut down for a couple weeks afterward because we kept getting death threats/bomb threats from angry white people. Years later we moved to a different Chicago suburb and in 2012 someone threw an acid bomb at the window of my little sister's new private Muslim school during taraweeh prayer in Ramadan. It ended up not not getting inside the school because dumbasses didn't throw it hard enough to break the window, so it exploded outside. Thank god. Cars that were parked outside our school were also regularly keyed.
Our ambitions were stifled.
Keisha (31, Chicago): My upbringing in a mostly black neighborhood and public school was so devoid of tech programs I didn't realize that I even lacked that part of my education until adulthood. It's hard to disentangle racism from the public school system. The system is full of whiteness, from teachers that bring a mostly unexplored cultural bias to urban classrooms, extending to the harsher punishments and reactions to students of color.
As a woman of color, it's been difficult for me to even understand that I am able to be part of the tech industry because I was never really pushed to know there was a place for me there. I didn't know that I battled with a sense of inferiority that was so ingrained in how I progressed through life. I'd look at certain industries and just know they weren't for me.
Morgan: When I was applying to colleges, Princeton was at the top of my list. And my guidance counselor, who was a white woman, began asking me how much my parents made and said that I wouldn't be able to afford that. (In fact, one of the main reasons I went to Princeton was because they gave me a second-to-none financial aid package.) She basically said, "Why don't you look at a community college?" I was offended about it, because you shouldn't ask someone with close to a 4.0 GPA, someone who is in the top 1% of her class, to go to community college. But these are instances where I kept my mouth shut, because she had a lot of power.
You don't realize that it's racist at the time, you feel like... a twitch in your heart — like, Ouch! You don't realize what it is until you are distant from it. When I was in a film studies class, I was really into it, it wasn't just an elective. I would bring a Screenwriting for Dummies book to class every single day. And I was speaking with my back to the teacher and I mentioned how one day I wanted to direct. He flat-out told me I wouldn't be able to do that, that instead I should be preparing to work behind the scenes. I was so surprised and so caught off-guard; it really hurt me. If I recall, I stopped bringing my book to class. I thought that maybe I shouldn't be so excited or passionate.
Basim Usmani is a freelance journalist living in Boston. His work has previously been featured in "The Guardian," "VICE," "Boston Globe," and "Joystiq." He is but one weird brown dude in a punk band full of weird brown dudes @therealkominas.

Contact Basim Usmani at basim.usmani@gmail.com.

Got a confidential tip? Submit it here.