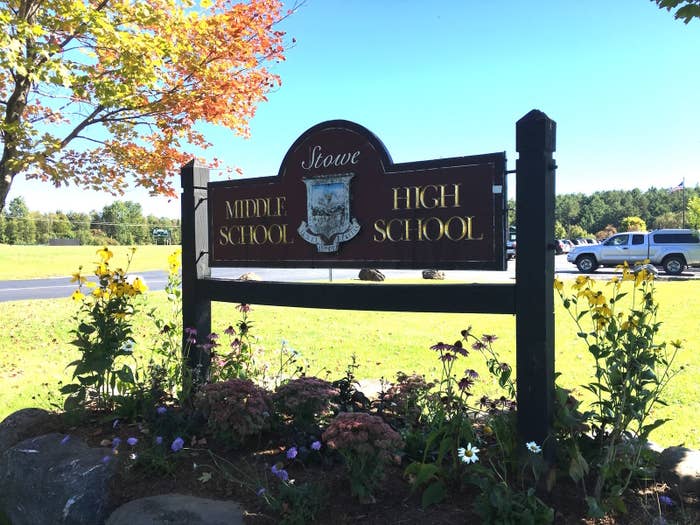 A public conference featuring well-known anti-vaccine activists is taking place on Saturday in the public high school of the tiny Vermont town of Stowe, sparking a fierce debate about freedom of speech when it may endanger children.
The conference, called "Hope & Healing for Autism and Neuro-developmental Disorders," is being billed as a "natural health conference," and features some of the biggest names in the widely denounced movement questioning the safety of vaccines, which has been directly linked to the ongoing measles outbreak in Minnesota.
Studies have definitively shown that vaccines do not cause autism, one of the central claims of the anti-vaxx movement. Major scientific and medical organizations worldwide, as well as the CDC, have repeatedly stated that vaccines are safe.
The all-day event, which costs between $80 to $300 per ticket, is set to take place in the 500-person auditorium at Stowe High School, the biggest gathering place in the resort town with a population of just 4,314. Because there are no conference centers in Stowe, the high school has a policy that allows any community member to use the space for public events.
But since it was announced in April, the event has made Stowe an unlikely battleground between the outspoken anti-vaxxers who claim their right to free speech, and local parents, doctors, and public health experts who say that the conference should not get a platform in their town.
"Our community is being targeted by the anti-vaxxers," doctor, parent, and Stowe resident Bob Arnot told BuzzFeed News. "We just think it's wrong to come into small-town Vermont and target parents at a public school."
Arnot believes that anti-vaccine activists are coming to Stowe partly because of recent changes to state vaccine rules. "Why aren't they holding this at the New York Sheraton? Why aren't they holding this across the street from the CDC?" he said.
Vermont is on the list of top five states where parents get exemptions for mandatory kindergarten vaccinations. A law passed in 2015, however, made it illegal to get an exemption for "philosophical" reasons, driving down the exemption rate from 6.1% in 2013 to 3.7% in 2016, said Christine Finley, the immunization program manager for the Vermont Department of Health.
"That's still one of the highest rates in the nation," Finley told BuzzFeed News. "I truly think that it's odd that at a time where we're seeing a huge measles outbreak in Minnesota, and vaccine exemption rates in Vermont plummeting, that we would see this [conference] coming to our community."
"This event has no place in our school."
Nearly 300 people in town have signed a petition telling the conference organizers to move the event or remove the anti-vaccine speakers from the lineup. "These figures' incendiary rhetoric and hostile, anti-science views pose a threat to public safety and public health," the petition says. "This event has no place in our school."
Another group of parents are organizing a protest — a bake sale at a local brewery — to go on at the same time as the conference.
The conference was organized by Brad Rauch, a local Stowe chiropractor, in collaboration with the Vermont Coalition for Vaccine Choice, a group that specifically opposes the new exemption law. Rauch says that the protests amount to "character assassination," adding that he has had to go to great lengths to ensure safety at the event by paying the Stowe Police Department, the Vermont State Police, and a private security detail to be there.
"Our detractors have turned this into an anti-vaccination event," Rauch told BuzzFeed News. "It is not an anti-vaccination event. It is an event that outlines what we believe to be the major causes for the explosion of neurobehavioral issues and chronic illness with our children and in our society."
The event initially featured Andrew Wakefield, the disgraced former doctor who fueled the anti-vaxx movement with the publication of a fraudulent, now-retracted study linking vaccines to autism. More recently, Wakefield drew fire for reportedly helping to spur the measles outbreak among children of Somali parents in Minnesota.
Wakefield pulled out of the Stowe event last week, telling Rauch that he would need to be in Los Angeles filming the sequel to his anti-vaccine documentary, "Vaxxed." (Wakefield did not respond to a request for comment about why he cancelled the Stowe appearance.)
But the event still features several of Wakefield's colleagues, including his "Vaxxed" co-producer, Del Bigtree, and Jack Wolfson, an Arizona-based cardiologist who gained notoriety after speaking out against vaccines on social media during the 2015 California measles outbreak.
"Is anyone that's coming pro-vaccine?" Rauch said. "I don't know, I didn't ask them that question."
Other parents argued that the event is conflating healthy lifestyles with a fear of vaccination, preying on parents' concerns about their children's safety.
"If Rauch wants to practice chiropractic medicine and tell people to eat organic food that's fine, but don't try to bring Andrew Wakefield into our community," one parent, who asked for anonymity to protect their privacy, told BuzzFeed News.
Although the school district has stressed that it does not endorse the meeting's message, and that its students must follow the state vaccine laws, it has not cancelled the event because of respect for freedom of speech.
"We do not pick and choose who gets to use our facilities based on the content of their message," Tracy Wrend, superintendent of the Lamoille South Supervisory Union, told BuzzFeed News.
Wrend explained that Stowe High had previously been used for events such as a camp for children with disabilities, religious gatherings, political party events, and the Vermont Beekeeper Association. "Generally public use has not required a significant amount of administrative attention," Wrend said. "This is certainly the exception."
Saturday's event has spurred the school board to consider changing its policy for future events.
For Ericka Reil, a Stowe resident who is the parent of an 18-year-old son with autism, the conference has been a call to action. "I wish this conference was never happening, because it's turned my life upside down. But it is happening," Reil told BuzzFeed News. "I am fighting it tooth and nail, and I will make sure that parents get the right information for their children."
She will be at the bake sale on Saturday, and has spent the last month putting up fliers, talking to autism groups and disability rights groups, and posting on Facebook. But she's still in shock that the event is happening in her backyard.
"Why Stowe? That's the 25 million dollar question," Reil said. "Stowe is such a cute little town, it's very touristy. People are just jaw-dropped that it's been brought to Stowe."
CORRECTION
A 2015 Vermont law made it illegal to get a vaccine exemption for "philosophical" reasons, but still allows religious and medical exemptions. An earlier version of this story stated that the law barred all non-medical exemptions.