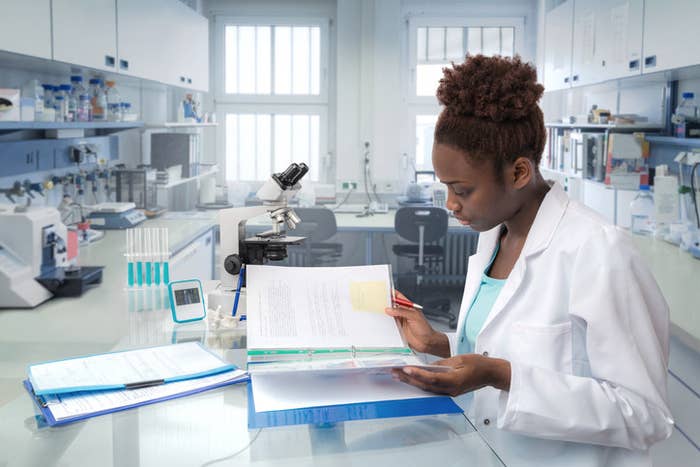 Among astronomers, women of color face more harassment than any other group, according to a new study published on Monday.

The online survey of 474 astronomers and planetary scientists found that 28% of the women of color who responded reported feeling unsafe in their workplace due to their race, and that about 40% reported feeling unsafe because of their gender. Women of color were also more likely than men to experience verbal harassment related to their race.
Eighteen percent of women of color — as well as 12% of white women — said they'd skipped at least one class, meeting, fieldwork opportunity, or professional event because they were worried about their safety. Notably, the researchers asked respondents to only consider experiences that have occurred in their most recent job, and only within the last five years.
"This isn't something anyone can point to and say, 'These results are padded by something that happened in 1967,'" Kathryn Clancy, associate professor of anthropology at the University of Illinois and lead author of the paper, told BuzzFeed News. "These are all current issues that women of color are facing right now. They're feeling unsafe today. They're skipping professional events today."
In 2014, Clancy coauthored another survey looking at the experiences of 666 scientists who had done research that occurred outside of the confines of the laboratory. The study showed that 71% of women experienced harassment while working in the field, and that 26% had been assaulted.
The current study looked specifically at the experiences of women of color in astronomy. Clancy's team focused on astronomy because the field has been rocked by several recent high-profile cases of sexual harassment, and continues to fare among the worst of the sciences in terms of gender equity at the professional level — with women making up just 14% of tenured faculty. Even as the number of white women faculty members has increased across science fields, the number of women of color has decreased.
"The study really reinforces a lot of what the literature already tells us — that women of color are more likely to experience multiple forms of harassment and feel more acutely the impact of a hostile work environment in the sciences," Zuleyka Zevallos, a sociologist at Swinburne University in Australia, told BuzzFeed News.
Although this isn't the first study to show evidence of the "double bind" of racial- and gender-based harassment, some critics continue to deny that the effect is real.
"A lot of the pushback that we see in the individual scientific communities —astronomy or any other science — is that scientists want data," Zevallos said. "And even though there's a plethora of data, it's like they need to see more data for themselves."

The study also outlined several approaches to addressing the problem, including creating a code of conduct, diversity and cultural awareness training, and hiring many more women of color.
"You can't keep putting women of color in the position of being an only, or being in such low numbers that they're tokenized," Clancy said.
Clancy also stressed that while professional societies could do a lot to foster culture change and make demands on their memberships, universities need to have swifter consequences for discrimination, and make it easier for victims to discuss these issues both formally and informally.
"It's upsetting to me in a lot of ways that so many women of color haven't been listened to in the last several decades," Clancy said. "We think the sciences are going to be different than other workplaces — we just have to stop living in that fantasy."