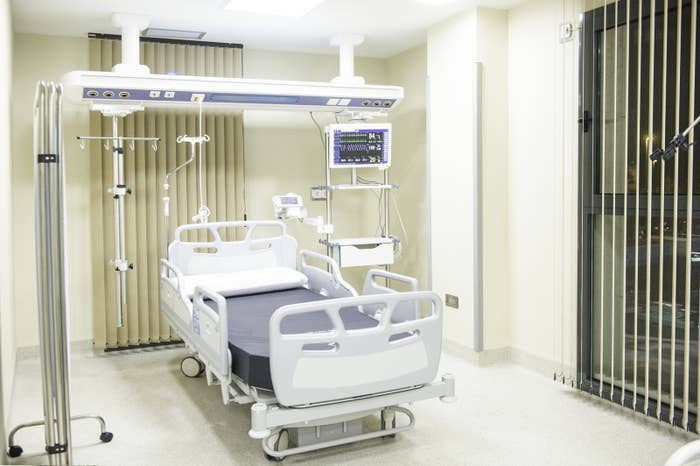 On Saturday, a federal judge in Texas halted parts of an Affordable Care Act rule that would ban hospitals and insurance companies from discriminating against patients because of their gender identity.

The rule was issued by the Department of Health and Human Services (HHS) last May to implement Section 1557 of the ACA, which bans doctors and nurses from discriminating on the basis of race, color, national origin, sex, age, or disability.
But — to the chagrin of some religious groups — the rule specified that the ban on discrimination based on sex included "gender identity." It also specified that medical providers had to treat women with a past history of abortions.
In response to a lawsuit against the rule brought by the state of Texas and several Christian medical groups, U.S. District Judge Reed O'Connor ruled that this requirement likely violated medical providers' rights to exercise their religious freedom.

O'Connor, the same judge who blocked federal government protections allowing students in public schools to use restrooms consistent with their gender identity last year, halted enforcement of the rule one day before it was supposed to go into effect, on January 1, 2017.
For now, here's what transgender patients need to know going into the doctors' office:
The lawsuit was led by religious groups who are opposed to providing transition-related care.
One plaintiff in the lawsuit, a private hospital system called the Franciscan Alliance, said that, consistent with the teachings of the Catholic Church, "a person's sex is ascertained biologically, and not by one's beliefs, desires, or feelings."
The hospital group argued that treating or referring patients for transition-related care would constitute "impermissible material cooperation with evil."
Transition-related care is considered medically necessary.
In 2012, the American Psychiatric Association established the new diagnosis of "gender dysphoria" and new standards for transgender care.
"The APA said that this is a valid medical diagnosis, and the treatment for it should include not only what you might expect, like counseling, but also hormones and gender transition-related surgery," Lois Uttley, co-chair of the LGBT Task Force of Healthcare For All New York, told BuzzFeed News. "This was a big turning point in the way the medical field looked at transgender healthcare."
Transgender people have some of the worst health outcomes in the US.
Of the 3.3 million HIV tests reported to the Centers of Disease Control in 2013, the highest percentage of new HIV-positive people were among transgender people. Transgender patients are also at disproportionate risk for certain cancers.
A lot of this has to do with discrimination in doctor's offices.
Nearly 19% of 7,000 transgender patients surveyed by the National Center for Transgender Equality in 2010 reported being refused medical care because they identified as transgender or gender non-conforming. (And these numbers were even higher among people of color.) Almost 28% of them all reported postponing medical care when they were sick or injured because of discrimination, and 50% reported a lack of provider knowledge about transgender care.
"We've had reports of people going into the hospital for a broken ankle or appendicitis and being told by the hospital or the doctor that they can't treat them because they're transgender," Sarah Warbelow, legal director for the Human Rights Campaign, told BuzzFeed News. "A broken ankle is a broken ankle, and that's not affected by a person's gender identity in the least bit."
While sometimes doctors will refuse to provide transition-related care like hormone therapy or surgeries, other times the mistreatment is less direct. "It also means that you can have doctors or hospitals that discriminate against people by refusing to call them by their chosen name, or seeing a transgender man and repeatedly referring to him as a 'she,'" Warbelow said.
O'Connor's ruling means that the government can no longer ban doctors from discriminating — but patients can still sue in court.
The rules under Section 1557 meant that patients could just fill out a form online to file an official complaint with HHS. Now, the only recourse for patients who have been discriminated against will be to file private lawsuits in court.
"Now it's a matter of finding lawyers and dividing up resources; the worst cases will still be addressed, but the smaller (but still significant) cases won't be handled," Emily Prince, a transgender activist and trial attorney, told BuzzFeed News via email.
"The ruling doesn't change the law, it makes it more inaccessible," she said.
But Prince worries that misinformation about the change will embolden doctors to discriminate against patients. "Headlines saying "it's now legal for doctors to discriminate against trans people" tell doctors they don't have to worry so much about a complaint being filed," she said.
Some 17 states still have their own rules barring discrimination against transgender patients.
Even before HHS issued the discrimination rule in May, there were 17 states plus DC that had their own policies, said Uttley. "But all of the people living in all the other states had nothing."
With the national protections temporarily rolled back, she said, we're back to where things stood before the rule was issued in terms of who is protected and who isn't.

The judge's injunction is temporary — and some are urging Obama to take action before the Trump presidency.
HHS spokesperson Marjorie Connolly, in a statement provided to BuzzFeed News on Saturday, said that the agency was "disappointed" by the court's decision, but did not disclose any next steps.
Others are hoping that Obama will take action before January 20 to again ensure nationwide enforcement of the rule.
"We're hopeful that the Obama administration will appeal this decision in the next couple of weeks, and that a subsequent court will overturn this decision," Uttley said.