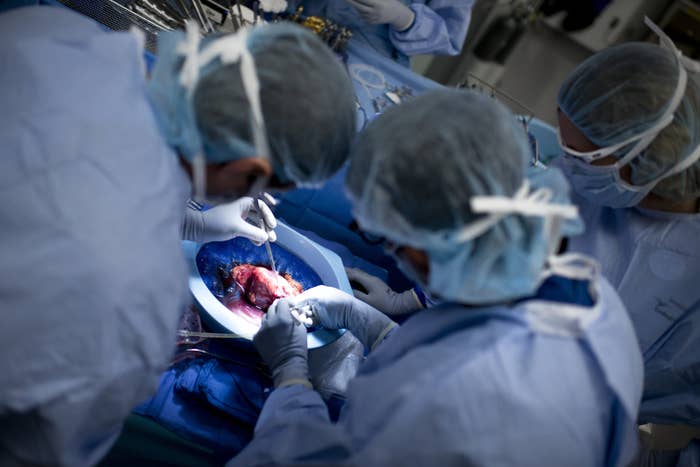 Doctors from Johns Hopkins Medicine announced Wednesday that they had performed the world's first HIV-positive liver transplant, as well as the first HIV-positive kidney transplant in the U.S. Both organs were donated by the same deceased HIV-positive donor to two patients currently living with HIV.

The successful procedures open the door to other HIV-positive patients — who often suffer organ complications either because of the virus or because of the available treatments to fight it — to have an additional lifeline to consider when placed on crowded waiting lists for organ donations.
"For those living with HIV this is a very exciting time," Dorry Segev, director of the Epidemiology Research Group in Organ Transplantation at Johns Hopkins, said at a news conference. "Now every HIV-positive donor is potential lives saved."
The transplants were only made possible after President Barack Obama signed the HIV Organ Policy Equity (HOPE) Act into law in 2013, opening the door to medical facilities performing transplants using organs obtained from HIV-positive donors. Prior to that, a 1988 amendment to the National Organ Transplant Act had banned research into HIV-positive transplantation during a time when public fears around AIDS were high.
"At that time, it made sense because HIV/AIDS was a deadly disease," Segev said. "But our ability to treat and control this disease has progressed rapidly in the last few decades."
Segev, who helped write the HOPE Act, noted that roughly 122,000 Americans are on the transplant waiting list at any given time. His research team determined that if the door was opened to HIV-positive transplants, 300–500 HIV-positive donors would be available every year for about 1,000 individual transplants.
"It occurred to us that there were thousands of patients with HIV in need of transplants who were waiting on waiting lists and suffering high rates of dying while waiting for these organs," Segev said. "At the same time, we were throwing away organs from HIV-positive patients."
Both of the patients who underwent the recent surgeries are in good condition, with their donated organs functioning well, said Christine Durand, assistant professor of Medicine and Oncology at Johns Hopkins Medicine. Both individuals have been living with HIV for several decades.
The most important risk to note in HIV-positive transplants is that the recipient will be exposed to a second strain of HIV from the donor, Durand noted. This means that doctors will have to consider whether they will be exposed to strains with drug resistance and match the recipient accordingly.
Sigev and his group have assembled a consortium of roughly 30 medical facilities across the country who currently perform HIV negative-to-positive transplants that might have the capabilities to expand to their HIV positive-to-positive protocols.
Once the procedures are taken up across the country, more organs will be available overall.
"This is an advancement that will affect everyone on the donor waiting list, including those with HIV," Durand said.
CORRECTION
This was the first HIV-positive kidney transplant to occur in the U.S. A previous version of the story implied that it was the first-ever HIV-positive kidney transplant.