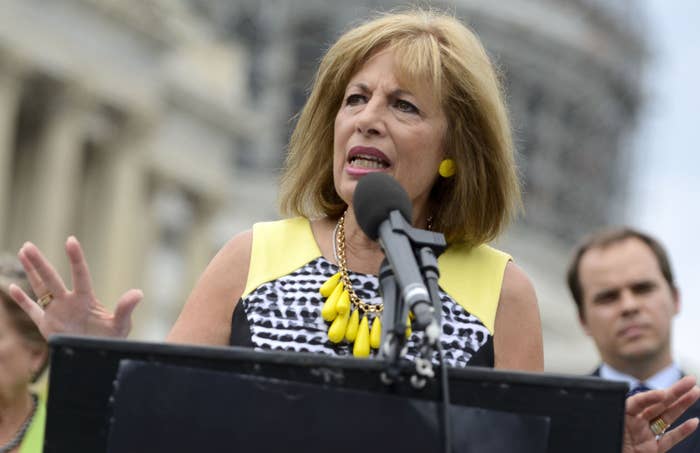 On Thursday, California Rep. Jackie Speier introduced a bill in the House that would require universities to report a professor's sexual harassment or assault to any federal agency that has given them research money.

The bill aims to bring more accountability to universities, which have struggled to balance findings of secret investigations with the substantial protections offered by tenure.
Called the ''Federal Funding Accountability for Sexual Harassers Act," the bill requires that universities report any violations of gender discrimination in the past 10 years to federal agencies within one month of an investigation ending. It would also require disclosure when allegations have been made, but not investigated, for at least six months.

And perhaps most consequential, the bill requires the federal agencies to take sexual harassment findings into consideration when doling out grants.
"My bill is meant to stop known harassers from moving easily between universities — this is what some call 'pass-the-harasser'," Speier told BuzzFeed News by email. "Taxpayer money should not help researchers who are actively driving women and minorities out of [math and science] fields."
In the last year, there have been several cases of secret university investigations finding that federally funded professors violated sexual harassment policies. The problem has been linked to the large gender disparities among tenured faculty, particularly in certain scientific disciplines, such as astronomy.
Geoff Marcy, a former astronomer at UC Berkeley, had $900,000 in active federal grants, as well as $100 million in a private research effort to find "civilizations beyond Earth," when BuzzFeed News revealed that he had sexually harassed several students over many years. And Michael Katze, a microbiologist at the University of Washington, was bringing in $30 million in active federal grants when he was found to have sexually harassed two lab employees. (Katze continues to be employed by UW, though all of his federal grants have since been rescinded or reallocated to other investigators at his institution.)
When a professor wins a federal government grant, their university is the official recipient of the money. So, as of now, there is no direct mechanism for federal agencies to hold individual researchers responsible for discriminatory or abusive behavior.
As universities draw criticism for prioritizing the interests of valuable faculty over those of students and employees, Speier's bill aims to add an extra layer of accountability.
"It really just makes it worth the university's while, in a way it wasn't before, to be accountable to their students," Sarah Ballard, an astronomer at the Massachusetts Institute of Technology, told BuzzFeed News. "I wish it wasn't the case, but it seems like in practice it needs to be made financially worth their while."
Last October, Ballard first spoke publicly about the sexual harassment she experienced while an undergraduate at UC Berkeley, and is now testifying in favor of Speier's bill. "With Marcy, it certainly wasn't incentivized — what was implicitly incentivized was secrecy."