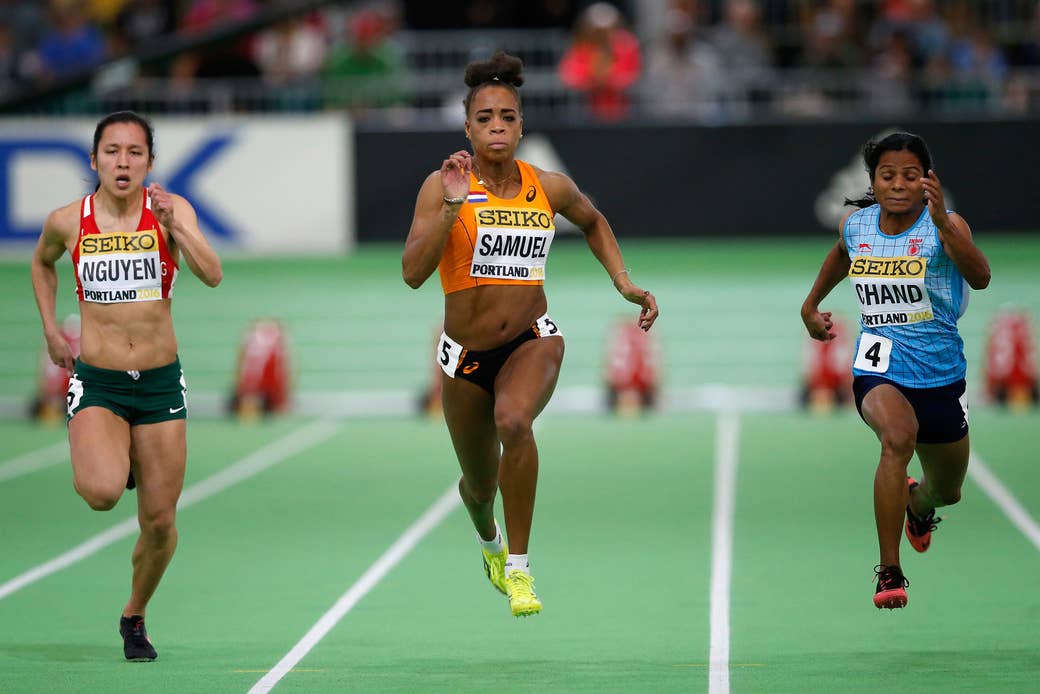 Last summer, 19-year old sprinter Dutee Chand's ability to compete in the Rio Olympics was in limbo. Her fate was not tied up in her race time, but rather a controversial rule for Olympians that said female athletes could be disqualified if their natural testosterone levels were too high. Chand's were.
The rationale behind the rule was that women with high testosterone fall outside the limits of "normal" female biology, giving them an unfair advantage. If they wanted to compete as women, the rule stated, they would need to take hormones or undergo invasive surgeries. Otherwise, they could compete against the men.
Chand decided to fight the rule, which had been adopted by both the governing body of track and field — the International Association of Athletics Federations (IAAF) — and the International Olympics Committee (IOC). In July of last year, she won: the Court of Arbitration for Sport suspended the so-called "T-test." It gave the IAAF two years to come back with scientific evidence that female athletes with naturally high testosterone actually had a significant advantage over their peers.
"Although athletics events are divided into discrete male and female categories, sex in humans is not simply binary," the Court decided. "Nevertheless," it added, "it is necessary for the IAAF to formulate a basis for the division of athletes into the male and female categories." In other words, some kind of biological gender test is needed.
This week, the IAAF announced that it intended to fight the Court's suspension of the T-test. "The IAAF stands by its Regulations and is continuing to collect the evidence," a representative told BuzzFeed News by email. The IOC, meanwhile, said that it would not introduce any new hormone rules "until the issues of the case of Dutee Chand are resolved."
On Friday, Chand will be competing in the 100-meter dash in Rio, making her the first Indian woman to qualify in the Olympic event in 36 years. As part of the rule's temporary suspension, other women with high testosterone will also be allowed to compete. (The rules are different for trans athletes. Although trans men can compete without restriction, trans women will have to demonstrate lowered hormone levels for at least a year before competing.)
Historians and bioethicists have argued that Chand's victory is only temporary. Even if the T-test is not used next year, the Court is still pushing for a gender test. Critics say these tests try to draw a firm line between the two sexes where none exists in nature — at the expense of women athletes deemed too masculine.
Over the decades, sports' ruling bodies have moved from anatomically inspecting female athletes, to taking cheek swabs for genetic tests, to measuring testosterone levels in blood. At each step, gender has proven to be more complicated than any biological marker we use to try to pinpoint it.
"Is it genitalia? Is it chromosomes? Is it hormones?" Susan Cahn, a his­tory professor at the University at Buffalo and author of Coming on Strong: Gender and Sexuality in 20th Century Women's Sports, told BuzzFeed News. While the IAAF and IOC have continued to search for new ways to neatly sort athletes into "female" and "male" categories, their main goal, she said, has stayed the same: excluding athletes who don't fit the mold of "true women."
It's a complicated debate, and spurs tough conversations about how to create a level playing field in women's sports, at a time when they've never been more popular or respected. By definition, the world's best women athletes stand apart for their extraordinary biology. Should some be excluded for the same thing?
Here are some of the women who have been questioned, mocked in the media, banned from competing, or had their medals revoked because of their biology.
1. Stella Walsh and Helen Stephens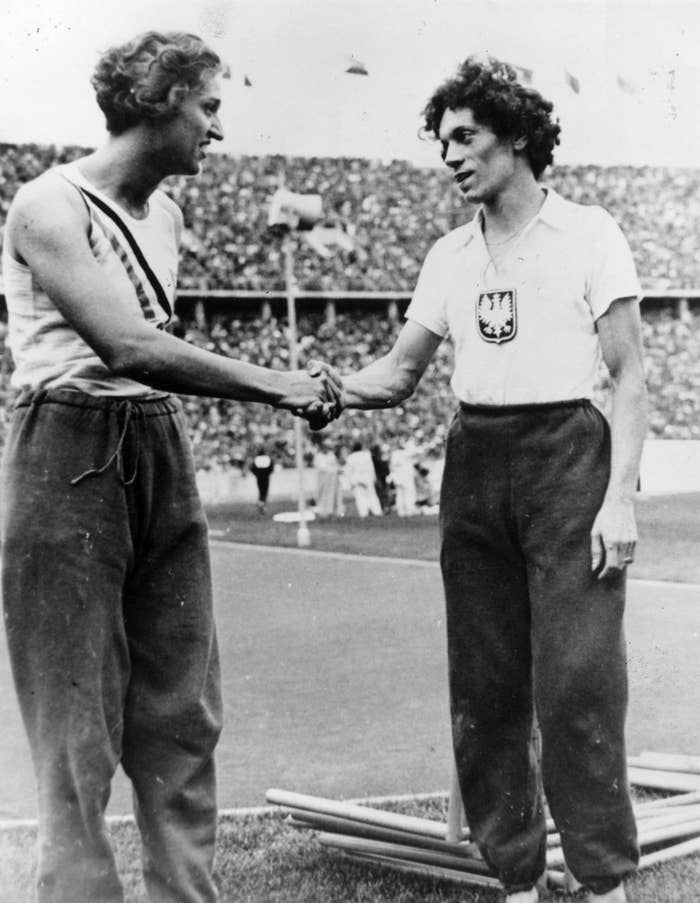 Stella Walsh (or Stanisława Walasiewicz, in Polish) immigrated from Poland to Cleveland, Ohio, when she was an infant in the summer of 1911. She quickly demonstrated her running prowess, and by 1930 had set a world record in the 100-meter dash. In the 1932 Olympics in Los Angeles, competing on the Polish team, Walsh won the gold medal.
But when she competed again in 1936, she was narrowly beaten by an 18-year old sprinter from Missouri, Helen Stephens. Although both women were whispered about because of their athletic builds, after Stephens' victory she was publicly accused in the Polish media of being a man competing in the women's category, and the story spread in American papers.
As a result, Stephens underwent the first genital inspections conducted by the Olympic committee to verify that her anatomy was "female," defined as having a vagina, clitoris, and pubic hair, among other measures. The visual test was in many ways induced by the Cold War, Cahn said, as accusations of foul play were rampant, and the body inspections became a mandatory step for women who wanted to compete.
Forty years later, after she was unexpectedly shot and killed in an Ohio parking lot, an autopsy of Walsh revealed that she had ambiguous genitalia. Today that would fall under the broad umbrella of "intersex conditions" or "differences of sex development," which affect roughly 1 in 2,000 babies born in the US. In athletes, selected for their extraordinary biology, some of these differences occur even more frequently.
2. Ewa Klobukowska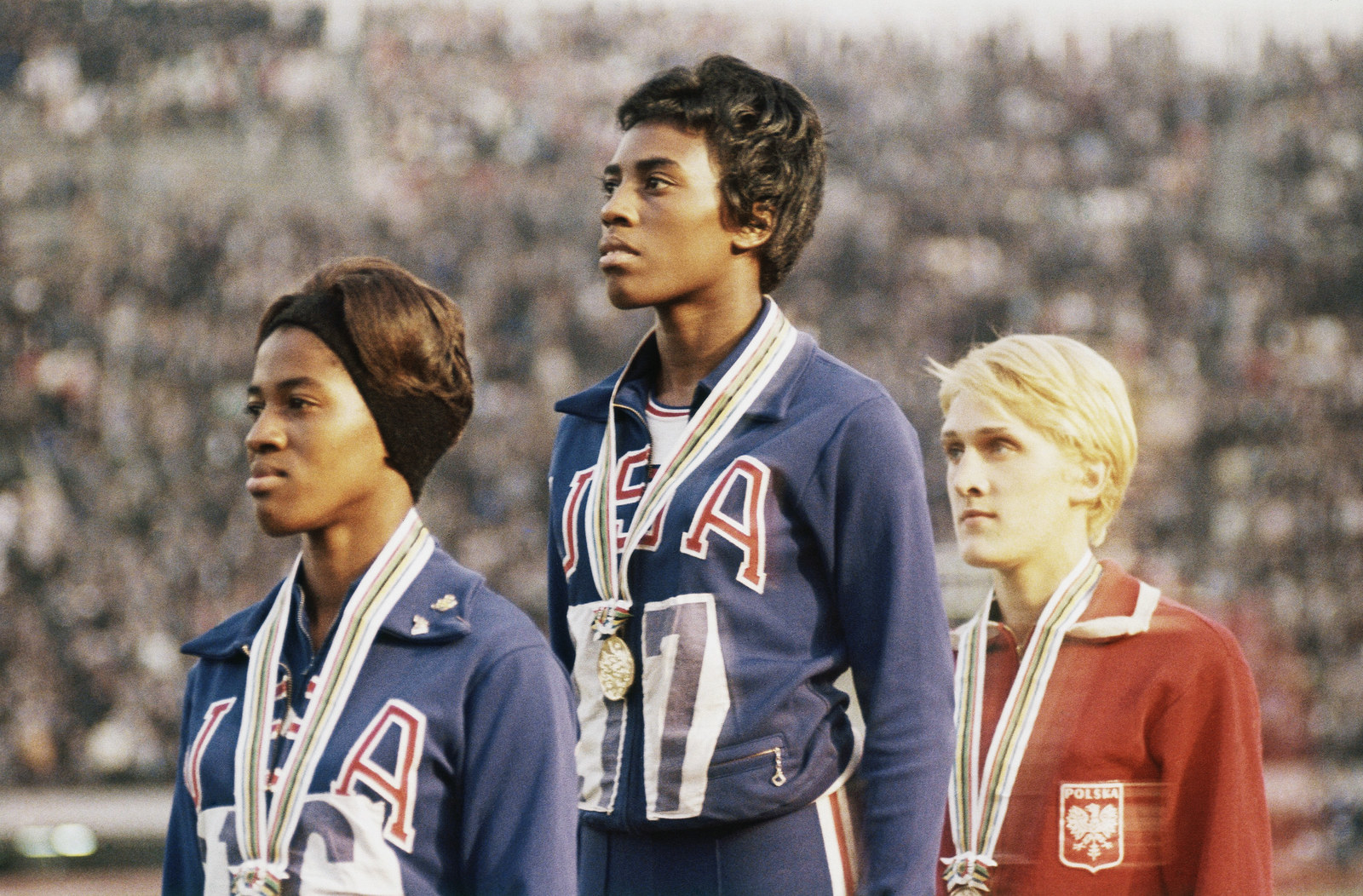 Ewa Klobukowska of Poland competed in the Tokyo Olympics in 1964, at the height of the Cold War. Running in the 100-meter relay, she helped set a new world record and won a gold medal.

After the media wrote about her masculine appearance, in 1967 Klobukowska was the first athlete to be tested with the IAAF's new chromosome test, which was viewed as a "simpler, objective, and more dignified" alternative to the physical examinations. (Although women typically have XX chromosomes and men typically have XY, scientists are finding that many variations exist.)
The test results were never made public, but the IAAF ruled that Klobukowska had a chromosomal anomaly that disqualified her from competing in the female category. The organization publicly criticized Klobukowska for being a male imposter, and stripped her of her medals. After being disqualified from competing at the age of 21, she said, "It's a dirty and stupid thing to do to me. I know what I am and how I feel."
She had a son in 1968. Thirty-one years later, the IOC returned her medals.

3. María José Martínez-Patiño
Martínez-Patiño was a Spanish hurdler who was forced to take the chromosome test in 1986, ahead of a major competition that would have qualified her for the Olympics. The test revealed that, unlike most women, she carried a Y chromosome.
One of her team doctors told her to fake an injury so that she could quietly sit out the race, but Martínez-Patiño refused. When she won first place, her test results were leaked to the press. Her running times were erased and she was kicked off the Spanish team.
"I felt ashamed and embarrassed," Martínez-Patiño wrote in a 2005 account of her sex testing in the medical journal The Lancet. "I lost friends, my fiancé, hope, and energy. But I knew that I was a woman, and that my genetic difference gave me no unfair physical advantage. I could hardly pretend to be a man; I have breasts and a vagina. I never cheated."
Martínez-Patiño has complete androgen insensitivity syndrome, which means that, despite having a Y chromosome and internal testes, her body cannot respond to testosterone. Women with CAIS develop the external sex traits of women, but don't have a uterus and can't conceive children.
Martínez-Patiño was declared ineligible to compete as a woman for the Olympic games in Seoul in 1988. But, with the support of several prominent geneticists, she fought the chromosome rule and was eventually allowed to compete in the qualifying trials for the 1992 Olympics in Barcelona. This time, she missed the mark by ten hundredths of a second, and didn't make it to the Games.
Martínez-Patiño is now a professor of science education in sport at the University of Vigo in Spain. Surprisingly, in 2015 she testified in favor of the IAAF's T-test. "It'd be easy to believe because of the difficulties of that past that I would be opposed to any rules," she told USA Today. "That's not the case. That would not be fair, not be ethical. I understand the positions of other people. I am in favor of rules."
4. Santhi Soundarajan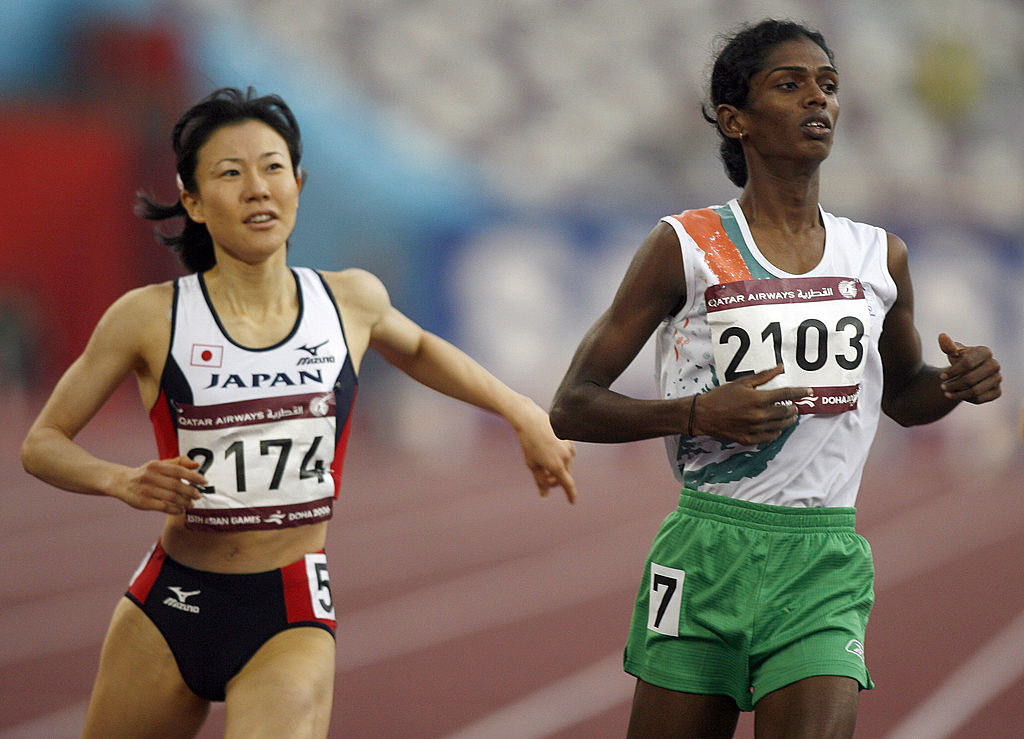 In 2006, 25-year-old Santhi Soundarajan from India ran in the 800 meter race at the Asian Games in Qatar. Competing against athletes from 45 countries, she won a silver medal.
The next day, however, Soundarajan was called in for a blood test and asked her to undress. A few days later, it was announced on Indian national television that Soundarajan had been stripped of her medal because she had failed a sex test. Although born and raised as a girl, Soundarajan carried a Y chromosome. Like Martínez-Patiño, she was born with androgen insensitivity syndrome and had female genitalia.
Although she had never before doubted being a woman, Soundarajan was suddenly thrust forward publicly as a gender imposter. Struggling with depression, she attempted suicide shortly after returning to India.
5. Caster Semenya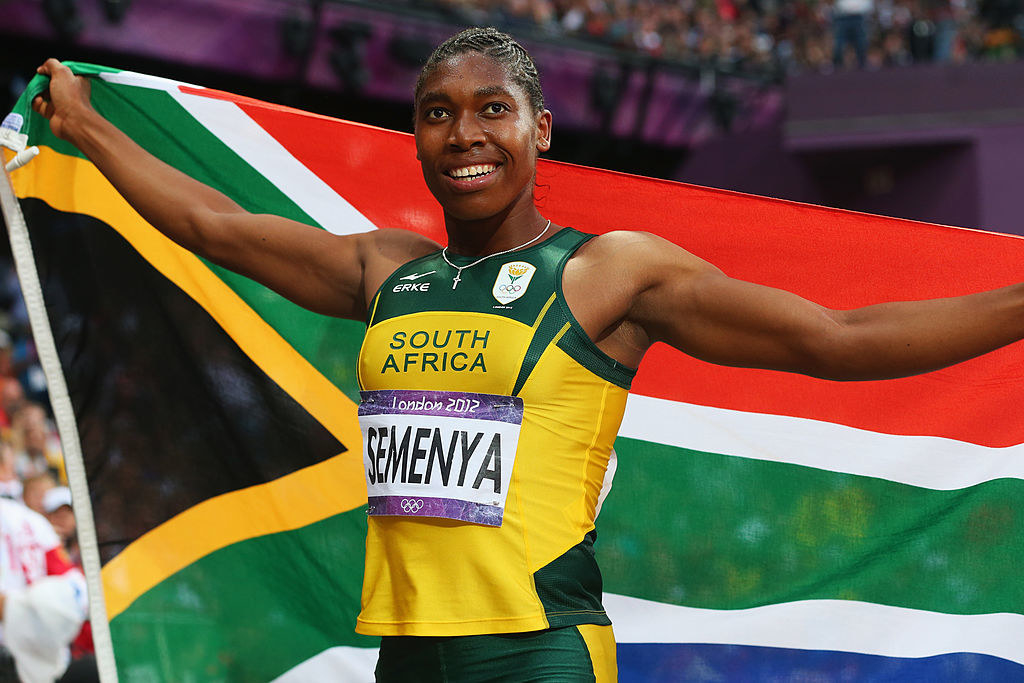 In 2009 Caster Semenya, a South African track star, broke the 800 meter world record at the African junior championships. Soon after, other athletes publicly questioned the athlete's physique. "These kind of people should not run with us," Italian runner Elisa Cusma said. "For me, she is not a woman. She is a man."
IAAF asked that she complete a gender test (which included inspections of her external and internal genitalia), and just hours before she easily won another race in Berlin, her results were leaked to the press: Although she had a vagina, she didn't have ovaries or a uterus, and her body produced three times the testosterone as the average woman. The Time magazine headline read: "Could This Women's World Champ Be a Man?"
The South African government rushed to her defense, filing an official complaint with the UN arguing that disqualifying Semenya was the result of sexism and racism in the sports federations. Many people have made similar criticisms, pointing out that every athlete excluded by routine sex testing has been from a developing country. In July of 2010, the IAAF allowed Semenya to run again.
"I have been subjected to unwarranted and invasive scrutiny of the most intimate and private details of my being," Semenya wrote in a statement announcing her return to competing in 2010. She said that the sex testing and the accompanying scrutiny "infringed on not only my rights as an athlete but also my fundamental and human rights including my rights to dignity and privacy."
Semenya will be competing in the 800-meter race in Rio next week.
6. Dutee Chand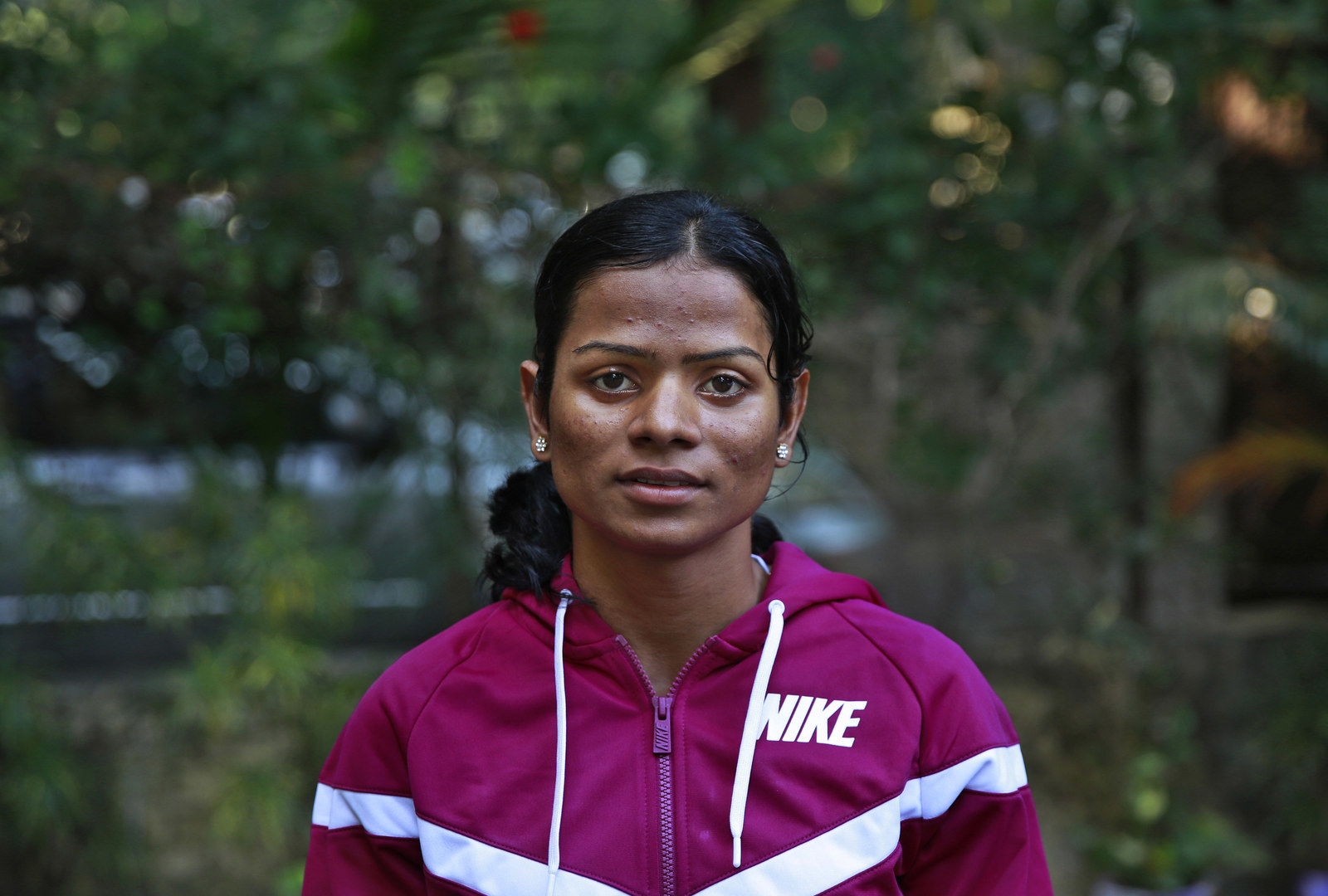 Semenya's case galvanized geneticists and bioethicists to speak out against the IAAF. As a result, in 2011 the IAAF replaced chromosome testing for what it felt was a more secure measure of sex: testosterone. (The organization would only require the blood test if it received a written request about a particular athlete.)
In 2014, 18-year old Indian sprinter Dutee Chand became a national champion in the 200-meter race, and was preparing for her first international competition at the Commonwealth Games in Glasgow. After several athletes complained about her toned physique, doctors from the Athletic Federation of India required her to submit to a blood testosterone test (initially, Chand claims, they told her it was a routine doping test.)
According to a complaint later filed by Chand, doctors tested not only her testosterone levels, but made her get an ultrasound, a chromosome analysis, an MRI, and a physical examination that included measuring and palpitating her clitoris, vagina, and labia, as well as inspecting her breast size and pubic hair.
A few days later, Chand was told she could not compete because her "male hormone levels" were too high. Chand decided to fight against the rule, rather than undergo the invasive surgery or hormone therapy needed to lower her testosterone levels. "I want to remain who I am and compete again. I have lived my life as a girl," Chand told the Indian Express in 2014.
In a landmark victory, Chand won her case last July. She will be competing in Rio in the women's 100-meter race this Friday, August 12.
CORRECTION
Trans athlete Chris Mosier is on the US men's sprint duathlon team, which does not compete in the Olympics. An earlier version of this article referred to him as an Olympian.