While driving through Indiana, past the cornfields and small towns, Chris Abert didn't think he'd be surprised by Scott County. He knew poor young people were turning to injecting drugs in small towns across the US.
Abert, after all, was an expert on setting up needle exchanges, where people who use injectable drugs can trade dirty needles for clean ones to prevent disease. But he still wasn't ready for what he found on on March 31, 2015. It was, he said, "absolutely extraordinary."
Scott County, a rural locale that had previously seen just five cases of HIV a year, was now in the midst of an explosive outbreak of nearly 100 diagnoses in the span of just four months. Some 80% would be co-infected with hepatitis C, another blood-borne virus.
Abert was accompanying the Chicago Recovery Alliance on a trip to the southeast edge of Indiana as the first group to provide a sterile needle-exchange option to the town. For months, then governor Mike Pence had been a staunch opponent of needle exchanges, which are illegal in the state of Indiana. But as the HIV cases in the town rapidly multiplied and public health officials pleaded with him to consider decades of evidence, he "prayed on it" and then finally signed an executive order allowing an initial 30-day lift of the ban. "This is all hands on deck," Pence said.
Within a couple of hours of parking their white syringe-exchange truck downtown, Abert said, the Chicago Recovery Alliance had distributed almost 50,000 clean needles to the county of 24,000 people.
"We talked to one participant — everyone knew he was HIV positive, but needles were so hard to obtain that they would still buy his used syringes to use," said Abert. Used syringes often develop a small barb at the tip, Abert explained, and the needles that people were giving them had clearly been shaved down and sharpened with nail files or matchbook covers over and over again as they were passed around. "They were terrible. It showed the desperation of the people down there."
Pence eventually allowed Scott County to extend their needle exchange for a year to respond to the public health emergency. As of now, the number of HIV cases in Scott County has leveled off to around 210, a "success story" according to Indiana's deputy health commissioner, Jennifer Walthall. But Abert, now the director of the newly launched Indiana Recovery Alliance, says that there's still plenty of reason to worry. "I just don't want it to seem like Scott County was a fluke. It's a direct result of systemic failure."
A new report released this week by the CDC largely agrees. Looking at needle-sharing behaviors and HIV risk among people who inject drugs in 22 cities across the country, the study authors warned that the opioid crisis threatens to undo the progress that's been made to curb HIV's spread across the US. The report urged states to start up needle exchange programs, or else brace for consequences like the epidemic in Scott County.
"Life while injecting drugs is hard," Jonathan Mermin, director of CDC's National Center for HIV/AIDS, Viral Hepatitis, STD, and TB Prevention, said in a press conference announcing the study results this week. "Avoiding HIV and hepatitis shouldn't be."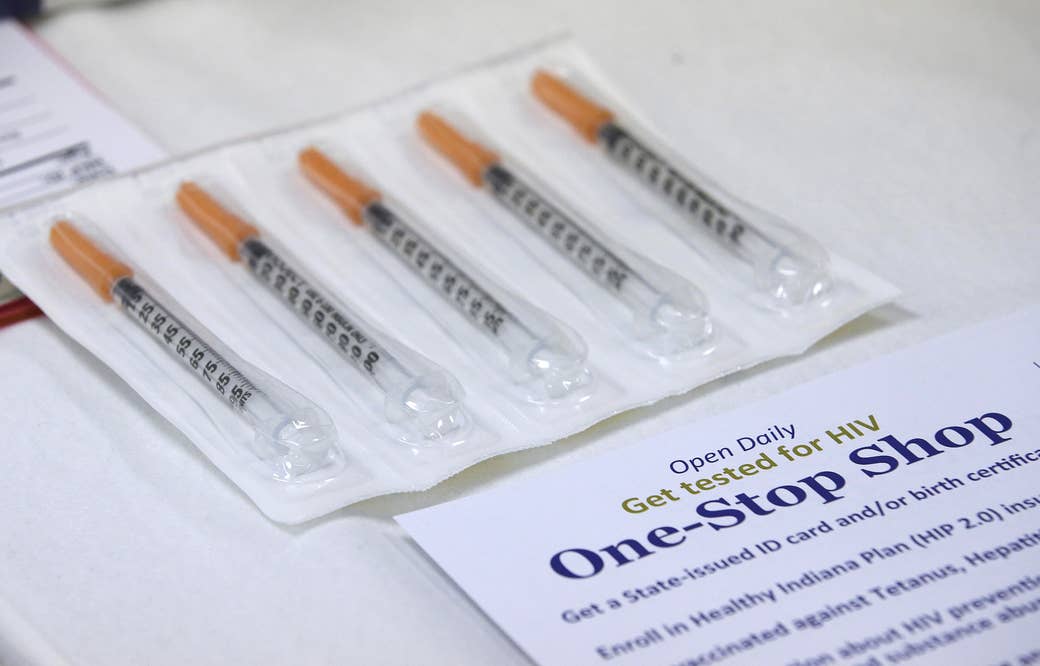 Stigma has overshadowed the science of needle exchange programs for decades, say experts such as Steffanie Strathdee, professor of global public health at the University of California San Diego. Despite clear evidence that the programs cut disease rates for HIV and hepatitis, politicians ranging from Ronald Reagan to Bill Clinton have bowed to widespread disdain for providing clean needles to "addicts" or "junkies."
The first needle exchanges cropped up in large urban areas in the US at the beginning of the AIDS epidemic in the 1980s, when approximately 17% of the nation's nearly 16,000 identified AIDS cases were due to people injecting drugs. By 1995, that climbed to 30% of the over 500,000 people diagnosed with AIDS.
But in 1984, while New York City's health department was developing plans for a formal study of needle exchange programs, the US government turned its focus to the "war on drugs." Needle exchange programs, initially considered to prevent drug users from spreading HIV, were seen as enabling and even encouraging drug use with government money. In 1988, a ban on federal funds supporting needle exchanges was put into law.
Facing increased evidence strongly suggesting that needle exchanges were an effective way to lower HIV rates, and that they helped get drug users into treatment, President Barack Obama in 2009 reversed the long-standing federal ban on funding needle exchanges.
Still, by 2015, people who inject drugs made up nearly 9% of the nearly 40,000 new HIV cases in the US.
The new CDC analysis released this week aimed to figure out why, by looking more closely at who exactly is injecting drugs and how.
Looking at people who inject illicit drugs from 22 cities across the US, they showed that one in three had reported sharing a needle in the last year.
The report's look at needle sharing matches the changing demographics of injectable drug use in the last decade, which is shifting toward misuse of opioid painkillers and heroin by white people in rural areas. While the percentage of new injectable drug users who were black decreased by 51% from 2005 through 2015, the percentage of white ones increased by 40%.
That shift also seemed to correlate with drug-seeking behaviors. While needle sharing decreased by 34% among black drug users and by 12% among Latinos, it remained unchanged among whites. Similarly, while the percentage of black drug users who got all of their needles from sterile sources increased by 48%, the number of white ones who did so did not change.
Nearly 54% of people who reported first trying out injecting drugs in 2015 were white, 21% were Latino, and 19% were black. The vast majority had reported using prescription opioids in the previous year.
The report, the authors wrote, underscored the need to change prevention efforts to match the rise of the opioid epidemic, which "might challenge the decades of progress in HIV prevention."
Though the study looked at cities, the study authors point out that predominantly white rural areas are the new hotbeds for injection drug use, and are at the highest risk for HIV outbreaks. They have the greatest unmet need for needle exchanges, which they said were a "critical component" of HIV prevention among people who inject drugs.
"The window of opportunity for implementing [needle exchanges] that provide comprehensive services to prevent, rather than respond to, HIV outbreaks might be closing," the authors wrote.
A CDC report released last year identified 220 counties in 26 states across the US that were most at risk of an HIV outbreak like Scott County's. This week's report underscored the urgent need for states to "meet people where they are" and reduce legal barriers currently blocking needle exchanges from setting up in those communities.
"The bottom line of what we've found is that opiates are threatening progress that we have made fighting HIV in this country," said Tom Frieden, director of the CDC, at a press conference on Tuesday. "The science shows that syringe services programs work. They save lives and they save money."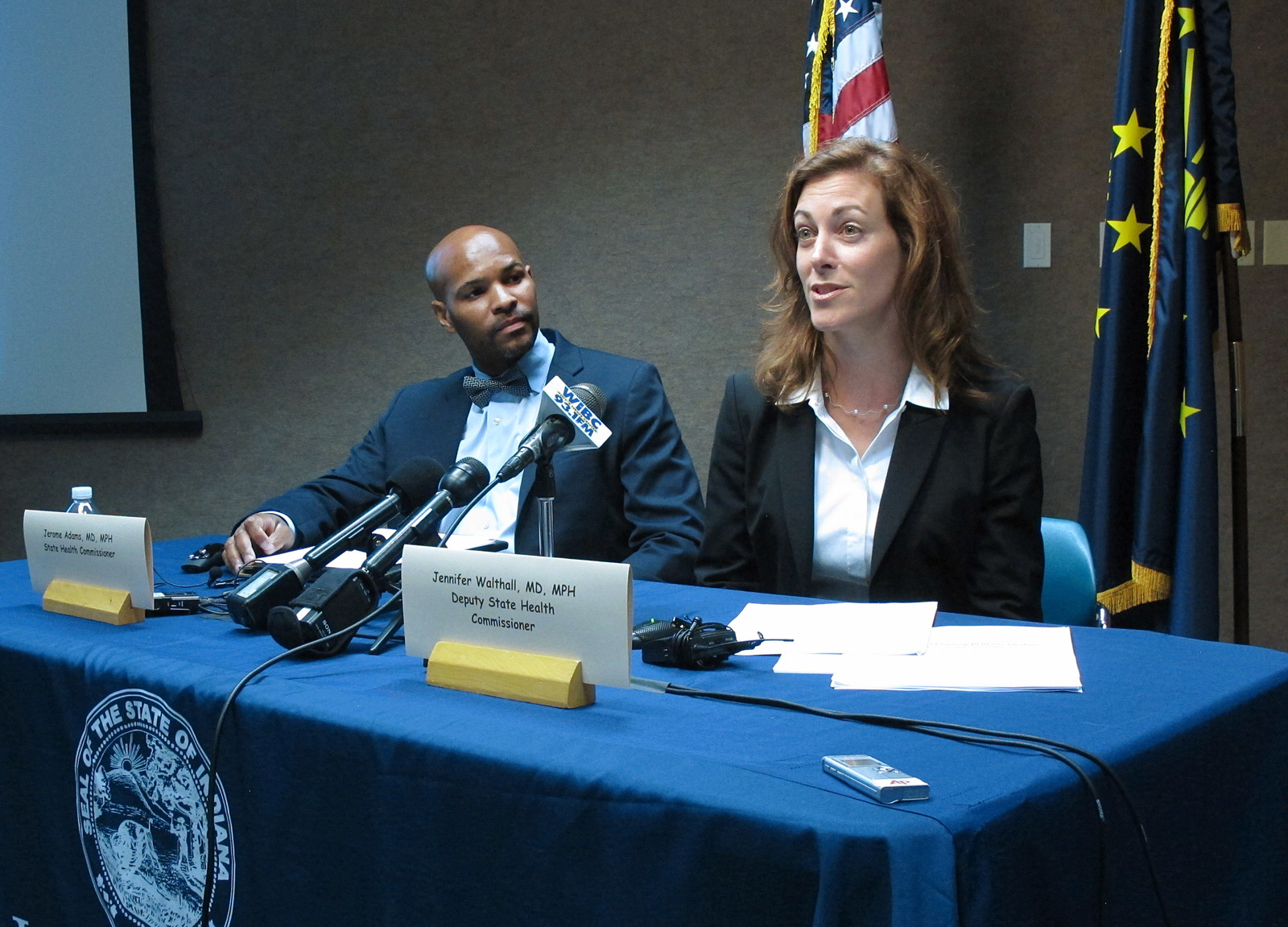 For many experts, Pence's months-long delay in Scott County, and even the subsequent law that was signed, has become the case study for how misguided public health policies can endanger lives.
Some, such as Gregg Gonsalves, co-director of the Yale global health justice partnership, stress the numerous warning signs. In 2011, a cluster of hepatitis C cases in southeastern Indiana alerted health officials to the prescription opioid injection that was sweeping that part of the state. In 2013, Pence's budget cuts nevertheless prompted five rural Planned Parenthood clinics to close, including the only HIV testing center that served Scott County.
"Pence ignored warning signs that there was a potential for an infectious disease outbreak of HIV in his state, because hepatitis C had already happened, and then he basically put a bag over his head by closing the Planned Parenthood site," Gonsalves told BuzzFeed News. "If an HIV outbreak occurred, nobody was going to see it unless it was too late."
Recent cuts to the overall health budget have devastated the state, said Carrie Lawrence, assistant research scientist at the Rural Center for AIDS/STD Prevention at Indiana University. Indiana now ranks 46th in the country for spending on public health. "Our public health spending went down after an outbreak," Lawrence said. "And we don't even tend to access the resources available to us by the federal government. That's politically driven."
The ban on needle exchange services, as well as the lack of methadone treatment programs, made the problem inevitable, said Strathdee, professor of global public health at the University of California San Diego. "It was not just inaction, it was actively promoting barriers to prevention and treatment," Strathdee told BuzzFeed News. "You can kind of see now that this is a recipe for an HIV outbreak."
Perhaps most importantly for other counties in the state, Pence's law did not lift the ban on state funding, so local health groups have been struggling to get private donations and grants to run needle exchange programs in the places that need it most. It also only allowed needle exchange programs to be made available in counties that declared public health emergencies, despite the fact that the most successful programs work as preventative measures. And it's still a felony to possess a syringe in Indiana, even if you obtained your needle from a state-sanctioned exchange program.
"It's not only shortsighted, it really committed whole communities of people to death," said Strathdee.
Indiana state health officials defended the difficulty of starting up such programs from scratch in rural areas with little to no resources, and ones that are poorly equipped to deal with the new twin epidemics of opioid use and HIV outbreaks. "I will definitely take criticism. I don't think there is a syringe exchange law that's perfect, and certainly ours doesn't fit that criteria either," Walthall, Indiana's deputy health commissioner, told BuzzFeed News. "But it's a reasonable space to start."
Lawrence is currently working with 28 counties around the state on local HIV prevention initiatives, including needle exchange. "I get the same call every time — 'We don't want to become Scott County, so what should we consider?'" Eight counties in Indiana have currently declared public health emergencies over either hepatitis C or HIV, and have active needle exchanges.
But for Abert and the Indiana Recovery Alliance, who get their funding from an amalgamation of private donations and grants, the current law poses a huge barrier to helping people stay uninfected. "Legislatively, we are forced to be reactive. And if we help lower disease rates to nonepidemic levels, then we will not be allowed to continue to do needle exchange," he said.
The result is that Abert's group is bracing itself for more epidemics in Indiana and across Appalachia. And the growth of needle exchanges nationwide rests on the new Trump administration where, ironically enough, Gov. Mike Pence will sit as vice president.
"If the new administration decreases affordable access to public health care and further criminalizes people who use drugs in the name of law and order, then we have real reason to believe that these incidences will repeat themselves, and that these epidemics will re-emerge," Abert said. "It's not really a matter of if — it's a matter of when."