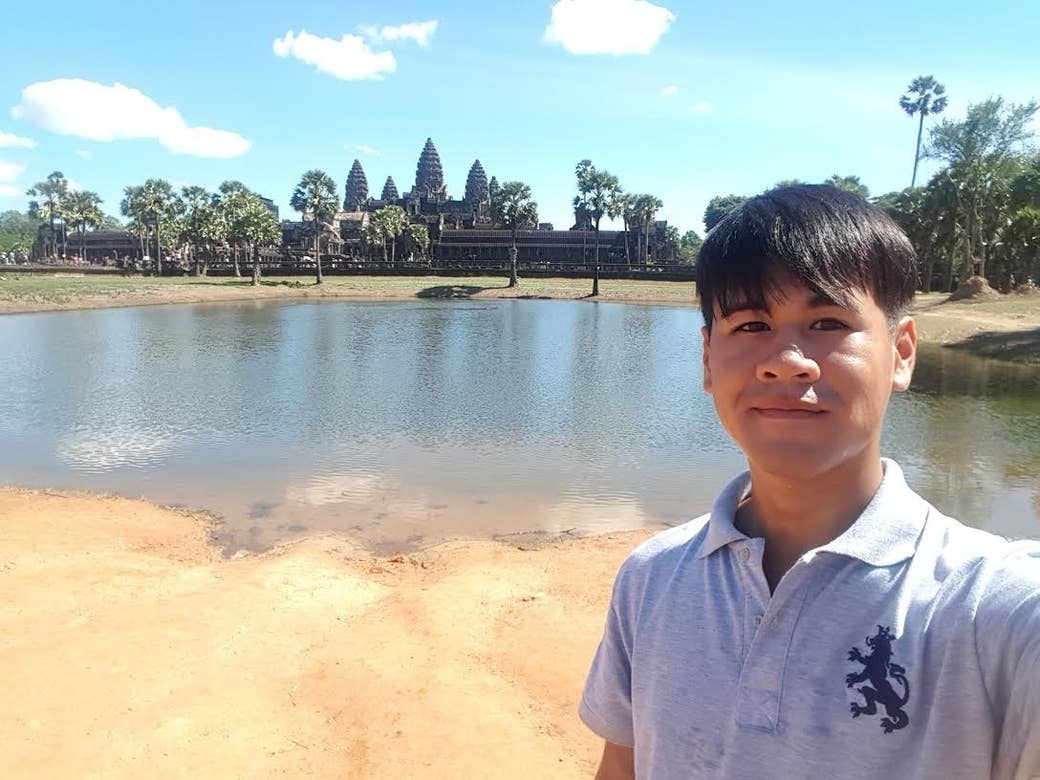 Romany Tin started feeling feverish and tired this January, six months into his dream job teaching English at a rural Cambodian high school as a volunteer for the Peace Corps. After a battery of blood tests two days later, he got the news: He had HIV and would be flown to Washington, DC, for treatment.
"At first I was just shocked," Tin told BuzzFeed News. But after reading about how HIV medications had advanced, allowing infected people to live normal lives, "my mindset was literally just, I want to make sure I can come back."
But that wouldn't be possible.
Despite effective treatment — within a month, medication had slashed the amount of HIV in his blood to an undetectable level — the Peace Corps notified Tin that because of his new HIV diagnosis, his assignment in Cambodia had been terminated.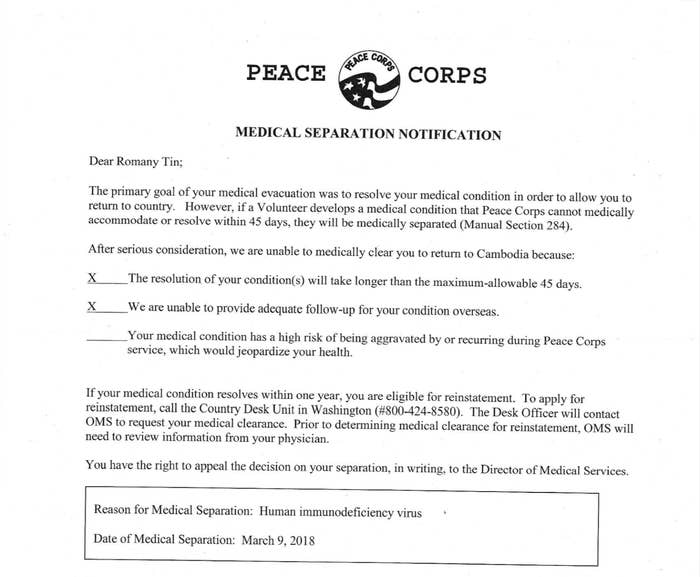 In a March 8 letter about Tin's case reviewed by BuzzFeed News, the Peace Corps said that "medical separation" was appropriate. His stipend would be cut off, and he would have to wait three to six months — time he'd need to make sure his new treatment was working well, the letter argued — before reapplying for a post in a different country with better medical resources. In person, Tin recalled, his Peace Corps health worker told him that Cambodia was not on an approved list of countries where people with HIV could serve.
"They're such a progressive organization, but their stigma and knowledge of HIV and how to treat it is very backwards," said Tin, whose story was first reported by Them. "I feel very mistreated. I feel angry."
Tin is one of at least two gay men ousted from the Peace Corps this year after testing positive for HIV. Two other gay men who used to work for the program told BuzzFeed News that Peace Corps doctors denied their requests for PrEP, the daily pill that protects against HIV infection, because their sexual behavior was deemed not risky enough. And when one of those men managed to get a second request for PrEP approved, he was then threatened with dismissal for exactly the behavior that made him eligible for the drug: having unprotected sex.
The Peace Corps is a federal program launched 57 years ago by President John F. Kennedy to create a civilian army spreading American values in poor areas of the world. Like the US military, it has repeatedly come under fire for its policies on the sexual health and safety of its servicemembers. In 2014, for example, a new law forced the Peace Corps to lift its 35-year ban on federal abortion assistance for volunteers. The year before that, a different law overturned its ban on pregnant volunteers. In 2011, yet another law required the organization to address its long track record of mishandling sexual assault cases.
And in 2008, Jeremiah Johnson, a Peace Corps volunteer in Ukraine, had his service terminated after testing positive for HIV. The ACLU took up Johnson's case, claiming that the Peace Corps was discriminating against people with disabilities. In response, the organization implemented a new policy to not automatically terminate HIV-positive volunteers but to instead assess them on a case-by-case basis.
As for the two men booted this year, the Peace Corps told BuzzFeed News that, "The health, safety and security of Volunteers are Peace Corps' top priorities." Its 7,000-plus volunteers work in 65 countries around the world, but there are only 18 where it can "provide appropriate medical support" to those with HIV, a spokesperson said by email.
In addition to concerns about volunteers' health, the Peace Corps also must consider local legal restrictions around HIV status that could endanger the safety of volunteers or people they work with. In some countries, for example, it's illegal for people with HIV to have sex without condoms, or to keep their HIV status secret from their sexual partners.
"The agency considers factors including access to reliable specialists and trusted laboratories as well as a country's legal climate when placing HIV-positive Volunteers," the spokesperson said.
Still, legal experts and HIV advocates say that the Peace Corps' medical separation policy may violate the Americans with Disabilities Act as well as HIV-specific anti-discrimination laws.
"The paternalistic response that it is in their 'best interests' does not change the stark fact of discrimination," Lawrence Gostin, a professor of global health law at Georgetown University, told BuzzFeed News by email.
"The paternalistic response that it is in their 'best interests' does not change the stark fact of discrimination."
Forced medical separations also ignore the effectiveness of current treatments, HIV advocates say.
"We are concerned that the Peace Corps' policy pertaining to volunteers diagnosed with HIV is arbitrary, not grounded in evidence, and being implemented without critical attention to the wellbeing of the volunteers," said the Treatment Action Group, a think tank that has been advocating on Tin's behalf, in an open letter to the Peace Corps last week.
"In practice," the TAG letter added, "these policies mean that volunteers who make the health-conscious decision to get tested for HIV — a practice the Peace Corps should encourage — are, in effect, punished if they test positive."
A second gay man who was terminated from his post after getting HIV had been teaching high school students in Southeast Asia. (Because of privacy concerns, BuzzFeed News is using the first initial of his middle name, M., and not disclosing the country of his assignment.)
M. joined the Peace Corps in March of last year. In a sexual health training session, he said he asked whether he could get PrEP and was told Peace Corps doctors would not prescribe the medication unless he had already had unprotected sex in the country. He hadn't.
In March of this year, M. got his blood tested for another medical issue and was surprised to find out he was HIV-positive.
His doctor told him that because of the country's restrictive laws against people with HIV, he would be putting its Peace Corps program at risk of being shut down if he stayed at his post. So M. flew back to his host family for a week to say his goodbyes. "We didn't know what to do but cry," he said.
Once back in DC, M. was told by the Peace Corps that he could not go back to that country, that he would be put on forced leave without his stipend, and that he'd have to wait three to six months before re-applying to serve. He was devastated, he said, to be forced out of his adopted country, and furious that the Peace Corps doctors had not encouraged him to take PrEP when he'd expressed interest in the drug.
Like Tin, M. received a letter from the Peace Corps stating that the termination was to ensure his safety. "This condition limits your ability to perform your Volunteer assignment and has the very real potential for further aggravation during the remainder of your Peace Corps service," the letter stated. He was medically separated this month.
Two former Peace Corps members told BuzzFeed News that they were denied PrEP while serving in Ukraine, which has one of the highest rates of new HIV diagnoses in Europe.
After 32-year-old Jeremiah (a different Jeremiah than the man ousted from the organization in 2008) arrived in 2015, he saw a Peace Corps doctor in Chernihiv and asked about how to get access to PrEP. The doctor seemed generally uncomfortable discussing gay sexual health, Jeremiah recalled, and was confused about what the drug was. (BuzzFeed News is withholding Jeremiah's last name to protect his identity.)
The doctor eventually asked him to fill out a form, based on the Centers for Disease Control and Prevention's 2014 guidance around evaluating risk of HIV exposure. A few weeks later, according to emails reviewed by BuzzFeed News, the Peace Corps denied his request for PrEP, saying his answers on the form showed that his sexual behavior was not risky enough to merit a prescription. Jeremiah was stunned.
"I was sexually active and was going to a country where they had the highest prevalence of HIV infection in Europe," Jeremiah said. "It was definitely something I felt I needed."
Months later, he visited a different Peace Corps doctor in Ukraine and made a second request for PrEP. When filling out the form this time, "I lied and said I was engaging in risky behavior," Jeremiah said.
His request was approved — but before getting the drugs, he had to listen to his doctor read a statement out loud. The letter, Jeremiah recalled, stated that he was violating his Peace Corps contract by engaging in sexual behavior that put himself or others at risk. And if he continued this behavior, the doctor said, he could face dismissal. (The Peace Corps did not answer questions about whether volunteers are contractually obligated to use condoms. Instead the spokesperson wrote: "Peace Corps Volunteers are expected to comply with both Peace Corps' medical policies and the instructions of Peace Corps Medical Officers regarding the prevention and treatment of illness and injury.")
Jeremiah began taking the drugs and finished his service at the end of last year. "I think LGBT health in the Peace Corps is almost nonexistent," he said. "It just isn't there."
James had a similar experience in the summer of 2017. He was working in a Ukrainian village near the border with Belarus, focusing on programs for kids with HIV. (BuzzFeed News is also withholding James' last name to protect his identity.)
At the medical office in Kiev for a routine medical check, James asked the doctors about PrEP. Initially, as with Jeremiah, the doctor said he didn't know what PrEP was, and then gave him a form to fill out. James stated that he was a man who had sex with men, and that in the last year he had had sex without condoms and had contracted a sexually transmitted infection — all factors that make PrEP strongly recommended by the CDC.
When asked if he had yet had sex in Ukraine, he said no — and that answer prompted the Peace Corps to deny his request. A doctor at Peace Corps headquarters wrote an email to James saying his "current sexual activity does not meet criteria" and advised him to "use condoms every time you have sex."
Three months later, after filing three complaints with the Peace Corps about potential safety risks in his village, James was attacked in the street by two men who knew he was gay and working on LGBT issues. After the attack, he left.
"I am so disappointed in the Peace Corps because I feel like they dropped the ball every step of the way," James said. "They talk about being an organization that wants to be diverse and inclusive — and they like that on the surface — but the fact of the matter is they don't have the structure in place to protect those people."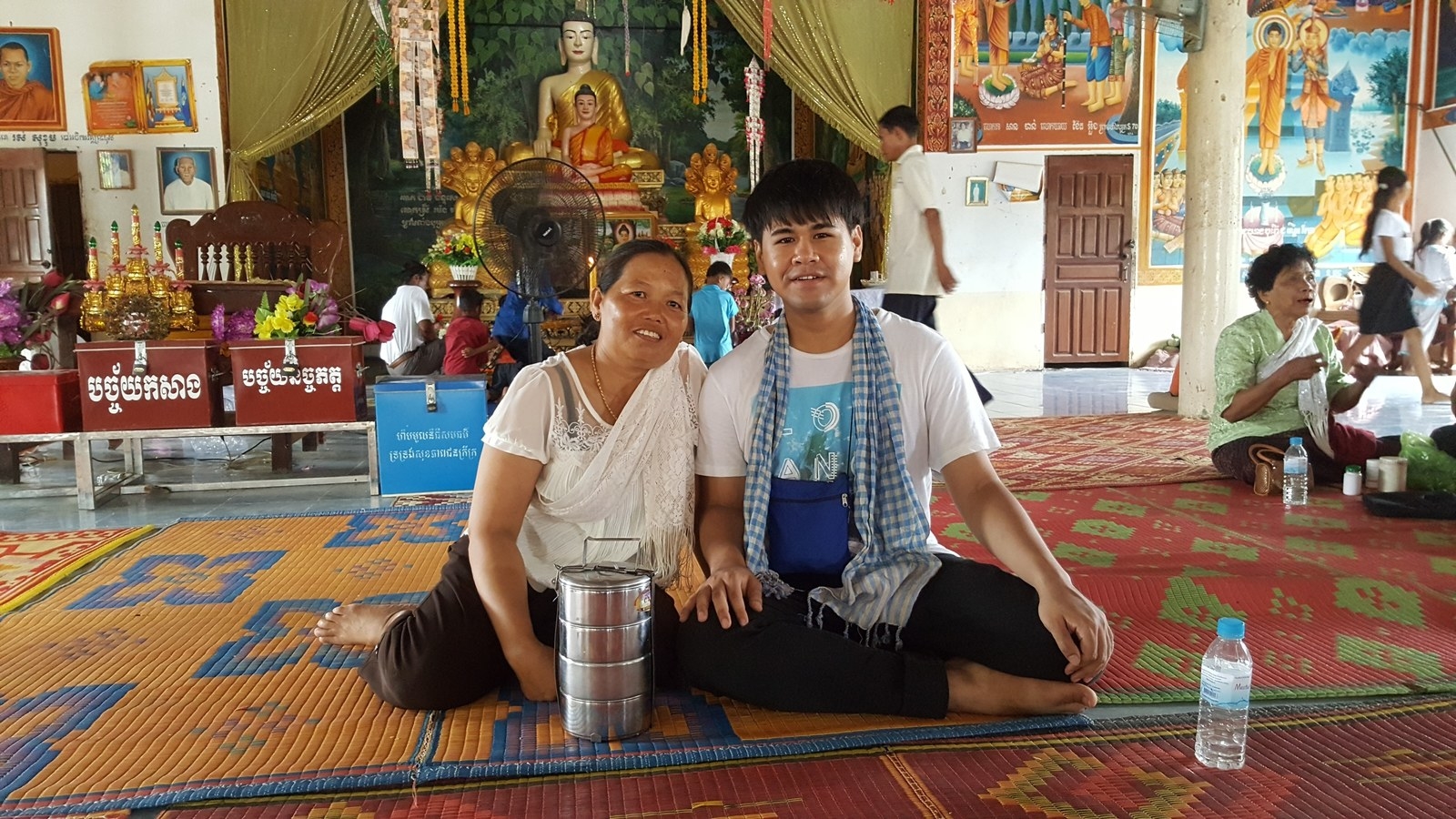 On Feb. 22 of this year, hoping to go back to his work in Cambodia, Tin appealed his termination. He argued that his viral count in two recent lab tests was undetectable, that Cambodia has the medical infrastructure to support the regular bloodwork he needs, and that his meds could be shipped in from the US.
"Please don't judge me hastily because of my diagnosis and take into consideration everything that I have mentioned into the kindness of all of your hearts," his letter concluded. "I really wish to continue my service without any interruption."
On March 1, the health coordinator in DC told Tin that his appeal had been reviewed by the Medical Review Board and had been denied. On March 8, Tin was officially terminated.
He's now back in his hometown in Southern California, figuring out what he'll do next.
"I feel completely healthy, mentally and physically. They know that," Tin said. "I could have returned to service."