Newt Gingrich Says Trump Will Make Opioid Epidemic A Priority
The former House speaker said that Trump is "keenly aware" that the opioid crisis is hitting red states hardest and Republicans would not "leave millions of people in the lurch," as Obamacare is repealed.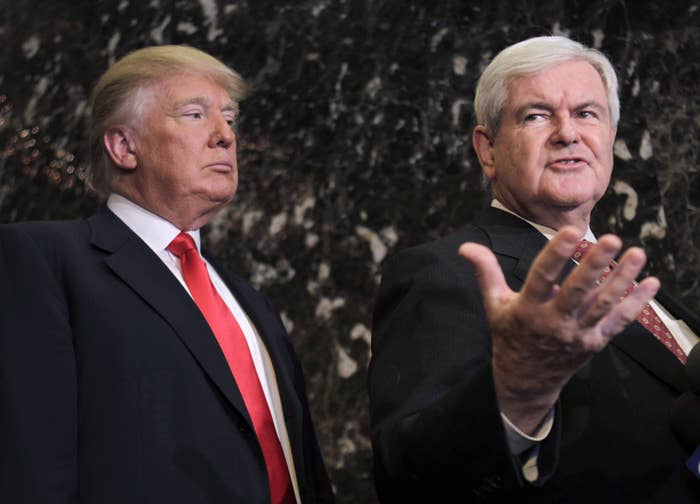 Fresh out of a meeting in Trump Tower with the president-elect, Newt Gingrich said that addressing the opioid epidemic and repealing Obamacare will be priorities of the upcoming Trump administration.
The 73-year-old former speaker of the House was 45 minutes late for a discussion about the opioid crisis, because president-elect Donald Trump "wanted to talk longer than I thought he would," Gingrich said.
The nationwide opioid addiction epidemic has been a priority of Gingrich's since this summer. That's when he teamed up with two Democrats, former Obama advisor Van Jones and former Congressman Patrick Kennedy, to lead a new, bipartisan nonprofit called Advocates for Opioid Recovery (AOR).
Last week, the Centers for Disease Control announced that more than 52,000 people died of drug overdoses in 2015 — higher than any year on record — mostly due to spikes in heroin and prescription opioid painkiller use. Previous reports have shown that white people in rural areas, particularly clustered around Appalachian states like Kentucky, West Virginia, and Oklahoma, have been hit hardest by the epidemic.
According to Gingrich, Trump has a pronounced interest in dealing with the problem.
"There's a correlation between counties that have been hit by despair and have had a substantial epidemic, and the vote for Trump," said Gingrich. "I think he's very very keenly aware that we have to take steps to give people hope and deal with the entire crisis."
To help tackle the crisis, Gingrich's group strongly advocates for the use of buprenorphine — sold under the brand names Suboxone, Buprenex, and Subutex — as a way to treat those struggling with addiction. Though the federal Substance Abuse and Mental Health Administration (SAMHSA) says that buprenorphine treatment is the most effective way to wean people off an opioid addiction and is safer than methadone, it is still controversial in some quarters since the drug itself can produce some euphoria and is sought after on the black market.
AOR has not disclosed its funding sources, and some have speculated about who pays the bills for a group that so strongly advocates for the use of specific drugs. When asked specifically if the pharmaceutical manufacturers of buprenorphine were funding the group, spokeswoman Anna Woodbury said, "We're not saying anything about the funding sources. They have chosen to remain anonymous."
Gingrich praised the 21st Century Cures Act, which sailed through the Senate last week and will allocate $1 billion in grants to states to fight the opioid epidemic, as a "first building block" to helping establish better mental health and substance abuse treatment.
A recovering addict himself, Kennedy credits drug treatment with saving his life.
But complicating the group's emphasis on treatment is the expected repeal of the Affordable Care Act, which Trump has promised to accomplish in the first 100 days of his presidency. The ACA and the 2008 Parity Act mandated universal access to private insurance that's legally required to pay for substance abuse treatment.
Gingrich argued that repealing the ACA was not going to leave addiction patients without treatment options. "There's a growing awareness among Republicans that the worst thing that you can do would be to leave millions of people in the lurch," Gingrich said.
Instead, he argued that repealing ACA under Trump would give lawmakers a chance to rebuild a healthcare system from the ground up in a way that that incorporated mental health and substance abuse as major priorities.
"There are a lot more people who are going to talk about health in the next two or three years than would have if Hillary had won," Gingrich argued. "That's really important because so many of our health costs are frankly caused by mental health and substance abuse problems."
"You cannot have sound medical care if you exclude your nervous system and your brain. If you think about it, it's just stupid."
Kennedy, however, strongly disagreed. "Repealing the ACA will be the single most destructive thing we can do to people with mental illness and addiction in this country."
At least through his relationship with Gingrich, Kennedy said he would try "to get a better deal than we would have otherwise gotten."