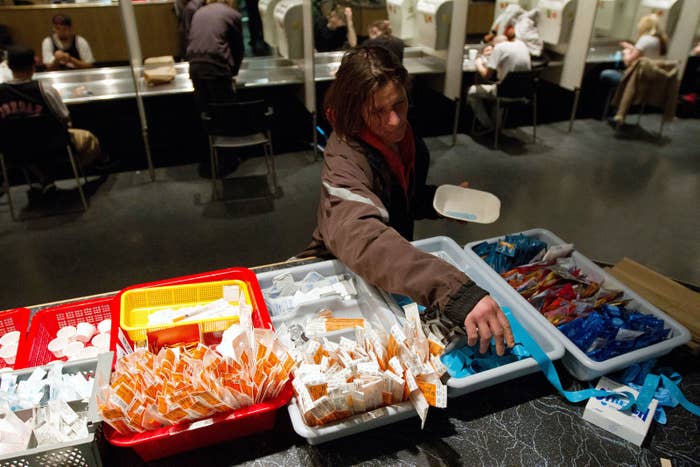 New York City Mayor Bill de Blasio announced Thursday evening that the city would push a plan to open so-called safe injection sites for heroin users, part of an effort to reduce an epidemic of deadly drug overdoses across the city.

The facilities, also known as overdose prevention centers, provide drug users with access to clean needles and space to inject drugs. They are overseen by staff trained to use the overdose-reversing antidote naloxone and suggest addiction treatment options for illicit drug users.
"The opioid epidemic has killed more people in our city than car crashes and homicides combined," de Blasio said in a statement released Thursday. "After a rigorous review of similar efforts across the world, and after careful consideration of public health and safety expert views, we believe overdose prevention centers will save lives and get more New Yorkers into the treatment they need to beat this deadly addiction."

In 2017, overdoses in New York City killed 1,441 people, more than any year on record — and double the rate of 2000 — according to a feasibility study on safe injection sites released with the announcement. The report also noted that more people died from overdoses in New York City in 2017 than from suicide, homicide, and motor vehicle accidents combined.
Though safe injection sites have long been controversial in the US, roughly 100 safe injection sites are running in 66 cities around the world. The first North American site opened in Vancouver in 2003 and has since had more than 3.6 million drug injections on site, 6,440 overdose interventions, and zero deaths.

No safe injection sites are operating with official sanction in the US right now. With de Blasio's announcement, New York joins San Francisco, Philadelphia, and Seattle in having political leaders pushing for safe injection sites in their cities.
The mayor indicated up to four sites would operate in New York as part of a one-year pilot effort. The sites would be built into existing needle exchanges without city funding. Among the US cities, only Seattle has said it would use public funds for its facilities, so far.
A Weill Cornell Medical College study has determined that opening up safe injection sites in the four New York City neighborhoods hit hardest by overdose deaths could save up to 130 lives a year, along with up to $7 million in health care costs.

The legal future of such sites remains uncertain, however: In February, the Drug Enforcement Administration stated that safe injection sites "violate federal law" and would be "subject to legal action."
Public health advocates cheered the long-awaited announcement that New York City would open a safe injection site.
"New York City is experiencing the highest level of overdose deaths that we've ever had on record," Alyssa Aguilera, executive director of advocacy group VOCAL NY, told BuzzFeed News.
"In this moment of crisis, we are excited that New York is being a leader on this issue and moving forward with establishing these sites that will undoubtedly save lives."