In the summer of 2014, as Ebola ravaged West Africa and unleashed panic across the U.S., Michael Katze was a voice of reason. As head of one of the biggest virus labs in the country, he frequently appeared on TV news spots — sharply dressed, with his signature black glasses and deep tan — preaching calm in the face of fear.
But away from the cameras, the University of Washington lab in Seattle that Katze had led for nearly 30 years was descending into chaos. Over the next year, one of his most important collaborators severed its $1.2 million partnership. Employees left in droves. And a lab administrator filed charges accusing him of sexually harassing her and a colleague. In August 2015, the university banned Katze from entering his own lab.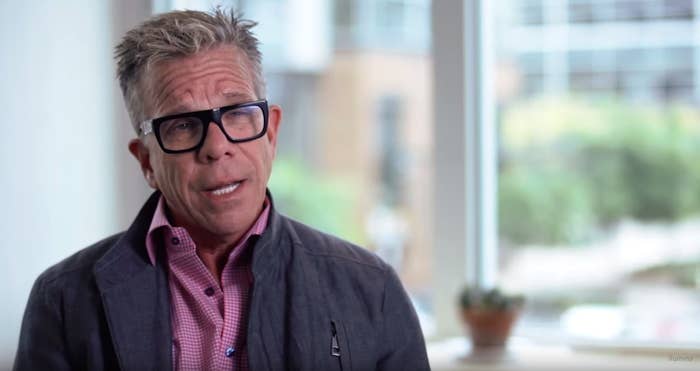 This past January, a university investigation concluded that Katze, 66, had violated the school's sexual harassment policies with both employees. A second investigation, by the university's School of Medicine, determined that in the process, he had misused university resources for personal gain, including by asking an employee to do chores for him and solicit a prostitute. It recommended a comprehensive internal audit to determine how far this misuse of public funds went.
One of the employees was an administrator whom Katze had hired, at an unusually high salary, on the implicit condition that she submit to his sexual demands. He personally rewarded this woman, known as Mary Roe in some court documents, with "thousands or even tens of thousands" of dollars a year in cash and gifts, the investigation found.
The university found that Katze also sexually harassed another administrative employee, known as Jane Doe in court documents. According to the investigations, Katze asked her to clean his apartment, purchase marijuana and Percocet for him, email escorts and place personal ads for him, and "schedule his manicures, pedicures, haircuts, and hair lightening appointments." Meanwhile, he joked about having sex with her, made sexual comments about her appearance, sent her sexually suggestive emails, and, on two occasions, tried while drunk to kiss or touch her.
(BuzzFeed News is not disclosing the real names of the two women to protect their privacy.)
The university had received at least seven previous complaints about Katze's behavior, including claims that he was frequently intoxicated in the lab, watched porn on his university computer, belittled his employees, and retaliated against lab members who challenged him. A UW spokesperson said the school dealt with allegations against Katze, over the years, with "letters to him, admonishments, etcetera." But his employment was never suspended or terminated.
"My job is to get grants. I am singularly focused on training scientists. This kind of shit is completely unimportant to me."
Katze is still collecting a salary from UW. Since February 18, however, a faculty adjudication panel has been deciding whether he should now be fired. A representative from UW could not comment on when those discussions would conclude, saying only that Katze's conduct was "not in any way reflective of the University's values" and that the panel will determine an "appropriate outcome."
Over the past year, several esteemed science professors have been embroiled in sexual harassment scandals. But Katze's case is exceptional, partly because of his response. In December, he took the unusual step of suing the university in federal court for violating his rights as a tenured professor. In April, he sued UW and BuzzFeed News to block the release of the investigation documents, including more than 100,000 text messages, emails, and other materials. He lost both suits.
Katze declined 10 requests to speak to BuzzFeed News. When sent a detailed list of facts in this story, Katze's lawyer, Jon Rosen, said simply that Katze "will continue to vigorously defend against the false and salacious charges pending before the University of Washington adjudication panel and expects that when all the facts see the light of day he will be exonerated."
When pressed about his treatment of employees, however, Katze told the university investigator: "My job is to get grants. I am singularly focused on training scientists. This kind of shit is completely unimportant to me."
Katze's research was remarkable for its scope: His team decoded the DNA of viral particles, tested experimental AIDS vaccines on monkeys, and predicted how the deadliest outbreaks spread across the globe. His work was supported by several federal agencies, including the National Institutes of Health, which is concerned with understanding the basics of diseases and developing treatments, as well as the Department of Defense, which is wary of bioterrorism and the national security threats posed by diseases such as Ebola.

Research on that scale required expensive genome sequencing machines and a staff that ran to the dozens. To pay for all that — and to boost his personal salary from the state-funded base of $120,000 up to more than $260,000 — Katze was under constant pressure to beat out competitors for big-ticket federal grants and contracts. He was good at it. By the time the investigation began, the university was getting roughly $30 million in active federal grants for Katze's research.
He hired Jane, who had already worked at UW for 11 years, in January of 2010. Around the same time, the investigator noted, Katze ended an affair with a female employee 30 years his junior who worked directly under his supervision.
Despite the lab's interpersonal chaos, Katze and Jane became friendly, and he often arranged to socialize outside of work with her and her husband. Katze opened up to Jane about his marital problems and asked her to help him meet women. In 2011, she emailed roughly a dozen escort services on his behalf and placed personal ads for him on Craigslist looking for sexual partners aged 21 and over. "Don't care if you are married," one of the ads read, "but horny is always good.:=)"
Jane told the investigator that Katze would comment on her body, "for instance about her breasts, the length of her skirt, and whether she was wearing panties." He would make jokes about having threesomes with her or taking her to "no-tell motels." And he assigned her menial household tasks — like vacuuming his apartment or buying him furniture — that were not part of her job description.
On Katze's prompting, Jane began introducing him to women, including Mary.
Katze held the job and gifts over Mary's head, making it clear they were dependent on her continuing to act as his girlfriend.
By October of 2011, Mary and Katze had begun emailing, and soon they were spending time together in person. In November, Katze arranged for Mary and Jane to join him at a scientific conference in San Francisco.
Katze and Mary continued to see each other, and in July of 2012, he offered her an administrative job in his lab, according to the investigation. He also bought her gifts, including vacations. From the beginning, the investigator noted, Katze held the job and gifts over Mary's head, making it clear they were dependent on her continuing to act as his girlfriend. For example, when she didn't respond to his phone calls just before a trip, he texted:
"Let me get this straight my baby. You are about to take ur 5th trip to the sun tomorrow. Essentially all expenses paid….You are galavanting around in your Gucci and Vuittons. Eating in the finest restaurants and staying in beautiful hotels. And I have to ask you for phone calls. Kind of not right my honey. Or am I missing something? Oh yeah paying for all your kids too. Hmmmmm? Oh yeah and I got you a new job with computer iPhone and iPad. Geeze. What's wrong with this picture?"
In another instance before Mary's official start date, Katze texted Jane: "[Mary] is being a bitch. I cancelled your meeting. I told her I am done. Call her and tell her all the travel is off as is my job offer." Ian Messerle, the university's lead investigator on the case, noted that this text "revealed his position of economic power and his corresponding expectations" of Mary.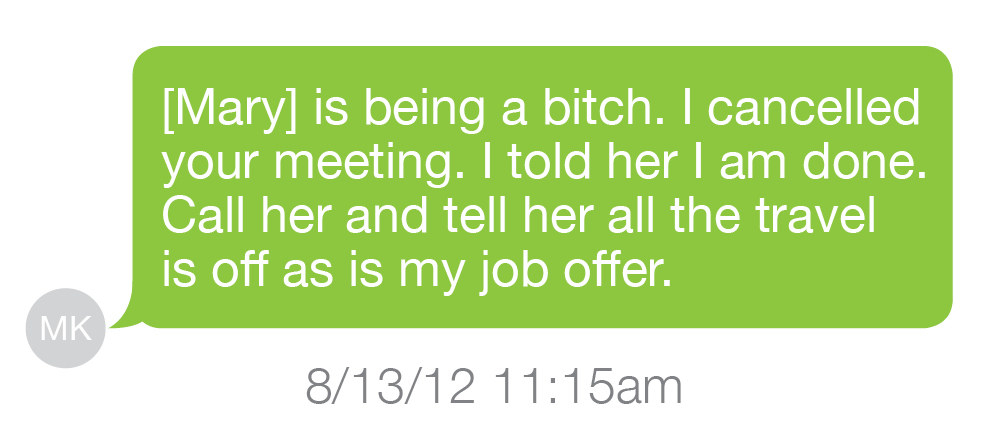 Mary did get the job, and she and Katze became more intimate. But Messerle noted that oral sex between them was "in every instance" compensated with money, shoes, travel, or time off.
She occasionally went with Katze on his work trips, including at least one to Bali. "We set up a last minute trip and [Mary] is here in Bali for a few days," Katze wrote Jane at that time. "Can you list her as working from home?"
The women often matched his gleefully crude tone. Jane replied to his email: "Absolutely ;-)-she is one lucky bitch-hope she blows ya." On another occasion Mary texted him: "Can I get a payday loan? Lol I miss your crazy buns!" He responded: "Proper bj gets you $500. Squirt included."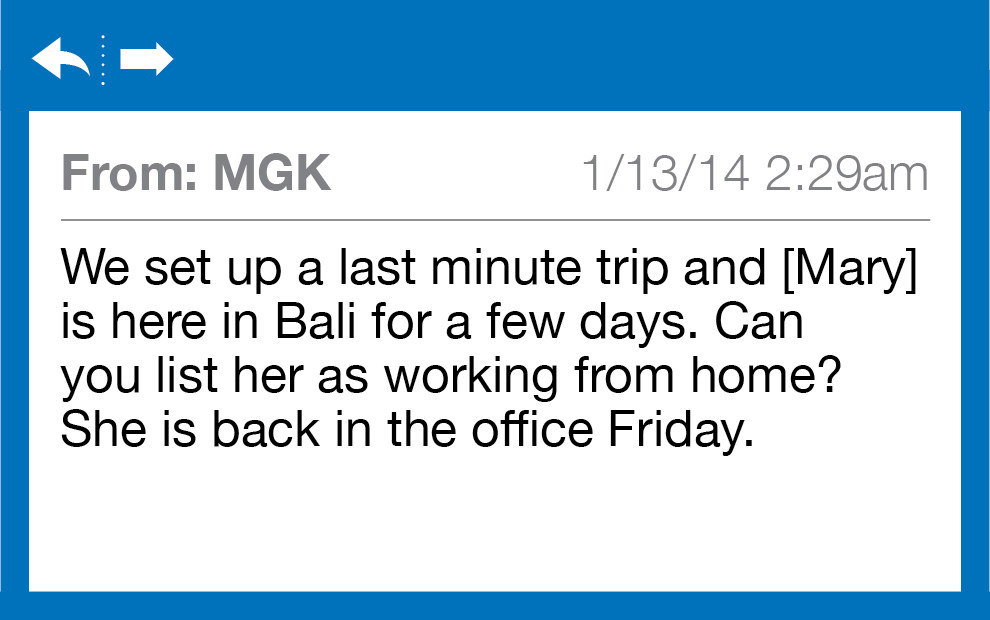 Messerle's full log of texts and emails between Katze and the two employees from 2011 to 2015 shows that their relationship was complex; often, they reciprocated Katze's overtures in friendly or flirtatious ways. But their texts to each other, as well as other friends, suggest that they felt they had to do so.
Mary occasionally made her objections explicit to him. "Another thing is that I feel is that I am receiving things or money from you in exchange for a bj," she texted Katze in May of 2015. "I don't want to do that and I am put in situations where I do it because I owe you." At times when he felt she was distancing herself from him, she told the investigator, Katze would say that he didn't know if they could work together anymore, and that maybe she should find another job.

His position of power was made explicit in how he compensated the two employees, the investigator found. According to the investigation report, Katze paid both of the women much higher salaries than the university standard for their positions and experience: $85,800 a year in the case of Mary and $75,732 a year in the case of Jane. (These salaries, UW confirmed, were paid through Katze's federal grants.) Katze also showered Mary with "thousands or even tens of thousands" of dollars in cash, shoes, and travel every year.
"The simplest expression of Dr. Katze's and [Mary's] working relationship is that she was employed by him to be his girlfriend," the investigator wrote.
After receiving an anonymous complaint in 2013 alleging that Mary was "hired to perform sexual favors and accompany Dr. Katze on his business trips," the school ran an audit. It found that, although she had recently traveled with Katze to Boston and shared a hotel room with him, Mary had attended in her "official capacity as an employee."
Around the same time, Jim Champoux, the chair of the microbiology department, asked Katze if he was living with any of his subordinates. Katze said no. It was two years before the subject was raised again. Champoux declined three requests for comment from BuzzFeed News.
The lab began to fall apart in the spring of 2015 when, according to Messerle, lab members learned that Ralph Baric of the University of North Carolina at Chapel Hill — with whom Katze had collaborated for almost a decade — had terminated Katze's $1.2 million federal research contract with him.

Baric declined to comment to BuzzFeed News, but UNC spokesperson David Pesci confirmed that UNC had carried out an audit of how Katze spent the contract money.
"Before terminating the contract with Dr. Katze the University of North Carolina performed an audit," Pesci told BuzzFeed News by email. "The University also secured reimbursement for services that had not been performed and received delivery of equipment from the Katze lab that was critical for the completion of the study."
(Katze had been accused of financial improprieties in 2007, when an employee sent an email to the School of Medicine's dean's office saying that Katze had approved outrageous fees for work unnecessarily outsourced to a company whose board he sat on. According to the UW spokesperson, the university did not investigate those allegations.)
Then, in July of last year, as Katze began to criticize Jane's job performance, she claimed that he called her into his office and exposed himself to her. She filed a police report with the Seattle Police Department and an official harassment complaint with the university.
"He's done put a fork in him," Jane texted Mary later that day. A half hour later, she texted: "he thinks he's untouchable."
In January, the investigation concluded that Katze had violated the school's sexual harassment policies with both employees. On two occasions, it found, Katze got drunk and was physical with Jane, including once at a conference in 2014. Jane said that Katze "put his hands all over her and that he ripped her pants," the investigation states.
But it found insufficient evidence to suggest that he had touched her in inappropriate ways on other occasions that she named. It also found no substantial evidence to support Jane's claim that he had exposed himself — either on the occasion she reported to the police or on others that she later named. The investigator suggested that she might have made the incidents up. Based on that finding, the Seattle Police Department said, it did not pursue the matter. Jane declined to comment on the record for BuzzFeed News.
The rest of the investigation painted a disturbing picture of how the lab was run.
Messerle wrote that interviewees described Dr. Katze as "someone who became angry when challenged, who became sarcastic and cruel when upset, and someone capable of going to great lengths to retaliate." Katze also used racist and sexist slurs, the report noted, sometimes referring to black people as "negroes" and "describing women as 'bitches' or 'fucking bitches' and on at least one occasion as a 'cunt.'"
The investigation was based on interviews with 26 current and former employees and colleagues, as well text messages, emails, and other documents. Because concerns about retaliation were "unlike anything I had seen in any investigation I had previously conducted," Messerle wrote, all interviewees (except Katze and the two women) were kept anonymous.
"One interviewee said that they would be able to cite 'a bajillion' examples of his cruelty; another described those incidents as 'abundant'; one person said you needed to walk on eggshells around him," Messerle wrote. "Dr. Katze told one employee they were 'stupid,' 'a mumbler,' and 'a stutterer.' Another person told me Dr. Katze called them a 'weak sissy with a tiny dick,' and others recounted complaints that Dr. Katze would tell people they were 'fucking stupid' or 'fucking idiots.'"
Of the 26 former lab members and colleagues contacted by BuzzFeed News, none agreed to let their names be published in this article. Several insisted on speaking without attribution because they feared professional retaliation; one referred to serious concerns for her health and safety; another said that he was "traumatized" from his time working under Katze.
Most of the employees and students who talked to Messerle about their experience with Katze said they didn't think going to the administration would have done any good. Many "expressed a belief that Dr. Katze would not be held accountable for his behavior because there had been previous complaints made about him without consequence," he wrote.
"There seemed to be a pattern of, I almost want to say, abusive behavior," Norm Arkans, the UW spokesperson, told BuzzFeed News. "Starting back in 2006 and then over several succeeding years, those were dealt with with letters to him, admonishments, etcetera. But did somebody miss a pattern of behavior? Likely."
In December, Katze filed a lawsuit in federal court, claiming that the university deprived him of his tenure rights when it put him on "home assignment" and barred him from talking to his lab members during the investigation.

The lawsuit also claimed that Katze was "shocked" by the allegations made against him, that he never exposed himself to or sexually assaulted Jane, and that he never harassed her, Mary, or any other UW employee. (He admitted to having a "personal" relationship with Mary.) The suit demanded that UW allow him back into the lab (and not inform his funding agencies that he had been banned) until he had a chance to properly defend his case.
"He is basically isolated," his lawyer, Jon Rosen, said in court in January. "He can't do his job, and that's tantamount to being terminated. Yes, he's getting his salary, but it's just tenure rights are broader."
Despite the lawsuit, in January UW notified the organizations that fund Katze's research that he'd lost access to his lab. All of his projects were either discontinued or transferred to other researchers.
On March 24, Katze filed another motion contesting the university's decision to reduce his salary as a result of the lost funding.
"People are willing to excuse bad behavior, including sexually inappropriate bad behavior, if people are productive scientifically."
Katze has been tenured since 2009, and the repeated allegations against him — several filed before 2009 — are raising questions about how the university could field so many complaints without taking action.
"People are willing to excuse bad behavior, including sexually inappropriate bad behavior, if people are productive scientifically," said Michael Eisen, a professor of molecular biology at the University of California, Berkeley, who has been outspoken about the problem of sexual harassment on campus.
But UW spokesperson Arkans says the school took swift action. "The record in our case shows clearly that as soon as the specific allegations of sexual harassment were made, we took immediate steps to get him out of the laboratory and to commence a thorough investigation."
Katze's lab quietly shuttered in April, at which point a half dozen employees who hadn't moved to other labs were laid off. But he was already looking for a new gig.
In February, while a committee of his peers began deliberating his employment status, emails and interviews indicate Katze tried to arrange to work in the lab of Ian Lipkin, a Columbia faculty member and a prominent infectious disease researcher. But UW shut down the offer.
In March, Katze emailed collaborators to say that he'd discussed salvaging some of his old grants by moving them to Lipkin's lab. In particular, Katze's emails referred to a Department of Defense project, an $8.6 million contract that was revoked after the agency was informed that Katze lost access to his lab.
Reached by phone last week, Lipkin said he had no comment on whether Katze is involved with his lab. But a former Lipkin lab member told BuzzFeed News that Katze was working with Lipkin's group as a consultant, and Columbia's directory listed him as a consultant.
Columbia notified BuzzFeed News that it would have no comment on Katze. The next day, his name was removed from the directory.
"Whatever it appears he is doing with Columbia, he is doing on his own," said Arkans, the UW spokesperson. "It is not approved by us, it is not sanctioned by us. You can only have one job at a time."
As for the women Katze was found to have sexually harassed, both lost their jobs.
Mary resigned in March as part of a $150,000 settlement from UW. "She was able to get her specific issues resolved with the university," her lawyer, Patrick Reddy, told BuzzFeed News. "She has to find a way to move on."
In the case of Jane, who filed the original complaint against Katze, the university offered her $30,000 to sign a settlement and resign. She turned down the offer and was then laid off when the lab closed.