After cutting a destructive path across the Caribbean, Hurricane Irma is aimed squarely at Miami and the Florida coast.

Just a week after Tropical Storm Harvey hit Houston with a record-breaking 51 inches of rain, Hurricane Irma is expected to make landfall in southeast Florida at 8am on Sunday as the most powerful Atlantic hurricane on record.
Whereas Harvey's five days of rain and Houston's massive urban sprawl rapidly choked its many roadways with floods, Miami will face a different beast. By Friday, storm surges were estimated at 5 to 10 feet of water, winds had reached 150 miles per hour, and Miami-Dade county had ordered an unprecedented 650,000 residents who live along the low-lying regions of the coast to evacuate. Miami, with its warm coastline waters, low elevation, rising sea levels, and ever-growing cluster of luxury condos, is at risk for even more damages.
"Southeast Florida is the most vulnerable place in the whole country to hurricane damage," Karen Clark, CEO of catastrophe modeling firm Karen Clark & Company, told BuzzFeed News.
In 2012, Clark's team did an analysis of the most damage-causing hurricanes that have hit the US in the last 100 years. Of the 28 hurricanes that would cause more than $10 billion in damages today, almost half of them had hit Florida.
If Irma continues on its current track and makes landfall as a Category 5 hurricane, Clark said, damages are likely to be "well in excess of $100 billion."
The last time a category 5 hurricane hit Florida was in August of 1992, when Hurricane Andrew caused the sea to surge up to 17 feet above normal near Florida's southern tip, making landfall just south of Miami in the town of Homestead. The hurricane tore apart the city, killing 65 people, destroying more than 63,000 homes, and leaving $15.5 billion in damages in its wake.
"What we learned from Hurricane Andrew is that buildings could lose their roofs, windows blow in, doors blow in," Allan Shulman, associate professor at University of Miami School of Architecture, told BuzzFeed News.
"Homes in particular — but also high rise condos — are pretty vulnerable to the force of 150 mile per hour winds," he added.
Twenty-five years after Andrew, building codes have been beefed up to include requirements for windows and doors that could resist the force of a full category 5 hurricane. Even factoring in these stronger building codes, however, Clark's team estimated that if Andrew were to hit today, it would cause about $50 billion in damages. Move Andrew's landfall 20 miles north, closer to Miami, and the damages could total up to $200 billion, Clark said.
That's partly because Miami is in the middle of a real estate boom. As real estate developers scramble for profits, Miami has gotten much denser, with expensive properties clustered along its vulnerable coastline.
"Just in Miami-Dade County alone, there's over half a trillion dollars of value," said Clark. "The numbers are huge. The problem is the amount of property value in one place that could be right in the path of the hurricane."
Miami's famous high-rise condos give a "false sense of security," Clark said. These buildings will see a lot of broken glass, water damage from rain, broken facades, and damage to equipment on the roofs — all in a city where construction costs have been rising at almost double the rate of inflation.
Meanwhile, many properties in the region already face routine flooding from king tides, when seawater flows onto land because of its low elevation and rising sea levels.
"Many of the lowest lying portions are along the beaches where land has been created over the years for real estate and speculative developments," Shulman said. "We have neighborhoods today that face inundation during a king tide event, where there's no storms. Already, these areas are really vulnerable."
And the city's iconic and valuable art deco hotels, built before modern building codes, could be destroyed forever, Shulman said.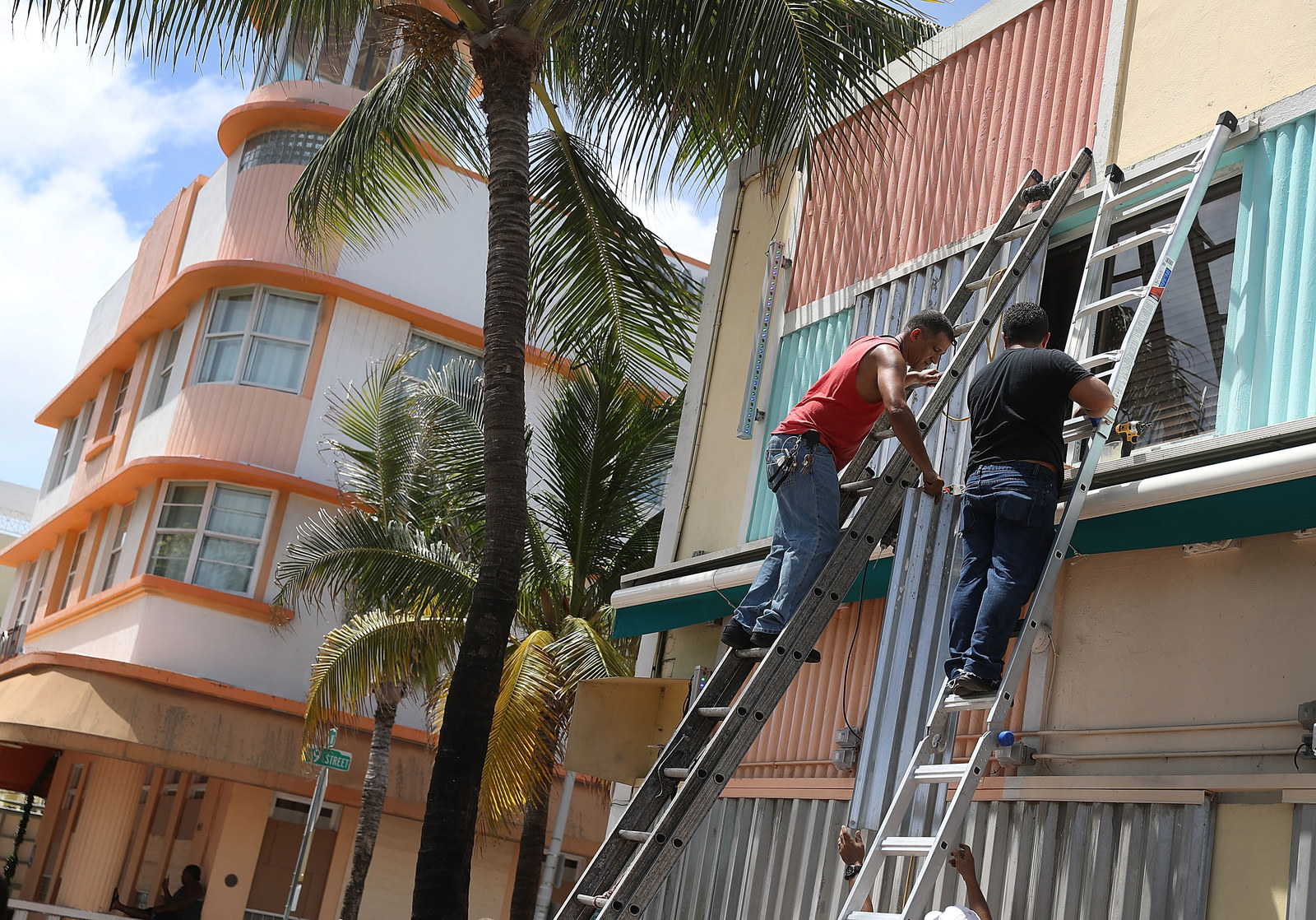 Although the sea level rise does not compare to the huge amounts of storm surge pounding the city during a hurricane, it still contributes, said Shimon Wdowinski, associate professor in the department of earth and environment at Florida International University.

Wdowinksi's research on flooding frequency in Miami Beach showed that it has significantly increased since 2006, coinciding with an acceleration of sea level rise in south Florida. Whereas the average rate of sea level rise increased by about 3 millimeters per year before 2006, it jumped up to around 9 millimeters per year since. The sea level in the area has risen about 220 millimeters in the last century.
"So if the same storm was 100 years ago, now it has a more potential to cause more damage because it's higher by a certain amount," Wdowinski said. "It's not the largest factor here — the largest factor will be the storm surge, then the tide conditions, and then the sea level rise. But all of these factors contribute."
Because the city is face-to-face with flooding even when it's not hurricane season, city planners and architects have tried to design proactive measures to deal with it. Newer houses are being raised, either by being built on stilts, or by adding a bottom floor used primarily for storage. Miami Beach, which has some of the worst nuisance flooding in all of Miami-Dade County, has invested $500 million in a project to raise roads and install anti-flood pumps across the city.
"We understand our vulnerabilities," Susy Torriente, chief resilience officer and assistant city manager for Miami Beach, told BuzzFeed News. "We plan for sea level rise and flooding, and we prepare the best we can for storms like Irma. But no one can create infrastructure for this type of storm."
It will take time for those measures to turn Miami into a city that isn't constantly facing damages from flooding.
"There is a lot more awareness about the effect of storms and how houses should be built to respond to that," Shulman said. "But the city that we have today doesn't reflect that. The city that we have today is not designed for resilience."