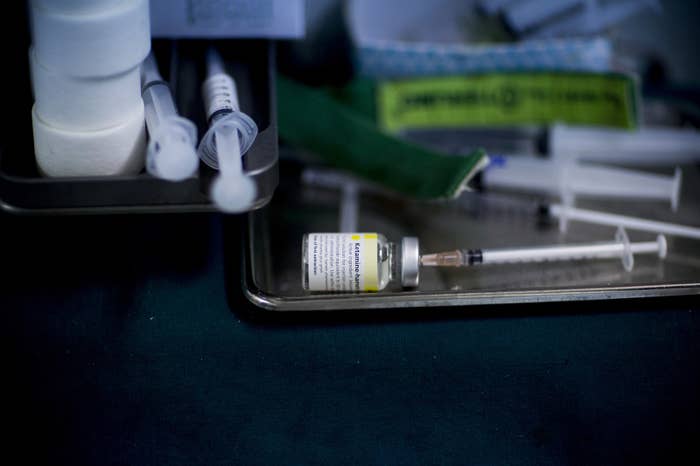 Police officers in Minneapolis pushed emergency medical personnel to inject people in custody — including some who posed no physical threat — with the powerful sedative ketamine.

That's according to an alarming report published Thursday by the city's police oversight commission. It found that during police calls last year, paramedics administered 62 injections of the drug ketamine, up from just two in 2010. One person was injected on four separate occasions.
The report, which was leaked in draft form to the Star Tribune last month, concerns situations in which police officers interacted with the medical staff of a local public hospital, Hennepin County Medical Center, to deal with people in their custody.
Hennepin staff are authorized to use ketamine on people who are "profoundly agitated," present a risk of physical violence to themselves or others, and can't be safely restrained otherwise. But the report found that, sometimes at the behest of police, medical staff frequently used ketamine on people who did not fit this description.
Investigators looked at all police reports since 2010 mentioning the word "ketamine." By reviewing footage from police body cameras, they determined that police assisted in the injection of ketamine, usually by restraining people, 76 times since 2016. Officers didn't inject the sedative themselves, but the bodycam footage showed eight instances of police urging medical staffers to administer the drug.
Bodycam footage showed, for example, a police officer pointing toward an individual in custody and making an "injection motion" while laughing, the report said. Another time, an officer told paramedics over the phone that they'd "have to bring a shot in." Once, after a person in custody said, "Let me go!" a cop replied, "In about two seconds when they shove a needle in your ass." Another time, an officer told a restrained person that they'd get "the good stuff." In several instances, the report found, people in custody could be heard shouting that they did not want to be injected with the sedative.
After a person in custody said, "Let me go!" a cop replied, "In about two seconds when they shove a needle in your ass."
Hospital leaders say the report is misleading. "Though well-intentioned, the 'Ketamine' draft report from the City of Minneapolis is a reckless use of anecdotes, partial snapshots of interactions with police, and incomplete information and statistics to draw uninformed and incorrect conclusions," Jeffrey Ho, chief medical director of Hennepin EMS, and Jon Cole, chief medical director of the Minnesota Poison Control System, wrote in a formal response to the draft report.

They also claimed that the report "will prevent the saving of lives by promoting the concept of allowing people to exhaust themselves to death."
The police, however, do not dispute the findings and are changing their procedures because of the report.
"As Chief of the Minneapolis Police Department I am concerned by a number of comments reportedly made by our officers to Emergency Medical Services personnel on specific medical calls," said Police Chief Medaria Arradondo in a statement. "I take these allegations seriously."
Last month Arradondo emailed the entire police department with a new policy: "MPD officers shall never suggest or demand EMS personnel sedate a subject. This is a subject that needs to be clearly made by EMS personnel — not MPD officers."

The city has also hired former US acting attorney general Sally Yates to investigate whether the police improperly influenced medical professionals' decisions to administer ketamine.
Civil liberties advocates say the report's findings are alarming.
"I think that it raises a number of questions regarding the rights of patients, and the rights of civilians, when coming into contact with law enforcement," Nekima Levy-Pounds, a civil rights attorney in Minneapolis, told BuzzFeed News. "People are not expecting to be given a date rape drug when someone calls 911."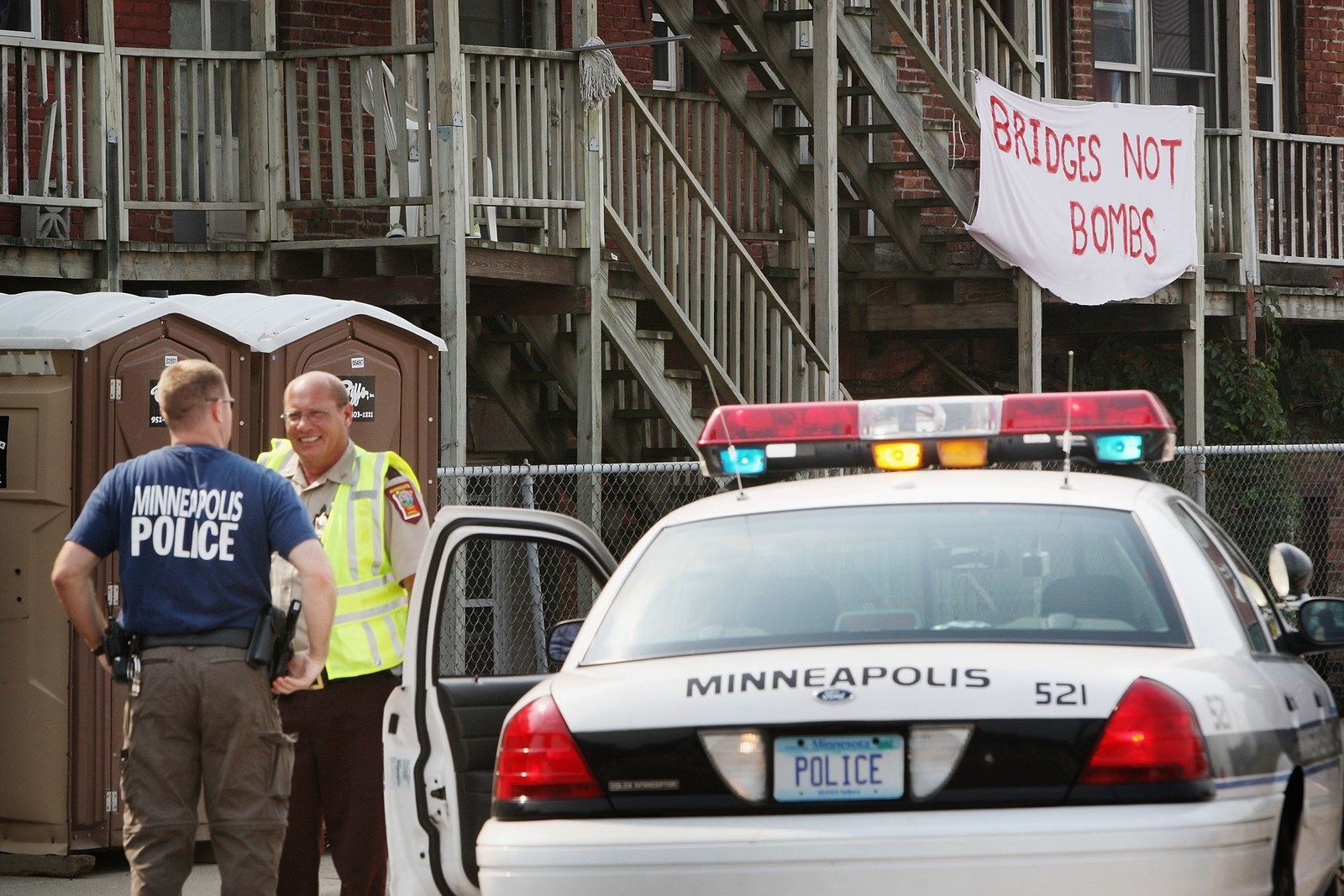 Ketamine is a popular recreational hallucinogen ("Special K") and an experimental treatment for depression. For decades it's been routinely used in hospitals and veterinary clinics as a mild anesthetic during painful procedures.

Increasingly, emergency departments are also using ketamine as one of a suite of drugs that can chemically subdue "profoundly agitated" patients who pose a risk to themselves or others. Emergency doctors say this category of patient is on the rise, possibly linked to a significant increase in mental health and drug-related problems.
"We are seeing more violent, out-of-control patients," said Mark Reiter, past president of the American Academy for Emergency Medicine and an emergency doctor in Tennessee. He says it's appropriate for doctors and paramedics to use ketamine on some of these dangerous patients. "But the administration of any sort of chemical sedation should be made by medical professionals, not by law enforcement."
Using ketamine to sedate agitated patients comes with some medical risks, such as stopped breathing and "emergence reactions" where patients experience agitation and hallucinations when the drug wears off. A recent study of 10,700 paramedics across the US showed that only one-third are authorized to use ketamine for sedation of agitated people.
"In Toronto, I have never heard of it being used to treat agitated patients in a prehospital setting or a hospital setting," said Joel Lexchin, an emergency physician in a downtown Toronto teaching hospital. "I would not endorse that as a practice, carrying ketamine to sedate agitated patients."
But the hospital at the center of the Minneapolis scandal, Hennepin County Medical Center, did routinely use ketamine to sedate people. In fact, some of the hospital's doctors have been at the forefront of scientific research on this controversial use of the drug.
In one of the cases described in the report, a paramedic discusses whether they could give ketamine to a woman who was suffering from an asthma attack after being maced by the police. The woman was breathing heavily and not resisting arrest. Shortly before the police body camera was deactivated, an EMS professional can be heard saying, "What does ketamine do to asthmatics?" before giving the drug to the woman. (The woman's breathing then stopped, though the report does not say what happened to her.) Later, the paramedic stated, "We're doing a study for agitation anyway so I had to give [the woman] ketamine."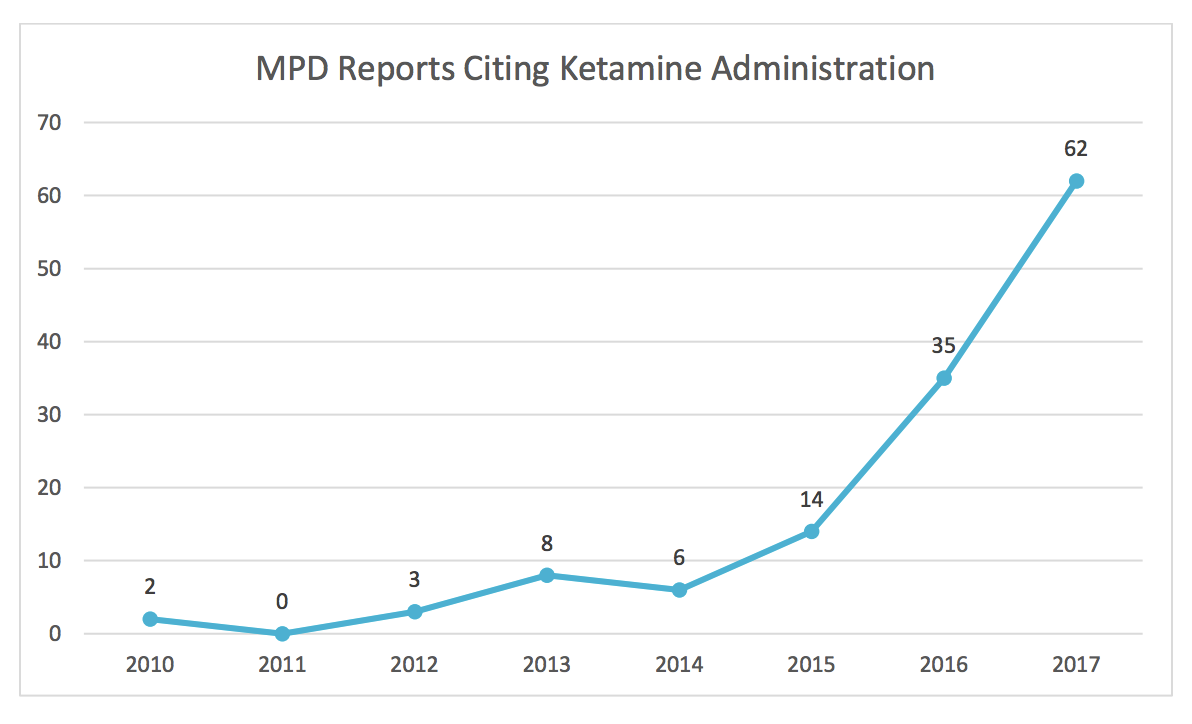 Subsequent news reports revealed that in August 2017, Hennepin launched a study comparing the use of ketamine with another sedative, midazolam, to treat agitated patients. The hospital only informed patients about their participation in the study after they had injected them with the drug, setting off a firestorm in the local community about unethical research practices. The hospital's leaders said that the study was allowed to waive consent because ketamine presented a "minimal risk" to patients but still suspended the study on June 25. The hospital also requested independent reviews of its protocols involving sedatives, as well as its process for carrying out research.

"We will be transparent on the results of these reviews which, along with our community, will guide us to make improvements going forward," the hospital told BuzzFeed News in an emailed statement.
On Tuesday, advocacy group Public Citizen sent a letter signed by 64 doctors, scientists, and bioethicists to the US Food and Drug Administration and the Office for Human Research Protections calling for a further probe of the study, which they say failed to comply with key requirements for the protection of human subjects.
The group claims that the hospital's studies on ketamine pose more than minimal risk and therefore should have required prior consent from patients. A prior study conducted at Hennepin comparing ketamine with another common emergency sedative, haloperidol, showed that complications occurred in 49% of patients receiving ketamine versus 5% getting haloperidol. Intubation, the placement of a plastic tube through the trachea to assist with breathing, was also significantly more likely in the ketamine group — 39% of ketamine patients were intubated versus 4% of those receiving haloperidol.
Some critics say it's no surprise that a hospital so invested in this line of research would be frequently using the drug to sedate people during police calls as well.
"I think their studies are set up in a way that it would drive use of ketamine," Leigh Turner, a bioethicist at the University of Minnesota, told BuzzFeed News.
"You can make the argument that there are some clinical reasons for administering ketamine, but the problem is that it's a fast-acting drug that's being administered without consent, and it can easily slip into being an instrument of social control," he said.
The shocking findings of the Minneapolis report, Turner later said, "prompt questions concerning the prevalence of such practices elsewhere."