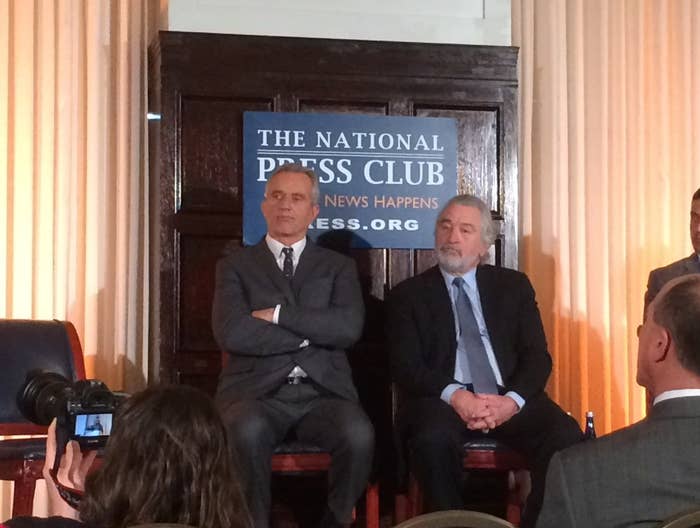 Robert F. Kennedy Jr. moved forward on Wednesday with his latest attempt to garner attention for widely condemned anti-vaccine arguments — ones that have earned him a meeting with President Donald Trump — by announcing a $100,000 "challenge" to prove the safety of vaccines.
"We need a debate," Kennedy declared at the news conference, claiming he has also spoken with White House staff several times in the last month to discuss the creation of a Trump administration panel to examine vaccine safety.
Kennedy, the son of the late US Attorney General, is a longtime environmental activist. He gained notoriety with a 2014 book arguing that a mercury-based preservative called thimerosal, used only in some flu vaccines since 1999, was linked to autism.
His claims have been denounced repeatedly by medical organizations and physicians.
"I'm a vaccine scientist. I'm also the father of an adult daughter with autism," Peter Hotez, president of the Sabin Vaccine Institute, told BuzzFeed News.
"Not only is there an abundance of evidence showing that vaccines are safe, there's not even any plausibility of an association [with autism]."
Last week, amidst growing attention to the issue, 350 medical organizations led by the American Academy of Pediatrics signed a 28-page letter to President Trump expressing "unequivocal support" for the safety of vaccines. The US Centers for Disease Control and Prevention clearly states that there is "no link between vaccines and autism."
It's an issue that Trump has raised several times however, both on the campaign trail and as president. On Tuesday, in a conversation with educators and Betsy DeVos, Trump noted the rising autism rate, saying, "Well, maybe we can do something."
In January, Kennedy met with Trump at Trump Tower in New York and afterwards claimed they had discussed him leading a so-called vaccine safety commission. The Trump administration later walked back Kennedy's claims to say that the discussions to have a so-called "committee on autism" were only tentative.
On Wednesday, Kennedy said that he's been contacted by the Trump administration three times since their original meeting in January. "They tell me that they're still going forward with a commission," Kennedy said, adding that he "can't tell" whether it will happen. BuzzFeed News has asked the administration for comment on these claims.
But in a panel discussion at the National Press Club in Washington D.C. on Wednesday that included the actor Robert De Niro, Kennedy argued that the Centers of Disease Control and Prevention, in cahoots with journalists, have been denying the dangers of vaccines, fueled largely by money pumped in by a powerful pharmaceutical industry. He called the public health agency a "cesspool of corruption" and "a vaccine company," that hid science from the public. To that end, Kennedy announced the "World Mercury Project Challenge," offering $100,000 to anyone who could find a scientific study that demonstrated the safety of thimerosal-containing vaccines in children and pregnant women.
"What we've been told is not science. It's more akin to religion. It's orthodoxy," Kennedy told an audience of perhaps two dozen journalists, and several thousand people watching the livestream on his group's Facebook page. "We need to break this impasse."
De Niro, who has a son with autism, came under fire last year before pulling an anti-vaccine documentary to be shown at the Tribeca Film Festival. "Trump I don't care about," he said during the Q&A following Wednesday's event. "If he does the right thing, he does the right thing. It's about this, period."
Kennedy's claims, as well as his motivations with the newly announced challenge, were immediately denounced by scientists as incorrect, and as a dangerous ploy.
"Press conferences like this become a distraction from the really important and hard work that needs to be done," Hotez said.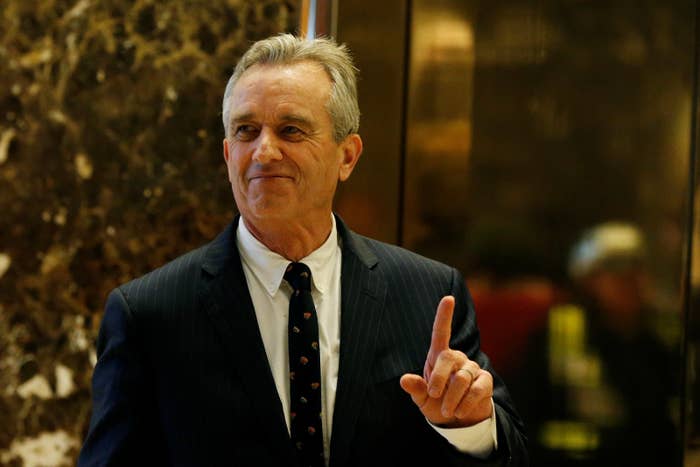 Kennedy's $100,000 challenge is evidence of him "continuing to draw attention to a hypothesis that is dead," said Paul Offit, director of the Vaccine Education Center at the Children's Hospital of Philadelphia. Offit pointed out that while Kennedy repeatedly cited scientific evidence that backed his claims, there were no scientists on the stage with him at the event.
The scientific consensus, Offit stated, was clear: "There are seven studies, published from 2000 to 2007, showing that children who received thimerosal-containing vaccines were at no greater risk of getting autism as compared to those who contained the same vaccines that didn't contain thimerosal."
While Kennedy said that he's not anti-vaccine — arguing instead that he's just in favor of safe vaccines — Offit disagrees: "He says we need safe vaccines that don't cause autism," he said. "We already have safe vaccines that don't cause autism."
Thimerosal was taken out of children's vaccines in 1999 out of an abundance of caution, and most flu vaccines no longer contain thimerosal either. Since that time, despite thimerosal no longer being present in the vast majority of vaccines administered, autism rates have steadily increased. 1 in 45 children are currently diagnosed with autism spectrum disorder.
Another recent study looking at nearly 200,000 children born to pregnant women who did or didn't have the flu vaccine found a negligible correlation between the vaccine and autism rates, though it did not look specifically at whether those vaccines contained thimerosal or not.
A study looking specifically at the effects of thimerosal-containing flu vaccines in pregnant women would be doable, but difficult since most vaccines no longer contain thimerosal, Offit said.
"It's a whack-a-mole," said Alycia Halladay, chief science officer of the Autism Science Foundation. "It's exhausting and it's hijacking the resources of the autism scientific community to have to keep addressing these claims over and over again."
Kennedy's claims that there are ongoing attempts to set up a vaccine commission by the Trump administration was also cause for alarm. The FDA already has a long running vaccine safety panel that evaluates the safety of flu vaccines every year. And the department of Health and Human Services also has a committee that coordinates autism research and outreach.
"The people who we represent deserve better than this," said Halladay. "They deserve to have scientific research being put towards better diagnosis, better interventions, better services, better identification, and better supports. They need to know what the real causes are. This is a distraction, and it's harmful to families."
CORRECTION
Peter Hotez is the president of the Sabin Vaccine Institute. An earlier version of this post misstated his title.