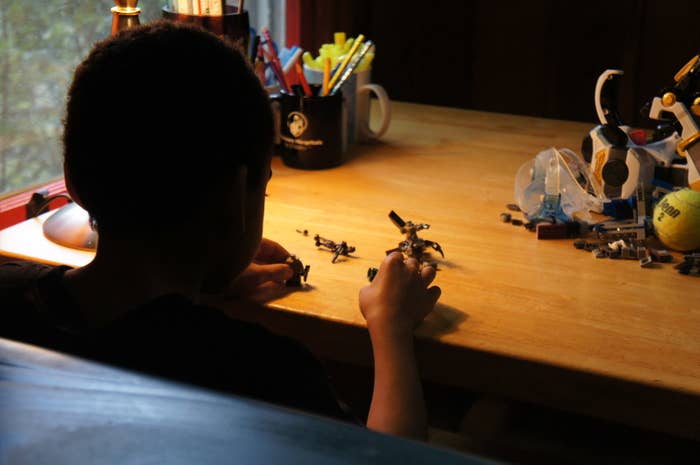 After four years in court, a first-of-its-kind legal battle over operating on "intersex" babies who are born with ambiguous genitalia has finally settled for $440,000, according to court records made public on Wednesday.
The lawsuit was brought by Pam and Mark Crawford on behalf of their adopted son, M.C., against the Medical University of South Carolina, where M.C.'s genital surgery was performed when he was 16 months old. South Carolina Department of Social Services, which technically had custody of M.C. at the time, and Greenville Hospital System, who referred him to surgeons at MUSC, were also named in the suit. Greenville settled for $20,000 last year. (MUSC will pay $270,000 to a structured settlement company, which will purchase an annuity policy that will pay M.C. a total of $440,000 over the next 16 years.)
The Crawfords alleged that M.C. — who was operated on to look like a girl, but grew up to identify as a boy — has incurred medical bills, pain and suffering, psychological damage, and impairment as a result of the surgery. MUSC "denied all claims of negligence and any liability for the alleged claims but agreed to this compromise of a vigorously disputed claim to avoid the costs of litigation," according to the settlement.
The case has been closely watched by intersex researchers and advocates, who say it's the first to openly challenge intersex surgeries on babies. Although some scientists are wary of using the court system to challenge the standard of care in medicine, advocates say it's become their only option.
"It's the only lawsuit we're aware of that's become public at all," Bo Laurent, who founded the Intersex Society of North America and testified in M.C.'s case, told BuzzFeed News. "More and more, surgeons are going to realize that they're at risk of these suits. Nobody can say this was uncontroversial standard practice. It is controversial."
M.C., now 12 years old, was born with a condition called "ovotesticular disorder of sexual development," which at birth included a 2-centimeter penis, a small vaginal opening, both ovarian and testicular tissue, and high blood testosterone levels. Although doctors initially said that "either sex of rearing" would be possible, they eventually operated on the baby to make the genitalia appear more female, removing the penis and testicular tissue.
M.C. was adopted by the Crawfords when he was almost 2. By age 7, he identified as a boy. His parents sued the surgeons who operated on him, alleging that they did not do enough to convey the risks of the surgery as well as other options to his legal guardians at the time.
Roughly 1 in every 2,000 babies in the U.S. are born, like M.C., with "differences in sexual development": chromosomes, gonads, or genitalia that don't fit in the neat categories of "boy" and "girl." Some doctors estimate that the number of these intersex babies may be closer to 1 in 100.
Since the 1960s, standard medical practice has been to operate on the infants to make their genitalia appear more typically male or female and attempt to ensure a more normal social life for the children into adulthood. But since the 1990s, a growing number of adult intersex activists have been speaking out against the surgeries, saying that they are medically unnecessary, physically damaging, and psychologically harmful. In some cases, such as M.C.'s, surgeons risk operating on an infant who grows up to identify with a different gender than what was assigned to them in the operating room.
InterACT, one of the advocacy groups that provided the Crawfords with legal counsel, confirmed that the case had been "resolved and dismissed with no admission of liability or wrongdoing." A MUSC statement said the same, adding that "the Parties agreed that it was mutually beneficial to amicably resolve this case."
The settlement comes the same week as a 160-page report by Human Rights Watch — in collaboration with interACT — condemning the surgeries. In June, a report by three former US surgeons general concluded: "Cosmetic genitoplasty should be deferred until children are old enough to voice their own view about whether to undergo the surgery." And in 2013, the UN Special Rapporteur on Torture called on countries to outlaw "genital-normalizing" surgeries on intersex individuals.
For some doctors, however, settling the question at the level of the UN or in courtrooms sets a dangerous precedent for patient care.
"We should be following the evidence," David Sandberg, professor in pediatrics at the University of Michigan told BuzzFeed News. Sandberg is the coinvestigator of a research initiative across several hospitals to try to better understand outcomes of patients with differences of sexual development.
"When we sort of punt from one area to another — from the domain of health care to the courts — I'm always worried that we're not going to get it right," he said.
Several studies have shown mixed satisfaction among intersex adults who underwent genital surgery as infants. Similarly, the handful of studies looking at the psychological well-being of intersex adults who didn't get surgery offer no clear answer. Some studies found no significant difference in quality of life compared with those who don't have intersex conditions, whereas others show disparities in social measures like education, employment, and marriage.
"I never question people's experiences," Sandberg said. "What I do question is whether their experiences are generalizable to others. I don't know who said it, but I'd agree with the quote 'The plural of anecdote is not data.'"
For Laurent, whose life has been personally impacted by the decision to operate, that answer is not satisfactory.
"What percentage of people is it okay to impose M.C.'s outcome on — or my outcome on — when we know that people can be okay without surgery?" Laurent said. "If this disastrous outcome is one of the ways this turns out, and we have no evidence these surgeries are necessary, then I think there's no justification for continuing to impose them when people can't choose."
UPDATE
This post has been added with a comment from MUSC.