Injected Painkillers Trigger Hepatitis C Spike In Four States
A new CDC study shows that a sharp rise in the number of hepatitis C cases in Kentucky, Tennessee, Virginia, and West Virginia is likely due to drug users sharing needles. Health officials warn that similar patterns may lead to more outbreaks nationwide.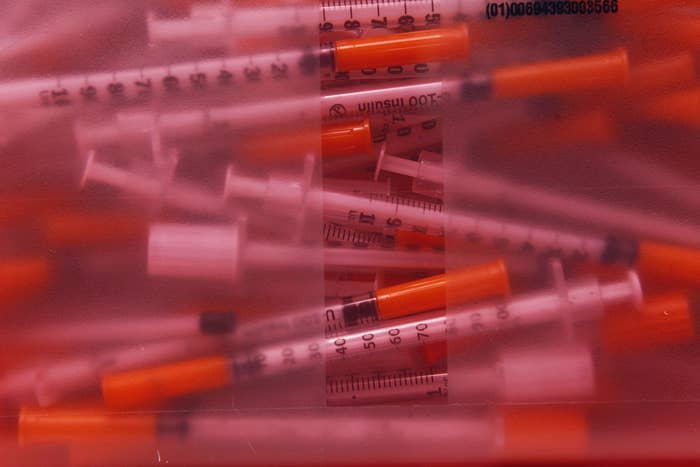 A study released Thursday by the Centers for Disease Control and Prevention has shown that rising use of injectable painkillers may be fueling another epidemic — a sharp increase in hepatitis C.
The study looked at Kentucky, Tennessee, Virginia, and West Virginia — four states with consistently high rates of new hepatitis C infections — in the years from 2006 to 2012. In that time, new cases of the disease nearly quadrupled for people under the age of 30, with a total of 1,377 cases reported overall. Among the individuals where possible risk factors could be identified, 73% had reported injection drug use.
Nationwide, hepatitis C infections have increased by 150% from 2010 to 2013. This is just one of many consequences stemming from the spike in injectable drug use, experts say.
"It's a dramatic increase, and it's an increase that CDC is very concerned about," John Ward, director of the Division of Viral Hepatitis at the National Center for HIV/AIDS, Viral Hepatitis, STD, and TB Prevention, told BuzzFeed News. "This is evolving from a state problem to a regional problem to a national problem."
Hepatitis C is a deadly viral infection of the liver that kills nearly 20,000 Americans per year. It is spread via the blood, and in the U.S., injection drug use is currently the top risk factor for infection. It also spreads easily — it's nearly 10 times more transmissible than HIV, for example.
"If it gets into a community, it will spread," Shruti Mehta, a professor of epidemiology at Johns Hopkins Bloomberg School of Public Health, told BuzzFeed News. "This is something that's been going on for some time, but I think it's time for a strong response."
The study comes on the heels of a severe outbreak of HIV and hepatitis C in Indiana's Scott County, also due to the intravenous use of painkillers.
In response to the outbreak, the state has instituted an emergency needle exchange program until May 24.
The CDC study comes alongside a growing recognition among public health officials that we are in the midst of an injection drug use crisis, fueled largely by prescription opioid use.
National surveys show that people reporting heroin dependence nearly doubled in the decade from 2002 to 2012, rising from 214,000 cases to well over 450,000. Among the four states looked at in the CDC study, treatment admissions for opioid dependency increased by more than 20% in the period from 2006 to 2012.
Both Mehta and Ward pointed out that, if anything, the newest CDC numbers are underestimates of new cases of hepatitis C. Because symptoms take a long time to show up, many drug users may be infected with the virus and not yet know it.
"It very much represents the tip of an iceberg," Ward said.
Another problem, Mehta said, is the changing demographics of the disease's spread. The new infections are mostly among young white individuals in suburban or rural settings, where populations are more spread out and don't often have access to needle exchanges or other preventative programs. "That's creates a lot of additional cause for concern," Mehta said.