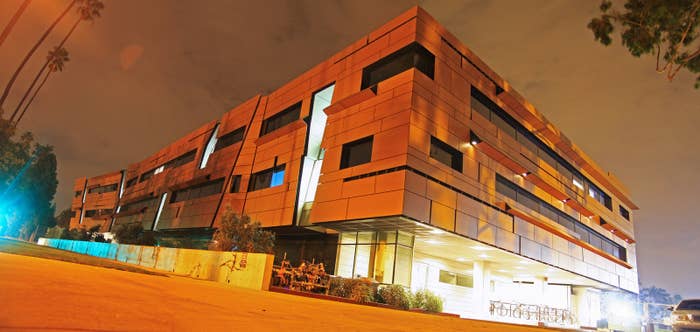 Astrophysics professor Christian Ott, who was investigated by the California Institute of Technology in 2015 for harassing two female graduate students in his research group, was also investigated for creating a name and email address for an imaginary female researcher.
"Ursula," "U.C.T.," or "Uschi" Gamma was listed as a co-author with Ott on two papers in 2012 and 2013, respectively, and was mentioned in the acknowledgements of nine other papers between 2012 to 2014. ("Finally, we thank Ursula C. T. Gamma for continued inspiration," one said.)
The name and Yahoo email address, which was used in public correspondence with researchers at other institutions, were listed on a Caltech website until 2015, when the investigation began.
Ott was originally suspended for nine months following an internal investigation in 2015 that found he had violated the university's harassment policies. According to documents provided to BuzzFeed News, Ott's suspension was then extended for another year after Caltech's provost determined that he had tweeted at one of the women named in the original complaint, Sarah Gossan, violating the terms of his suspension.
Last week, students protested Ott's return to campus to observe one of his graduate student's thesis presentations, ahead of his permanent return in August.
This week, the university confirmed to BuzzFeed News that it had also investigated Ott for pretending that Ursula Gamma belonged to an astrophysics research group at Caltech called TAPIR.
Caltech "found that the name was fictitious and had been used in ways such as in email correspondence, proceedings, and in the TAPIR group directory," Farnaz Khadem, Caltech's chief communications officer, told BuzzFeed News in an emailed statement.
"Caltech is not aware of the name being used to garner funding in any capacity," Khadem added. Making up this person violated the school's code of conduct and resulted in Ott being reprimanded, she said.
Ott did not respond to a request for comment from BuzzFeed News. No one replied to an inquiry sent to Gamma's email address.

In December 2013, according to an email obtained by BuzzFeed News, Ott wrote to students in his research group:
"For fun(~ding) reasons, could you please add the following author to your TASC talk (but only if you list multiple authors):

U. C. T. Gamma

(or, alternatively, if your are writing out first names)

Ursula C. T. Gamma."
Gamma is listed as an author on a paper funded by four National Science Foundation grants, totaling over $3.5 million. Another funder, the Sherman Fairchild Foundation, declined to comment to BuzzFeed News on whether Gamma was listed on any grants awarded to Ott.
Faking scientists on papers is not unheard of as a way to appeal to funders.
"Does he have some inkling that the agencies or that the funders are more likely to fund him if he shows some diversity of authors?" Ivan Oransky, co-founder of the Retraction Watch blog and editor at large of MedPage Today, told BuzzFeed News. "Anything can get gamed, so if creating a fake author makes it look like you have something you don't, then you're going to get ahead."
Other experts in scientific publication noted examples where scientists had pulled such stunts before, as an inside joke or to piss off journal reviewers, but said that such pranks are rarely so elaborate.
"It just sort of seems like someone with a strange sense of humor and not all that much judgment," Theodora Bloom, executive editor of the British Medical Journal, told BuzzFeed News. "It doesn't seem like egregious misconduct, let's put it that way. It's just sort of dumb."
CORRECTION
Ivan Oransky is editor at large of MedPage Today, not editorial director.