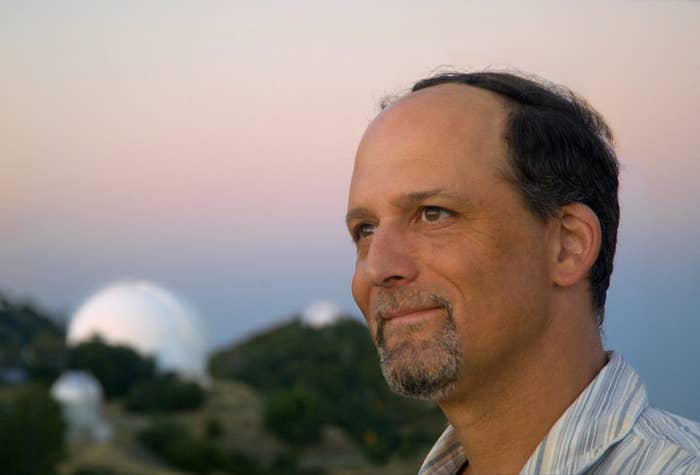 The pattern of sexual harassment by one of America's most famous astronomers — which has now resulted in his resignation from his job at the University of California at Berkeley — dates back much further than previously reported, say former associates.
Three women have told BuzzFeed News that Geoff Marcy repeatedly engaged in unwanted behavior — including touching, massaging, and making lewd comments — with students when he was an astronomy professor at San Francisco State University, the job he held for 15 years before going to Berkeley in 1999.
The main elements of their accounts were corroborated by Penny Nixon, who was SF State's sexual harassment officer when the women tried to register complaints about Marcy, as well as by emails written by Marcy at the time.
A Berkeley investigation first revealed by BuzzFeed News found that Marcy violated that campus's sexual harassment policies in several incidents between 2001 and 2010. Marcy recently published an apology letter on his website, saying he did not realize his behaviors had caused women any distress. Last week, after his colleagues published a letter asking that he leave the Berkeley faculty, Marcy resigned from his tenured position there.
The three new allegations date Marcy's harassment back to as early as 1995.
"This isn't just the last 10 years — it's serial," Lynda Williams, a former graduate student in the physics department at SF State, told BuzzFeed News.
Marcy did not respond to a request for comment on the allegations from this earlier period.
SF State's public records office said that the school does not keep any harassment complaints dating back that far. In a statement, a spokesperson for the university declined to comment on the specific allegations against Marcy, but referred to the physics and astronomy department's decision last week to terminate his status as an adjunct professor.

In the mid-1990s, Preet Dalziel (then Preet Dosanjh) was doing her graduate thesis work in Marcy's lab. She told BuzzFeed News about several instances when Marcy massaged her shoulders, making her feel uncomfortable. One day in 1995, she recalled, Marcy touched her breast when they were in a private meeting together.
"I had just gotten married, and he would ask me, 'When are you getting a divorce?'" Dalziel said. "I just basically wanted to get my master's and leave."
"This isn't just the last 10 years — it's serial."
That same year, Heather Borland (then Heather Hauser) was a graduate student at SF State and working with Marcy as a research assistant. While there, she learned how to operate a telescope used to watch sun-like stars at Lick Observatory, and had regular research meetings with Marcy to review her work.
"He would stroke my arm or my neck while going over information, standing very close," Borland told BuzzFeed News. He would also play with her hair or brush up against her with his legs, she said, "often resulting in his crotch touching me."
Because Marcy was a vocal supporter of women in science, "it was contradictory in my head that he could have bad intentions," Borland said. "But at the same time, it just felt so uncomfortable that after a few times I had to tell him to stop."
Borland said she told Marcy "about a half dozen times" that his behavior was making her uncomfortable. But nothing changed.
Borland confided in Lynda Williams, a physics graduate student who was president of the Physics and Astronomy Club on campus. "I can clearly remember how distraught she was," Williams recalled.
Williams, then 33, was never physically harassed by Marcy, though she said he sometimes made lewd comments to her. When she confronted him about Borland and another undergraduate who had also complained, Williams said, he was dismissive, and argued that his friendly behavior was being misconstrued. "He thought he was boosting their self-esteem," Williams said.
In the fall of 1995 Williams and Borland approached Nixon, a special assistant to the dean of students at SF State who served as the school's point person on sexual harassment, to register an official complaint. Around the same time, Dalziel did so as well.
Nixon told BuzzFeed News that she remembers talking to all three of these women about their interactions with Marcy, though she doesn't remember the details of the allegations. She also spoke to Marcy, she said.
"I distinctly remember sitting down and talking to him," said Nixon, who is now a reverend in San Mateo. "I told him, you can't do this, and if you continue, your career will end — it's that serious. I don't remember how he responded to that."
In 1995, SF State had an official sexual harassment policy, which barred "verbal or physical conduct of a sexual nature" from a person in power. Still, these kinds of policies were relatively new territory for university administrators, Nixon said. "It definitely wasn't something that was already set in stone." (The Department of Education's Office for Civil Rights issued a comprehensive guidance document about sexual harassment in federally funded education programs in 1997.)
On Dec. 11, 1995, after Williams had spoken with him on the phone, Marcy wrote a friendly email to her saying, "I learned a huge amount from talking to you."
"I met with the sexual harassment officer, Penny Nixon, today and got good feedback from her," he continued. "So, I'm on the road."

The timing, according to Borland and Williams, was crucial: 1995 was the year that Marcy's field — exoplanets, the search for planets circling stars outside our solar system — became a serious focus of astronomy. A European team had just discovered 51 Pegasi b, the first ever exoplanet orbiting a sun-like star. Marcy's team verified the discovery, setting off a race to find other planets that could possibly sustain life.
Borland said Nixon counseled her against pursuing a formal complaint. "At the time, I felt she was trying to shield us. But I felt like we were being dismissed at the same time."
Nixon says she does not remember that. "I highly doubt I would have said anything like that," she said. "It's so not my way."
"I told him, you can't do this, and if you continue, your career will end — it's that serious."

Nixon says she is glad that the matter has now come out in the open. "I'm very sorry for the women who have been traumatized by this, and I'm really glad they've come forward — all of them," she added. "I'm glad he's resigned; I don't care how brilliant he is. You can't act like this."
Dalziel said she also described Marcy's behavior to Gerald Fisher, the department chair at the time who first brought Marcy to SF State. Fisher told BuzzFeed News that while he remembers talking to Dalziel about a "professional disagreement" with Marcy, he doesn't remember any sexual harassment complaints of this nature.
"If the women students in the department kept this from me for whatever reason, then that hurts me a lot," Fisher, now a professor emeritus at SF State, said. "Not to mention the fact that I could have done something about it."
Borland says after her meeting with Nixon, she began avoiding Marcy when possible and keeping necessary meetings brief. But in her final year of graduate school, in 1997, she said, Marcy invited her to join him at the American Association for the Advancement of Science meeting in Seattle, where he was presenting at a seminar called "New Worlds and Old Worlds."
"He said, there's a problem: The conference hotel is full. I have a room — but it only has one bed," Borland recalled. "He just kind of sat there and looked at me with a grin on his face. He never said, 'Sleep with me' or anything like that. It was always in that nebulous gray zone." She insisted that he get her a separate hotel room, and he eventually acquiesced.
One of Borland's friends, a woman who was in the SF State physics department in 1995, told BuzzFeed News that Borland had confided in her at the time about Marcy.
"I knew she was upset by his behavior but felt like she didn't have much of a voice in terms of bringing it to a conclusion," the woman said, speaking on the condition of anonymity to protect her current job. "All I could do as a friend was provide emotional support. We were a department of 10% women, and you do feel quite alone at times."
Borland and Dalziel both left astronomy, partly, they say, because of Marcy's behavior. They both regret not speaking out more about Marcy while they were students experiencing his behavior firsthand. Williams, who is now a physics professor at Santa Rosa Junior College, said the same thing.
"If we had spoken louder earlier," said Williams, "maybe this wouldn't have happened for 20 more years."