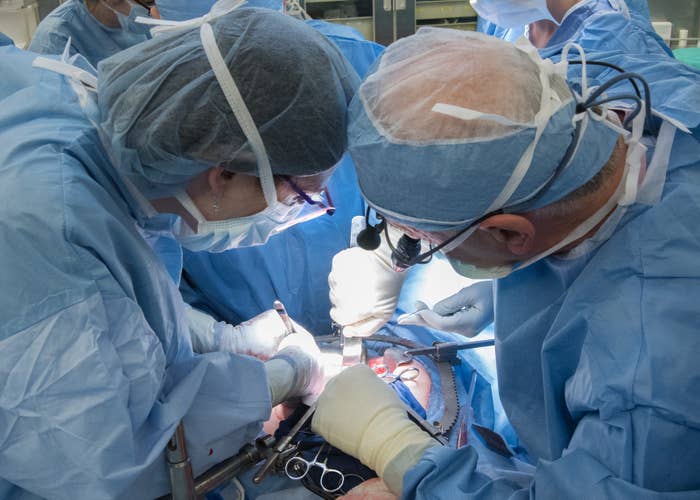 The first uterus transplant performed in the U.S. has failed. The donated organ had to be surgically removed on Tuesday after the recipient, a 26-year-old named Lindsey, experienced a serious complication, Cleveland Clinic officials told BuzzFeed News on Wednesday.

"There is a known risk in solid organ transplantation that the transplanted organ may have to be removed should a complication arise," Cleveland Clinic said in a statement. "The medical team took all necessary precautions and measures to ensure the safety of our patient. While this has been difficult for both the patient and the medical team, Lindsey is doing well and recovering."
The experimental surgery occurred on February 24 and involved giving Lindsey, who was born without a uterus, a donated organ from a dead woman.
The procedure marked the first of 10 such surgeries to occur as part of a landmark study in the U.S., but it is not unprecedented globally. Surgeons in Sweden have performed nine uterus transplants since 2012, which have resulted in five births so far.
The results of the first U.S. procedure were announced at a news conference on Monday, when Lindsey came out in a wheelchair to thank the doctors at the Cleveland Clinic for their work. "They have provided me with a gift I will never be able to repay," she said on Monday.
Unfortunately, she began experiencing complications the following day, officials said, though they have not specified what the complications were. Pathologists are analyzing the organ to figure out why the procedure failed.
"I just wanted to take a moment to express my gratitude towards all of my doctors. They acted very quickly to ensure my health and safety," Lindsey said on Wednesday. "Unfortunately I did lose the uterus to complications. However, I am doing okay and appreciate all of your prayers and good thoughts."
The 10 women were chosen from nearly 250 who had applied to participate in the experimental procedure because they either were born without a uterus or had to have hysterectomies later in life.

Cleveland Clinic officials told BuzzFeed News that they are not ending the study, but declined to say whether the other nine women would still have transplants. It's also unclear whether Lindsey will have the procedure done again.
"We're going to do a review of what happened and make sure that we're doing all the right things," Cleveland Clinic spokesperson Eileen Sheil told BuzzFeed News.