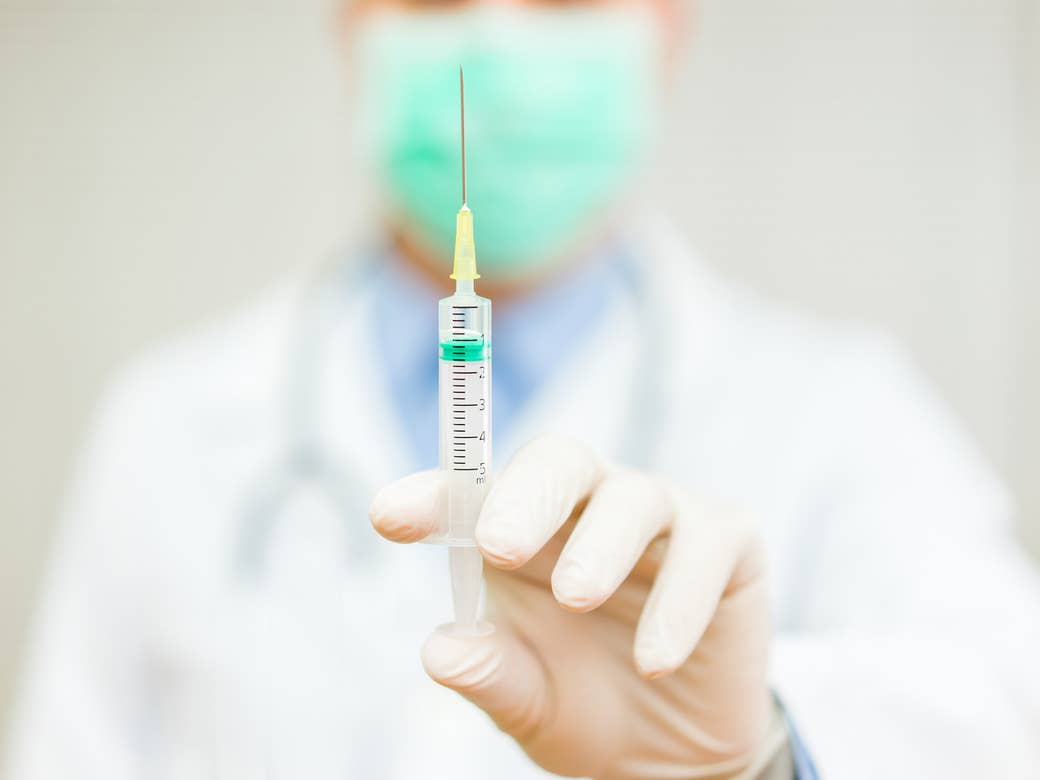 Gina Bigham has never been able to stick her own thighs with the shots of estrogen she's needed since her transition 11 years ago. So every two weeks, she would drive to her local Kaiser Permanente hospital in Los Angeles to have nurses give her the shot.
That stopped abruptly in November of 2014. "They said, 'No, we're out,'" Bigham told BuzzFeed News. Stunned, she asked when she'd be able to get her next dose. The nurses were unsure, but said there should be another shipment the following week.
"I went in the next week, nothing. The next week, nothing," Bigham said. By the fifth week, the nurses gave her news that made her stomach churn: There was a national shortage.
"I was anxious, I was cranky, I was on edge all the time," Bigham said. After she had a meltdown at work one day, she went back to the hospital and asked for estrogen pills, even though they didn't work as well for her.
The 2014 national shortage of injectable estrogen was not the first, nor the last. It happened again this summer, leaving thousands of trans women without their preferred — and often, they say, life-saving — option for feminizing their bodies: redistributing fat to produce smaller waists and bigger hips, enhancing breasts, rounding out their faces, and boosting mood.
"The drive and desire to be authentic, to live in the correct body, it's so strong," said Bigham. "Something like this can throw people to a bad place."
Although patients like Bigham can turn to estrogen pills or patches, many trans women strongly prefer the injectable form. Some claim that it provides stronger effects, while others point out that taking a daily hormone pill is not only an inconvenience, but a danger if someone is trying to be discreet about their transition. The pill also comes with more possibilities of side effects: Because, if swallowed, it passes through the digestive system, there is the potential for liver damage. There's also an increased risk of blood clots. Patches can irritate the skin or fall off, and because they are visible, also run the risk of inadvertently outing people.
The simultaneous shortage of the two injectable forms of estrogen — Delestrogen, the brand-name version, and estradiol valerate, its generic formula — has left clinics and patients scrambling for alternatives. Although the generic was supposed to be made available in October, this week the FDA announced that it was pushing its availability back yet another month, but even that date is no guarantee.
Exactly why the drugs ran out remains unclear, and blame bounces between the pharmaceutical companies that make the drug, and the FDA, which regulates it.
Delestrogen ran out this summer in part because the company that sells it, Pennsylvania-based Par Pharmaceuticals, abruptly lost its supplier of the drug's main ingredient. So Par had to race to find a new supplier, and then go through a new approval process with the FDA.
Par representative Heather Lubeski told BuzzFeed News that the company has the new batches of the drugs ready to be sold, but can't distribute them until the FDA gives their approval. "Par is waiting and ready to get it back on the market," she said.
"The FDA recognizes this is an important drug, and is working with the drug manufacturers so that the drug may return to the market as quickly as possible," Andrea Fischer, a spokeswoman for the FDA, said. The agency declined to provide a more specific timeline.
Perrigo, the New York-based manufacturer of the generic version of the drug, did not respond to a request for comment.
The estrogen shots are manufactured in 40mg, 20mg, and 10mg formulations. When the 40mg shots — the ones most often prescribed to trans women — started running low at some point last year, doctors began doubling up the 20mg dose. But that, too has now run out. The 10mg dose, used to treat menopausal women, is still available, but most doctors won't prescribe it to trans women since it would require injecting four times as much liquid as the 40mg dose, which can be extremely painful.
The shortage has some doctors worried that trans women will seek out the drugs elsewhere, either online or from acquaintances.
Asa Radix, a clinician at Callen-Lorde, an LGBT health clinic in New York City, recalled a previous shortage when one of his patients got what she thought were estrogen shots from a friend. "It was definitely something else, because she had quite a bad reaction to it," Radix said. Her bloodwork came back abnormal, her liver seeming to bear the brunt of the unknown concoction.
"It's disconcerting, to say the least, that we're faced with this kind of national shortage," said Kimberleigh Smith, director for community health planning and policy at Callen-Lorde. The shortage has impacted more than 900 trans women who have come to her clinic since July, she said.
Although doctors have prescribed injectable estrogen to trans women since the 1950s, they do so "off label."
What's not being talked about enough, Smith said, is the root cause of these recurring shortages. Although doctors have prescribed injectable estrogen to trans women since the 1950s, they do so at their own discretion, or "off label." The FDA has only approved the drug for women going through menopause.
Once a drug is approved, the FDA generally doesn't regulate how doctors prescribe it. So injectable estrogen remains in that murky territory of a drug that doctors commonly prescribe to trans women, but whose use is still technically unsanctioned by the FDA.
"This population, they've had to fight a lot for their treatment," said Julie Thompson, co-medical director of the trans health department at Fenway Health in Boston. "These medications are medically necessary and shouldn't only be available for off-label use."
If the FDA approved estrogen therapy in trans women, it could spur more manufacturers to make the drugs and ensure that they're always available.
But the FDA doesn't approve new uses of drugs until a drug company initiates a formal request, a complicated and expensive process. And with the population of trans people hovering somewhere around 0.3% of the US population, companies don't have the economic incentive to do so.
"One of the challenges is a potentially small market share that isn't large enough for these companies to act as quickly as they need to act," said Sarah McBride, national press secretary for the Human Rights Campaign, which has been pushing the FDA to act more quickly on this issue. "The FDA's hands are tied and the onus lies with the pharma companies to make the change."
For Bigham, that's disheartening. "I really feel like this is going to get worse before gets better, because I don't think we're a priority," she said. "No one's saying, 'We have to make sure these trans people have their estrogen.' That's very worrisome to me."

CORRECTION
Gina Bigham was affected by a previous estrogen shortage in November 2014. An earlier version of this post incorrectly called her Gina Bingham.