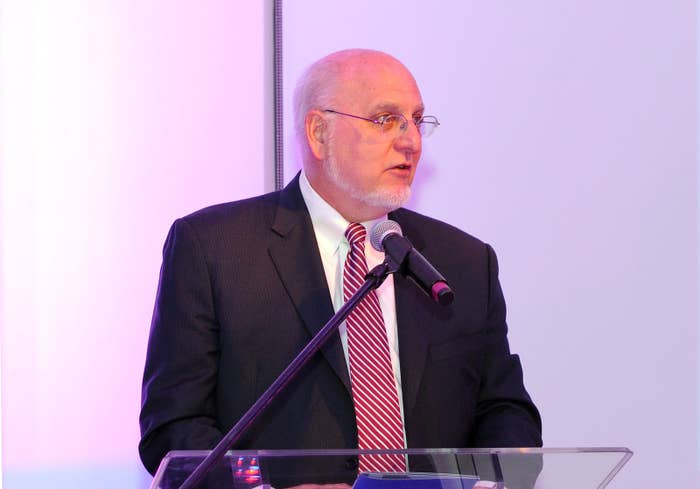 Prominent HIV researcher Robert Redfield was appointed to head the Centers for Disease Control and Prevention on Wednesday, two decades after being investigated for scientific misconduct.
Redfield, a virologist and physician, is a professor at the University of Maryland School of Medicine in Baltimore. For decades, he gained prominence — and courted controversy — for his research on HIV/AIDS, eventually cofounding the Institute for Human Virology, which provides HIV treatment and care to more than 6,000 patients in the Baltimore–Washington area and more than a million people in Africa and the Caribbean.

Redfield, whose position does not require a confirmation hearing, will replace Brenda Fitzgerald, who resigned in January after allegations surfaced that she traded tobacco stocks while on the job.
"Dr. Redfield has dedicated his entire life to promoting public health and providing compassionate care to his patients," Alex Azar, secretary of the Department of Health and Human Services, said in a statement. Azar added that Redfield's "scientific and clinical background is peerless."
But some science advocates have condemned Redfield's appointment, pointing to his checkered past in both public health and research integrity.
Redfield's appointment to head the country's leading public health agency would be "disastrous," said Peter Lurie, president of the advocacy group Center for Science in the Public Interest, in a statement released Wednesday.
Sen. Patty Murray, the ranking Democrat on the health committee, also opposed Redfield's appointment in a letter to President Trump sent on Monday.
Lurie cited decades-old allegations that Redfield, while at the Walter Reed Army Institute of Research, had misrepresented data about the efficacy of an experimental AIDS vaccine. (When working at the government watchdog group Public Citizen in the mid-1990s, Lurie was a leading critic of the Army's handling of Redfield's case, and publicized the controversial investigation documents.)
A 1992 US Army review initially stated that "the information presented by Dr. Redfield seriously threatens his credibility as a researcher and has the potential to negatively impact AIDS research funding as a whole."

A subsequent Army investigation eventually cleared him of scientific misconduct charges, but found that Redfield's analysis of the data was faulty and that he had shared scientific information with a conservative AIDS lobbying group, Americans for Sound AIDS Policy, "to a degree that is inappropriate."
Redfield has also been criticized for his discriminatory views on HIV testing. During the 1980s, while serving as chief Army AIDS researcher, Redfield was instrumental in implementing controversial HIV testing policies — including a mandatory HIV screening program at the Department of Defense that barred recruits who tested positive for HIV from military service. He later supported segregating HIV-positive members of the military, a practice that the Department of Defense Inspector General later found violated Army regulations.

"This pattern of ethically and morally questionable behavior leads me to seriously question whether Dr. Redfield is qualified to be the federal government's chief advocate and spokesperson for public health," Murray said.
But other AIDS advocates remain optimistic that Redfield will push for an evidence-based approach in the Trump administration.

"He had some positions in the early days of the epidemic that were then and are now considered unconscionable," Mitchell Warren, executive director of AVAC, a global HIV-prevention advocacy group, told BuzzFeed News. "But the epidemic has evolved enormously. What does he believe today?"
Because Redfield will be appointed without the need for a confirmation hearing, Warren said, "We won't have that luxury of knowing beforehand. What we do have is the necessity to hold him accountable."
Redfield did not immediately respond to a request for comment.