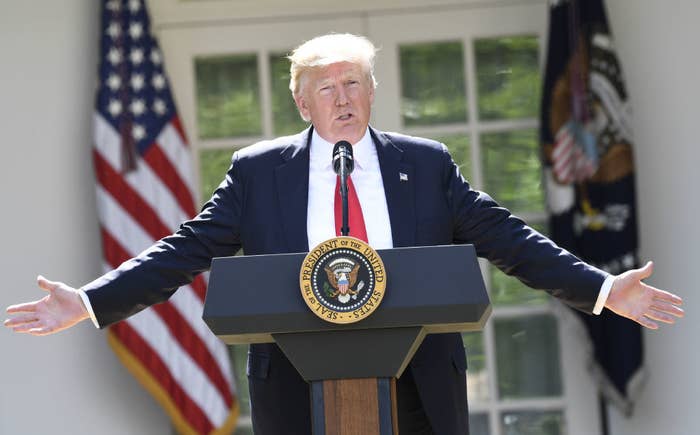 Climate scientists and scientific advocacy organizations condemned President Trump's announcement on Thursday that he would yank the United States out of the Paris agreement — calling into question some of the statements Trump made about climate used to support his decision.
"I cannot in good conscience support a deal that punishes the United States," Trump said at a speech in the White House Rose Garden.
The landmark agreement was signed into effect by the Obama administration in 2015, pledging to cut emissions over the next 10 years by at least 26% compared to 2005 levels.
"While the Paris Agreement can indeed be criticized, President Trump has chosen the completely wrong reason for being unhappy with it," Michael MacCracken, the former chief federal climate scientist, now at the Climate Institute in Washington D.C., told BuzzFeed News. "It is becoming increasingly obvious that it makes sense, both to slow the growing climate risks and to take advantage of the growing economies of clean energy, to move even more quickly and aggressively."
Many large environmental advocacy groups openly condemned the announcement.
And many prominent climate scientists and advocates made the call to #resist.
Still others pointed out some reason for hope: according to the rules of the 2015 agreement, the president of the US cannot formally withdraw to the UN until three years after the agreement came into effect, and then must wait an additional year for the wheels to actually be set in motion.

So while Trump has publicly vowed to pull the US out of the agreement, the formal exit cannot occur until 2020 — right around the time of the next presidential election.
And others pointed out that even in the event of a US pull-out, the rest of the world — and, notably, industry — is still moving in the direction of curbing emissions.