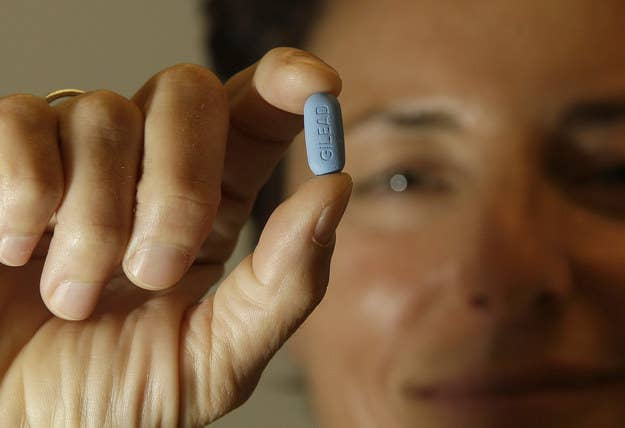 A report released on Tuesday by the CDC finds that roughly 1.2 million people should be taking Truvada, the drug that prevents HIV. That's about 60 times higher than current estimates, which suggest about 21,000 people take the drug.
When taken consistently, the one-a-day blue pill — also known as pre-exposure prophylaxis, or PrEP — reduces sexual transmission of HIV by roughly 92%, the agency said. In injectable drug users, it reduces the risk by more than 70%.

By looking at the sexual risk profiles for different groups in the U.S., the CDC determined that 1 in 4 gay and bisexual men, 1 in 5 injectable drug users, and 1 in 200 heterosexual adults should be counseled about PrEP.
About 1.2 million Americans are HIV positive, and new HIV infections in the U.S. hover at around 50,000 per year. Of those, only 30% are on the antiretroviral drugs that can suppress the level of virus in their blood to greatly decrease the likelihood of transmission.
"There's a large gap in the number of people who are accessing PrEP currently," Jonathan Mermin, director of the National Center for HIV/AIDS, Viral Hepatitis, STD, and TB Prevention, told BuzzFeed News. "But we think the demand for PrEP has reached somewhat of a tipping point."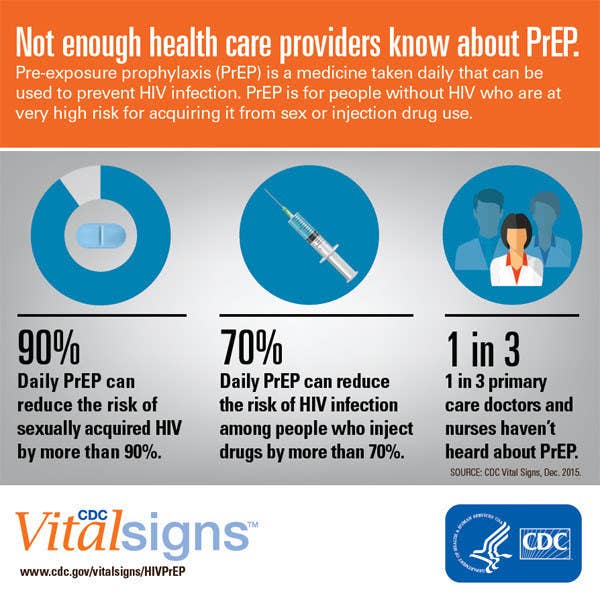 Part of the problem so far has been that the science of PrEP is relatively new.
Truvada was approved by the FDA only in 2012. Since then, Mermin said, the main push has been to answer the question "Is the science convincing enough?"
Several independent studies have made it absolutely clear that PrEP works — and not just in clinical trials. In cities like San Francisco, Miami, and Washington, D.C., it's been shown that when given the drug in community health care settings, most people will be good about taking it properly, and thus face a near-zero chance of contracting the virus.
Other barriers remain, however. For example, a recent study showed that 34% of primary care practitioners had not heard of PrEP. And among communities at the highest risk for HIV, stigma and discrimination are huge barriers to receiving preventative care.
In the U.S., for example, young black and Latino men are far less likely to be on PrEP than other groups, despite the fact that both populations are disproportionately affected by HIV. In 2010, the most recent year numbers were available, black Americans made up 44% of all new HIV infections, and Latinos 21%.
Even in the gay community more broadly, PrEP has been stigmatized for supposedly promoting promiscuity. The social backdrop for PrEP has made barriers to receiving the preventative treatment far greater than a simple matter of health care access.
"The stigma and discrimination are huge," Mitchell Warren, executive director of AVAC, a global HIV-prevention advocacy group based in Harlem, told BuzzFeed News. "We've seen this for 35 years, delivering prevention and treatment is the hardest part. And the people who are hardest to reach are the ones who most need it."

The CDC report emphasized that pushing education about the drug, both to patients and to health care providers, could help turn the tide. It cited New York state, where as part of Governor Andrew Cuomo's End the Epidemic campaign, PrEP use by people covered by Medicaid increased from 303 prescriptions filed between 2013 and 2014, to 1,330 in this past year.
"PrEP is not just a pill — you need a solid health care system, you need to promote it and educate," Warren said. "The pill is just a part — you need the whole ecosystem."