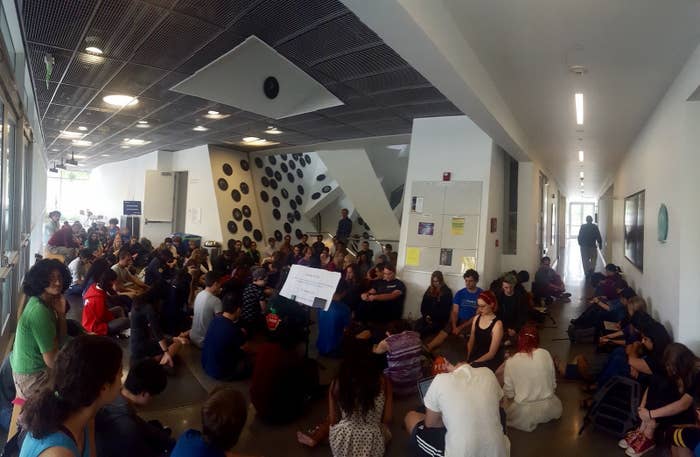 Students at the California Institute of Technology are protesting the return to campus of a professor of theoretical astrophysics, Christian Ott, who had been suspended after harassing two female students.
In the fall of 2015, after an internal investigation found that Ott had violated the university's harassment policies, Caltech suspended the tenured professor for nine months. Subsequently, without explanation, the school extended his leave to August of 2017. He was allowed back on campus last week, however, to observe one of his graduate students' thesis presentations, at their request. (Ott was escorted on and off campus by two faculty members.)

On Tuesday afternoon, several dozen Caltech students staged a "silent sit-in" in the astronomy department to protest Ott's return. The students displayed a sign that said, "To support a safe working and living environment for all members of the Caltech community. We support you. You are not alone."
A letter was also sent to Caltech President Thomas Rosenbaum from the undergraduate community. "To continue delaying but not outright banning Ott's return to campus puts all students at Caltech, but especially female graduate students, in a state of uncertainty and fear for the future," the letter reads.
Ott's return "seems like they're valuing what his work is bringing to the astronomy department more than valuing the concerns of the students," Maya Fuller, a sophomore majoring in astrophysics who signed the letter, told BuzzFeed News. She estimated that "a couple hundred" students had signed the letter.

Fuller is also worried about the prospect of being taught by Ott this fall. "In order to meet some requirements for my major, I'd have to take classes that he's teaching," she said. "That makes me really uncomfortable."
Last week, news of Ott's temporary return spread across campus. A story titled, "Alligator Approved to Return to Caltech Turtle Pond" was published on a student-run satirical website, The California Torch.
In response to student complaints, on Monday the division chair for Physics, Math, and Astronomy, Fiona Harrison, sent an email to the department. Harrison did not call Ott by name, but said that a committee would assess "this faculty member's behavior and progress during his suspension" before allowing him to return to campus in the fall.
"Top priority will be given to the welfare of our campus community," she wrote. "We also believe in the potential for rehabilitation and the idea that individuals have the right to demonstrate positive, persistent change in behavior."
Ott did not respond to a request for comment.
"We respect the rights of everyone in our community to freely express their views," Farnaz Khadem, Caltech's chief communications officer, told BuzzFeed News in an emailed statement. "We are committed to keeping the community informed as this process moves forward."
She also stated that "whether the faculty member would return to teaching has not been determined."
The school's 2015 investigation determined that Ott had engaged in "discriminatory and harassing behavior" towards two of his graduate students, as BuzzFeed News reported in January of 2016.
Ott had become infatuated with one of the students, Io Kleiser, whom he then fired. He then confessed his feelings in increasingly inappropriate emotional exchanges with another student.
Kleiser, who is back on campus at Caltech after a year spent at UC Berkeley, is skeptical that Harrison's committee will be able to determine whether Ott's behavior has really changed.
"I personally would not like him to be on campus at all, ever," Kleiser told BuzzFeed News. "The fact that this person who intentionally and maliciously tried to mess with my career, as well as other students' careers, is able to come back to a fairly cushy tenured faculty position is not a thing I can be happy about."
She'll be finishing her PhD in the next year, but has decided to leave astronomy. Her main concerns, she said, are for the current and future students at Caltech.
"I kind of don't need a place at Caltech in the way that I needed before," Kleiser said. "It's just, let's get this done so I can leave grad school and leave this behind."