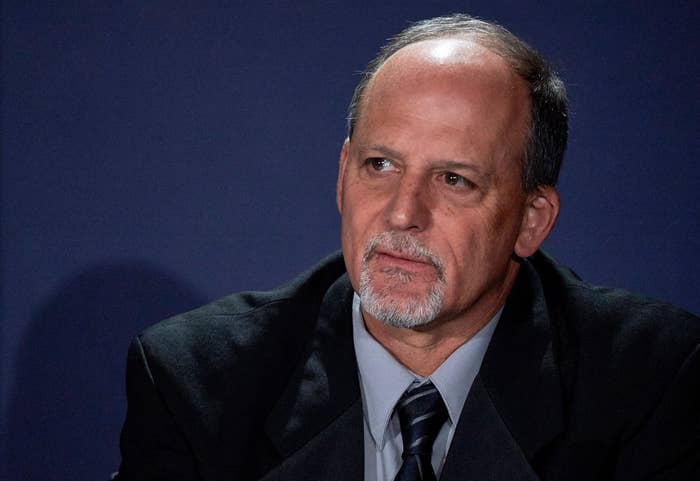 The astronomy faculty at the University of California, Berkeley, released a statement late on Monday saying that famed astronomer Geoff Marcy should no longer be a professor at the university.
The news comes after BuzzFeed News revealed a university investigation finding that Marcy had violated Berkeley's sexual harassment policies in several cases between 2001 and 2010.
"We urge the UC Berkeley administration to re-evaluate its response to Marcy, who has been found in violation of UC sexual harassment policy," the 24 faculty members said in the statement. "We believe that Geoff Marcy cannot perform the functions of a faculty member."
Since the story broke on Friday, many scientists have erupted in anger over what they perceive as the university's lack of response to the six-month investigation.
Berkeley told BuzzFeed News on Monday that it had established "clear behavioral standards governing his interactions with students inside and outside the classroom," but would not elaborate about what those specific restrictions would be.
This is a "zero tolerance policy," the university said. If found in violation, Marcy would be "subject to discipline up to and including termination."
BuzzFeed News has reached out to Marcy for comment. Last week he issued a public apology. "I take full responsibility and hold myself completely accountable for my actions and the impact they had," he wrote. "For that and to the women affected, I sincerely apologize."
The astronomy department's graduate students and postdoctoral fellows also released statements responding to Berkeley's disciplinary actions against Marcy. All three statements expressed strong support for the women affected by Marcy's behavior.
"This incident, and its handling by the relevant authorities, are symptoms of problematic attitudes ingrained in UC Berkeley as a whole, and the Astronomy Department in particular," the graduate students wrote.
They asked for Marcy to be placed under restrictions that would prevent him from teaching or mentoring undergraduate students, and for the department to proclaim a zero tolerance policy towards sexual harassment.
"The University's failure to impose meaningful consequences on Geoff Marcy — offering instead vague threats of future sanctions should the behavior continue — suggests that Berkeley's administration values prestige and grant money over the well-­being of the young scientists it is charged with training," they continued.
The graduate students were particularly upset over the leadership of the department's interim chair, Gibor Basri. On Saturday, Basri sent out an email to the department.
"This has been a day of drama and difficulty for many of us, each in our own way and with our own context," Basri wrote. "It is hard to process for those who know Geoff well."
"Of course, this is hardest for Geoff in this moment," he continued. "I ask that those who have the room for it (now or later), hear him out and judge whether there is room for redemption in all that will transpire."
Basri did not respond to requests for comment from BuzzFeed News.
Basri's remarks enraged many individuals who felt he was doing too little to support the women who came forward or to acknowledge Marcy's wrongdoing.
Some also took issue at the fact that Basri had refrained from informing anyone in the department of the investigation's findings.
"We're still really recovering by the huge amount of damage that the release of this information has caused," Eugene Chiang, professor of astronomy at UC Berkeley who will replace Basri as department chair in January, told BuzzFeed News. "Many people heard this for the first time with the BuzzFeed article — I heard it only a week ago."
"I would have expected some sort of statement from the department before this went on the internet for everyone to see," Goni Halevy, an undergraduate in the astronomy department, told BuzzFeed News.
UPDATE
The faculty letter has been updated to reflect that there are now 24 signatories.