41 People Died After A Plane Caught On Fire In Russia
The Aeroflot plane made an emergency landing at Moscow's Sheremetyevo Airport on Sunday. Thirty-seven people survived by escaping through the plane's emergency exits.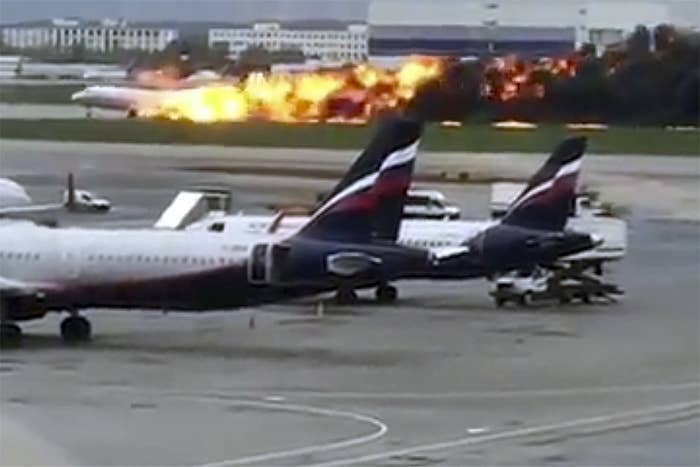 A Russian passenger plane making an emergency landing in Moscow on Sunday erupted in flames, forcing passengers to evacuate on the tarmac.

Russia Transportation Minister Yevgeny Dietrich said 41 bodies have been recovered from the burned wreckage of an Aeroflot plane at Moscow's Sheremetyevo Airport. Dietrich also told reporters in a Monday briefing that six people who survived the disaster Sunday night have been hospitalized.
Of the 78 crew and passengers on board, 37 people survived, according to a statement issued late Sunday local time by Russia's Investigative Committee, a federal investigations agency that's similar to the FBI. An earlier report from the agency said that 13 people had died.
Videos from Moscow's Sheremetyevo Airport show the plane hurtling down the runway trailing flames and smoke. In one video, emergency crews douse the plane.

The plane took off from Moscow toward Murmansk. It was forced to turn around due to "technical reasons," the airline, Aeroflot, said in a statement. Passengers left the aircraft on emergency ramps.
"At present, a commission has been established to investigate the causes and circumstances of the incident," Aeroflot said in the statement, adding that it had quickly established a crisis center.

Early Monday local time, Aeroflot published a list of 33 confirmed survivors, adding that the list would be updated.
The Russian Investigative Committee also stated that a criminal investigation would be opened into the incident, and planned to interview survivors, eyewitnesses, airport staff, and Aeroflot, as well as others in charge of the aircraft's operation. The agency said it would also be reviewing the aircraft's technical documentation.
Flight tracking data from the website Flightradar24 shows the plane, a Sukhoi Superjet-100, looping around and making its emergency landing about 30 minutes after taking off.