20 Million Gallons Lost After Water Main Bursts, Floods UCLA Campus
A 30-foot geyser erupted Tuesday after a water main underneath Sunset Blvd. broke, sending flood waters pouring into the neighboring UCLA campus.
Updated — July 30, 10:30 p.m. ET:
A water main break near the University of California, Los Angeles, Tuesday caused massive street flooding and damage at the university's campus.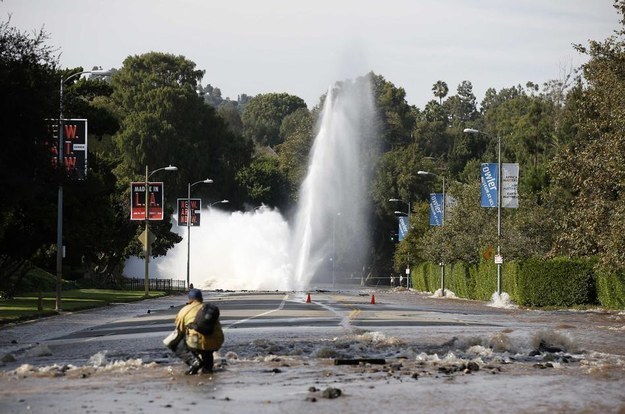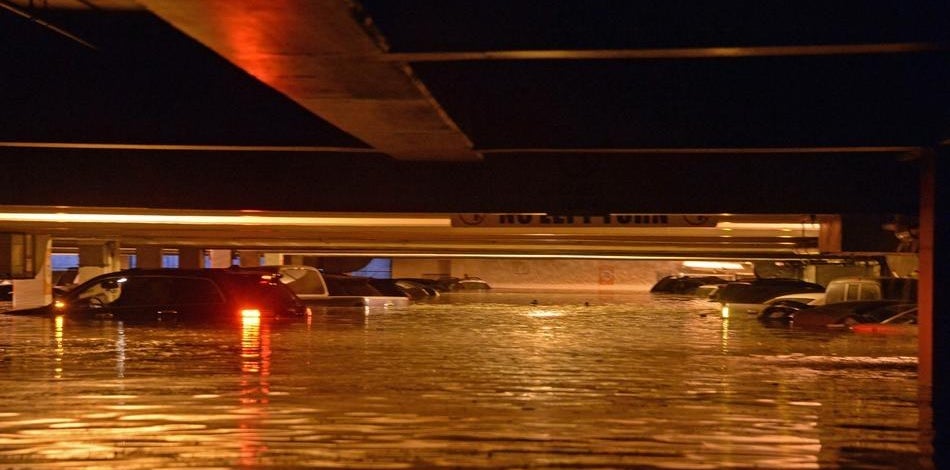 More than 20 million gallons of water were lost before the main was shut off, the Los Angeles Department of Water and Power said in a live press conference Wednesday.
The 93-year-old pipe is believed to have leaked 75,000 gallons per minute at the peak.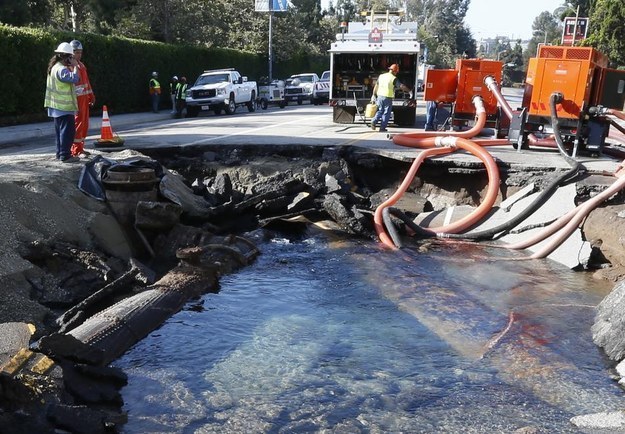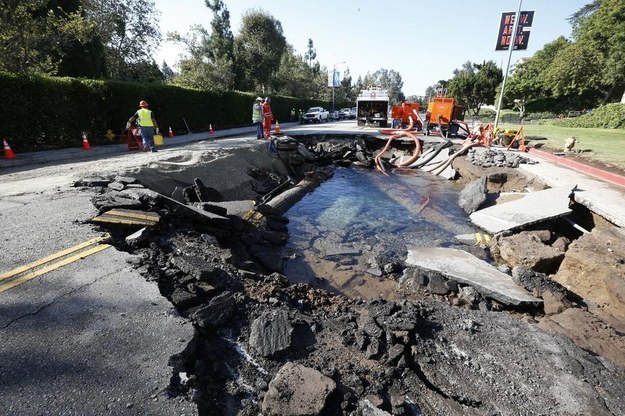 The flood waters poured into UCLA's campus as students either treaded through it, or found high ground to capture the event.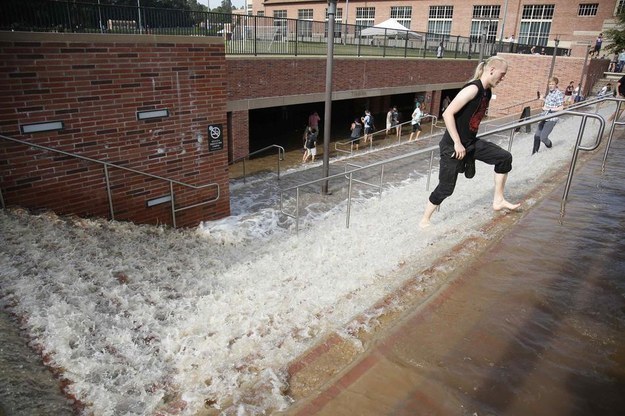 A few people found a very creative way to get through the flooding:
Although the police said, "That is probably one of the most dangerous things you can do."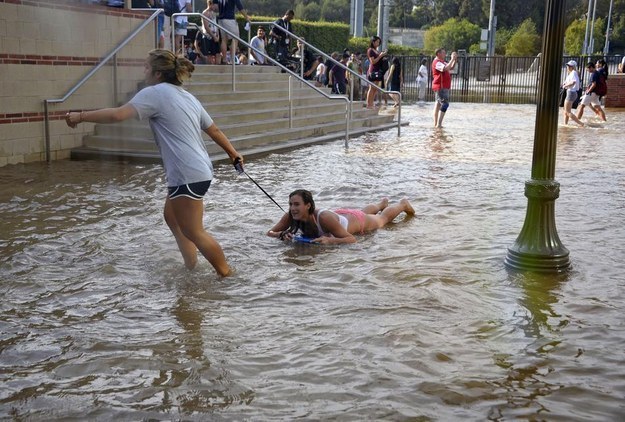 Water was seen rushing down the stairs at UCLA's recently remodeled Pauley Pavilion.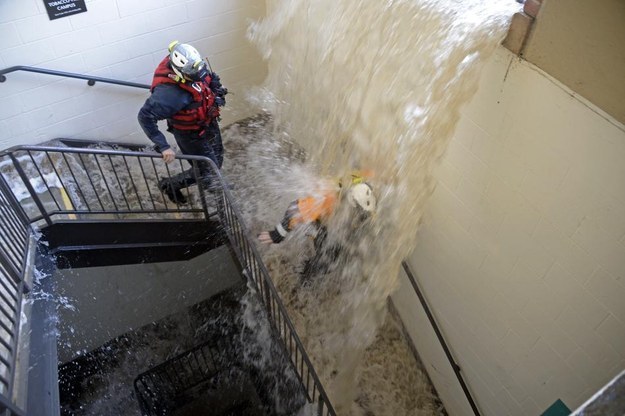 While the flooding was caused by a water main break, a prank caller told KABC it was caused by a cherry bomb or "really large dump."
Sandbags were placed around entrances to stop the water, but failed to make much of an impact.
Pauley Pavilion, home of the Bruins basketball team, was flooded with a reported 10 inches of water.
Squeegees and water vacuums were used to clear water and debris from the floor of the Pavilion, which had a $136 million renovation completed in 2012.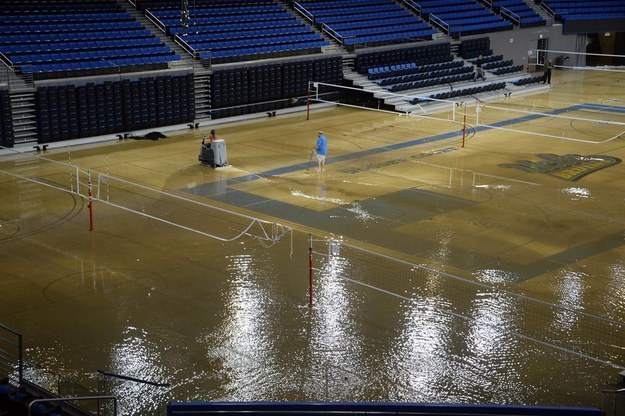 The 49-year-old wooden building is considered historical. Kareem Abdul-Jabbar, Bill Walton, Reggie Miller, Ed O'Bannon, Kevin Love, and Ann Meyers played there in college.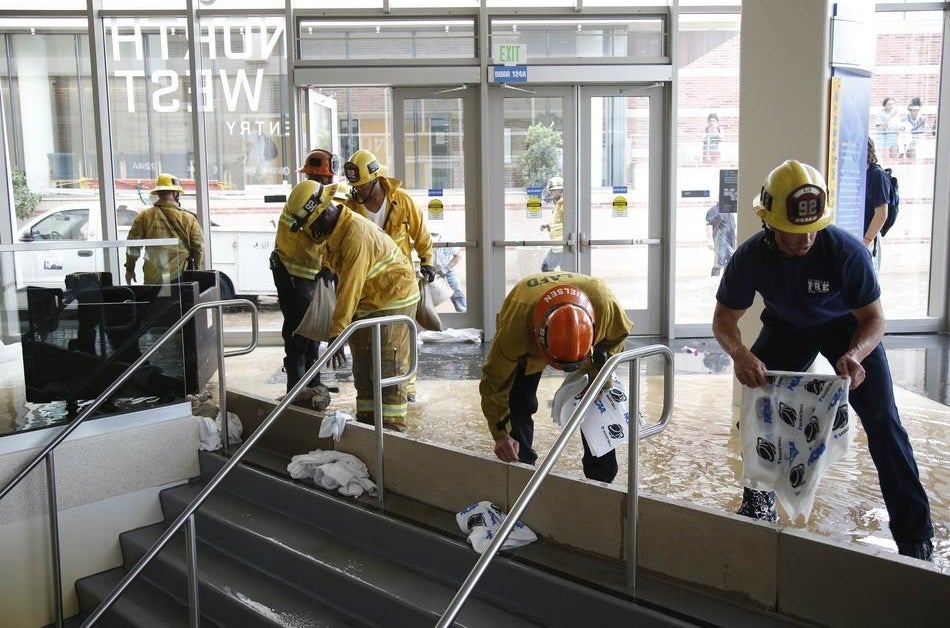 Firefighters work to dam up a stairway inside UCLA's Pauley Pavilion sporting.
The court is buckling, UCLA's campus facilities managed Kelly Schmader said.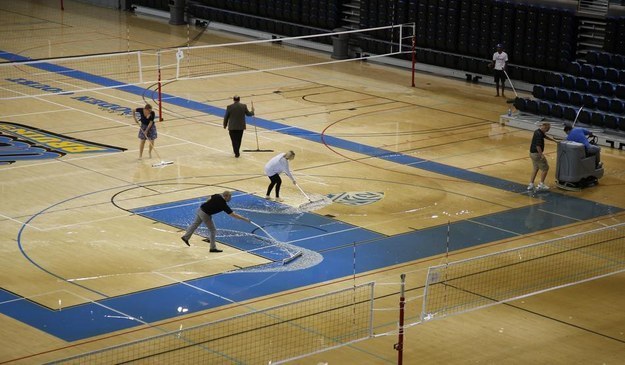 Drake Track and Field Stadium was also inundated with water.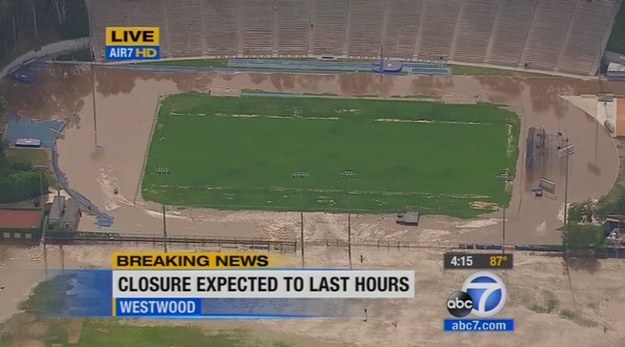 "#summervibes over here at Drake Stadium," one student said with this picture.
The Los Angeles Fire Department ordered an evacuation of the campus and people were reported stranded in cars from the quickly rising waters.
Firefighters saved up to five people who were stuck in the underground parking structures after the flooding started, the Associated Press reported.
More than 730 cars were trapped underwater in UCLA's garages, and about half the vehicles were entirely submerged.