NICE, France — Sitting a few meters away from the Saint Helena beach on the blue Mediterranean this past Thursday, Henda had to supervise her children from afar. The 44-year-old from Grasse, France, did what she often does when the sun is up and the air is warm — she took the bus to Nice to enjoy the sea.
Her little boy, Marwane, ran back from the water, his hair and body completely soaked. Henda immediately pulled out a purple towel from her bag and wrapped him in it. It was 3 p.m. and the sun was blazing, as the temperature hit 29 degrees Celsius (85 degrees Fahrenheit). But Henda said she doesn't feel the heat under her gray, green, and pink veil.
"Oh, I'm used to it, you know," the mother of four said with a smile. She's been wearing it for more than a decade.
The day before, Henda hadn't been sitting on a bench — she was on the beach, right near the water. But now she fears she might be fined by the municipal police officers who are enforcing a law prohibiting "access to public beaches, ports as well as swimming sites in the town of Nice to any person who is not properly dressed, respectful of good manners and secularism" — otherwise known as the burkini ban.
On Friday, France's highest administrative court, the Conseil d'État, reversed the burkini ban in the town of Villeneuve-Loubet, near Nice. The ruling is expected to set a precedent that will allow for similar bans in about 30 other towns to be knocked down — but the timing of those challenges is unclear.
In the meantime, these laws include wearing a veil at the beach. At least 24 women have been fined in the past week in Nice alone. Henda does not want to join this list.
"It bothers me and it makes me crazy not being able to watch over my children from a closer distance, or put my feet in the water, but what can we do?"
"On Wednesday, a young girl, who must have been about 20 years old, came running to me," she told BuzzFeed News. "She told me to leave quickly because the police made her veiled aunt leave the beach immediately. She was not in the water, but on the beach!"
"We did not stay because I was afraid of being fined," she said. "I have lived in France for 18 years and I've never seen something like this."
Not being able to adequately watch over her children makes her furious. "It bothers me and it makes me crazy not being able to watch over my children from a closer distance, or put my feet in the water, but what can we do?"
"The look in people's eyes has changed lately — fear is in them. I feel it and I hear it in some of their comments. I am saying that if the next decision is going to prohibit the veil everywhere, I will move out then."
According to Feiza Ben Mohamed, spokesperson and general secretary of the Federation of Muslims of the South, based in Nice, racist speech in the city is not new. "This is something that has been already settled a long time ago," she said. "One does not hold back when one has something to say."
The July truck attack in Nice, which killed 86 people, was a turning point. Since then, Ben Mohamed said, "It has been super tense. We are in a hysterical political context in which elected officials are voting for discriminatory measures that give the French people the impression that they are acting."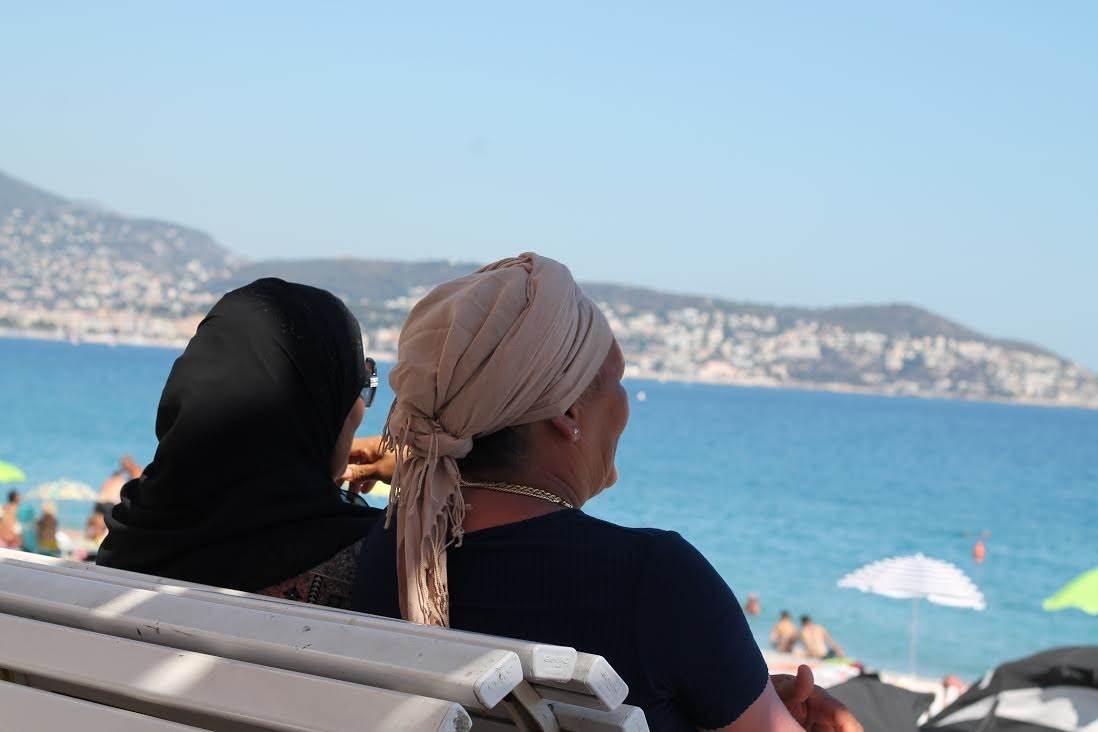 On the beach of Carros, France — a 30-minute drive from Nice — Houria also sat on a bench.
The 51-year-old Parisian came to spend the holiday with her sister from Nice. "I've been here since Aug. 11. On the first week, we were not bothered at all. And then, it's been two days since it's started to become tense," she said. "I saw that it was a mess on social networks, the news — and we even saw a veiled woman being fined. Fining mothers in front of their children, in front of everybody and forcing them to leave ... This is unacceptable. Fortunately, I leave tomorrow, because I cannot stand it."
She plans to never set foot in Nice again. "You think it's normal to pay for plane tickets and spend the holiday sitting on a bench? If it's like this next year, I will not return. I will not pay money to stay on a bench."
Sadia, 49, came and sat by her side, her hair tied in a beige scarf. She is from Nice and described a scene from the day before: "A veiled woman was sitting on the beach when the police arrived on a boat. They came down — they came on the beach and asked her to leave, after fining her. She cried."
"A group of guys came and told the police officers that it was unacceptable," Sadia continued, her eyes growing red, "that she was a mother with her children and that it was normal to watch over her young children on the beach."
She paused to return to the barrier that separates the beach from the promenade and benches to make sure her daughters were wearing swim caps. "You know, us Muslims, we do nothing wrong. We are in France, we know very well that we must respect the laws. My daughter is in high school. She does not enter with her scarf — she removes it at the entry. So when we are told that we are provoking and we lack respect, it hurts," she said.
After that day, swimming in Nice was over for children. Sadia is traveling to Antibes next; there is no decree on acceptable clothing at the beach there.
"All we need is to keep hoping ... but for which next decree?"
Swimming in Nice is also over for Cheyma. The 25-year-old mother of a toddler has been wearing a veil for 18 years. She swam for years in Nice and at the beach in Villeneuve-Loubet without disturbing anyone. "Today, the burkini has become a matter of state, as if people's lives depended on it. They are seeking problems where there are none," she said.
"They criticize veiled women, saying that they are submitted and oppressed — but in reality these ridiculous laws are oppressing us by forbidding us from wearing whatever we want, wherever we want," Cheyma added.
The burkini ban, she said, is an injustice: "We have always supported France. There were imams present during solemnity ceremonies" after the Nice attack. "Politicians continue to see what they want to see."
Her future in Nice is uncertain right now, though imagining a life elsewhere is difficult. "My husband and I talk a lot about the idea of leaving," she said. "We are forbidden to go to the beach, and then? Will we be denied access to parks and cinemas? I fear for the future of my child. But fleeing, will it change anything? My whole family is here. I will not abandon my family."
This post was translated from French. Read the original here.