"There's definitely certain people who have more of a presence in the transgender community than others," says Jazz Jennings as she winds a lock of hair around her curling iron. "But as long as someone's doing the best they can with their resources to try and create change, their part in society is equally as important."

She's standing in a West Hollywood hotel room in a white bandage dress, surrounded by a haze of hair spray. Her fingernails: silver. Her toenails: blue. Her sandals: very, very high.
"Don't use up all that hair spray, you won't have any left," says her mom, Jeanette, who is scanning Twitter on her iPhone from across the room. Sander and Griffen, two clean-cut 17-year-olds in khaki shorts and polo tees, lounge on the beds, watching the French Open on top volume. Greg, their dad, appears in the doorway. "Hey everyone!" he calls out amiably. Jazz's 19-year-old sister, Ari, comes out of the bathroom in a sundress and Birkenstocks and Jeanette asks, in that mom way, if those are the shoes she's planning to wear.
"Mom, no one cares," says Ari. A debate ensues.
Jazz is perhaps the only 14-year-old in the world who can speak so eloquently about transgender visibility over the din of her family and the television while also curling her hair. These days, she's best known as the star of the reality show I Am Jazz, which premiered on TLC in July. But she's been a spokesperson for trans youths since she was 6, with a huge following among trans kids, especially younger ones. She's bursting with advice, wisdom, and encouragement in a way that's uncommon in girls her age. She's been interviewed on national television, met two presidents, and was named one of Time's most influential teens.
I Am Jazz was billed as a show about a girl in transition. Over the course of the season, she faced all the minor dramas of adolescence — school, friendships, body image, romance — and after each 30-minute episode, she'd made it through. But the real transitions for Jazz have been happening behind the scenes. Filming upended her last year of middle school, putting camera crews in her family's Florida home five days a week for three months. Now she's on a press tour through New York and L.A., where Jazz the spokesperson is vying with both Jazz the reality TV star and Jazz the normal teen.
"I don't really care what people think of me," she says when I ask about some of her social anxiety on the show. "We just needed to show the audience how I transitioned into someone who was fully confident."
Whether this is teenage bravado or a glimpse behind the facade of reality TV, it makes one thing clear: When you're the most famous trans kid in America, it's not easy to change the script.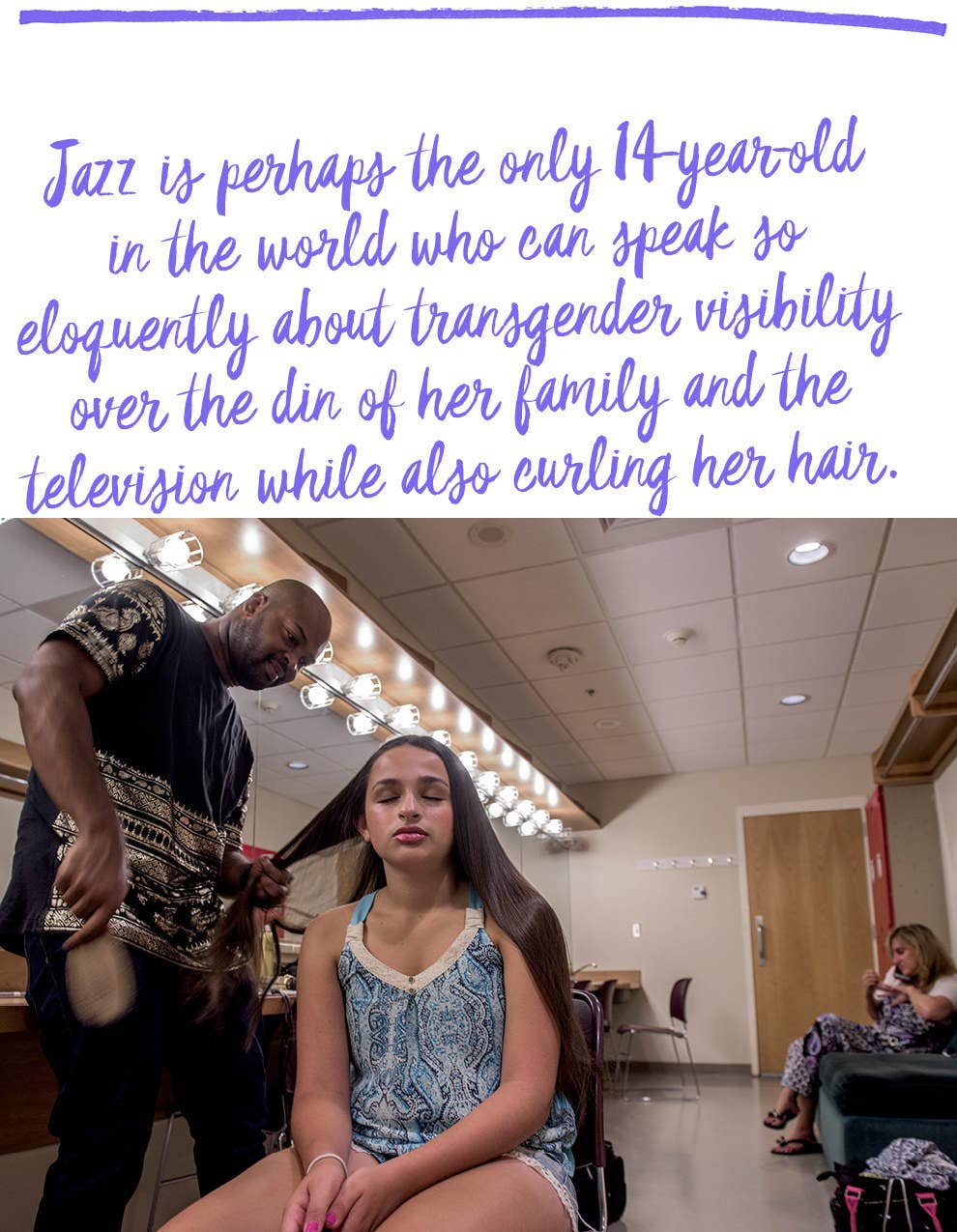 "Do I have to promote all my interviews on social media?" Jazz asks the ever-present, ever-smiling publicist as he ushers everyone out of the hotel and into a waiting SUV. The first episode of I Am Jazz is premiering at Outfest, the LGBT film festival, in half an hour.

"You sure do!" he says, cheerfully.
"Everything?" she asks, eyebrows high.
"Every single thing."
"Really."
"Yeah."
On the five-minute drive, Jazz thinks about the "meet and greet selfie social" scheduled for after the screening.
"I need to figure out if I should smile or not," she says.
Jeanette reminds her to talk to a young trans girl and her mom who are driving in from Ojai.
"Jazz, you should say, 'Oh my mom told me about you.' This way she'll feel like we talked about you."
Jeanette turns to Greg. "I want to make sure this mom knows we discussed her little girl."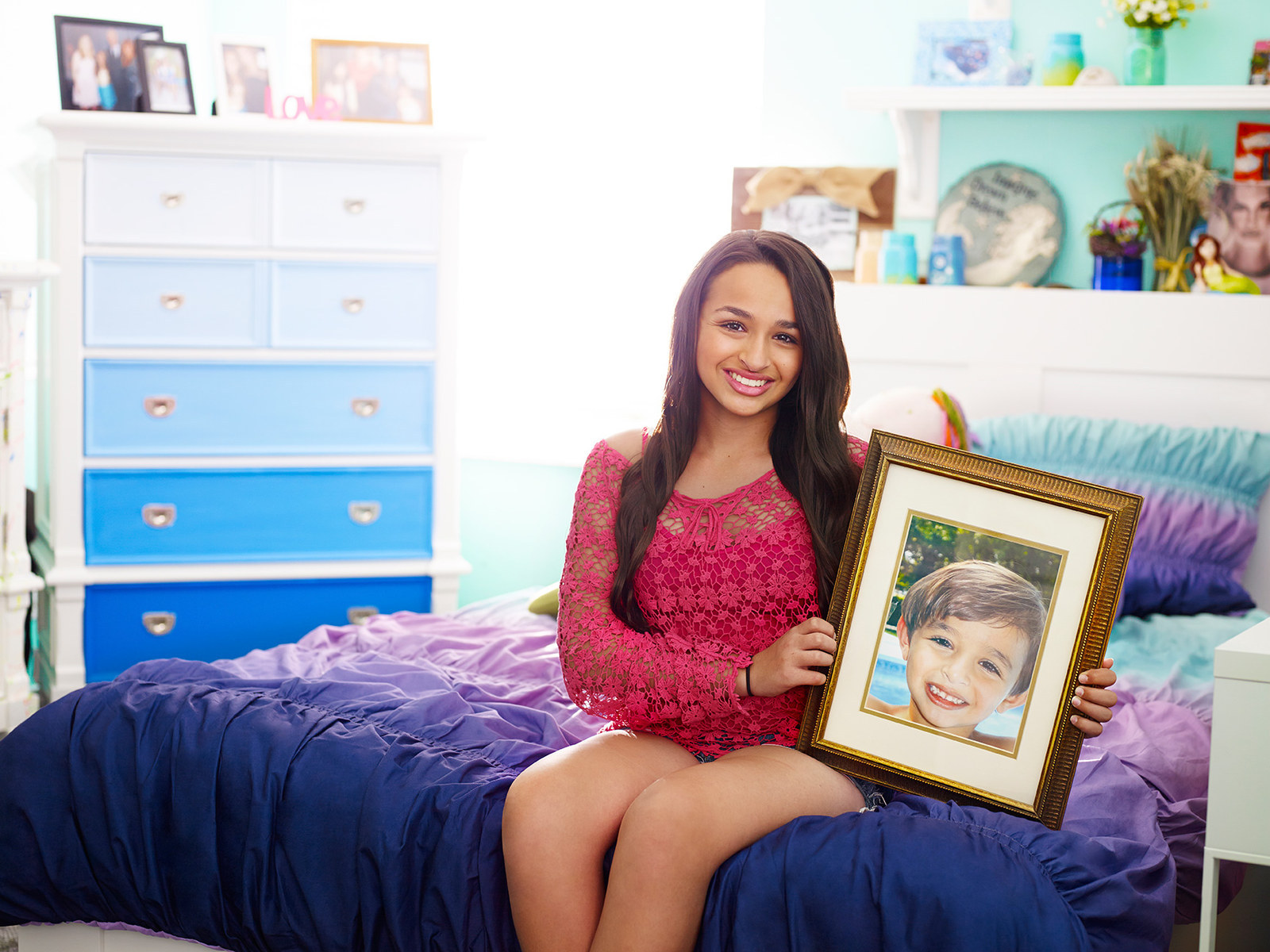 Jazz was assigned male at birth but she has identified as a girl for as long as she can remember. A doctor diagnosed her with gender dysphoria when she was 5, and Jeanette and Greg decided to let her transition. The following year, the family was mentioned in a local article that got picked up by the Village Voice. Then ABC asked them to appear on 20/20.
"At first, we were like, 'No, no, no, no.'" We were really so afraid of something like that," says Jeanette, who has a no-bullshit kindness about her that makes her easy to listen to and great onscreen. "This was way before Chaz Bono, way before Laverne Cox. Who would we see in the media? Nobody. If you did, they were on Jerry Springer. You certainly didn't see kids."
She and Greg went by "Renee" and "Scott" in early interviews. They still don't use their real last name.
The 20/20 special, which aired in 2007, claimed that Jazz was the youngest trans person ever to give an interview on national TV. In the episode, her face was angelic. Her hair and eyelashes were long, and she wore a dress. When Walters asked what she would call herself, she said, without hesitation, "a girl." Jeanette and Greg told Walters about Jazz's fondness for pink and purple and her nightmares about growing a mustache. Jazz's openness and her parents' unqualified support made them a rare public model for other trans families.
Before the episode aired, Jeanette didn't know any families with trans kids as young as Jazz. But, she says, "they really came out of the woodwork after that." Over the next eight years, Jazz became a beacon. She was the subject of a documentary on Oprah Winfrey's network OWN, filmed a follow-up with Walters, and appeared on talk shows with Katie Couric, Rosie O'Donnell, and Dr. Drew. She's published a children's book and won at least 10 awards for activism. Her visibility skyrocketed two years ago when she started a YouTube channel, posting videos of herself swimming in handmade mermaid tails, doing craft projects, answering questions about being transgender, and goofily belting out a Jennifer Hudson song in her room. Today her channel has close to 7.5 million views.
As Jazz got older, production companies sometimes approached the family about doing reality shows, but Greg and Jeanette were wary. Jazz had been doing plenty of advocacy work, but the family wasn't ready for that kind of attention, they thought, and neither was America.
"Transgender was not on everybody's tongue," says Jeanette.
But, when a production company came to them last fall, the timing seemed right. Transparent, Amazon's show about a parent's gender transition, was getting a lot of buzz, and Laverne Cox was the most talked-about part of Orange Is the New Black. Meanwhile, transgender murder and suicide rates were astronomically high. One out of three trans kids have attempted suicide, according to Dr. Johanna Olson-Kennedy, the medical director at The Center for Transyouth Health and Development at Children's Hospital Los Angeles.
"These are numbers that should be considered a public health hazard," she says. "We're talking about a number that's four to five times higher than the youth population at large."
The Jennings were well aware of this data. "We felt like we were in a certain position where, maybe if we shared our story on a more regular basis, a societal shift could occur," says Greg.
"I really just want to spread my love and happiness toward other people," says Jazz when I ask why she wanted to do the show. "I think I've been able to find happiness, and I've learned to love myself. That's a huge accomplishment for anyone, learning to love yourself."
When TLC saw the demo tape, the network's president, Marjorie Kaplan, took an instant liking to the Jennings.
"The family belonged on TLC," she tells me. "What our audience comes for are families that they can identify with, and Jazz's family fits in that universe in a very comfortable way."
Outfest is a big festival — 150-plus films showing in seven venues over 10 days — and I Am Jazz was a somewhat minor draw. It screens to an audience of about 50 that morning, including Jazz's family, some reps from TLC and the production company, and some trans families whom Jeanette had met through a Facebook support group.
After the screening, Jazz walks from the audience to the stage, where she sits with three other trans teens for a Q&A moderated by a GLAAD spokesperson. She's well-spoken and upbeat, weaving every question into her message with pageant-like finesse.
"You know, I'm really excited about this," she says when the moderator asks what it's like seeing herself onscreen. "I really hope it'll show people that I'm just the average person living my life authentically and embracing the fact that I'm transgender. I just really hope it will open up people's minds, and it'll help people be more accepting and tolerating of transgender people in general."
A 19-year-old trans guy talks about the horrors of going through female puberty, and she steps in to commend him.
"That takes a lot of courage and strength, you know. I never had to go through puberty of the opposite sex so I never really experienced that, but to be able to do that and now you've come to this place where you can live your life authentically, that's a beautiful thing."
"Well, thank you," he says, blushing. "That's very nice of you to say."
At the meet and greet selfie social, Jazz poses for photos against an I Am Jazz backdrop in the theater's reception room. She's decided that smiling is the way to go. There is a lot of finger waving — TLC is using the hashtag #jazzhands to promote the show.
The family from Ojai comes up to her, and the little girl is so starstruck she hides her face behind her mom's legs.
"I've heard a lot about you," Jazz says sweetly. "You're so beautiful." The little girl squirms and grins.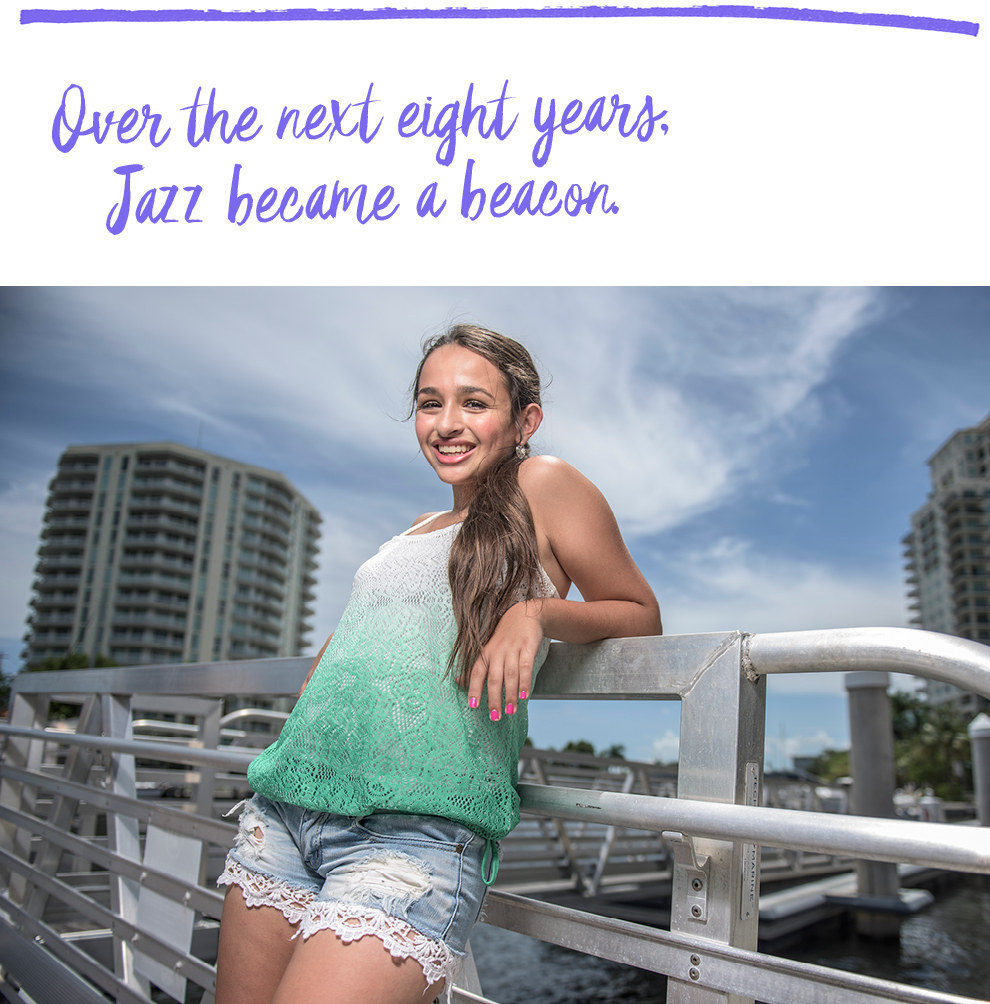 In a way, I Am Jazz is a Trojan horse in Florida-casual, riding into the living rooms of people who might not know or care much about transgender issues. The Jennings are a clan so sweet and inoffensive that one wonders how they even made it to primetime TV in 2015. Jeanette and Greg grew up three houses apart in upstate New York. They've known each other since she was in first grade and he was in kindergarten ("I was the older woman," she says with a grin). On the show, the two have a tried-and-true marital dynamic — she's a little wacky, he's the rock. Ari is the eye-rolling straight woman to Griffen and Sander's comic relief. ("TLC's gonna do a good job of making us look good," Griffen tells me. "We're gonna make a lot of people laugh, even our good friends.") And Jazz is Michelle Tanner 2.0 — the baby of the family, precocious, quick to turn on the charm.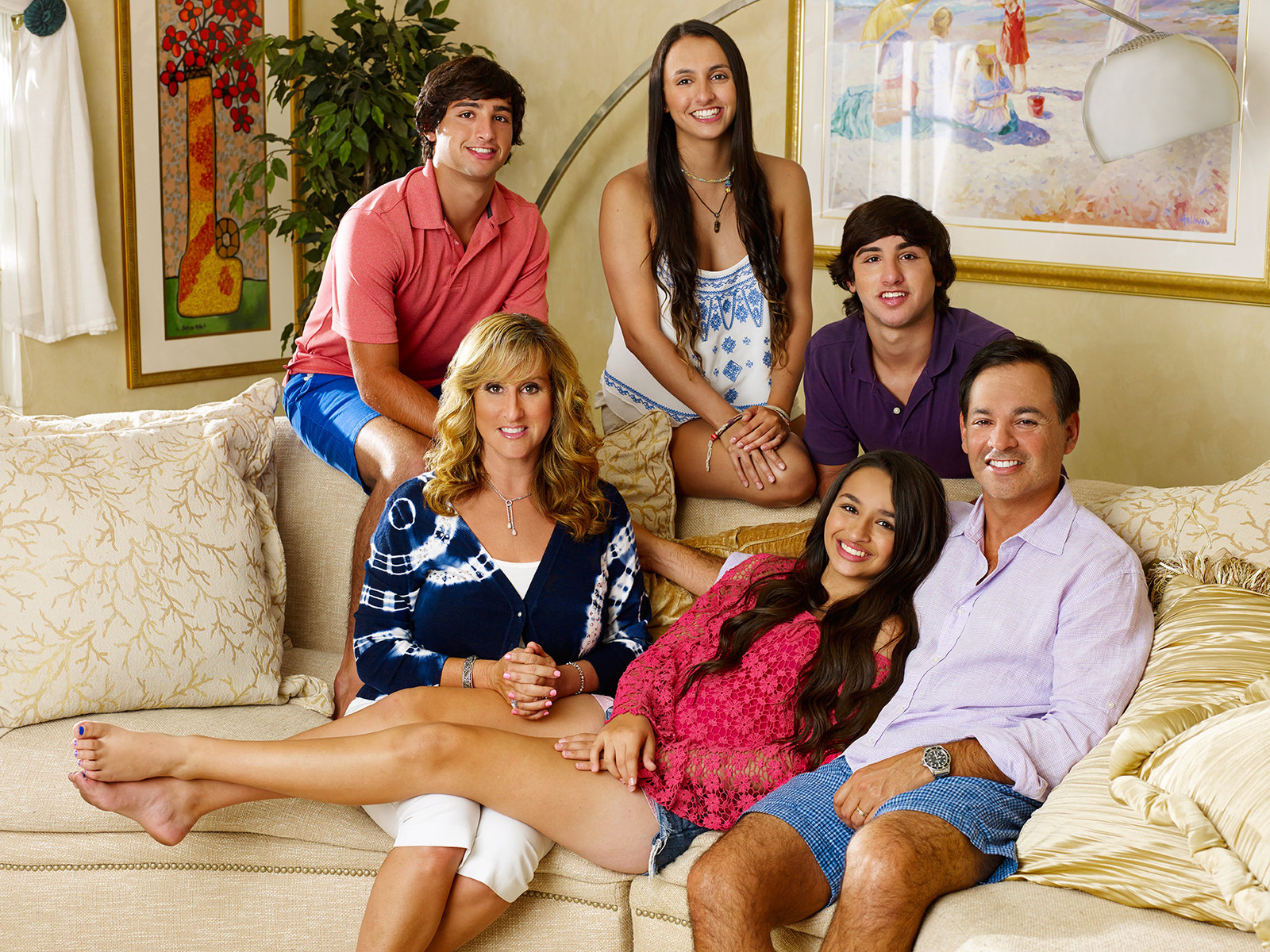 When I Am Jazz debuted, Time called it a "change of era" for the network. For all its shows about different types of families — polygamists, little people, the Amish — TLC has never had a series spotlighting an LGBT family until now. For years, the network's flagship program had been 19 Kids and Counting, a series about an evangelical family who, while apolitical onscreen, were actively anti-LGBT off. Just last summer, 19 Kids matriarch Michelle Duggar recorded a robocall opposing a local ordinance that would ensure trans people, among others, equal access to public services. On the recording, Duggar suggests that some trans women are men who want to prey on young girls. 19 Kids was canceled the day after Jazz premiered, after it surfaced that one of the Duggar sons had molested his sisters.
Last fall, when Greg and Jeanette heard that TLC wanted to work with them on a show, they asked for assurance that their family wouldn't be exploited on national TV.
"We try to do positive projects," says Greg. "If it seems like it's going to be too controversial, or too much negative component to it, we're not really interested doing it."
Kaplan, TLC's president, called Jeanette to promise that the network would take care of them.
"I'm a mother, and I imagine that you want to know that you're putting your family story in the right environment and the right place," she says.
"They were saying the things we wanted to hear," says Jeanette. "We had a message. They liked our message. It was a good match!"
I Am Jazz clearly has a message. Often the show feels like a PSA for and about transgender youths, like when the twins have a talk with a friend who calls Jazz's transgender identity "a choice," or when Jeanette tells Jazz's grandmother that "tranny" is not an OK word.
"This is new for many, many people," says Kaplan. "If the goal is to help people understand and normalize this, these kinds of moments are opportunities."
But there's a voyeurism factor, too, which comes from Jazz's budding sexuality, like when she jokes with her mom about her breasts, giggles with her friends about how she doesn't menstruate, or calls her genitalia a "thinga-minga" at the doctor's office.
"It's teenage Jazz," says Jeanette. "It's not geared toward the little ones."
"I didn't realize how much boobs the episode was about," says Jazz uncertainly, sitting with her siblings on the theater's back patio as the selfie social winds down. It's a rare couple minutes without parents, publicists, or fans.
"And I kind of feel really bad for my friend. Because they put in her talking about how she had the smallest boobs."
"I think she's the prettiest," offers Sander, and everyone agrees.
Another teenager from the panel comes over to say goodbye, and her dad tells Jazz he thought the show was incredible. "You're gonna get a lot of dates out of it," he says with a wink.
They walk away, and Jazz turns to Ari.
"She gets her eyebrows professionally done so they stay."
"I need to go to the store and learn to do makeup like you do," Ari says.
Jazz smiles and bats her eyes. "Like me?"
The conversation turns to GoPros and selfie sticks and whether you can take them to Six Flags Magic Mountain, where they're going later that week, and whether their dad would spring for the passes that let them skip the lines. They tease Sander about his undefined relationship with a girl from school.
"He won't ask her out. He just plays her!" says Ari.
"He just got into a situation that's like so clutch," says Griffen. "She won't leave no matter what he does."
"You don't know the details," complains Sander as his siblings talk over him.
"You're not using her are you?" says Jazz. "I think she loves you, Sander. She loves you." She turns to Ari. "She loves him and he doesn't love her. That's what it is. That's terrible. I'd never go for a guy who did that to me." She sighs. "Girls... girls are very complicated."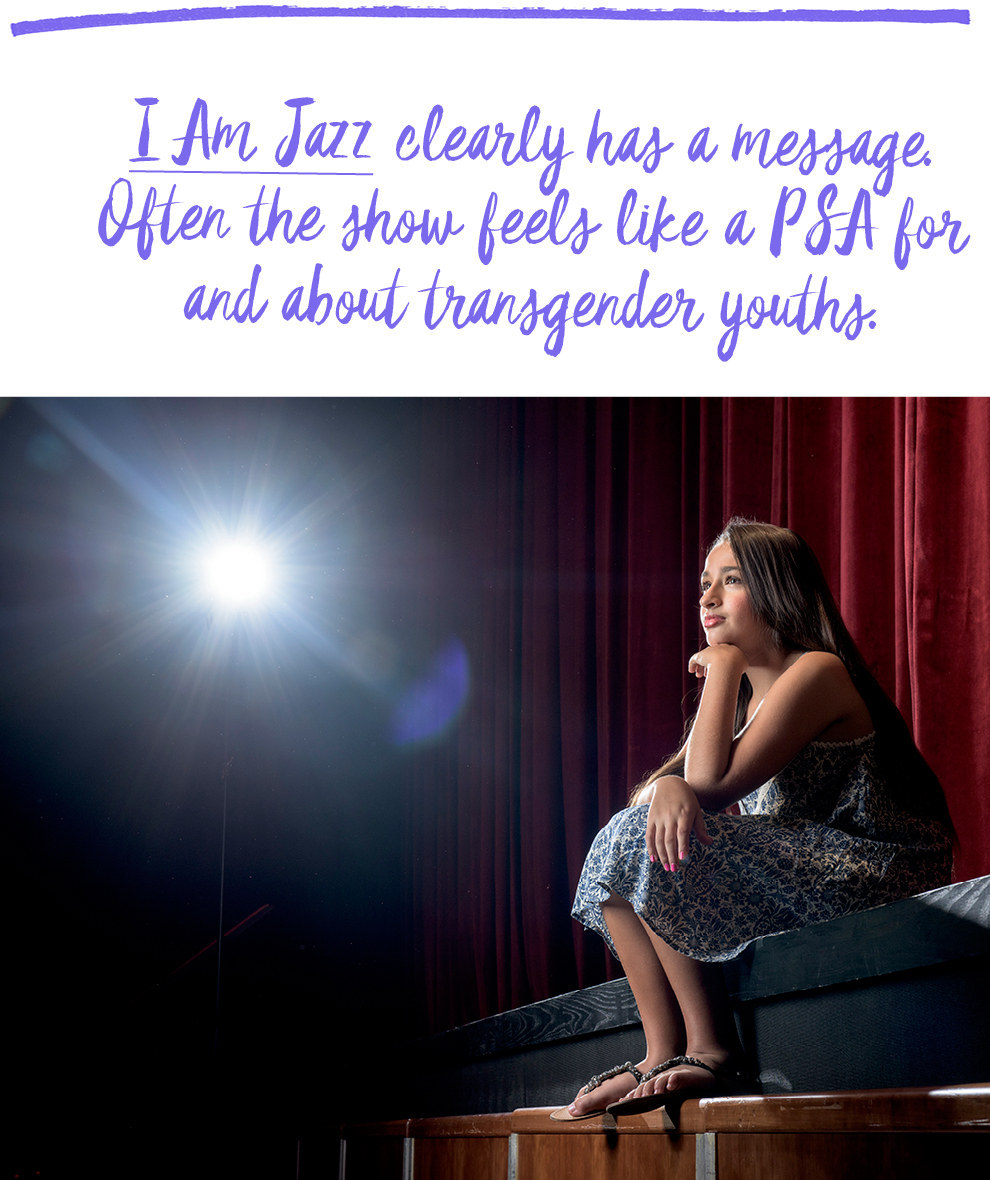 Of course, the most famous trans person in the world also has a reality show. I Am Cait premiered this summer, on E!, where the rest of the Kardashian dynasty reigns (the similar name is a coincidence, according to TLC). If I Am Cait is the high-gloss Broadway musical, then I Am Jazz is the summer camp play. Caitlyn has a studied indifference to the cameras, honed by years of having them in her face. I Am Jazz is full of obvious setups, like when Jeanette and Greg have an intimate talk in bed with all the lights on. But there's something endearing about the Jennings's awkwardly staged family outings, their blushing faces around the dinner table. The effort they put into playing themselves makes them oddly more relatable.

Jazz hadn't seen I Am Cait but, when the subject comes up at the selfie social, she calls Jenner "beautiful, brave, and a role model."
"People that might not have even heard of Jazz at all," says Jeanette. "Then they'll read a review of I Am Cait, and it'll talk about Jazz. It's a built-in audience right there."
The I Am Jazz premiere pulled in 1.36 million viewers, but ratings dropped over the course of the season. Still, it was a top 10 show for TLC so far this year, consistently drawing more viewers than any other show on the network last summer except Little People, Big World and My Giant Life, a show about very tall women. Meanwhile, I Am Cait debuted at No. 1 with 2.7 million viewers, but ended with only 1.3 million. It was renewed earlier this week despite the underwhelming ratings and mixed reviews. A third reality show about transgender families, ABC Family's Becoming Us, tanked.
These less than stellar performances suggest that people aren't getting hooked on trans-related series that look too much like educational programming. On widely watched, Emmy-winning fare like Orange Is the New Black and Transparent, the transgender characters' plotlines never feel like lectures. The characters are more flawed, their story arcs are less neat, and this makes them seem more real than their reality show counterparts. But what makes for good TV can be perilous for real people. Unlike Jazz, Jenner, or Laverne Cox herself, Cox's Orange character, Sophia, doesn't have to worry about her privacy, reputation, or public perception. Transparent's Maura doesn't have to navigate respectability politics. Anyone with even a shred of an instinct toward self-preservation can imagine this trap.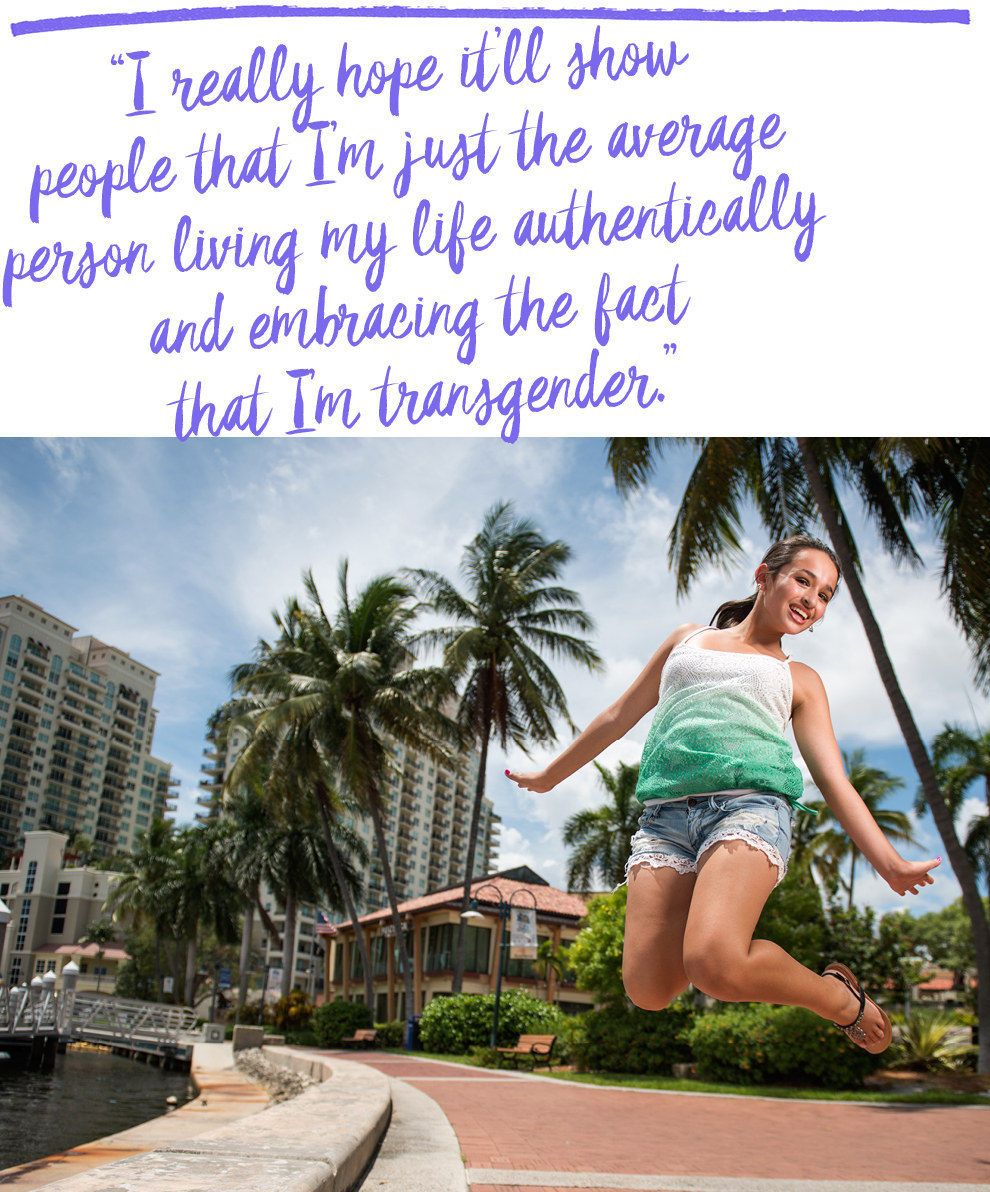 The Jennings's South Florida neighborhood is gated with a guard onsite 24 hours a day. Their house has an alarm system built into the door. Jeanette and Greg ask the media not to reveal the name of their town or Jazz's school, which Jeanette picked out when Jazz was still a toddler because "they have 60-something hidden cameras, a strict uniform policy, and a no-tolerance bullying policy."

There seems to be a hurricane happening when I visit in late July, but the Jennings assure me it's normal rain in those parts. Their house looks like a sitcom set, meticulously decorated with a Mediterranean vibe and lots of beige. In the bathroom, a heart-shaped wall hanging spells "Oochie Goochie Love Smoochies" in charm-bracelet capital letters. Family photos take up almost every surface and the walls. One section showcases Jazz with some of the famous people she's met: Bill Clinton, Jennifer Lawrence.
Jazz appears from upstairs and gives me a quick hug, then leads me through the laundry room, past the litter boxes ("You probably want to not breathe for a second") to a back room where a mermaid tail lies drying. "This one is taking a really long time because I've been so busy," she says. Then she brings me into the garage where she's made all her tails, seven so far. She sells them online for up to $2,300 and donates half the proceeds to the foundation her family runs, TransKids Purple Rainbow. They're stunning. With an expert air, she explains how she buys silicone in big buckets, mixes in the paint, and pours it into custom molds.
"It takes a while but it's really fun," she says matter-of-factly.
Jazz has a friend over that day — her best friend, she clarifies. They're editing a new video for Jazz's YouTube channel. Jeanette had ordered pizza and chicken wings, and Jazz and her friend grab a couple slices and some wings before rushing to the computer upstairs. After three months with a camera crew in the house and two weeks of press stops in New York and L.A., she seems set on having a normal Saturday afternoon.
"When Jazz is her authentic self, she's like, 'I'm not going to sit here and pretend that I'm in a good mood and try to answer questions,'" explains Jeanette while we fill our paper plates with food. "She puts pressure on herself, but then she gets to a point sometimes where she shuts out."
I say that seems like pretty typical teenage behavior.
"I think a teenager that's on estrogen can make you worse," says Jeanette, laughing. "She'll just all of a sudden not be very nice."
"She gets the same questions a lot, so it's a little bit redundant," says Greg.
"It's even hard for us," says Jeanette. That was partly why they wanted to do the show, she explains. "When she's doing her advocacy work, she's on this pedestal. You don't see the vulnerability. She has her ups and downs and it was important for people to see that."
Three episodes of I Am Jazz had aired at that point, and messages had been flooding in through Jazz's Facebook page, most of them positive. Her Instagram account had jumped from 50,000 to over 100,000 in less than two weeks. Her Facebook page had gone from 12,000 to over 30,000 likes. Boys were writing to Jazz saying they'd date her in a second.
"A 65-year-old grandmother wrote the other day," says Jeanette. "She was like, 'I didn't even know what a transgender person was. I've never wrote a letter to anybody before like this, but I have to tell you that I was moved by Jazz's story.'"
Given that TLC's core demographic is middle-aged women in Middle America, it's not surprising that Jeanette gets as much if not more screen time than Jazz. She's an every-mother: genuine, charismatic, and fiercely protective. Her couch confessions are some of the most affecting parts of the show.
She's also been the target of much of the criticism. In online forums, people have accused her of hurting Jazz by letting her transition and exposing her to public scrutiny at such a young age.
"It's not like, 'Oh, Mommy and Daddy are making me do this thing,'" says Jeanette. "She was never one of those kids who didn't know what was going on."
"We give her the last call on this stuff before we consent to it," Greg says. "It's a family sacrifice to take the time to do these types of things. It should be appreciated rather than criticized, because we're really just trying to make a difference."
Jeanette and Greg say they feel safe here, though they haven't been home much since the show started airing.
"When we were running all over L.A., I was definitely more aware of people and things around me," says Jeanette, as the sound of teenage whispers drift from upstairs.
Greg says he worries more about Jazz's siblings. They're driving now, going to parties with people he didn't know.
"I tell them, 'There may be people that don't necessarily agree with the show. You just need to be keep your eyes open.'"
Greg also monitors Jazz's social media activity, approving photos and videos before she posts them online. Jazz hasn't started dating yet, but if someone expresses interest, the rule is she has to tell them she's transgender right away. Her parents call it "dating with disclosure."
"If you think about it," says Jeanette, speaking generally, "you're a 15-year old transgender kid and you go on a date. You're in a car and you're making out, then you're like, 'By the way, I just want you to know that I'm transgender.' Somebody can beat the crap out of you or kill you."
In 2014, over half of LGBT murder victims were transgender women, according to the National Coalition of Anti-Violence Programs. Nineteen transgender and gender nonconforming people have been murdered so far this year, almost all of whom were women of color. One of the youngest, Mercedes Williamson, was 17. She was stabbed and buried in the woods an hour from home. One episode of I Am Jazz centers around Jazz seeing a death threat on her YouTube channel. In the episode, Jeanette becomes consumed with worry, but in reality it happens all the time.
"You have to have thick skin to be able to go out there," says Greg. "No matter what you say, somebody's going to disagree, somebody's going to comment on YouTube, somebody's going to comment wherever they can make their comments. We just forge on."
It's getting late and the rain is still falling in sheets outside. I follow the sound of teenage laughter upstairs to find Jazz and her friend huddled around the family computer, a desktop PC in the hallway, the screen intentionally visible to parental eyes. Greg had given the OK to the video, and it's uploading. In the clip, Jazz smiles underwater in her mermaid tail while fairy-tale music plays. It's her most professional-looking video yet.

"Does the pool look too dark?" she asks. "Dad said it looks bad. Ugh, look how big my belly looks."
Suddenly Jazz seems more 14 than ever — young enough to wear a mermaid tail, old enough to judge her body in it. She laments that the estrogen made her gain weight.
Her phone buzzes in her lap. A friend is upset because an episode of I Am Jazz made her seem like a bad friend.
"I feel bad," says Jazz. "I tweeted about her saying that people are stupid, and that we're still friends."
In general, she says, online criticism doesn't bother her. Most of it comes in the form of comments on her YouTube videos and Facebook and Instagram posts. People have accused her of lying about her gender and brainwashing kids. She's been called every imaginable slur.
"Sometimes I read the comments just to learn a little bit more about what they don't understand. Seeing them motivates me to share my story and educate those people."
She admits that filming I Am Jazz has been disruptive, causing her to miss some soccer practices and most of her tournaments, but things have gone back to normal now. Normal for Jazz, anyway. She met President Obama earlier in the summer at a Pride Month reception at the White House.
"That was cool," she says. "And in L.A. we got to meet [the host of Big Brother] Julie Chen as a family. It was a lot of fun."
She sometimes gets recognized in public, which didn't happen very often before. And some kids who'd never talked to her wanted to be friends.
"It's a little bit strange," she says. "But I know who my real friends are, right?" She turns to the girl next to her and they exchange secretive, teenage girl smiles. In that moment, she doesn't seem a single bit worried about starting high school as the girl with the TV show.
"Right now I'm just hanging out with my friend, being normal, not having to worry about any expectations or anything," she says. "I'm definitely going to make sure that I just continue to live my life authentically."
I ask if she thinks I Am Jazz captured that authenticity, like Jeanette had said. Jazz is trying to come up with a caption for her video before it finishes uploading. Her fingers hover over the keyboard.
"Sometimes I'm not very relatable as a person because I just don't care what people think about me," she says, eyes on the screen. "But it's important that people see that side of me, someone who is more vulnerable."
"To make a story arc?" I say.
"Yeah," she says. "It's not about me, but more about the message that I want to live on eternally, even after my time."
Maybe this is why Jazz was so quick to gloss over the issues that came up on the show. Acting out puberty for a national audience sounds like an actual nightmare, but maybe it works like exposure therapy, desensitizing you to past traumas, widening the gap between then and now. Maybe, just then, Jazz did have high school and boys and puberty figured out. And maybe, if I Am Jazz is renewed, we'll hear about what she's going through now.
Before I leave her at the computer, I ask if she ever gets tired of being a role model, of turning her life into a series of teachable moments on behalf of the trans community. She seems pretty over it then, with her publicist listening from one room, her mom listening from another, and her best friend waiting politely for me to be done.
She turns to me brightly. "I feel like I'm meant to share my story, because it's a happy one," she says. "It's really just a message that it's all about love, and loving yourself, loving others, finding happiness, and finding strength to live your life authentically."