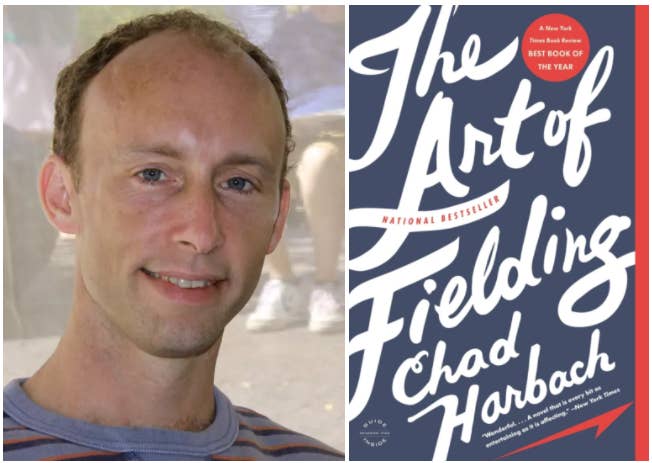 A former college baseball player is accusing the author of The Art of Fielding, a 2011 best-selling and highly acclaimed novel, of lifting substantial elements from his unpublished work, according to a lawsuit filed in federal court in Manhattan.
Charles Green alleged the novel's author, Chad Harbach, copied plot points and structure, character names and relationships, premise and setting — and the specific climax and denouement — from a manuscript based on his experiences playing baseball at Swarthmore, called Bucky's 9th. Harbach's representatives deny the claims.

Green claims he began Bucky's in the mid-1990s as a screenplay, and reworked it in the early 2000s as a novel.
According to Green's lawsuit, filed on Sept. 14 in the U.S. District Court for the Southern District of New York, the screenplay was shared widely among agents, production companies, and studios. The novel was submitted to agents and publishers. Green argues this was when Harbach, who he called in the lawsuit "well connected in literary circles," would have seen the manuscript. (Bucky's was registered with the US Copyright Office in 2012.)

Most of the overlaps Green alleges are thematic, and the complaint points to specific shared plots like "baseball prodigy-comes-of-age," "recruiter-mentor," "illicit romance," and "intergenerational."
Green cites in the complaint an "uncanny parallelism" between the books' third acts, arguing that "the plots move forward in virtual lockstep," from the "Prodigy go[ing] AWOL" to the "cover-up of father's apparent suicide." A 25-page appendix to the complaint outlines instances of what Green argues is "shared content" between the books.
Green insists he was reluctant to litigate, and hesitant to believe his editor, Jess Taylor, when Taylor intimated The Art of Fielding had stolen from Bucky's 9th.
"When I saw [The Art of Fielding] had been published, I was psyched," Green told BuzzFeed News over the phone. "I was like, 'Oh my God! There's actually a market for Division III college baseball!' Then I read some of it to my editor, asking, 'What's this guy doing that I'm not doing?'"
When BuzzFeed News reached out to Green's editor, Jess Taylor, he replied by saying: "This is going back to the fall of 2011, but what I said was, 'Your book is the only baseball fiction I've ever read, so either baseball fiction has a way of sounding the same, or this book is strangely similar to Bucky's 9th.' It was the atmosphere, the tone, the voice of the baseball novel I'd already read and loved ... I worked as a literary agent for ten years, and I've seen amazing similarities among books, but what's compelling here is how the stories become more alike as they move forward in plot. I haven't seen that before in my career."

Green said he avoided reading The Art of Fielding, for fear of being influenced by it while he worked on his own edits, until a friend echoed Taylor's concerns in 2012. Green claimed that after reading, he attempted and failed to meet with Harbach and his agent to discuss the overlaps; he also wrote a Medium post about it in 2016 hoping for public attention. In 2017, when IMG announced it would be producing a film adaptation of the book, Green decided to file suit.
In a statement sent after this post was first published, Harbach's agent Chris Parris-Lamb said: "It is demonstrably false that Charles Green attempted to meet with us — the first we heard of him and his book was when a media organization he'd approached about it contacted us in 2014. After seeing that half of the 'similiarities' Green cited were present in Chad's MFA thesis, and learning that we had a draft of the manuscript from late 2004 in which almost all of the remaining similarities were present, they dropped the story."
In addition to the alleged similarities between the books, Green argues that a 2011 Vanity Fair article by Harbach's friend and colleague Keith Gessen offers further evidence of Harbach's infringement. In the article, Gessen called an early version of Harbach's novel "a little light ... a little like a Disney film," and described being mystified by its sudden transformation. "How had he done this?" Gessen wrote. "I don't know. I'd seen him: I'd sat in the next room or at the next table, I'd been there the whole time, and I still don't know." Green believes Bucky's 9th was the missing piece.
"My concern from the start has been the cloud that's over my book," Green said. "I came up with this stuff a long time ago, but the irony is if I were to publish, I would look derivative of The Art of Fielding. The movie will absolutely destroy any hope for my book."
In an emailed statement to BuzzFeed News, Harbach's agent Chris Parris-Lamb said: "Chad has never seen BUCKY'S NINTH or met Charles Green. He has dozens of time-stamped files of the novel from the years he worked on it, which will show that the 'uncanny parallelisms' Mr. Green cites were in place as early as 2004, many from its very conception in 2000, and numerous classmates, professors and writing group peers can attest to this fact. Any similarities between the novels is pure coincidence, and this lawsuit is wholly without merit."
Little, Brown and Company, Harbach's publisher, added, "Little, Brown and Company believes there is no merit whatsoever in the lawsuit against Chad Harbach over his book The Art of Fielding. Themes of coming age, sports and the college experience are hardly unique, and it is curious to us that this claim is being asserted now, six years after publication of Mr. Harbach's book."
Green is seeking undetermined damages from Harbach, and a permanent injunction to stop development of the film.
You can read the full text of Green's complaint here.