1.
"You're both the fire and the water that extinguishes it. You're the narrator, the protagonist, and the sidekick. You're the storyteller and the story told. You are somebody's something, but you are also your you."
—John Green, Turtles All the Way Down
2.
"This was the skin that protected you from the world—this loving of another person you shared your life with."
—Elizabeth Strout, Anything Is Possible
3.
"When you cannot pinpoint a pain in your body, the whole world seems to throb with it. Trees in pain, lit windows in pain, Wednesday nights in pain. Pianos flaming with pain, and the scale sliding up into a cry."
—Patricia Lockwood, Priestdaddy
4.
5.
"Sorrow is food swallowed too quickly, caught in the throat, making it nearly impossible to breathe."
—Jesmyn Ward, Sing, Unburied, Sing
6.
"At an early age, I learned that people make mistakes, and you have to decide if their mistakes are bigger than your love for them."
—Angie Thomas, The Hate U Give
7.
"To love is to enter into the inevitability of one day not being able to protect what is most valuable to you."
—Mohsin Hamid, Exit West
8.
"Grief was what you owed the dead for the necessary crime of living on without them."
—Kamila Shamsie, Home Fire
9.
10.
"Gender is a shell game. What is a man? Whatever a woman isn't. What is a woman? Whatever a man is not. Tap on it and it's hollow. Look under the shells: it's not there."
—Naomi Alderman, The Power
11.
"Monsters aren't real until you meet one."
—Victor LaValle, The Changeling
12.
"If you are one of those people who has the ability to make it down to the bottom of the ocean, the ability to swim the dark waters without fear, the astonishing ability to move through life's worst crucibles and not die, then you also have the ability to bring something back to the surface that helps others in a way that they cannot achieve themselves."
—Lidia Yuknavitch, The Misfit's Manifesto
13.
"Letting go is not forgetting. It's opening your eyes to the good that grew from the bad, the life that blooms from decay."
—Emily Henry, A Million Junes
14.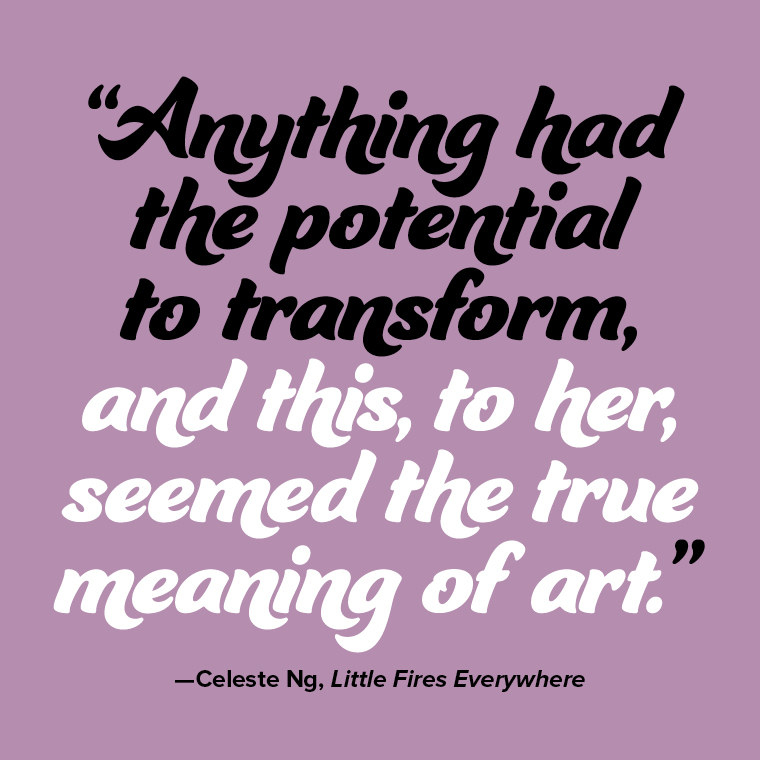 15.
"Her life is architected, elegant and angular, a beauty to behold, and mine is a stew, a juicy, sloppy mess of ingredients and feelings and emotions, too much salt and spice, too much anxiety, always a little dribbling down the front of my shirt. But have you tasted it? It's delicious."
—Jami Attenberg, All Grown Up
16.
"There was a reason he loved flying. Almost everything looked more beautiful from a distance, the earth becoming more perfect as one ascended and came closer to seeing the world from God's eyes, man's hovels and palaces disappearing, the peaks and valleys of geography fading to become strokes of a paintbrush on a divine sphere."
—Viet Thanh Nguyen, The Refugees
17.
"Writing is communicating with an unknown intimate who is always available, the way the faithful turn to God."
—Ariel Levy, The Rules Do Not Apply
18.
"Do you know how when people are really hungry they will be driven to eat the inedible? Grass and soil and the like? That also happens with love. If you want love badly enough, you will start gobbling harmful substitutes like attention and possessions."
—Alissa Nutting, Made to Love
19.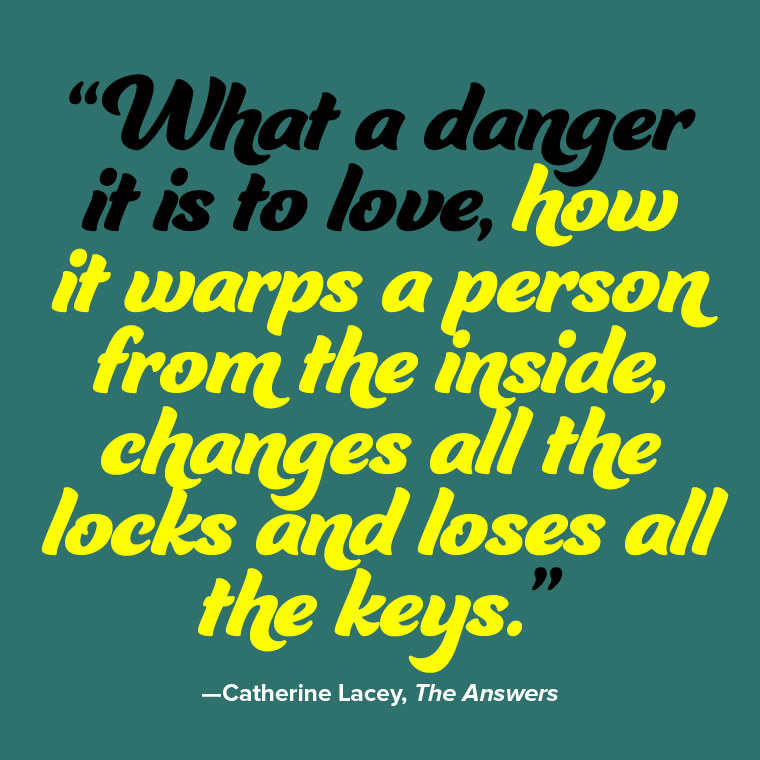 20.
"We are nothing without our quick and simple blessings, without those willing to drag optimism by its neck to the gates of grief and ask to be let in, an entire choir of voices singing at their back."
—Hanif Willis-Abdurraqib, They Can't Kill Us Until They Kill Us
21.
"Your mom is your blood and bone before your body even knows how to make any."
—Scaachi Koul, One Day We'll All Be Dead and None of This Will Matter
22.
"paradise is a world where everything / is sanctuary & nothing is a gun."
—Danez Smith, Don't Call Us Dead
23.
"I kept thinking about the uneven quality of time — the way it was almost always so empty, and then with no warning came a few days that felt so dense and alive and real that it seemed indisputable that that was what life was, that its real nature had finally been revealed."
—Elif Batuman, The Idiot
24.
25.
"The revelation of kindness hurts worse than cruelty. There is no way to equal it. Nowhere to put her gratitude, and so it thrashes in her body."
―Emily Ruskovich, Idaho
26.
"I am stronger than I am broken."
—Roxane Gay, Hunger
27.
"Here we are closer to something I am trying to understand: that openness to fear. We are hearts and stingers. We ride the tide. We believe in resistance; we are made both of fight and float."
—Nina Riggs, The Bright Hour
28.
29.
"Guilt is a ghost. Guilt interrupts narratives. It does so impolitely. Ghosts have no etiquette. What do they need it for?"
—Myriam Gurba, Mean
30.
"If the hare was made of myths then so too was the land at which she scratched. Now pocked with clutches of trees, once the whole county had been woodland and the ghosts of the ancient forest could be marked when the wind blew. The soil was alive with ruptured stories that cascaded and rotted then found form once more and pushed up through the undergrowth and back into our lives."
—Fiona Mozley, Elmet
31.
"The world is too fucking big. Sometimes, I can't even carry myself through all the love and fear."
—Sherman Alexie, You Don't Have to Say You Love Me