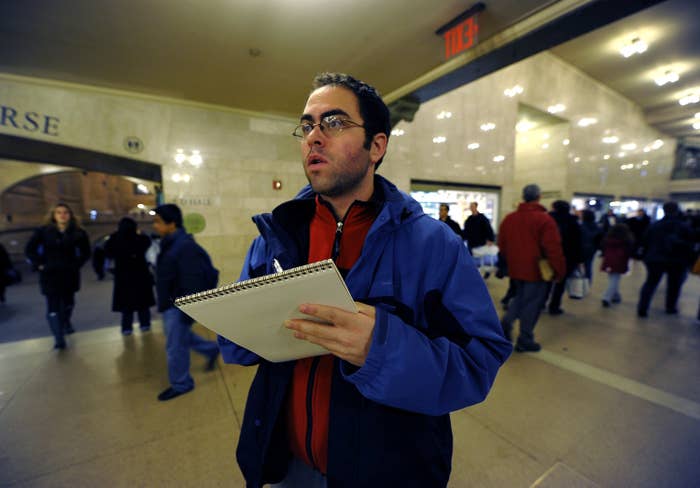 Artist Jason Polan, best known for his ambitious project to sketch every person in New York City, died Monday at age 37.
His family told the New York Times the cause of death was cancer.
Known for his simple, gestural doodles, Polan's long-running "Every Person in New York" project was a sweeping, ambitious attempt to, as the straightforward title says, draw every person in the city. "It just sounded like such an all-encompassing, ridiculous idea," he told the Times in 2009.
Some of his sketches captured celebrities like Zadie Smith or Joan Didion, but most were quick drawings of strangers done from a distance with titles such as "Man at Taco Bell 2nd Avenue & 8th" or "Woman Working & Eating a Cookie at Lafayette."

He began the project in March 2008; his last drawing was posted on his blog on Dec. 19, 2019. He published a book of his sketches in 2015.
"I know I'm going to fail, I won't draw everybody, but I enjoy trying," he told Agence France-Presse in 2011.
During his career, Polan also drew every piece of art at New York City's Museum of Modern Art, or MOMA.
[Read: Jason Polan's "19 Famous People I've Spotted in New York City"]
Polan was also known for founding and hosting the Taco Bell Drawing Club in 2005, a weekly meet-up of artists and friends at the (now closed) Union Square Taco Bell; Polan himself made laminated "Official Member" cards for anyone who wanted one. In a 2018 New Yorker story, Polan explained that he had started drawing in Taco Bell because it reminded him of his Michigan hometown, where a manager at a local franchise was especially friendly. The art platform Ghostly International described the club as the "sort of adventure that Polan was all about. Artful in concept but widely accessible."
Friends, colleagues, and fans are taking to social media to remember and celebrate the beloved artist.