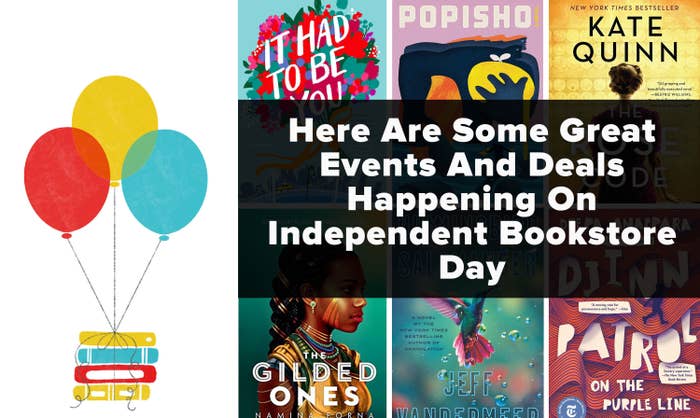 Libro.fm is giving away a free audiobook to anyone who spends $15 at any independent bookstore (in-store or virtually) between April 24 and April 26. Details here.
Georgia Clark (It Had to Be You), Talia Hibbert (Act Your Age, Eve Brown), Thien-Kim Lam (Happy Endings), and Paul Rudnick (Playing the Palace) discuss the modern romance novel — hosted by Indiebound, 3 p.m. ET. Join the Zoom here.

Estelí Meza, illustrator of Peace, leads a virtual drawing session — hosted by Indiebound, 1 p.m. ET. Join the Zoom here.
Indie publishers Tin House, Milkweed Editions, Europa Editions, Graywolf Press, and Enchanted Lion Books share some of the highlights of their collections — hosted by multiple independent bookstores, 8 p.m. ET. More info.
Edgar Award best novel nominees Deepa Anappara (Djinn Patrol on the Purple Line), Caroline B. Cooney (Before She Was Helen), Richard Osman (The Thursday Murder Club), Ivy Pochoda (These Women), Kwei Quartey (The Missing American), and Heather Young (The Distant Dead) read from and discuss their books — hosted by Murder by the Book, 1 p.m. CT. More info.

Laurie Halse Anderson (Shout), Ross Gay (The Book of Delights), and Azar Nafisi (Reading Lolita in Tehran) discuss their work in separate Q&As throughout the day — presented by the Midwest Literary Walk, 1–5 p.m. ET. More info.

Namina Forna (author of The Gilded Ones) and Amélie Wen Zhao (Red Tigress) discuss their new novels, the creative process, what it's like to release a book during a global pandemic, and more — hosted by Book Soup, 5 p.m. PT. More info.

John Gallagher (Max Meow! series) hosts an interactive superhero drawing tutorial and Q&A — hosted by Bard's Alley, 2 p.m. ET. More info.

J.R. Ward (Lover Unveiled) and Gena Showalter (The Warlord) celebrate the releases of their new books — hosted by Brookline Booksmith, 4 p.m. ET. More info.

Jeff VanderMeer discusses Hummingbird Salamander with Chuck Wendig — hosted by Elliott Bay Book Company, 2 p.m. PT. More info.
Poets Allison Funk (The Visible Woman), Sy Hoahwah (Ancestral Demon of a Grieving Bride: Poems), Jason Sommer (Portulans), and Marjorie Stelmach (Walking the Mist) read from and discuss their work — hosted by Left Bank Books, 7 p.m. CT. More info.
Leone Ross discusses Popisho with Marlon James — hosted by Politics & Prose, 5 p.m. ET. More info.

LGBTQ+ journal Foglifter presents a group reading from its spring 2021 issue, featuring Jaime Balboa, Jody Chan, Téa Franco, Donika Kelly, and N/A Oparah — hosted by Skylight Books, 5 p.m. PT. More info.

Kate Quinn discusses The Rose Code with Kristina McMorris — hosted by Warwick's, 11 a.m. PT. More info.

Polly Barton, translator of Where the Wild Ladies Are by Aoko Matsuda, discusses the book with Marika McCoola — hosted by Porter Square Books, 12 p.m. ET. More info.